Trusted by leading companies focused on employee culture and experience







How can we help?
An HR process consultant is ready to understand your goals—and show you how to solve them.
A quick consultation with an EX or HR software expert to better understand your requirements.
A product tour focusing on your challenges and HR Cloud's tailored solutions.
Guidance on how to move forward on the project.
* Denotes required fields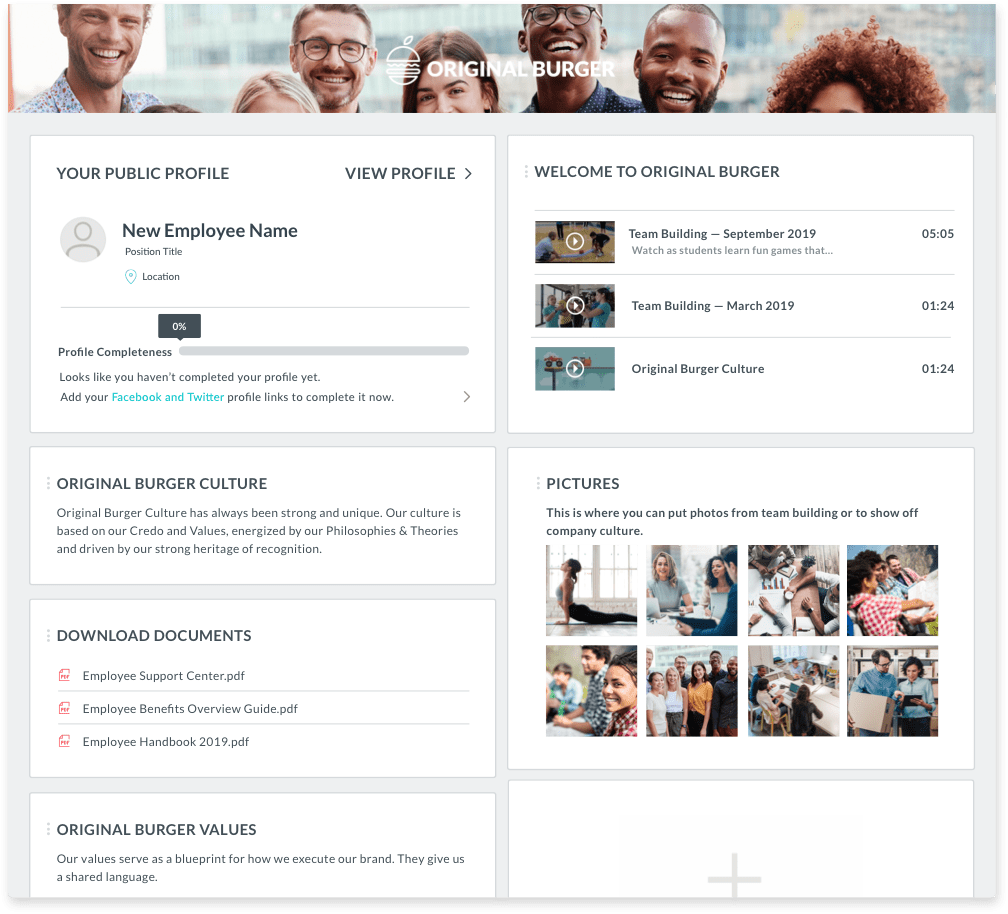 Benefits of Utilizing Onboarding
Ensuring your employees have a great onboarding experience is key to setting them up for a fantastic future with your enterprise. When workers get a positive feeling from what happens in those first few days, weeks, and months, it radiates back down to the rest of the organization.
This is where HR Cloud's proprietary Onboard software comes in. This platform has the power to help drive engagement, increase productivity, and take your culture and brand to the next level. When employees are happy, it leads to lower employee turnover, a stronger reputation, and in the end, better work gets done so that your customers are happy too.
Solutions That Onboard Provides
We're starting a revolution—welcome to the new age of employee onboarding. The following features will allow both the new team member and the HR professional to ward off headaches and have a mutually enjoyable experience throughout the process:
Flexible enough to integrate with the
systems you already have, such as ADP
Personalized portal where
employees can build their own profile
Find and complete all necessary
paperwork from one dashboard
Smart checklists to track progress and
make sure steps are assigned to the
correct individuals and being done on time
Immerse employees in company brand and
culture early on by customizing with your logo
Make them feel special with a
welcome letter
Handy perks like auto-filling of information
so things don't feel so repetitive
Everything stays protected, organized,
and compliant within the app
Pain-free notifications for
collaborative feel
Our Industries
We've helped boost organizations from the following industries—is your enterprise next?
What Some of Our Happy Clients
Have to Say
"My favorite feature of HR Cloud is simply the ease of onboarding. I don't have to wonder how our new hires are doing with their paperwork; I can log in and see their progress for myself. Not having actual papers to potentially lose is another huge plus."

Carrie Dircks, Director of Human Resources,
Peterson Companies, Inc.
"The onboarding process involves many groups, has strict legal compliance requirements, and is one of the first ways a new employee experiences the company. HR Cloud allows us to automate these complex processes with full audit tracking and reporting, all while giving our new team members a modern, convenient experience."

Bryan Walley, Chief Operating Officer
Exactuals