Workmates Can Help with Improving Communication
Ineffective communication is common challenge organizations face in creating an excellent employee experience. If you are noticing communication breakdowns in your company, here are some factors that could be contributing:
Lack of transparency from leadership,
Insufficient feedback processes,
Siloed teams and departments, and
Unreliable technology/tools.
When leadership does not communicate openly about company direction and decisions, employees feel left in the dark. Providing regular feedback is essential so employees understand expectations and have opportunities to improve. Silos between teams or departments can hinder information sharing and collaboration across the organization. And unreliable or inadequate communication technology like email or instant messaging can lead to missed messages and misunderstandings
Company Announcements
Workmates delivers a better way to send company announcements, broadcast important information, and track employee acknowledgments.
Critical and Urgent Communication
Ensure the safety of your workforce with real-time weather alerts. Our Crisis communication software keeps your employees informed about severe weather conditions so they can make informed decisions, whether it's about remote work arrangements or office closures.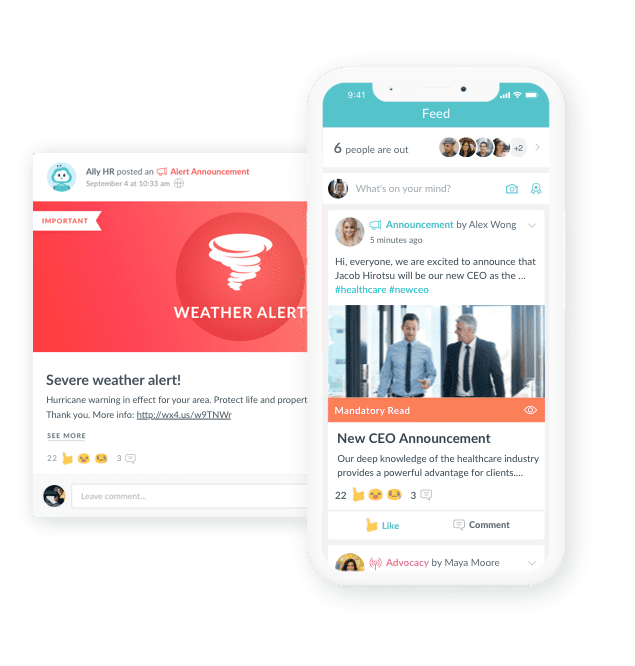 Try Workmates
Interactive Demo
Click through it yourself with interactive demo.
Try It Now
Learn More About How Workmates Can Help Your Business Grow
Contact us for a free demo where we show you how Workmates can benefit you and your employees
Book Your Free Demo
Workmates © 2023 All rights reserved.