The Importance of Employee Recognition in a Remote Working World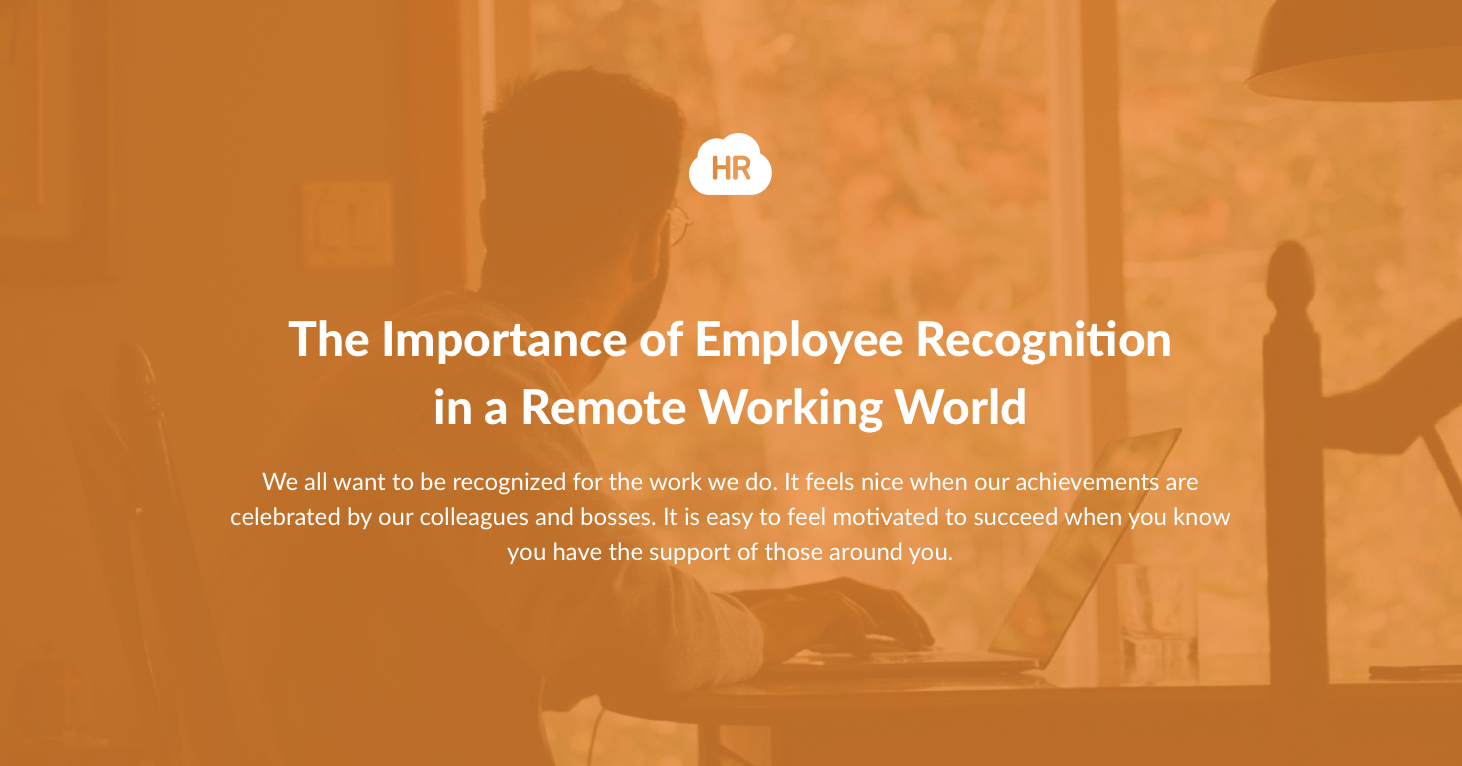 We all want to be recognized for the work we do. It feels nice when our achievements are celebrated by our colleagues and bosses. It is easy to feel motivated to succeed when you know you have the support of those around you.
This becomes increasingly important in a world where the workforce has been thrown into the deep end of the remote working pool. Today more than ever, workers are physically isolated from their colleagues and supervisors. This makes it essential for businesses to reach out and check on the well-being of their employees regularly, and offer rewards and recognition.
Although the events that forced most of the working world into a remote-based system have been nothing short of catastrophic, there is a silver lining to the gloomy clouds of this pandemic.
Studies on remote workers have shown increases in productivity and employee satisfaction, with only 25% of people currently working from home stating that they would voluntarily return to the office once the COVID-19 pandemic is brought under control.
This increased satisfaction has been a welcome relief to many and has made a dent in the disturbing 2018 statistic that 53% of us were disengaged with our job. Perhaps in the years after this pandemic, we will see improved employee engagement among the beneficial changes brought about by this tragic event.
The uncertainty COVID-19 has brought upon the workplace has been a recurring theme for the past couple of years. With a drastic overhaul of the workplace environment, businesses have had to adapt quickly.
Including an effective employee recognition program in any plans moving forward should be at the top of every employer's to-do list.
In a time when job security is even more volatile, making sure your employees are well looked after and satisfied with their working situation, and rewarding and recognizing employees, is pivotal to their professional development and your business success.
Benefits of recognizing the hard work of your remote employees
Does it surprise you to find that two-thirds of the working population feel undervalued, reporting that in the past week they had not received recognition for work they felt deserved it?
If this is news to you, it means that recognizing employees could be a fantastic low-cost, high-impact investment for your business.
Simply by recognizing your workforce, you could be positioning yourself ahead of 66% of your competition.
Below are some reasons why recognizing the work of your remote employees is vital to company success.
Retain more employees
Studies show that employees who feel undervalued are often disengaged. This is a concerning state of mind for your workforce, as disengaged employees are 12x more likely to leave their job.
Turnover is expensive. With costs of recruitment and training, it's estimated that it costs businesses 33% of an employee's annual salary to replace them. When you consider that 25% of the U.S. workforce quit their jobs in 2021, that is an enormous outgoing expense.
To improve employee retention, focus on the health and wellness of your employees, including their mental health. Dedicating more resources toward the retention of high-quality staff should be a priority, not an afterthought.
Recognizing the work of your remote employees and making your business one they wish to work for is one of the many tactics business owners need to investigate if they wish to retain more employees. We will dive into effective methods of recognition for remote workers later in this article.
Foster a healthier and more innovative work environment
Setting up an environment that fosters employee appreciation is one of the smartest things a leader can do.
Leading by example, a great manager should privately and publicly congratulate team members on work and non-work-related milestones, give thoughtful gifts and bonuses when appropriate, and offer an avenue of career advancement within the company's hierarchy whenever possible.
This will create a positive feedback loop. If workers feel like they are part of a remote ecosystem that values recognition, they will be more likely to recognize the work of their peers, which is when positive company culture begins to blossom. A healthy environment is one in which all inhabitants thrive.
Productivity will increase
It's no secret that employees who feel valued and motivated will be more productive toward the company's goal. Reports show productivity can increase as much as 20% when employees are happy at work.
Although happiness is subjective, we know what contributes to employee satisfaction. Factors such as room for growth and opportunities, a healthy work-life balance, purposeful work, peer recognition, and being recognized by management are cited over and over again as reasons to stay or leave a workplace.
Employee recognition can be an entirely free exercise, making it a low-risk, high-reward investment.
Effective tactics for recognition in the workplace
Showing employee recognition isn't rocket science, and it can be inexpensive. It is a low-risk investment that pays dividends. There are hundreds of ways you can show your remote workforce that you value them.
Below are some effective ways you can start recognizing your employees today.
Build a better remote environment
Prior to COVID-19, each American was predicted to spend up to one-third of their life at work, meaning employer investment into the work environment was of the utmost importance.
Now that we have moved toward a remote working model, adjusting the physical environments of each worker is not possible. The solution—focus on the new work environment.
Look toward building the ultimate online community that your workers will be pleased to work in every day. Now is the time to upgrade to the tools and technologies that will enable your workforce to thrive and stay engaged while working from home.
Downloading the newest screen sharing or video conferencing app, or providing your marketing teams with high-quality SEO tools, is an effective way of showing them you want them to succeed. Invest money into improving the backend servers your employees are using every day, and take the time to ask them what they need to make working from home a successful venture.
Integrate applications like Slack or Google Hangouts, or create private social media groups that allow workers to socialize and communicate within the company. Virtual team-building events can help employees feel more connected to each other and build stronger bonds. Use these techniques to keep your workers in the loop and to also promote peer-to-peer support.
It's good to have dedicated work channels for more serious information, but it's also important to offer a place for people to post jokes, memes, funny videos, or articles they find interesting. These can foster a supportive online community that will improve employee experience and reduce feelings of loneliness and isolation remote team members may be experiencing.
Purchasing these things will show that you are prepared to allocate funds to essential items that will improve the welfare of your workers, making it an indirect but effective way of recognizing the hard work they do.
Congratulate employees on milestones
Life is made up of millions of moments. Some are more noteworthy than others. The key is to recognize your employees on the milestones that matter to them.
Sending out gift cards for birthdays and work anniversaries is a good place to start, but getting to know the individuals who represent your company allows you to recognize their achievements—work-related or not—appropriately and authentically.
Try scheduling weekly calls with workers individually to find out how they are coping with this new remote lifestyle. If that isn't feasible due to the number of your staff, make the effort to send out personalized casual check-in emails that give your workers an opportunity to bring you up to speed on work and non-work-related events.
Keep in mind everyone has responded to this change differently. Some may be thriving, while others are missing the daily activities that came with working in a shared space. Be sure to note this as it will help you make informed decisions on who needs to be contacted more frequently.
Don't neglect to congratulate employees on milestones just because they are out of sight. Failure to do so could be perceived as a lack of care. If an employee is coming up on long-service leave, do not miss the opportunity to thank them.
Be sure to bring up this dedication in a timely manner during a group call. Thanking your employee in front of their peers is a powerful way to show that hard work does not go unnoticed. You can organize for a gift to be delivered to their chosen address, or send something to them virtually.
Give thoughtful and practical gifts that can be used remotely
When talking with your employees on your weekly calls, actively listen for things that they have been doing during in their spare time. What do they talk about? Do they listen to certain podcasts while they work at home? What excites them? What have been their thoughts on working remotely?
When you come across little nuggets of information, write them down and refer to them when a future gift or bonus is necessary.
For example, Lucy has been with your company for five years. She has worked incredibly hard and been very profitable for the business. You remember that before she began working remotely, she always had a book in hand or was discussing literature with a co-worker. Maybe in your video calls, you noticed a pile of books on the desk next to her.
Mailing an e-book reader or a voucher for a local bookstore to her could be the perfect gift for her long service, and she may appreciate it more than a cash bonus of greater value.
Remember to be practical—be sure that her voucher can be used online if the local store has been closed due to the coronavirus or that the book can be delivered to her if she can't get to the post office.
Thoughtful gifts will often be cheaper than standard ones. The fact that you took time to think about what would make them happy shows true employee recognition.
This will not be forgotten. Think about how good a thoughtful gift felt when you received one in your life.
Another option is practical gifts, which are a great way of showing that you are fighting on the same side. Even if your worker is thousands of miles away, you can buy them lunch from a local restaurant that supports delivery. This helps your worker's community as well as the worker themselves, who will now have one less thing to worry about in their workday.
Display trust in their newfound autonomy
This is a more subtle form of recognition but may be the most powerful.
Reaching out to your employees weekly through email, social channels, or video calls will help you recognize which individuals are thriving and those who may need more support.
All change can be stressful, and remote work has its challenges. Don't compound them by micromanaging your workers and expecting several daily check-in calls or forcing them to install monitoring software on their computers.
Use this unprecedented time to show that you trust their ability to provide great work remotely and reward employees accordingly.
Offering flexible hours is a great way to demonstrate trust and make your workers' lives easier. An employee may want a large break in the afternoon to pick up the kids, or they may want to start an hour later so they can add a morning jog to their routine. Experiment with being more lenient and trusting of their process.
If they are not performing to the required standards, reach out to them and find out what you can do to help them to remain productive while working remotely.
If you have been impressed with how your employees have handled increased autonomy, let them know. Publicly recognize individuals or groups who are utilizing their time efficiently.
Indicate opportunities for growth
Nothing stifles productivity more than a bleak outlook. If you haven't given your employees something to strive for, they will struggle to gather the motivation necessary to work toward your goal.
If a new position becomes available within the company, consider looking in-house before expanding your search. Chances are you already have someone working in the business who would relish the opportunity to learn and grow professionally.
On a group call or in the online work community, notify staff that you are looking for suitable applicants for a role within the company. Announcing promotions or plans to train certain employees in new skills keeps your workforce in the loop and shows them that there are opportunities for professional advancement.
Upskilling your workforce shows that your company culture promotes growth and that you have a higher quality workforce. Everyone wins in this situation.
This will show your other employees that their hard work will be repaid and that they will not have to begin looking for employment elsewhere if they begin to feel stagnation.
Making your business one that repays its employees with opportunities is an efficient way to retain workers.
Conclusion
Now that the majority of workers are operating out of makeshift offices in their living rooms and kitchens, keeping in touch is crucial to company success.
Showing employee recognition in a remote working world doesn't have to be more difficult, it just requires employers to adapt and become creative in their methods.
In a time of uncertainty, working hard to ensure your staff knows you appreciate the work they are doing despite the difficult circumstances will be even more powerful.
As an employer, be sure to include employee recognition in your plans, as you too navigate this new world of remote working.
Author Bio: This article is written by our marketing team at HR Cloud. HR Cloud is dedicated to providing powerful solutions for your HR teams and creating an exceptional employee experience. Our aim is to help your company improve employee engagement, onboarding, and to save you valuable time!
Keep Reading
What Is Pre-Boarding And Why Should You Have It?
4 Reasons to Update Your HR Software
In the contemporary business landscape, it is positively crucial that companies stay
Write for the HR Cloud Blog!
Join so many other talented HR professionals by contributing to the HR Cloud blog. To learn more, view our blog guidelines now.
Like What You Hear?
We'd love to chat with you more about how HR Cloud can support your business's HR needs.