Integrate with ADP Seamlessly
Integrate HR Cloud® with your ADP account for
a faster, easier, and more complete HR experience.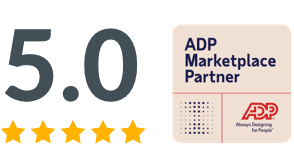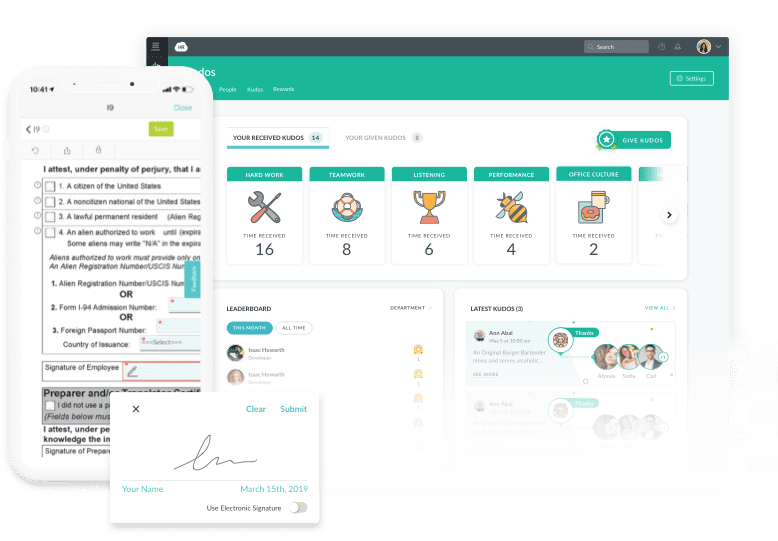 Workmates




A New Way to Engage and Recognize Your Employees

Onboard




Create an Exceptional Onboarding Experience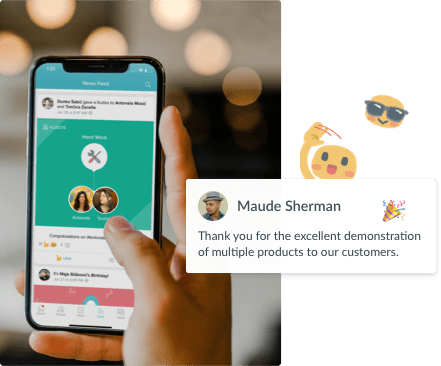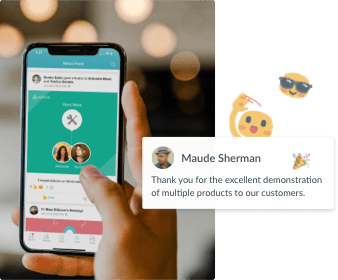 Why Workmates for ADP?
Transfer Employee Information from HR Cloud
®

to ADP Easily
Engage Remote Teams
Workmates is the best way to connect remote employees, foster ongoing teamwork, improve communication, and engage the entire workforce.
Drive 360 Recognition and Rewards
Empower your workforce with all the information they need to celebrate milestones such as birthdays and anniversaries, as well as new successes.
Easy Access to the Data You Need
With Workmates, employees will connect and collaborate with teammates in a much more meaningful way, a critical advantage in transforming your company culture.
Create Valuable New Connections
Any user can easily pull any ADP data into HR Cloud® with a single-click import or create a recurring import to pull new data every day.
Powerful Capabilities
A Single Platform with All the Capabilities You Need
Workmates also delivers so many different capabilities to change the way teams share information, collaborate with remote teams, and recognize the achievements of a coworker.
A Centralized Newsfeed
The focal point of your company's employee experience is the personalized newsfeed. This is a great way to communicate company news and updates, including announcements, out of office notifications, events, peer recognition, employee spotlights, and so much more. Employees can even upload documents, pictures, and videos to get and receive valuable information.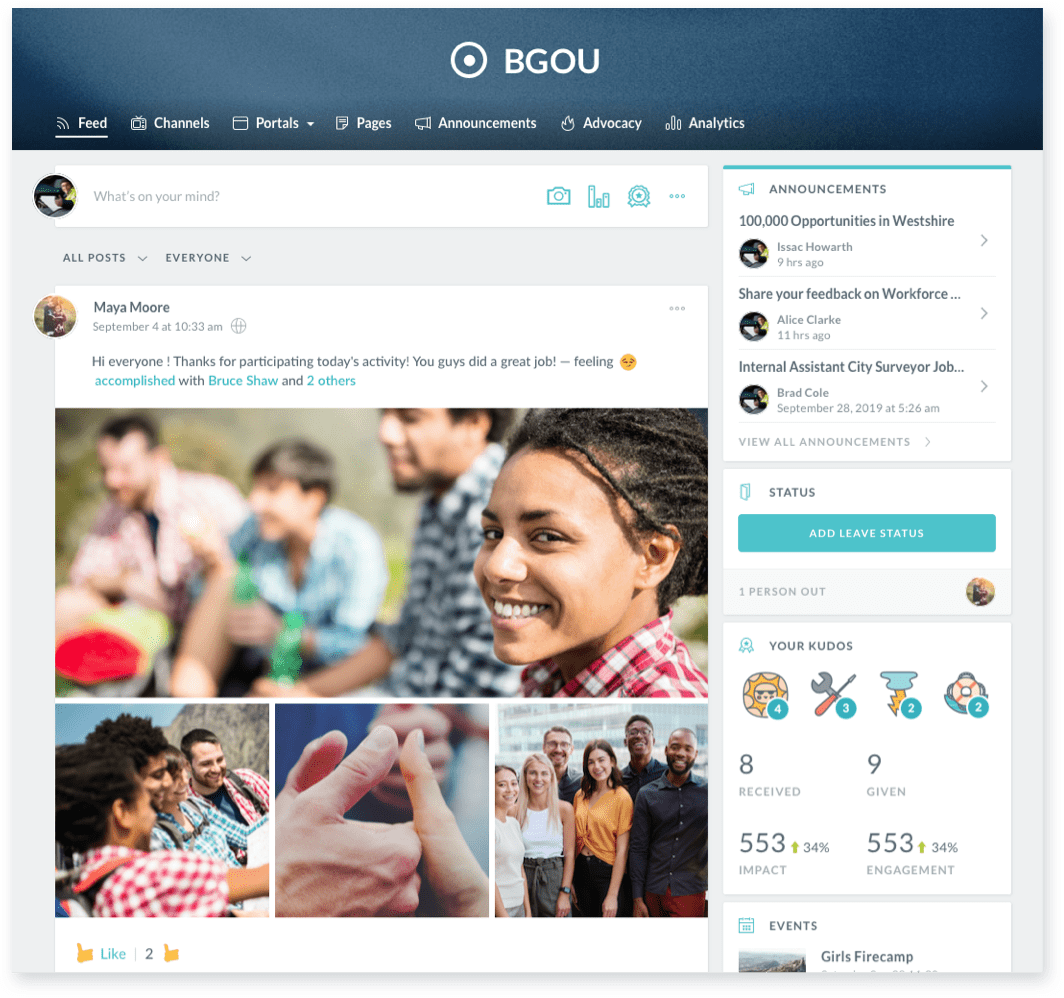 Kudos and Rewards
One of the best ways to increase employee engagement and drive motivation is through the use of an employee rewards and recognition solution. With Workmates, you can give employees a "kudos," a digital high five using customizable badges. You can reward them with points that can be redeemed for gift cards and corporate items. You can even share accomplishments and milestones with the whole team with automated birthday, anniversary, and new hire posts.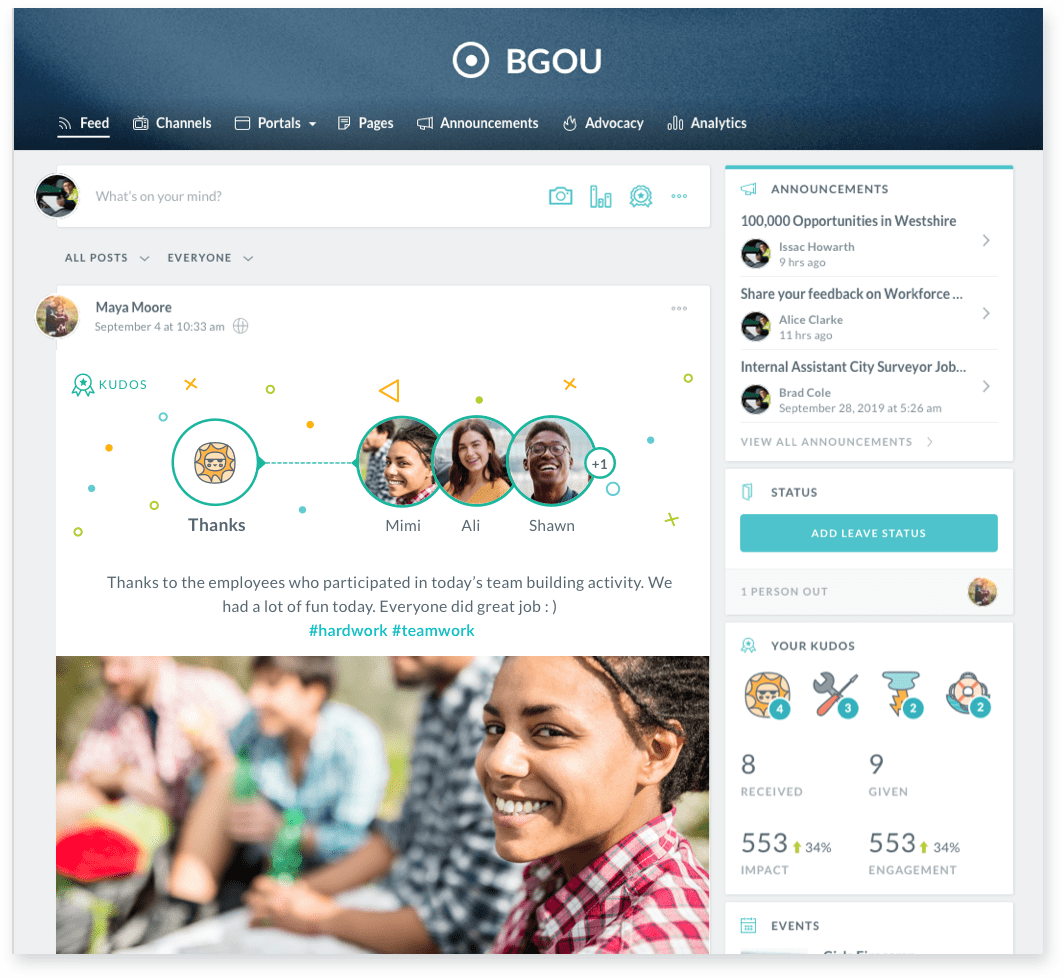 Create Valuable Communities
Reconsider old ways of thinking about teamwork and discover how a community approach to collaboration can produce powerful business results. With HR Cloud®, users can create valuable group channels to align teams, simplify communications, and focus their efforts on a common goal.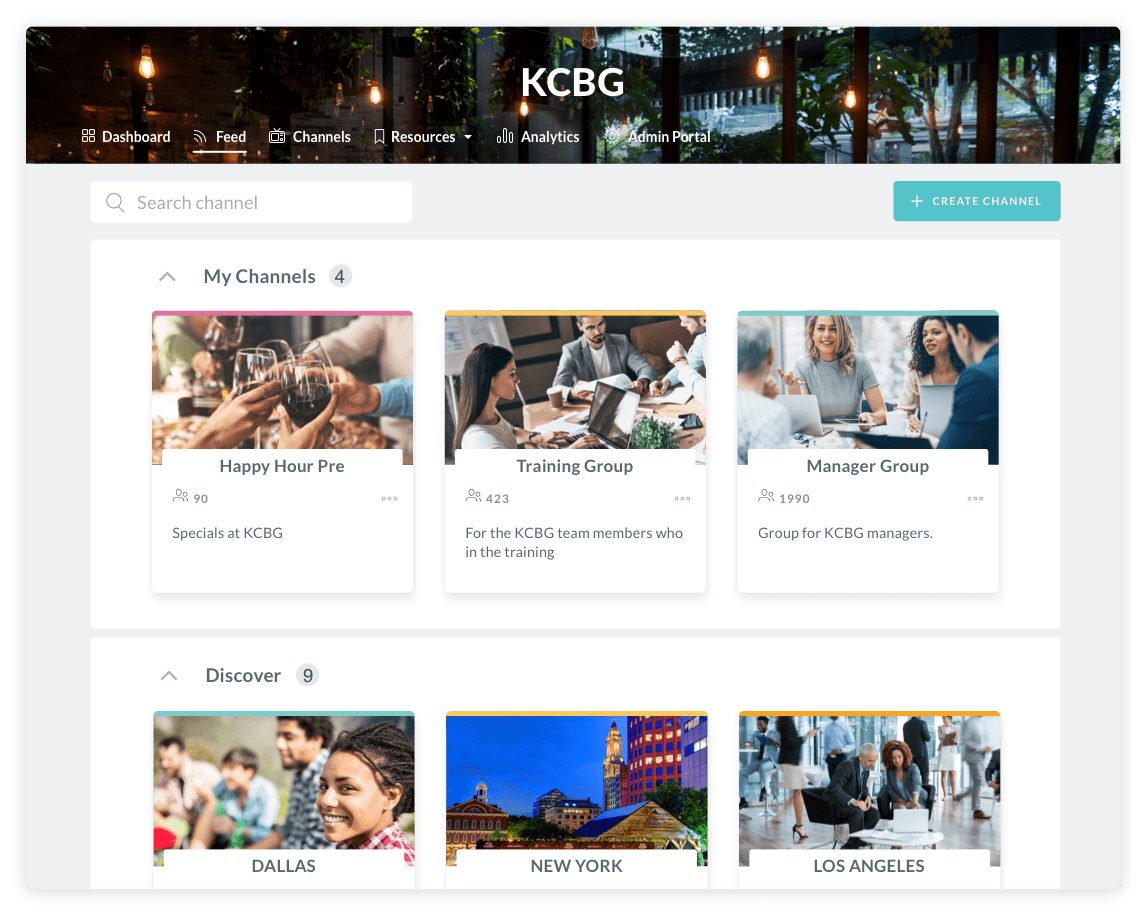 Unified Workplace Communication
Gain all the tools you need to improve your internal communication plan and increase team collaboration—all in one powerful platform. Workmates' personalized newsfeed communicates everything that's happening at your company, including announcements, events, new hire information, employee spotlights, and so much more. With these internal communication best practices, collaboration occurs naturally.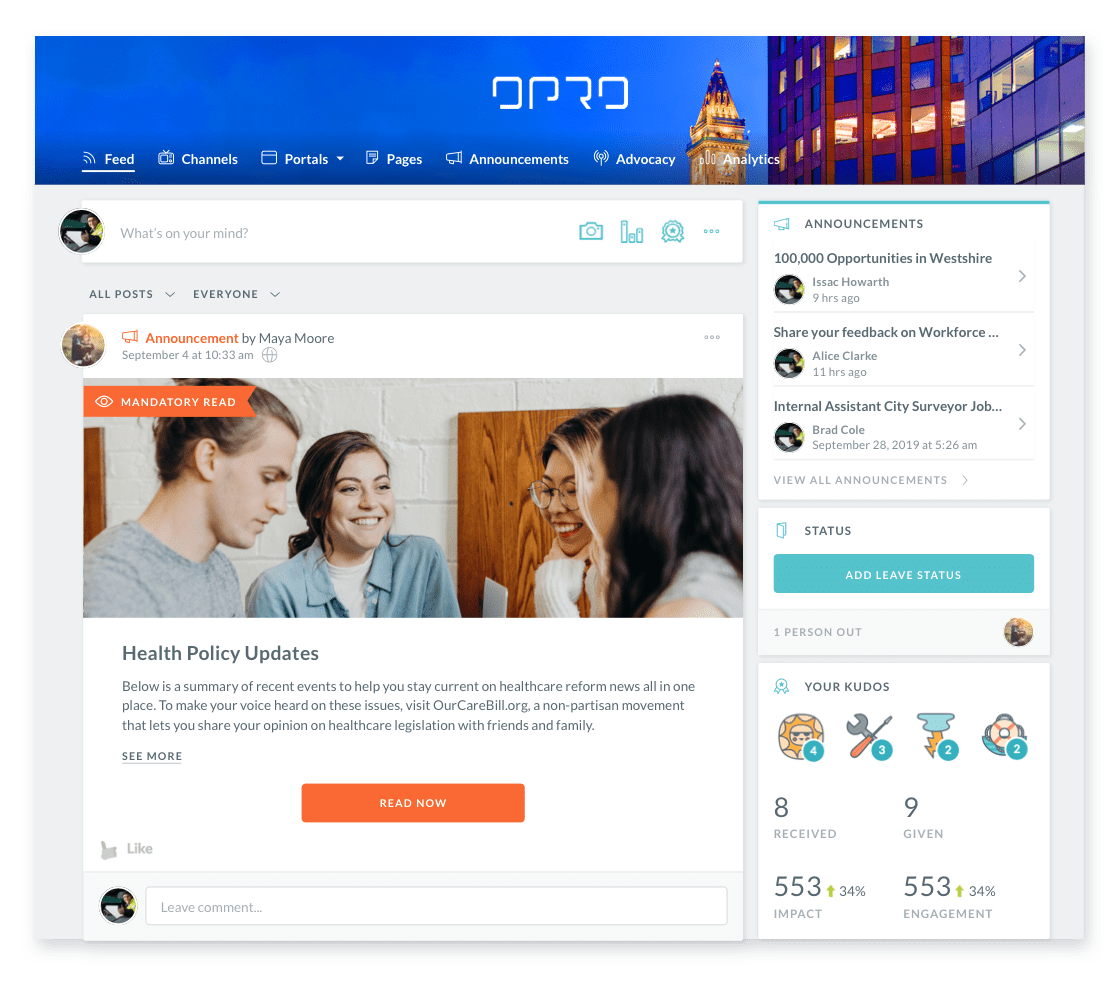 Create Employee Advocates
Workmates gives you everything you need to transform your entire team into loyal brand advocates, willing and able to embody your company's best interests, promote your products and services, and contribute to a much stronger culture. Workmates makes it so easy to push pre-approved marketing and corporate content to employees so they can publish it on their own social networks. Not only will you expand your reach, but you will significantly decrease your digital marketing and recruiting costs.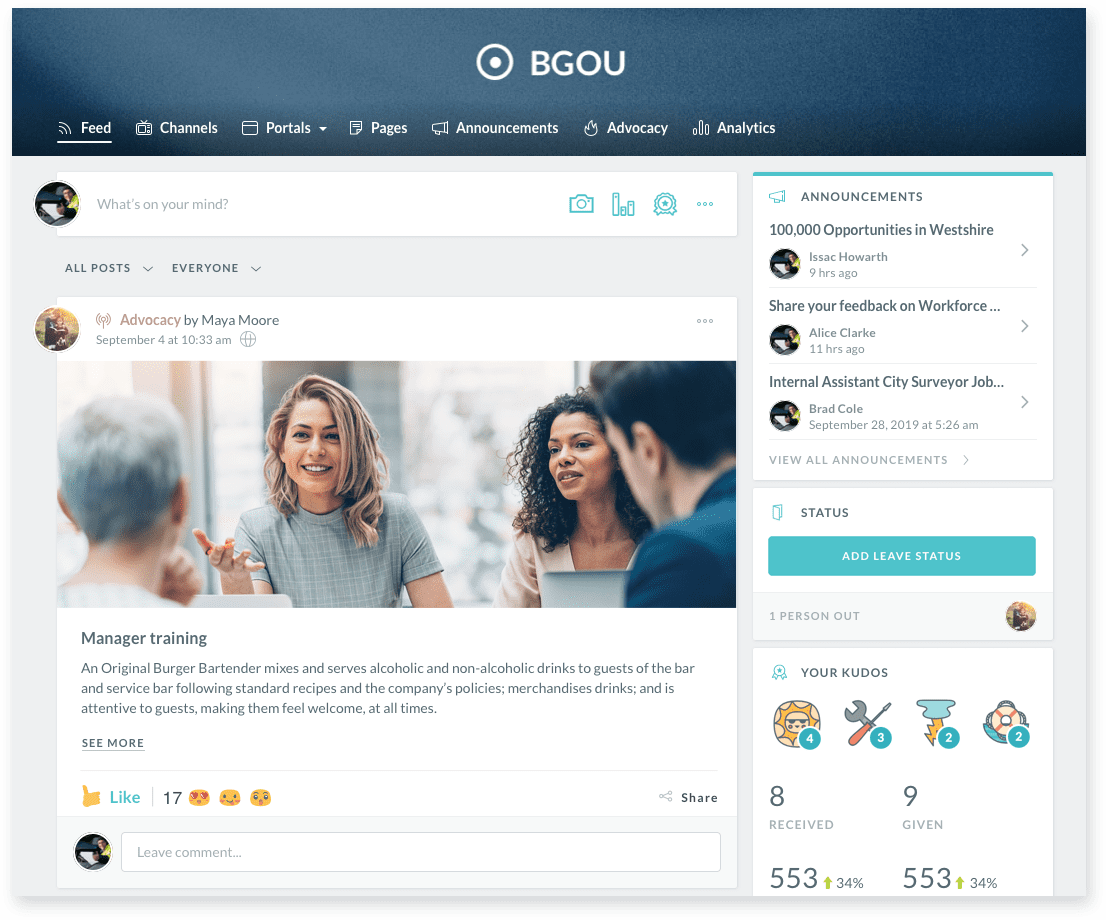 Customize Pages, Folders, and More
Share entire documents and folders with individuals, or even the whole global staff. With Workmates, customizing and adding branded pages and uploading any type of content is fast and easy. Plus, our intuitive rich text editor lets any user create and edit content. We even provide content widgets to give even more options to manage documents, videos, links, pictures, and more.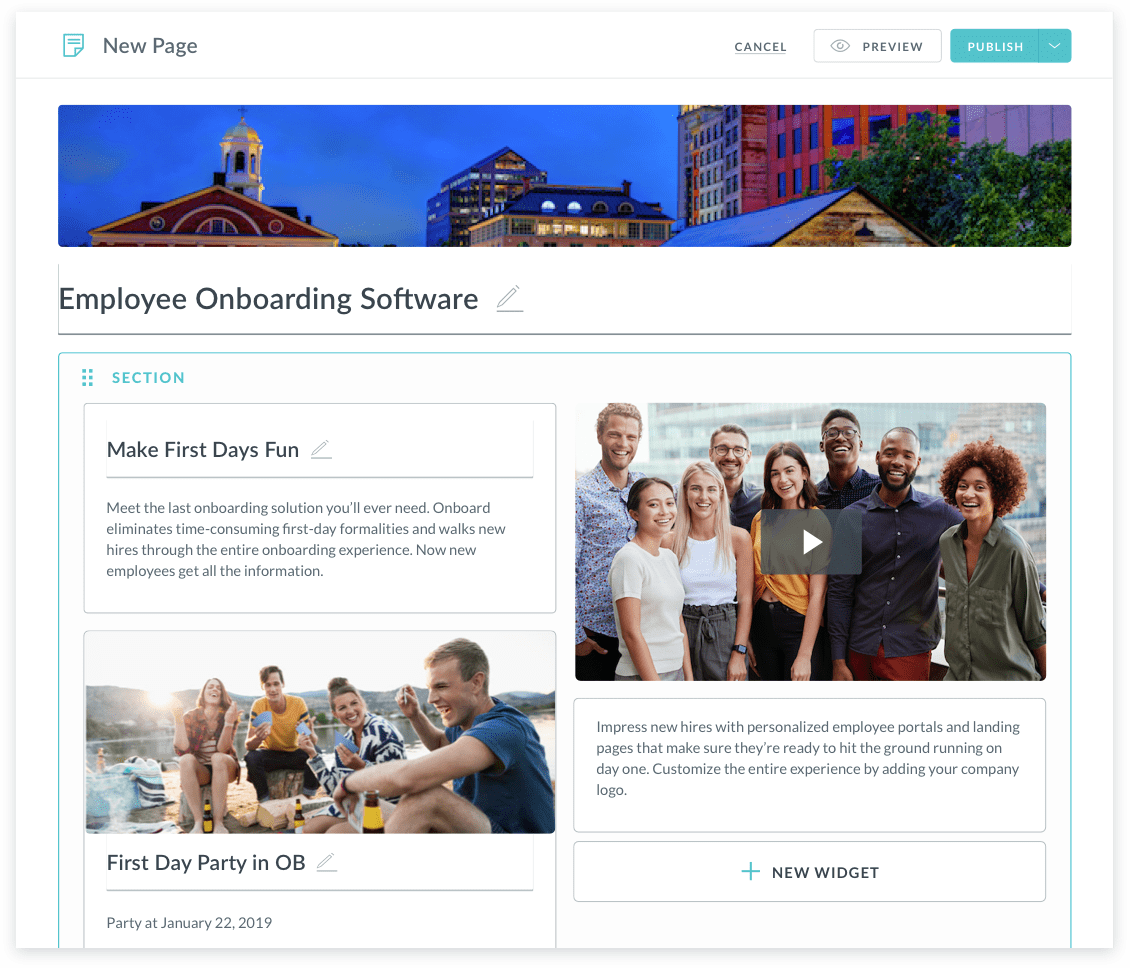 The Industry's Best
Employee Directory
Our employee directory software features a prominent, visual org chart so any user can quickly see an employee, teams, departments, or even the entire workforce a glance. It's all there: the employee's manager, department, direct reports, and more. Anyone can see the organization structure or quickly drill down for more specific information.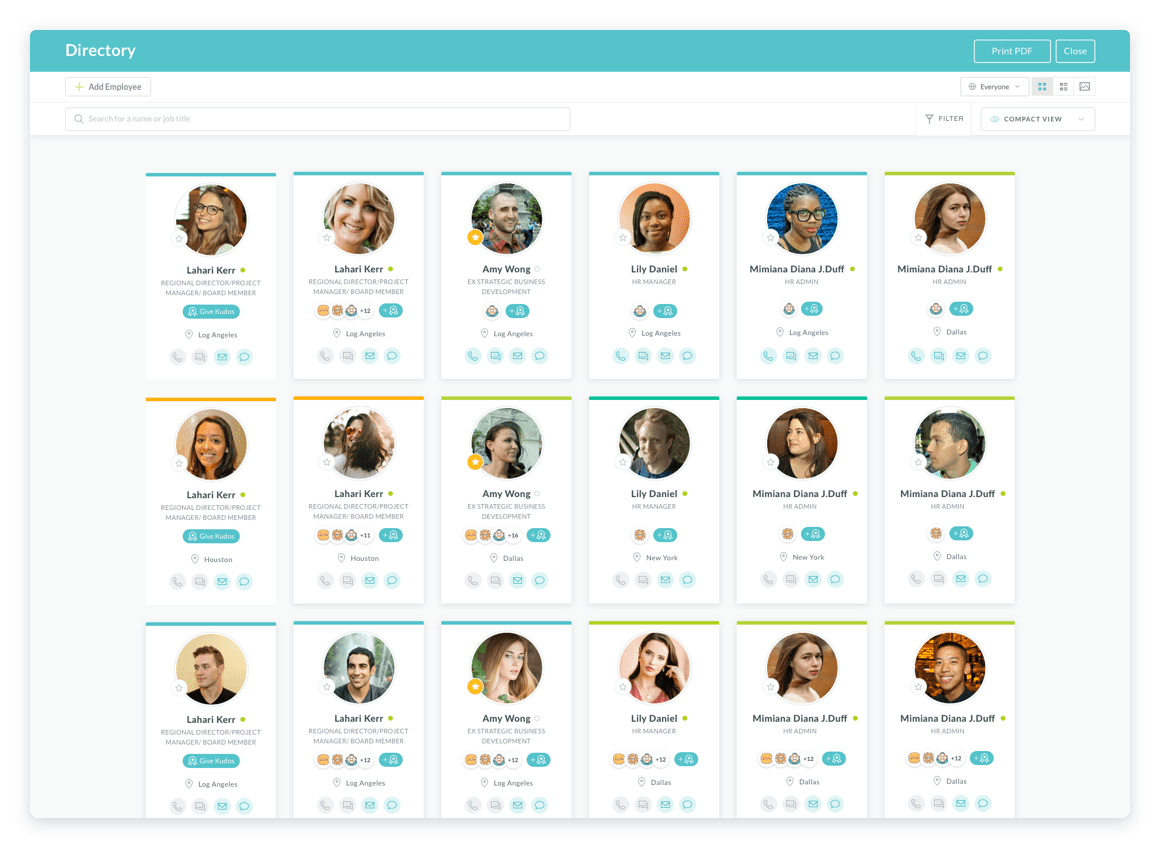 Internal Employee Communications
Get ready for a faster, easier, and more effective way to manage employee communications. Workmates' Inbox lets any employee make a phone call, or send a direct message, text or email from directly within the app. They can also start one-on-one or group chats within Workmates or another communication channel of their preference.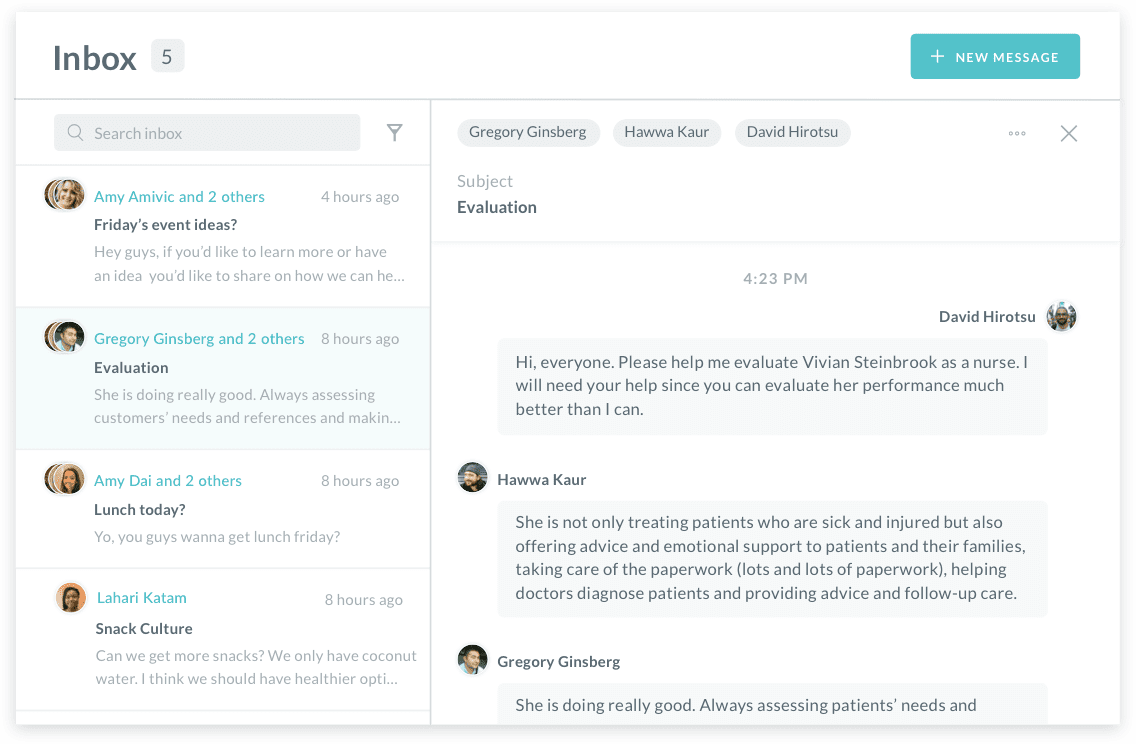 Measure Results and Success
HR Cloud®'s powerful reporting and analytics tools give you real-time insight into the metrics that matter most so you can adjust content strategies to produce meaningful results.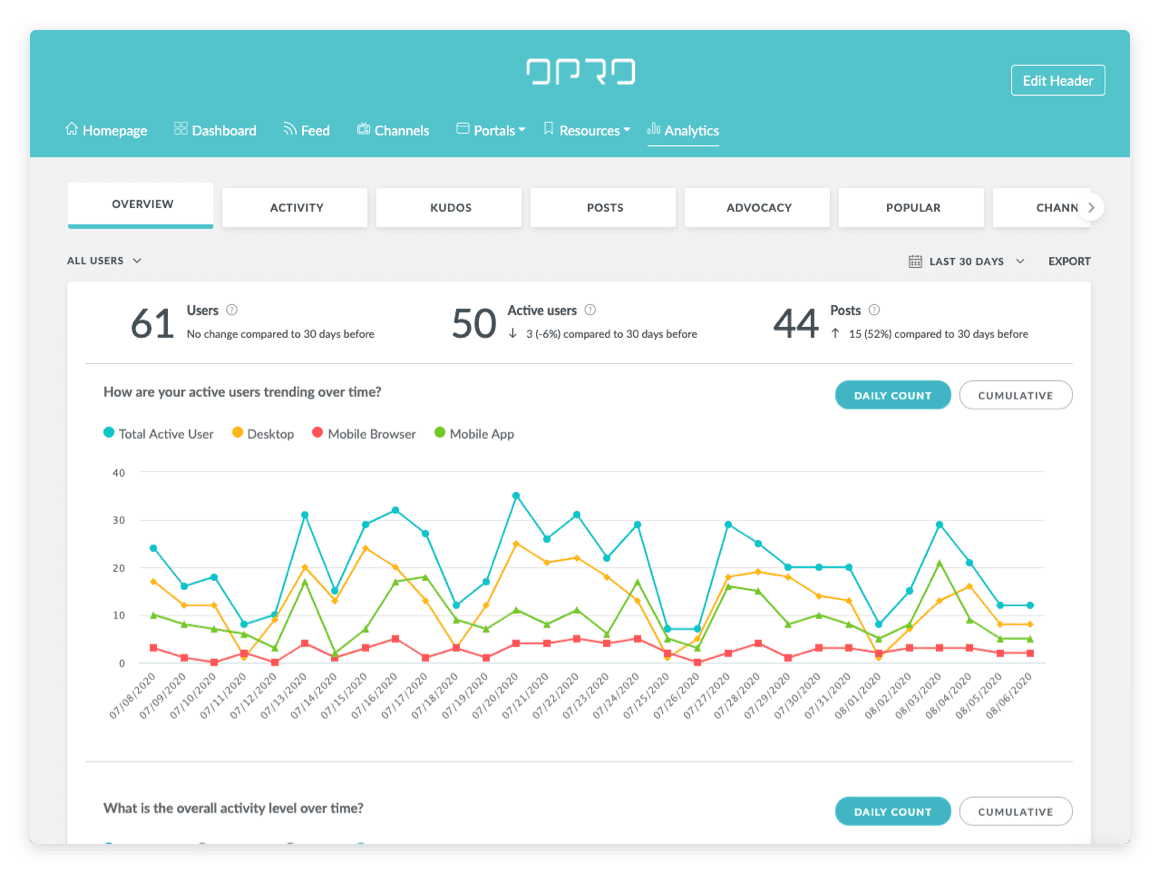 Create Customized Forms
With custom form capabilities, your team can move beyond the need for paper forms, spreadsheets, and other documents. E-Forms let HR team convert any PDF document into a digital form or create custom electronic forms to collect, store, organize, and centralize employee data, tax information, or other information.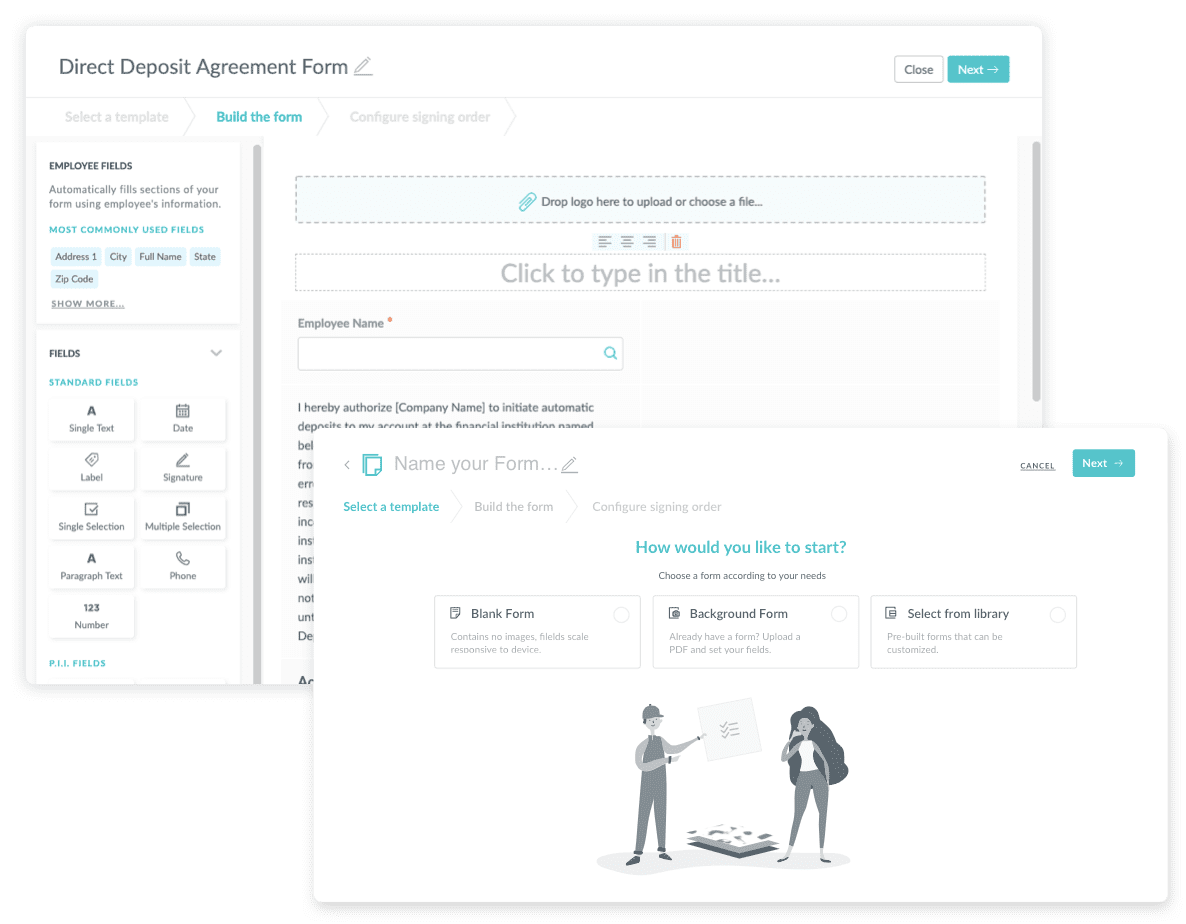 Feed
Kudos
Channels
Announcement
Advocacy
Pages
Employee Directory
Internal Communication
Analytics
Fillable PDFs
ADP Integrations
HR and Paytoll Integrations
All HR Cloud® solutions offer seamless integration with ADP, giving you fast, easy
access to all the data you need, in any system you use.
Run by ADP | ADP Workforce Now
| ADP Vantage
Now you can access and use even more employee data in Workmates, our comprehensive employee engagement platform. Automate birthday annoncements, work anniversaries, and so much more.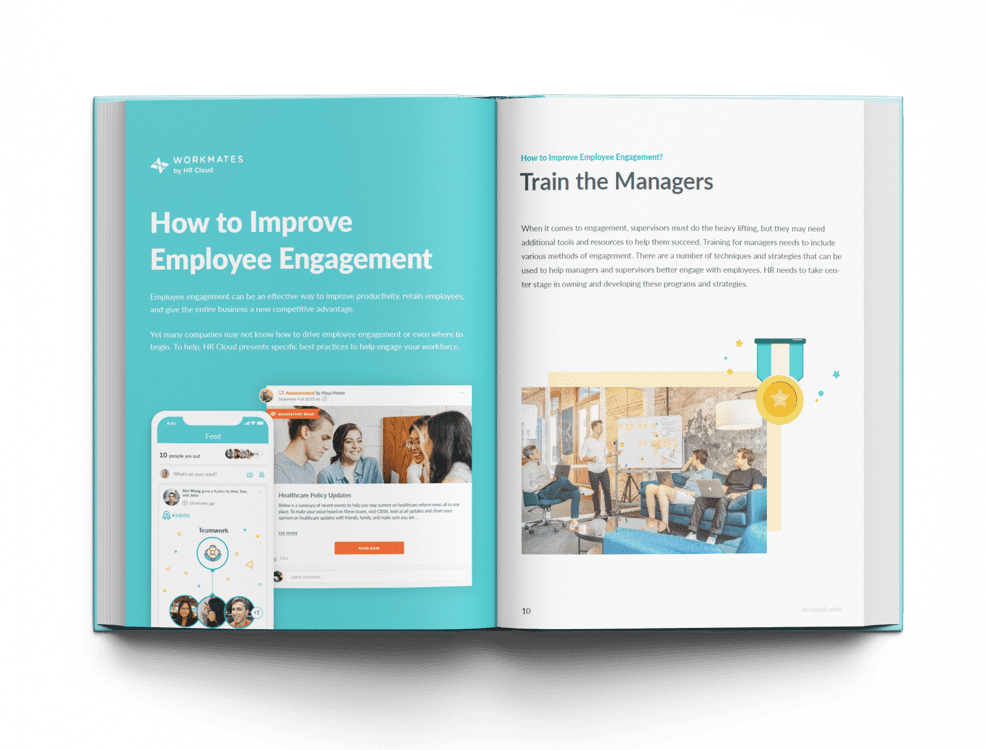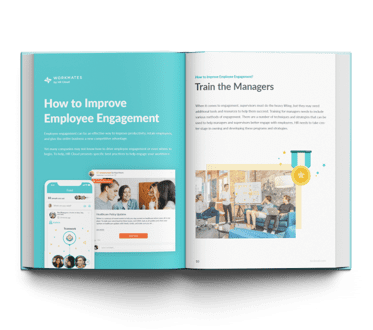 How Can You Engage Remote Teams Today?
Workmates now gives you the most effective way to communicate, collaborate, and engage with any team—even those not in the office. To learn more, download our eBook, "How to improve employee engagement?" today.
Download Now
Trusted by Today's Industry Leaders
HR Cloud has helped so many organizations improve the employee experience, transform their company
culture, and turn employee engagement into a business advantage. See how we can help you, too.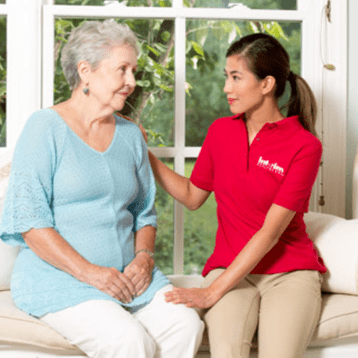 "HR Cloud®'s Onboard has helped our HR team save so much valuable time and effort while incerasing data accuracy."
Kaylee Colins
HR Analyst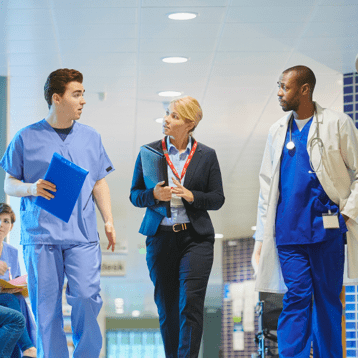 "It would be so great if each franchise owner could implement similar solutions to replace legacy systems that might not work."
Michael Hawkins
Franchise Owner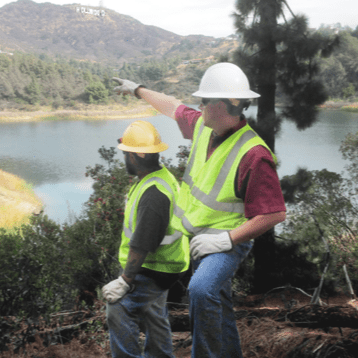 "Our staff has praised the increased communications level Workmates delivers. We use it to communicate important project matters and give staff specific 'kudos' or even recognize their birthdays."
Christopher Baggott
Chief Executive Officer Two Leaders.
One Seamless HR Experience.
There's a reason behind our partnership with ADP: Giving you a more complete HR experience. Workmates solutions offer fast, easy, seamless integrations with ADP tools and data, giving your teams a better way to manage HR, payroll, employee information, and more—all in a single solution.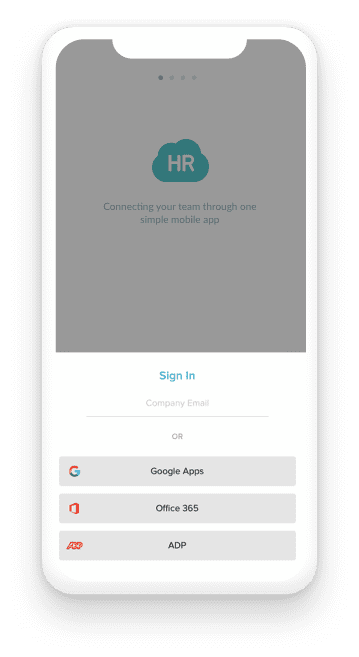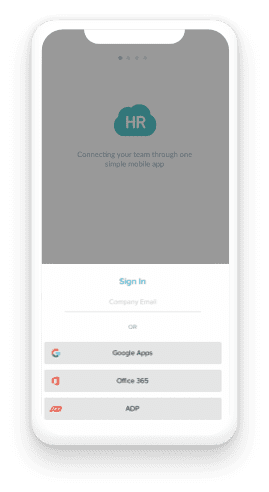 Enterprise-Grade Security
HR Cloud® takes data privacy very seriously and works hard to meet security requirements on every solution we offer. When it comes to safeguarding employee data, offering the latest tools and protection, and helping you comply with the strictest regulations, your security is our top concern.