We work with awesome HR professionals all over the world.
Here is what they have to say about us.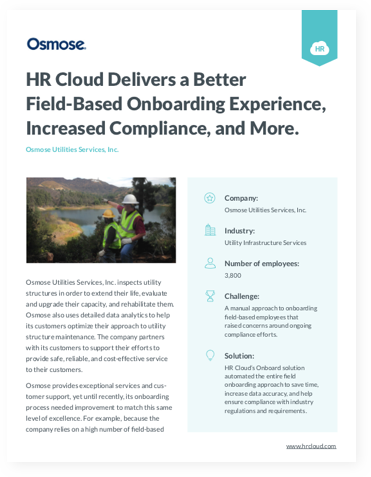 Kaylee Collins | HR Analyst
Osmose Utilities Services, Inc.
"HR Cloud's implementation team was truly exceptional. They built a comprehensive team of analysts, designers, developers, and more, and they all worked closely with us, our vendors, and other third-parties to design and implement a seamless user interface we loved "
Download the Case Study
The Challenge
Osmose provides exceptional services and customer support, yet until recently, its onboarding process needed improvement to match this same level of excellence. For example, because the company relies on a high number of field-based employees, Osmose's HR staff had to onboard them outside of a central office—or any office at all.
For example, a typical onboarding experience took too long—up to two hours for each new hire—and sometimes resulted in data entry errors that took even more time to fix. Additionally, this process raised concerns around compliance; specifically, if Osmose could continue to consistently meet deadlines and security requirements in order to comply with I-9, E-Verify, and industry-specific requirements.
The Solution
HR Cloud's Onboard solution automated the entire field onboarding approach to save time, increase data accuracy, and help ensure compliance with industry regulations and requirements.
"Our hiring managers now have a reliable system that is easy to navigate," says Kaylee Collins, HR Analyst. "Our HR team can actively monitor the process, and assist if needed, but Onboard has helped them save so much valuable time and effort while increasing data accuracy. All of this has helped us improve compliance and gives us a powerful tool to achieve even more results in the future."