We work with awesome HR professionals all over the world.
Here what they have to say about us.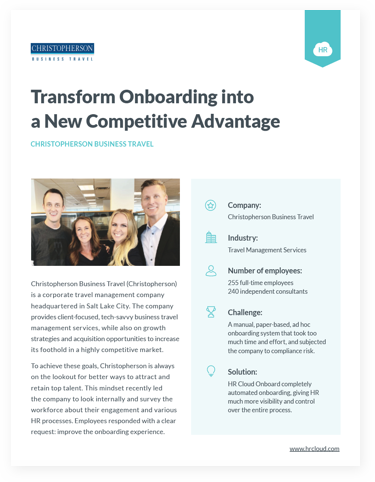 Elisa Garn | Vice President, HR and Talent
Christopherson Business Travel
"As soon as we saw HR Cloud's Onboard demo, we knew this was the perfect solution for us. We loved that it was extremely simple and powerful out of the box, but that we could customize it with advanced capabilities to make it work in our company setting. "
Download the Case Study
The Challenge
Christopherson is always on the lookout for better ways to attract and retain top talent.
This mindset recently led the company to look internally and survey the workforce about their engagement and various HR processes. Employees responded with a clear request: improve the onboarding experience.
Elisa Garn, Christopherson's Vice President of HR and Talent, remembers how they used to onboard employees. "Our previous approach was paper-based, decentralized, and inconsistent," she explains. "Hiring managers did the best job they could, but they wasted too much time finding the right forms and trying to make sure new hires completed them correctly. We want our managers to focus on leading their teams—not filling out paperwork.
The Solution
With Onboard, Christopherson has completely redesigned its employee onboarding process, a transformation that led to many significant benefits for the entire company.
For the HR team, the biggest improvements have been related to the complete visibility and control they have over any onboarding process. "We use Onboard to set up very detailed workflows, including multi-contributor tasks, notifications, reminders, and dashboards to see exactly where each onboarding experience stands at any given time," says Miki Loveless, Christopherson's HR Business Partner. These capabilities have helped her become much more strategic, consultative, and effective in her role.