We work with awesome HR professionals all over the world.
Here what they have to say about us.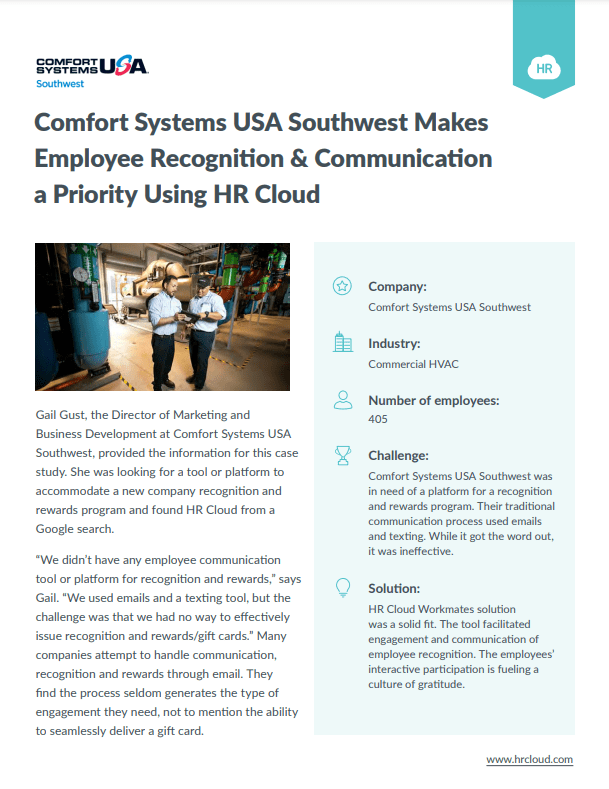 Gail Gust | Director of Marketing & Business Development

"My favorite aspect of HR Cloud is its ability to seamlessly issue gift cards that employees can choose for themselves"
Download the Case Study
The Challenge
"We didn't have any employee communication tool or platform for recognition and rewards," says Gail. "We used emails and a texting tool, but the challenge was that we had no way to effectively issue recognition and rewards/gift cards:' Many companies attempt to handle communication, recognition and rewards through email. They find the process seldom generates the type of engagement they need, not to mention the ability to seamlessly deliver a gift card.
The Solution
Users have shared that engagement is the most beneficial result received by their organization. The platform connects associates to each other in a way that doesn't happen through email. The engagement also drives a sense of team loyalty that produces greater work results.
HR Cloud® also receives praise for simplified workloads and the celebration of associates. The Kudos module continues to draw the greatest amount of attention. Comfort Systems USA Southwest has utilized the platform to deliver a company-branded social intranet to facilitate communication and recognition. This has helped drive greater engagement and customer satisfaction for the organization.