We work with awesome HR professionals all over the world.
Here what they have to say about us.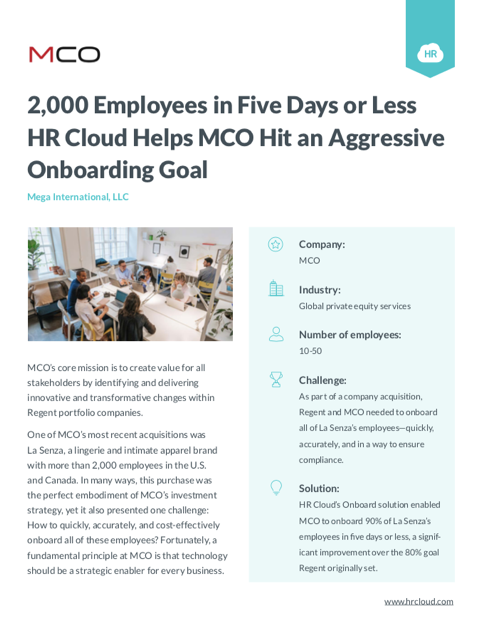 Ivana Placko | Product Manager
MCO
"We needed an onboarding solution we could deploy in a month or less. Yet it was also important that this solution would be able to offer power HR capabilities we could use to manage these employees in the future. HR Cloud's Onboard was the only solution that could deliver."
Download the Case Study
The Challenge
One of MCO's most successful acquisitions was La Senza, a lingerie and intimate apparel brand with more than 2,000 employees in the U.S. and Canada. In many ways, this purchase was the perfect embodiment of MCO's growth strategy, yet it also presented one challenge: How to quickly, accurately, and cost-effectively onboard all of these employees?
The Solution
The answer was HR Cloud's Onboard solution. MCO found that this cutting-edge HR solution could be implemented much faster than any other competitive offering while still delivering the right mix of features, functions, and capabilities to hit all of its onboarding objectives.
"We initially wanted 80% of all 2,000 employees to complete their employee agreements and officially onboard in five days or less, which meant that hundreds of employees would be using the system each day, " says Ivana Placko, Product Manager. "HR Cloud actually helped us surpass this goal, to the point where 90% of all La Senza employees met this deadline."