We work with awesome HR professionals all over the world.
Here what they have to say about us.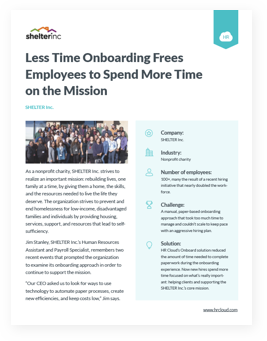 Jim Stanley | Human Resources Assistant and Payroll Specialist
SHELTER Inc.
"Thanks to HR Cloud, the reduction in onboarding time has been phenomenal. I estimate HR Cloud has helped me save 60-70% of the time I used to spend on onboarding tasks."
Download the Case Study
The Challenge
A manual, paper-based onboarding approach that took too much time to manage and couldn't scale to keep pace with an aggressive hiring plan.
Additionally, SHELTER, Inc. recently took over the management of a new homeless facility, which would lead to hiring growth that could possibly double its workforce. The organization quickly realized that it couldn't accommodate such aggressive growth without an automated onboarding system.
The Solution
HR Cloud's Onboard solution reduced the amount of time needed to complete paperwork during the onboarding experience. Now new hires spend more time focused on what's really important: helping clients and supporting the SHELTER Inc.'s core mission.
"Onboard helped us streamline our entire onboarding process," says Jim Stanley, SHELTER Inc.'s Human Resources Assistant and Payroll Specialist. "Now, we can get new hires in here, give them the information they need, and get them out there helping clients much faster than we ever would have using our old approach. And for us, that's what it's really all about."