12 Reasons to Choose HR Cloud for Your Employee Onboarding Software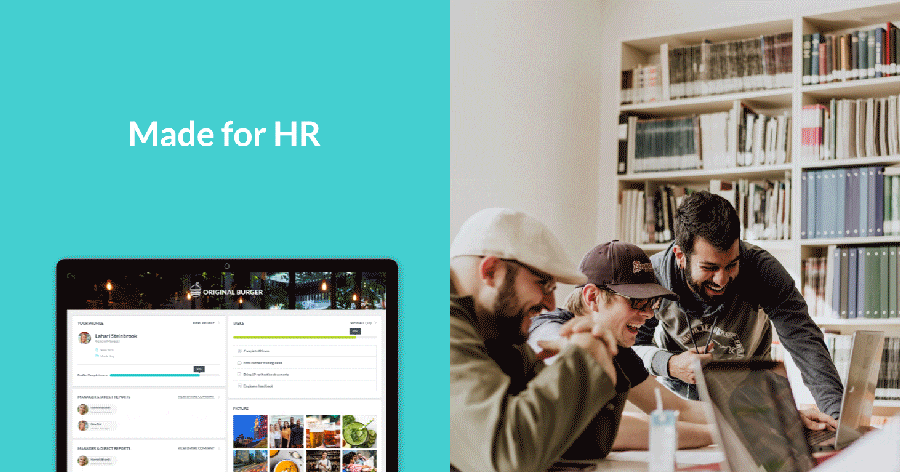 Quick links
There just has to be a better way to onboard new hires, right?
After all, traditional onboarding processes can be painful for everyone involved. New hires waste valuable time filling out paper forms, asking questions, meeting team members, and waiting for introductions or specific direction.
It's not just the new-hire experience that needs upgrading. An HR staff walks hires through extensive steps in the process and then has to manually enter important information from paper forms into company systems and databases.
All of this time could be better spent. For example, what if new hires could complete onboarding documents, review the company's org chart to virtually meet new team members, and complete a clear checklist to finish their onboarding requirements—all before their official first day?
Not only would this help engage them and get them to work faster, it would save valuable time and effort on the part of HR, hiring managers, and other employees, such as IT and facilities. With such a streamlined, simplified process, all parties could spend more time focused on what's really important: contributing to the company's goals.
At HR Cloud, we believe that employees' first days should be fun and productive and that our employee onboarding software, Onboard, can successfully get the employee-company relationship off on the right foot.
What Is Employee Onboarding Software?
But before we elaborate with the many reasons why we think Onboard is the best onboarding solution in the industry, we thought we'd answer one important question: What is employee onboarding software?
Employee onboarding solutions are software applications that are designed to help HR departments and companies improve yesterday's paper-based onboarding approaches and facilitate a faster, easier transition for new hires. Onboarding software generally includes valuable features and functions such as automated emails, personalized new hire portals, custom checklists, powerful reports, and more.
These new hire solutions also include other capabilities, such as employee self-service, I-9 and E-Verify, compliance tools, and integrations to payroll and other third-party applications. Effective onboarding solutions do so much more than eliminate paper and save time. At their best, they improve communication, engage employees, and create a valuable, natural working relationship much faster than traditional onboarding approaches do.
What Benefits Do HR Onboarding Solutions Provide?
Implementing employee onboarding software helps HR, hiring managers, and even executives address the needs and concerns of their new hires without placing too much administrative burden on HR or managers. This improves communication with new employees, gives them all the information they need, and tracks their progress through the many onboarding steps.
Employee onboarding software also helps to standardize the entire process, which saves time and makes each experience consistent, valuable, and rewarding. They even help with compliance efforts with features to make sure deadlines are met, nothing is missed, and that no documents or information is ever lost.
Better, More Productive First Days
Eliminate first-day formalities and pressure so new employees can hit the ground running. Now it's possible to give new hires self-service access to everything they need before they even start. This eliminates the mountain of paperwork employees used to have to complete and frees them to meet new team members and jump into work right away—after all, that's what they really want!
Employee Engagement That Starts With "You're Hired"
Employee engagement can be a powerful advantage, and it starts well before a new hire's first day. Employee self-onboarding starts as soon as the hiring decision is made. It is critical to keep enthusiasm high and reinforce their decision to accept your offer. Employee self-onboarding solutions often start with a new hire portal to showcase the company culture and other highlights. From there, the entire process is automated and creates the welcoming, helpful experience new employees need to hit the ground running.
Self-Service Access Makes New Hires Part of the Process
New hires can start the onboarding process directly from their personal devices using any email or with a provided device through a kiosk mode. This helps them own the process and lets them track their own task progress for those steps and activities they need to complete before their first day.
Well-Structured Onboarding
The right new hire solutions ensure that onboarding processes are well-designed, professional, and consistent for all employees. HR can carefully design onboarding workflows and create custom checklists complete with automated task reminders to make sure every task is addressed, everyone knows their role, and nothing is ever missed.
12 Reasons to Use HR Cloud for Your Employee Onboarding Software
Now that you understand what an onboarding software is and the many benefits it can provide, it's time to look at HR Cloud's Onboard solution. To help you see why we think Onboard is the industry's best new hire solution, we have outlined the top reasons why any company should select Onboard.
#1: Automated Intro Emails
Impress new hires—starting with the very first email. Onboard lets HR teams create a number of automated emails to welcome new hires, point them to specific tasks, provide helpful information, and remind them if a deadline is looming. It's efficient, but it also goes a long way to building long-lasting relationships with new employees.
#2: Easy-Fill Forms
With Onboard's powerful Form Builder capability, any user can quickly build any type of form. They can create custom forms using existing fields, or use a template from our form library to get started even faster. This helps HR teams design intuitive, fillable forms that can be accessed and completed on any device.
#3: Paperless, E-Signature-Enabled Processes
Now you can finish paperwork without all the paper. Onboarding software now offers e-sign capabilities to let new hires sign important forms and documents, such as direct deposit forms, employee agreements, tax information, and more—anywhere, anytime, and on any device. These capabilities help save time, eliminate potential questions and frustration, and make it so easy for new hires to complete their onboarding documentation.
#4: Personalized Portals
Create a welcome message with a link to a personalized portal complete with company information, documents and forms, org charts, specific tasks to complete, instructional videos, and just about anything else a new employee might need.
#5: Track Employee Progress
Stop wondering where a new hire stands in your onboarding process or worrying that a critical step may have been missed. Now, you can create customized checklists to automate the entire process, including dynamic tasks and responsibilities. Your entire team can rest assured that the onboarding process will be completed on time and that nothing will be missed.
#6: Easy-to-Use Notifications
HR can create custom notifications and reminders as part of their overall workflow. This automates the process and clearly communicates who is responsible for what and what their next step is. These notifications can be triggered manually or automated conditionally based on a task's due date. Notifications can be sent in email or as push notifications to a mobile device.
#7: Schedule Deadlines
Onboard also lets admins schedule milestone dates and deadlines to manage all those pesky details that could slip through the cracks. Information is clearly laid out so you can see what's missing and who's missing it in order to keep the onboarding process on track.
#8: Intuitive Dashboard
For complete, real-time visibility into the entire experience, Onboard delivers an intuitive dashboard that keeps you up to date on employees' progress through the onboarding process. View detailed reports or create custom dashboards to measure the metrics that matter most.
#9: Centralized Employee Data
Say goodbye to paper forms, folders, and filing cabinets. Onboard serves as a centralized repository for all employee data. HR can navigate Onboard's intuitive user experience to quickly retrieve employee data and rest assured that all information is stored digitally.
#10: Submit Employee Verification Requirements
Did you know that you only have three days after a new employee's first day to complete I-9 documentation or face penalties of $1,000 or more? Onboard walks you through important processes like this to make sure forms are properly completed and deadlines are met. For example, anyone can electronically sign, save, revise, and audit I-9s from any device. HR can submit employment verification requirements directly to agencies or create recurring tasks to stay in compliance throughout each employee's life cycle.
#11: Payroll Integrations
Onboard integrates with ADP and UltiPro payroll systems to save time, reduce errors, and ensure all teams are working with accurate information at all times. This integration enables HR to create new employee profiles and manage data updates. Employee information is automatically populated in both systems and is always up to date.
#12: And More (Integrations!)
Onboard is just the beginning. Our powerful suite of onboard software helps with every step of the employee life cycle and integrates with all of your favorite third-party tools. Whether it's recruitment, applicant tracking, performance management, or background checks—HR Cloud has got hiring covered.
Say Hello to Onboard - Your New Hire Solutions
The future of onboarding starts now. HR Cloud's Onboard software is an award-winning employee onboarding solution that helps new hires become much more productive with an easy, intuitive, and efficient process. You'll automate and streamline your onboarding process and gain all the necessary tools to make any employee's first few days great. Now, new employees get all the information they need to be happy, productive, and start making a difference on day one.
To learn more about Onboard, visit our website or register now for a brief, no-obligation demo.
Keep Reading
8 Techniques to Keep Remote Employees Engaged
Five years ago, there were a few companies that offered at-home work, but they were rare.
9 Effective Employee Engagement Strategies
An incredibly important approach to boost your business is to focus more on employee
Write for the HR Cloud Blog!
Join so many other talented HR professionals by contributing to the HR Cloud blog. To learn more, view our blog guidelines now.
Like What You Hear?
We'd love to chat with you more about how HR Cloud can support your business's HR needs.