The Four Phases of Employee Experience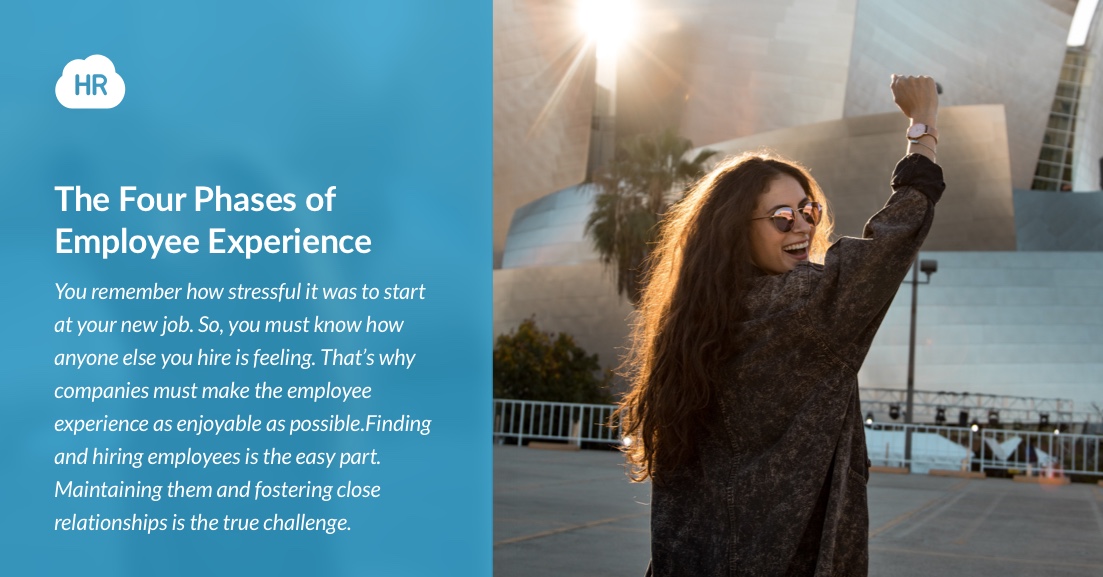 Let Us Help You Engage Your Employees!
We'll show you how Workmates can engage eveyone in your organization, transform your culture, and drive productivity to new highs.
Onboard New Hires Safely, Efficiently, and Effectively.
We'd love to chat with you more about how HR Cloud can help you create an Exceptional Onboarding Experience.
Are You Interested in Improving Your HR Organization?
HR Cloud is the hidden hero powering the world's best HR teams - book a call with our team!
It's your first day at your new job and you're feeling nervous. Will the company match your expectations? Will you get along with your coworkers and supervisors? Will you be able to find the balance between work and your personal life? All of these questions are bound to plague anyone as they start a new job.
You remember how stressful it was to start at your new job. So, you must know how anyone else you hire is feeling. That's why companies must make the employee experience as enjoyable as possible. Every interaction and every phase counts as part of the employee experience, and the more positive these experiences are, the more likely it is that you will build a strong team of employees.
Finding and hiring employees is the easy part. Maintaining them and fostering close relationships is the true challenge.
Why do HR managers need to focus on employee experience?
You might be wondering why all of this matters anyway. After all, isn't the main purpose of a company to make a profit?
The short answer is no. If your business slogan has something to do with making sure that everyone feels welcome and included, but you don't do anything about this for your employees, it's completely useless. Your employees make up your organization, and their success equals your success. Your employees should be more important to the company than the clients.
People spend the majority of their lives at work. If you have a full-time job, you're spending somewhere around 40 hours per week working. Therefore, it's important to make sure that the environment your employees are working in is one that they enjoy. No one wants to show up to work miserable every day, nor does anyone want to spend their entire working lives waiting for the weekend. Surely, there is nothing you can do about people wishing they could be sipping mimosas on the beach instead, but you can make sure that your employees are not miserable when they come into work every day.
In addition, focusing on improving the employee experience is only going to benefit your company. That includes the company's profits, too. For example, if employees are happier when they come into work, they are more likely to be productive. Your MVP strategy and outcomes will improve, too. Their positive mood is going to rub off on others, who will also feel more motivated to work and do their best. If there is positive company culture, that will be reflected in the quality of your employee's work. Also, there will be lower turnover rates, which also have a major impact on the company's success and profit. If a company has a high turnover rate, that could end up costing the company way more. In short, improving the employee experience and giving them the morale they need to perform their best will only enhance the overall success of the company.
HR managers are among the first people that new employees will meet at the company. If employees get a positive impression of the HR manager, that will only have a positive impact on that employee's mood, morale, and performance. When you consider all the impact this will have on employee engagement and team satisfaction, you will realize how important it is to make sure that the employee experience is as positive as possible.
Major elements of employee experience
The employee experience will begin right with the first LinkedIn lead generation until the day the employee resigns from their position.
In short, the employee experience is the entire length of time from when the employee first finds out about the company until the day they leave.
Considering how much of our lives is spent at work, companies need to make sure that this experience is as positive as possible.
Let's look at some of the biggest elements of the employee experience.
Recruitment. One of the biggest ways in which companies recruit employees is through LinkedIn marketing. LinkedIn has grown vastly as a networking site where companies can advertise and search for new employees. In addition, you can make use of your company's other social media platforms. For example, you can also check out Instagram followers' demographics to see the kind of people who are following your page and who will be most interested in working with you.
Work environment. Everyone seeks to work for a company that has a positive working environment. As we have reiterated several times, people spend the majority of their lives at work. If the work environment is negative, that is going to have an impact on your employees' moods, not to mention their productivity. So, everyone needs to understand the role in contributing to the work environment and making sure that the environment is as positive as possible.
You may want to consider conducting employee surveys (anonymously) to get a better idea of how your employees feel about the company and where they think the company can improve. If your employees don't feel happy working in this environment, the company's leadership needs to do everything they can to change that. Moreover, consider getting the right tools and platforms that will help your employees work more productively. If, for example, your company has a customer support center, you can acquire software like Talkdesk or look for Talkdesk alternatives. The better the working environment, the better the employee's experience will be.
Benefits. Benefits remain one of the most important criteria that people have when they apply for new jobs. If people have great benefits, they will naturally have a better employee experience. Unexpected events may take place, such as a death in the family, illness, or problems at home. Therefore, companies must take all of this into consideration when they compile a package for their employees. If the company offers great benefits, employees will naturally have a better experience.

Technology. Technology also plays a major role. The Internet has drastically changed how people communicate with one another. Many companies now provide their employees with the option to work remotely. Employees will want to have all the latest software to ensure that their workday is as efficient as possible.
Moreover, companies have presented new tools and platforms such as image editors, an email signature generator, and task management software, etc. These come in handy for remote work and help make it more manageable.
The better the technology, the easier it will be for them to do their jobs. For example, you can use Google Trends API to determine what trends are taking place online, which will help you optimize your work more efficiently. You can also use tools such as Google Drive and Microsoft Teams depending on the job. In short, focus on the different technologies that you provide, which will enhance employees' experiences. Also, it may be worth considering providing employees with computers and phones depending on the kind of job they have.
Many elements contribute to the employee's experience. Essentially, everything that employees will encounter throughout the workday can make their experience better or worse. If you have great technology, for example, employees will be able to do their jobs quicker and easier. This is important to consider when you are hiring new employees and focusing on expanding.
The 4 phases of employee experience and how to make it great!
ClearCompany estimated that as many as 66% of employees will try to look for a new job within only six months. Although some employees will inevitably end up leaving the company quickly, the company needs to do everything possible to hold onto its employees. The main way to do that is to improve the employees' experience.
No one's experience when they join a new company is going to be the same. It won't even be the same for two people in the same position. However, when companies track the experiences and change their employees go through, it is important to consider the phases of the employee experience and how to make them better. Now, let's take a look at the four main phases and what they consist of.
1. Onboarding and welcoming new hires
Onboarding is one of the key parts of the employee experience. It's said that first impressions matter the most, and that is certainly the case here. Around 30% of employees will leave their job doing the onboarding process. It is through onboarding that new hires grow accustomed to the company and learn more about how to do their job. This is also when new hires will build relationships with those around them and start to understand how they can truly contribute to the company's success.
According to Peakon, the Onboarding process will generally take between 0-3 months depending on the individual company and the new hire's performance. Some companies may make use of a coaching platform to assist employees in the onboarding process. As part of the process of welcoming new employees, another important step is building an online community. Many employees will end up communicating with one another online, especially through platforms such as Facebook groups, Slack, and Microsoft Teams. This online community needs to be especially welcoming toward new hires so that they feel that they are truly members of the team.
Here are some more important tips for making the onboarding phase more efficient.
Be transparent about everything: Sometimes, employers might feel tempted to conceal some of the flaws within the company. However, you need to be transparent with your new hires about everything. For example, they need to be aware of the benefits they are eligible for, time off they will get, and issues that they might face within the company. If you show your new hires that you are honest, this will leave a lasting impression on them. A lack of transparency is one of the biggest reasons for Kickstarter failures. They need to be able to trust you, and providing employees with the necessary transparency will put you on the right path.
Engage with your new hires even before they officially start: Generally, the time between when the new employee signs their contract and when they officially start is around two to three weeks. However, you want to make sure that you maintain engagement. You may want to reach out to the new hires and see if they have any questions or issues.
Make sure to present them with all the tools and technology they'll use for their role. For example, introduce your new sales team to your platform for management, or if you cooperate with influencers, show your new marketing employee how to use Upfluence or other influencer platforms effectively. In addition, it is always a great idea to provide the new hires with an itinerary of what they should expect during their first week. It is also worth considering making a welcome video that you send out to all new hires.
Meet with the new hires on Day 1: It's the big day! Now, you will want to do everything to make sure that you meet with all the new hires one-on-one to make sure that they know who you are and that you're there for them. Having a personal meeting will help your new hires to have a stronger connection instead of feeling overwhelmed with all the events and training they will have to participate in over the coming weeks. Also, you will want to present the new hires with information that will help them to learn more about the company, such as the company's mission and history.
Organize team-building events: It is equally important for new hires to get to know the other members of the team, including other newbies and those who have been with the company for a long time. This can include team lunches or icebreaker activities (these aren't everyone's favorite, but they do help the team members get to know each other more effectively). There should also be meetings with different teams across the company and announcements that will welcome all the new hires.
Show that you are available to answer questions: If you're the owner or supervisor, you always want your employees to feel as though they have a connection to you. This means that you should reach out to them and show real-time support if they have questions or need assistance with anything. It can be daunting to them at first, but when they realize that you are truly there for them and want to see them succeed, this will enable them to have a better relationship with you and perform better on the job.
Use the right technology: With the onboarding process, you will also want to make sure that you have implemented the right technology for helping the process become more streamlined. For example, when you are signing contracts, tax documents, etc., it will be more effective to have document signing software implemented to make sure that your employees have an easier time, especially if they are working remotely.
To summarize, onboarding is all about fostering and developing relationships with the new hires. You want to make sure that they feel welcome and that they are part of the new team! There are plenty of activities that will enable this to happen, so it is important to evaluate this with HR depending on your company's values and mission. The onboarding process is what will make or break your employees' opinion of the company, and it will dictate how long the employee will end up staying with you.
2. Development and retention (engage, perform, develop)
The third phase of the employee experience is known as development and retention. This is the phase employees are in after they've been a part of the company for two years or so. This is the more experienced phase of the cycle, and it remains until the employee decides that they want to move on from the company.
In this phase, employees want to advance in their careers and are looking to advance even further. They have enough knowledge and skills to become some of the highest-ranking members of the company. Considering all of the knowledge and skills that employees have acquired to reach this phase, they must be provided with enough opportunities for growth and improvement. This is something you're likely to do as part of your customer retention strategy as well. Otherwise, the employees are more likely to seek these opportunities elsewhere.
Here are some of the most important factors to consider in this stage.
Not everyone has the same goals. Not everyone in your company is going to want to move up to the same position. Not everyone wants to become a manager, not everyone wants to become a team lead, and not everyone wants to train new employees, for example. Therefore it is important to consider the fact that each individual in the company is going to have different dreams and goals.
So, when you consider development, understand that each person is going to have a different journey within the company. One person may move in a completely different direction than the other, even if both of these people have been hired together for the same position.
Be sure to find ways to track the changes made within the company. Tracking any new changes that take place within the company will only help you get a better idea of how effective those changes were. When you hire new employees, you can also track their performance and see how the company has changed ever since hiring them. In any case, to make the engagement and performance part of the development process even better, you should make it a point to understand how the new changes have impacted your company.
Make time for learning. Even though the stage of the employee experience involves people who have had a lot more time within the company, they are not going to know everything. Your company is going to constantly change and evolve, and your employees need to be prepared for this. Moreover, if you have senior employees, make sure they are properly introduced to the new technology and software you implement. Simple tasks like using Google products (docs, sheets, etc) or using a website ranking checker need to be learned by everyone. So, make sure that your employees have enough time to learn, and make sure that they can enhance their skills no matter what stage of the employee experience they are in.
Invest in your company's management. Having proper management is what's going to make or break your employees' experience. For example, if you have poor managers, it is going to be much more difficult to retain employees. Do you want to make sure that all of the leaders and managers within your company have the skills necessary to promote engagement from employees? Moreover, whether you're a clothing business or a digital marketing agency, this investment can include tools such as training and proper hiring.
Understand that everyone will have a different development plan. Once again, the experience that each individual has within the company is going to be different. So, for this, you can create an individual development plan that will consider the goals of each employee and outline the skills they need to have that will help them achieve their short and long-term goals.
There is quite a lot that goes into this stage. This is the stage that employees will likely spend the longest amount of time (at least, that should be the company's goal). It is important to focus on maintaining behaviors and high satisfaction rates to ensure that the employees will constantly develop and stay with the company for as long as possible.
3. Separation
All good things come to an end eventually. The same goes for your job. As much as you love your employees, they will not stay with the company forever. Some of them may want a change, others may retire, and others may have found more suitable opportunities elsewhere. This is a normal part of the employee experience and one that every company needs to make room for.
This part of the process is referred to as separation, and it takes place approximately 0-3 months before the employee leaves the company. Sometimes, this happens due to nothing you've done, but instead, it can be a decision that was made solely by the employees. Here are some factors and important points to consider about the separation process.
Phases of the process: Different companies are going to have different rules about when people will give notice of resignation. However, this is often referred to as "giving in two weeks" because the most common practice is for employees to inform the company of their decision to leave two weeks in advance.
Regardless, it is generally a good idea for employees to try to inform the company earlier for the company to start the recruitment process. As soon as the employee gives the company notice of their resignation and request of payment, the HR department and the employee's manager must handle all the tasks properly, including paperwork and freezing finances. In addition, the employee's manager must have a plan drawn out that will explain all the different tasks that must take place during separation.
Generally, the length of time that this process will take depends on the employee's level within the organization. If the employee has an entry-level position, it will be easier for the company to find a replacement and to go through the separation process. But if the employee is a higher-up or a supervisor, it can take up to 2 to 3 months.
Who participates? Aside from the employees themselves, several different people will play a part in the separation process. These include the employee's manager, the HR manager, and the separation team. The employee's manager and the HR manager must work together to hand over the work and other tasks.
The separation team's task involves dealing with the employee's benefits and finances. Finally, the HR manager has the task of interviewing the employee to find out the reasons why they are leaving. In essence, this entire process involves many people, and companies need to establish a clear process for separation.
Make it a point to understand why people are leaving the company. This is, perhaps, the most important part of the separation process. It cost companies a significant amount of money to hire new employees and to go through the separation process in general. In addition to that, companies must handle high turnover rates and find out why employees are not satisfied. Of course, as we mentioned, sometimes the reason why employees are leaving the company has nothing to do with the company itself.
Everyone wants to grow and advance in their career, and sometimes that is not possible within the current company. This is natural, and something that each company should take into consideration. However, it is also likely that the reason why the employee wants to leave the company is something that the company has done, such as not providing them with enough sick days, not giving them maternity leave or poor treatment from the managers. That is why it is important to understand why employees are leaving so that you can fix problems as they arise without letting them get worse. And, if the employee leaving expresses dissatisfaction with the company, chances are that many of the other employees feel the same way.
Ways to understand why people are leaving. Nowadays, there is a lot of software that will enable you to get a better idea of why employees are leaving the company.
Exit Survey: This is, perhaps, the most popular method. An exit survey consists of questions that companies will ask the employee before they resign. The survey will consist of questions such as why the employee started searching for another job, why they are leaving, and if there is anything the current company could have done better. You can also make use of tools such as customer feedback software to understand how clients are feeling. In essence, the company needs to obtain feedback from employees through the use of such surveys.
Exit Interview: This has the same premise as an exit survey, only it is conducted in person. The interview will generally take place between the employee and the HR manager. The questions will mostly be the same as those asked during an exit survey. It is important to understand that each person leaving your company deserves to have this interview.
The separation process is a sad but important part of the employee experience. It takes a lot of work and tends to involve many people. However, the most important part of this phase is to understand why the employee is leaving and if there is anything the company could have done that would have changed their experience.
4. Employee data protection
As you hire new employees, you will need to ask and retain personal information like Social Security Number, medical records, bank account information, etc. During their employment, they will communicate with company partners for product roadmaps or new distribution methods. These processes require information and data exchange. To create an excellent employee experience in your company, you need to secure employee data, especially when it comes to personal and financial information.
Start by implementing control over data by securely keeping all records. For example, paperwork and documentation need to be stored in a safe location that's under control. For this reason, Microsoft has launched the NTFS system for storing and organizing data more efficiently. As you set up and analyze NTFS permissions, you can give access to records to certain people in your company. When it comes to electronic information, consider encryption, use passwords, and secure servers. In addition to this, you also need to keep the means and technologies under maintenance to ensure your employee data doesn't get any virus threats.
In this age of digital innovations and technology, company staff must be aware of things such as cyberattacks. Especially when it comes to new employees, they want to get things done well and show great performance which is why they are a great target for hackers. If, for example, an employee gives out financial information via email without realizing that it's phishing, attackers can easily access both their and company data. This is why it's important to keep email records safe and prevent hackers from getting access to your employee data.
Encourage strong passwords
Since you're welcoming new employees, you will need to provide accounts like email, company file access accounts, or maybe even LinkedIn. Most of the time, employees tend to choose passwords that are easy to remember, so that they won't have to struggle with them. However, hackers and the bad guys on the Internet can easily 'guess' those credentials and get access to employee and company data. So, require your staff to set strong password credentials and change them periodically to avoid cyber attacks and ensure the data privacy of your employees.
Consider cryptocurrency transactions
When Bitcoin was launched for the first time, its main purpose was to ensure fast and secure transactions.Cryptocurrencies still keep this tendency when it comes to money transfers. This is why there are a lot of crypto heatmap tools available which help users track and keep up with their exchancrypto heatmapges."
The cryptocurrency Litecoin, for example, offers a much safer and faster transaction process. Additionally, it also provides a lower transaction fee which makes it the biggest competitor to Bitcoin.
When it comes to employee payments, again, cryptocurrency plays a safe role in data protection. So, if your employees prefer to be paid in crypto, suggest they keep a crypto tracker to always be on the know about the changing price of their crypto assets.
Implement proper access control
Technology has developed so well that companies can now implement access control methods like biometric readers, key cards, and more to protect data. If your employee data is stored physically, you can assign specific employees and define who can get access to that area. Moreover, access control implementation helps determine who can enter and exit your company building, access certain rooms, or employee data.
If you choose to skip employee data protection, you not only create a bad experience for new workers but also damage your company's reputation. Moreover, if you don't prevent employee data theft on time, your company will face costs like regulation, litigation, and more.
Tips for creating a great company culture
No one wants to work for a company where the employers are rude and everyone seems to be in a bad mood all the time. That's where the importance of company culture comes into play. Although it might seem like an impossible task to create a great company culture, especially in the beginning, it's certainly feasible. But it all comes down to the attitudes of the managers. And when you create that company culture, you'll notice a dramatic shift in productivity, morale, and engagement.
Here are some of the best tips for fostering a company culture that people will fight to work in.
Actively care for the wellness of your employees
One of the most common complaints people have about their employers is that the employers treat them like robots. So, in short, it's important to make sure that you recognize your employees are human. They have personal lives outside of work, and sometimes circumstances arise that will prevent your employees from performing their absolute best. Making sure that your employees get the proper rest, time off, and support will help them to feel more confident and appreciated at the company. Part of caring for their wellness also refers to offering benefits, too.
Using the right tools can drastically improve your company's culture. Tools generally refer to the technology that is used to make the entire workday smoother. Finding the right tech products to help enhance the productivity and efficiency of your company should be one of your biggest priorities.
Time management tools are among the most important considering that everyone needs to be able to allocate time efficiently.
Building a strong online community also plays a huge role. Employees will often communicate with their supervisors and coworkers online, so tools such as Slack and Microsoft Teams are crucial. Also, you will want to include some sort of meeting notes to make everything easier to understand. Or, you can encourage your employees to go with email signature management and customize the signature so others can understand their position.
Make sure your employees feel recognized and appreciated
As we've already established, your employees are your company's biggest asset. Make sure they know this! No matter how small, make sure your employees know that you appreciate and value them. Even if it's something like bringing in coffee to work on Fridays, or sharing their success through Instagram hashtags on your company page. This will certainly boost morale and make your employees happier to work for you.
Your employees are the ones who run the company, essentially. So, they are the first to see if there is a problem or somewhere the company can improve. You can also use technology such as employee testimonials to find out more about where the company is lacking and what it can improve upon
Conclusion
The employee experience is, arguably, one of the most important parts of your company. People are going to find out how you treat your employees and if word gets out that the employee experience is overall rather negative, that is going to have an impact on your company. As you outline your company, one of the first factors to consider is what you will do to make your employees have the best experience.
Your company may hire thousands of employees during your tenure, but each of those employees is going to remember your company. Following this advice is going to make sure that those memories are positive ones.
Author Bio: Anthony Stevens is the Content Specialist for Excel Templates, a resource for free Excel templates including calendars and charts. When not writing, he spends time building furniture and running with his dog.
Keep Reading
Making the Right Difference by Recognition and Rewards Policy
Employee recognition and rewards have emerged as crucial components of a successful
5 Signs It's Time to Invest in PTO Software for Your Business
Every manager knows how inconvenient it is when leave requests pop out of nowhere. This
Write for the HR Cloud Blog!
Join so many other talented HR professionals by contributing to the HR Cloud blog. To learn more, view our blog guidelines now.