10 Employee Recruitment Strategies for Successful Hiring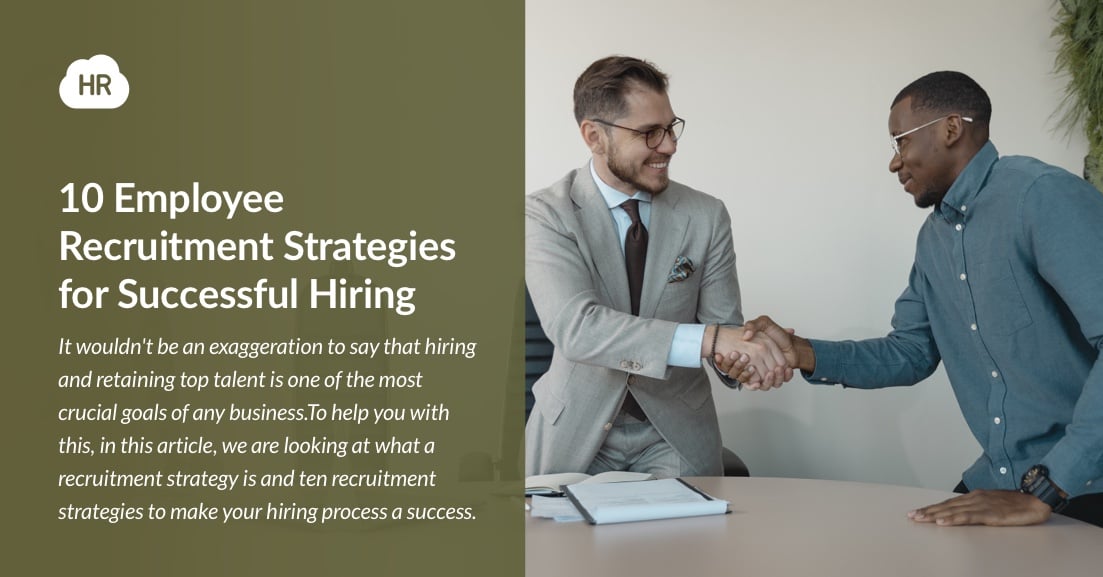 It wouldn't be an exaggeration to say that hiring and retaining top talent is one of the most crucial goals of any business. After all, a company is only as good as its people. However, with digital advancement and increased competition locally and internationally, this can become increasingly harder to stand out as an employer.
To help you with this, in this article, we are looking at what a recruitment strategy is and ten recruitment strategies to make your hiring process a success.
What Is A Recruitment Strategy, And Why Do You Need It?
The fundamental definition of a recruitment strategy is the plan that explains what role you are hiring for, how much time you have, what tools you are going to use, and the requirements for successful candidates.
When it comes to recruitment strategies, the "one size fits all" approach doesn't work. Depending on your company's goal, the time frame, and other factors, the right recruitment strategy may differ from case to case. Therefore, instead of having a specific path in mind that you follow in every situation, you may want to develop creative ideas that can streamline your recruitment process. However, all these ideas need to follow your company's overall goal, be implementable, and be easy to communicate.
If carefully planned and implemented, recruiting strategies will help you position yourself in the job market as a reliable employer, helping you attract the people you are looking for.
1. Begin with the basics
Before we jump right into hiring, there are several basics that you need to consider to make sure your hiring strategy is a success. Here are they:
Know your ideal candidate - First things first, for each position you hire, you need to know the perfect candidate: educational background, experience, and what they'll be working on. Not having a clear idea of who you are looking for will result in wasted time, and you may end up with someone who is not the right fit.

Consider your recruiting metrics and adjust your goals - Your recruitment metrics can give you an idea of your pain points. After understanding this, you can change your strategy accordingly for improving sales workflow and achieving better results.

Invest in recruitment tools - In case you are not yet using recruitment tools, consider adding them to your HR toolbox. They can help you speed up the hiring process and save on some additional costs. From CV-review software to video interviewing tools based on your needs, there are many options to choose from.

Be where your candidates are – No matter if you plan to hire remotely or you need on-site staff, to find the best talent out there, you need to post your job ads where they will get the most exposure. For example, EuroOptic used Lensa to look for candidates for different positions in different locations. Online platforms are often the best places to reach more qualified people, no matter your industry.
These are not the only steps you need to take before starting your hiring process, but they are some of the most crucial ones that you shouldn't ignore. One of them is expenses, you should consider such things as how much it costs to hire a developer.
2. Invest in employee branding
When trying to attract talent, having a strong employer brand is crucial for recruiting strategy. More and more companies realize this, putting time, effort, and resources into positioning themselves as great employers. Some key benefits of employee branding are:
Attracting top talent - People want to work for companies that have a good reputation. And the highly qualified also have the opportunity to do so. Being known as a company with great job security, flexibility, and professional development opportunities will help you secure top people in the field.

Reduced cost and time per hire - Having a strong employer brand makes you an attractive choice for many qualified potential applicants in shorter time frames, as well as reducing the budget you need to spend on paid ads and job postings.

Retaining of existing employees - Strong employer brand allows you to attract top talent and results in lower employee turnover. In addition, your brand helps you create a bond with your potential employees even before starting the hiring process when they consider applying. Later, this connection results in higher levels of employee engagement and dedication towards the company.


Employee branding and online reputation management for recruiters are becoming increasingly important, so make sure not to miss this step.
3. Optimize the career page on your website
Many companies out there make the mistake of ignoring the career page on their website, as they assume the website is only for
Your career page represents your company to the potential applicant. That's why it should be appropriately set up. Apart from including detailed information on each position, talk about your company values, beliefs, working style, and vital statistics that you feel the applicants should know. Your company page gives you a chance to "promote" yourself as a workplace and show the applicants why they want to join you. This can be done by incorporating team photos, company videos, and employee testimonials. Moreover, make sure to incorporate proper user experience design, use automated WordPress hosting for more security and speed, and share interesting content to engage more candidates.
Try to expose your career page on as many platforms as you can, both online and offline. For example, if you are participating in local job fairs, or going to professional events, make sure to include the link to your career page on your company business cards and flyers so that attendees later have the chance to visit it.
Include in your career page website chatbots which will be a very welcoming gesture to the applicants who want to apply for your vacancies. Chatbots can be responsible for answering the primary questions and satisfying the needs of applicants, for example, if there are any issues while filling the application form.
4. Use social media
Social media has revolutionized our lives. It is no longer only a way to connect with our loved ones, but one of the key ways to find products, learn news, and whatnot. It also changed not only the way companies work but also the way they hire. As hiring switches increasingly to digital, social media is becoming a valuable source for recruiters to look for new talent. Here's a number: 40 million people each week search for jobs on LinkedIn. And if your company doesn't use this tool to headhunt and hire employers, you may be missing out.
There are many ways you can use social platforms for recruiting. The primary one is, of course, directly posting the job announcements. For example, LinkedIn and Facebook currently have separate "Jobs" sections to announce, and potential candidates can apply now. Another way is to create a post about the position or even use paid ads to promote it.
Additionally, you can also use social media marketing as part of your employer branding strategy by making posts about the company culture, sharing photos and videos from the events, introducing your team to make a positive attitude towards your company among professionals. Introducing the company to the audience is one of the biggest social media trends. It will help you kill two birds with one stone: reach potential applicants, and improve the company's marketing efforts. You can also seek the support of influencers who became very trendy in recent years in social media. They might use their influence on their audience to promote your company, which will arouse interest to apply for jobs. By the way, you can find influencers by scraping Google or using any other tools made especially for that process.
5. Incorporate referral programs
Referral programs are becoming another recruiting norm that businesses around the world started to approve. This is how it works: employers encourage current employees to refer qualified candidates for some type of reward, often financial. In essence, referral programs give recruiters access to the professional connections of the team, turning each member of the team into a recruiter. By the way, you can also involve business mentors in those programs, so it will become more practical and useful for future employees.
This strategy has several benefits. The key one is that referred employees usually perform better and stay in the company longer. Other benefits are the reduced hiring costs, as the financial benefit given to the employee is often less expensive than the recruitment marketing budget you'd need to allocate. Additionally, the hiring process happens quicker because someone is acquainted with the referred candidate's working style and qualifications. Finally, well-designed and managed referral programs can also improve employee satisfaction, showing them that their opinion is valued.
6. Have company culture and benefits videos
Company culture videos or even videos about the benefits you have for the employees are a great way to attract potential team members and give them a feel for what's in it.
A well-thought-out and crafted clever and funny video can work wonders in attracting candidates and wanting them to learn more about what you have to offer them both as a brand and as an employer.
Another great thing about videos is that they no longer require significant investment to create. There are various tools available that allow you to make videos online without having to hire a crew. You can then use the video across platforms online and even as TV ads.
7. Explore niche job boards
Niche job boards are becoming increasingly popular among recruiters. The main reason for this is that they allow them to cut through the clutter and directly reach the talent for the position you are looking to hire. You can think of niche job boards as tools for market segmentation of employees. While these platforms don't receive the amount of traffic hiring giants like Indeed, they are targeted by experienced industry professionals and are great for hiring very niche technical talent. They are also more accessible price-wise.
However, it's essential to know that because niche job boards don't receive massive traffic, you need to be very specific about promoting your position there. Therefore, your job description needs to be very specific and carefully tailored, so the people visiting those boards know precisely what the role will include.
With niche job boards, you're likely to put more effort than with regular job posting platforms, and you'll reach fewer people, but they'll be the right people.
8. Do reference checks
The reference check is the process during which the recruiter checks and confirms the information in the applicant's CV to make sure if it's true. Additionally, they also contact the references to ask for feedback about the applicant. This helps recruiters verify the applicant's skills to make sure that they are the right fit for the position. During reference checks, it's common for recruiters to assess the applicant on the critical skills essential for the role and soft skills like punctuality, communication, and overall attitude.
For example, if you want to hire a graphic designer, the CV of the candidate should at least contain professional skills like making a logo, creating illustrations, photo-editing, etc. Check carefully every sentence contained in the CV to find the specialist that fits the hiring position.
As a rule, the reference check is the last step of the recruitment process when the hiring manager makes the final clarifications before completing the job offer.
9. Contact passive candidates
Promoting your job offers and then choosing candidates from the applicant pool is great, but it's not a guaranteed way to find the right person. Sometimes, notwithstanding the number of people who've applied, you cannot find the person who is the right fit.
Here's when the passive applicant pool can come to help. But who is a passive applicant? The person who is not actively looking for employment or may even be employed seems to be a good fit for the position. LinkedIn is one way to reach those candidates, but there are also many other platforms such as SeekTalent that you can use.
When reaching out to them, make sure to craft a personalized message telling them about your company and why you think they would be a perfect fit for the available position. Try to keep the conversation engaging and offer to organize a minor call or even a meeting to discuss possible cooperation.
10. Improve the interview process
It's hard to overestimate the importance of the interview process. Be it online or offline, and the interview is the first time your company representative will meet with the applicant face to face as part of the hiring process. For a successful and effective interview process, there are several vital points that you need to consider. Click here for more information.
Don't put the interview off for too long - If there is a long time frame between the application and the interview, the applicant may be put off, or they may find something else. Take your time to screen all the applicants and carefully assess them, but make sure it doesn't take months before you call the candidate for an interview. If they don't pass the screening section, send them an email notifying them. You may have hundreds of applicants, which may seem time-consuming, but using different SaaS email templates and setting up an automated email will simplify the task significantly. Overall, using email marketing in the hiring process is a good decision, as it will keep the official part and make it easier to keep communication with the potential employees.

Try to be innovative - Video interviews are becoming increasingly popular. While they may not fully allow the parties to feel for each other, they offer convenience and cut the time needed for the interview. Don't stick only to in-person interviews but try to provide options that may benefit you and the potential hire.

Share the hiring process with the applicant - As we've discussed earlier in the article, you need to have your hiring strategy planned out in the beginning. If you've done it, you probably know all the steps both you and the applicant need to follow. For example, if there is a task and an interview with the team lead, share it with the applicant upfront to know what to expect.

Discuss finances - If the pay range wasn't part of the announcement, you'd probably need to discuss it during the interview. Ask the applicant about the pay range they feel comfortable with and then discuss your company's amount in mind. This will save a lot of time down the road and help avoid any misunderstanding later.
Try to communicate all the concerns you and the applicant have in a friendly and accessible manner, ask them questions, and clarify if they have any. Then, after the interview, make sure to reach out to them with the decision as soon as possible, be it positive or negative.
Conclusion
Having a well-developed recruitment strategy is not just a need but a must for any company for long-term success. The process and tactics discussed in this article are some of the safest bets for recruiting the best candidates. Take your time to experiment with different tools and strategies to see what works best for your company and brings the best results.
Good luck!
Author Bio: This article is written by our marketing team at HR Cloud. HR Cloud is a leading provider of HR solutions, including recruiting, onboarding, employee engagement, and intranet software. Our aim is to help your company improve employee engagement, employee productivity, and to save you valuable time!
Keep Reading
16 Important Tips to improve employee loyalty in 2022
In a workplace, how your employee feels hugely impacts your company's productivity. So,
What are the Levels of Employee Engagement
In today's fiercely competitive market, employee engagement has evolved into a
Write for the HR Cloud Blog!
Join so many other talented HR professionals by contributing to the HR Cloud blog. To learn more, view our blog guidelines now.
Like What You Hear?
We'd love to chat with you more about how HR Cloud can support your business's HR needs.