5 Incredible Ways Mentoring Boosts Employee Engagement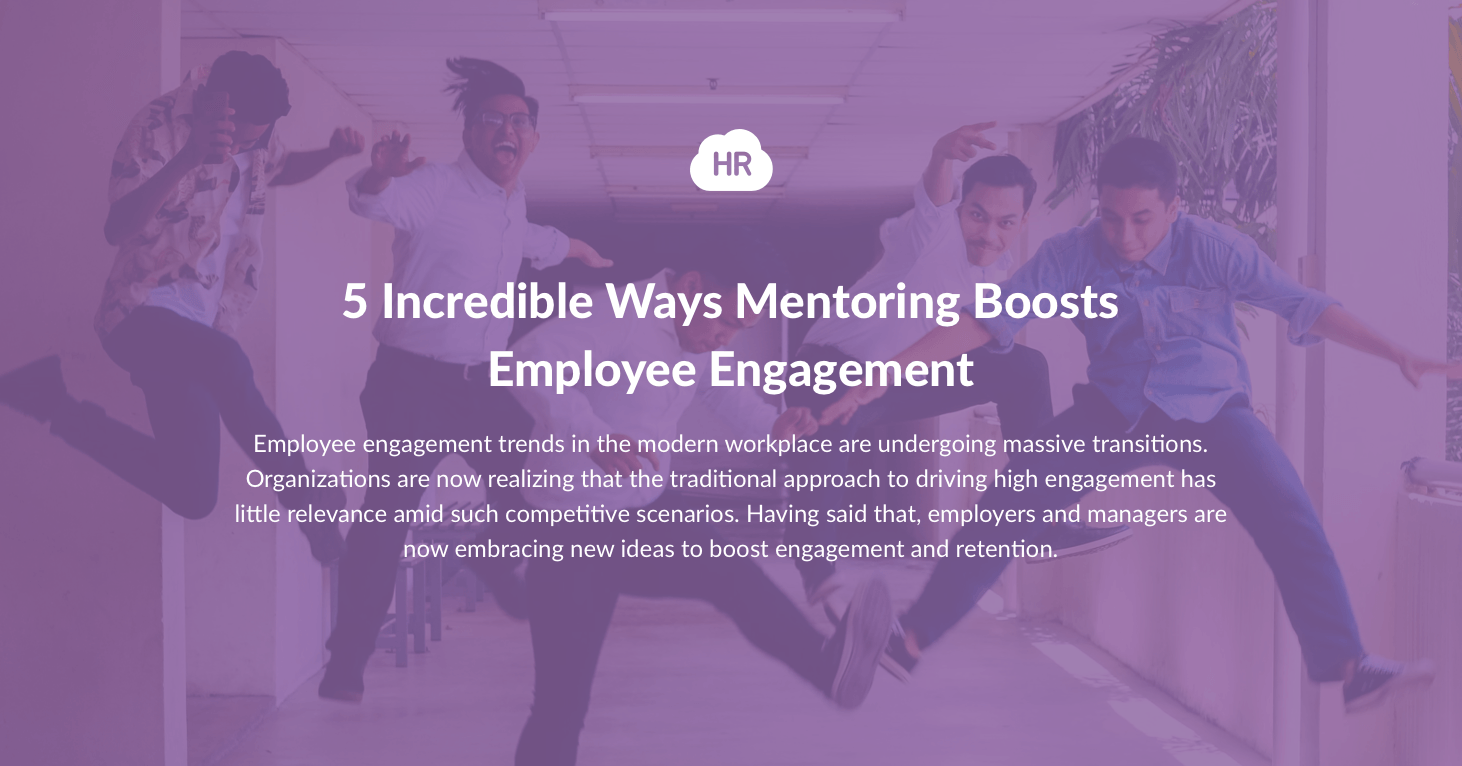 Employee engagement trends in the modern workplace are undergoing massive transitions. Organizations are now realizing that the traditional approach to driving high engagement has little relevance amid such competitive scenarios. Having said that, employers and managers are now embracing new ideas to boost engagement and retention.
Needless to say, high rates of disengagement and turnover put an organization at a competitive disadvantage. Besides, employee engagement has a direct correlation with business profitability, navigating competitive challenges, and sustaining the future. Given that, organizations are happy to innovate with new strategies to meet their engagement objectives.
This is where the idea of well-crafted and thoughtful mentoring programs in the workplace comes into the picture. For any organization, a well-planned and vibrant culture of mentoring can offer multifarious benefits. This explains why more than 70 percent of Fortune 500 Companies have intelligible and employee-centric mentoring programs.
Probing further, among the wide spectrum of benefits offered by mentoring programs, the scope for optimizing employee engagement is principal. As an employer, you can foster high engagement and create a highly optimistic company culture by introducing mentoring programs. Wondering how that is going to work for your organization? This blog will substantiate how mentoring can be the key to achieving high engagement. So, let us get started without further ado.
Engagement benefits of thoughtful workplace mentoring programs
Promotes effective knowledge sharing
In any industry, there could be a wide range of factors that are essential for active employee engagement. These factors can have large variations across different industries in terms of specific requirements. However, employee learning and development will always be a salient and common catalyst for high engagement in every industry.
Having said that, it becomes essential for organizations and leaders to optimize employees' learning experiences. Employees engage actively when they feel that their employers and leaders are investing in their careers by offering development opportunities. They want to gain knowledge and expertise in an incremental way so that they can advance their careers.
In fact, employees will switch jobs if they feel that their current employers are adding no value to their careers. To substantiate, as per company culture statistics, 67 percent of millennial employees will resign from their current jobs in the absence of satisfying development prospects.
In such a scenario, mentoring programs can work amazingly to add value to employees' careers and hence, sustain their enthusiasm and engagement. Mentoring programs will create a systematic process of knowledge sharing, therefore, cultivating a natural culture of learning. Employees will learn in a more effective manner in mentor-mentee relationships than in simple classroom training.
Therefore, mentoring can enhance employee training and development by adding an element of individual attention and one-to-one mentoring. Consequently, employees will learn in a more holistic way and their development expectations will be met effectively.
Engagement scenarios will thus, improve by default in such workplace arrangements. The best part is, even in a remote or hybrid working environment, mentoring programs can be inculcated with great ease. There is never going to be any constraint when it comes to learning via mentoring programs. Remember, in the contemporary business world, knowledge is the greatest asset for your strategic business objectives.
Cultivates a culture of high trust
Trust is quite an underestimated virtue in the workplace despite the fact that trust is always the foundation of great outcomes that people achieve together. A possible reason why global engagement levels are dismal is that trust-building is not a key priority for most companies. However, if the status quo is to be changed for the better, leaders need to nurture high trust.
To elaborate, as per Harvard Business Review, employees in high trust companies exhibit 76 percent higher engagement levels and 50 percent higher productivity. Besides, in organizations that function with high trust, the susceptibility to burnout is also 40 percent lesser. As you can see, trust can lead your organization to new horizons in an unexpected way.
However, what do you think is your best chance at creating a company culture that manifests strong virtues of trust? While there could be several approaches to it, introducing mentoring programs can offer high returns. To explain, mentoring programs strengthen interpersonal connections and give employees an opportunity to build trusted relationships.
When mentors invest time and effort in imparting worthwhile knowledge to mentees, it builds high trust among mentees. Employees begin to trust their mentors and view them as a positive value addition they can depend on for their learning and advancement. Furthermore, they will have faith in their mentors to be impartial and guide them in a selfless manner with all their expertise and knowledge.
Hence, in different ways, mentor-mentee relationships in the organization will cater to the prerequisites of trust-building. The greater the trust between project management teams and cross-functional teams the higher will be the overall engagement.
Optimizes workplace collaboration
Collaboration is a salient component of any working environment and is also a key determinant of organizational success. Besides, in the context of virtual workplaces or hybrid teams, collaboration has become a complex challenge where project management tools help us smoothen the process. Even onboardings have gone virtual and new hires find it hard to collaborate with their team members in a virtual environment. Needless to say, that would have massive implications with respect to engagement.
But mentorship programs in the workplace can be a perfect opportunity for leaders to promote productive collaboration. When new recruits participate in mentoring programs with their team members, the scope of collaboration will be high. This team-building aspect of mentoring can be a great value addition for an organization.
Also, when virtual teams participate in mentoring through webinars and work with each other as a team to accomplish mentoring objectives, the overall collaboration scenarios will be enhanced. While leaders have been struggling to achieve active collaboration, mentoring programs can be a great alternative to other tactics with limited effectiveness.
With thoughtful and meticulous mentoring programs that offer room for collaboration, you can drive incredible positive changes in your organization. Are you going to miss this fantastic opportunity and concede the advantage to your competitors?
Facilitates regular feedback sharing
Feedback sharing is an effective tool when we talk about performance management tactics. When employees get regular feedback, they are aware of their shortcomings and the approach to filling the performance gaps. Besides, continuous feedback sharing also has a direct correlation with engagement levels in employees.
To validate, more than 90 percent of employees will struggle to engage in the absence of streamlined feedback. HubSpot further states that 43 percent of actively engaged employees receive supervisors' feedback at least once a week. Clearly, feedback complements employee engagement in a wholesome way.
However, it is strange that most organizations do not have continuous feedback sharing mechanisms in place. To resolve the issue, mentoring programs can be an exceptional way to supplement continuous feedback loops. To elaborate, in mentor-mentee arrangements, mentors will share regular feedback with mentees and help them to make the necessary improvements.
Even if we look at the receptiveness for feedback in the workplace, it is quite high among millennials and Gen Z employees. As per HubSpot, 65 percent of workers are of the view that feedback is important and they should receive it more often.
Feedback gives a sense of direction to employees and paves the way for greater accountability and engagement. In any mentoring program, feedback will be a key component and hence, will contribute to engagement significantly.
Fosters a culture of fun and healthy competition
Who says mentoring has to be essentially monotonous at all times? Mentoring can be great fun and hence, boost engagement levels in a rather smooth manner. Besides, mentoring can promote healthy competition among employees pushing them to give their best on a daily basis.
This is where you need to be creative as a leader to design mentoring programs that appeal to employees in terms of being exciting and indulging. You can collaborate mentoring with gamified learning modules that are gaining great traction in the corporate world. Besides, you can encourage creative liberty and freedom of expression in the course of mentoring programs.
To add, you can also introduce reverse mentoring programs as a novel approach to driving high engagement. To substantiate, in reverse mentoring arrangements, subordinates will be mentoring their supervisors on skills, digital literacy, and productivity tips in this new age. This would be a perfect ice-breaker for new hires to blend into the work environment with ease. The sooner they find their sense of belonging the greater will be the engagement.
Furthermore, to incorporate dimensions of healthy competition in mentoring, you can associate employee rewards with mentoring objectives. To cite an example, the mentoring competition strategy by Cooley, a global legal firm has been highly successful in improving engagement. It has had dramatic effects in terms of improving employee relationships and interpersonal connections.
To recapitulate, mentoring programs in the workplace can render various advantages to an organization. The key advantages exist in the terms of high engagement and retention. However, as a leader, you need to ensure that the mentorship programs are well-planned, structured, and serve specific purposes with respect to upskilling and reskilling requirements. The mentoring programs should be aligned with organizational goals and vision.
Author Bio: This article is written by our marketing team at HR Cloud. HR Cloud is dedicated to providing powerful solutions for your HR teams and creating an exceptional employee experience. Our aim is to help your company improve employee engagement, onboarding, and to save you valuable time!
Keep Reading
8 Techniques to Keep Remote Employees Engaged
Five years ago, there were a few companies that offered at-home work, but they were rare.
9 Effective Employee Engagement Strategies
An incredibly important approach to boost your business is to focus more on employee
Write for the HR Cloud Blog!
Join so many other talented HR professionals by contributing to the HR Cloud blog. To learn more, view our blog guidelines now.
Like What You Hear?
We'd love to chat with you more about how HR Cloud can support your business's HR needs.