90 Fun Employee Engagement Activities and Ideas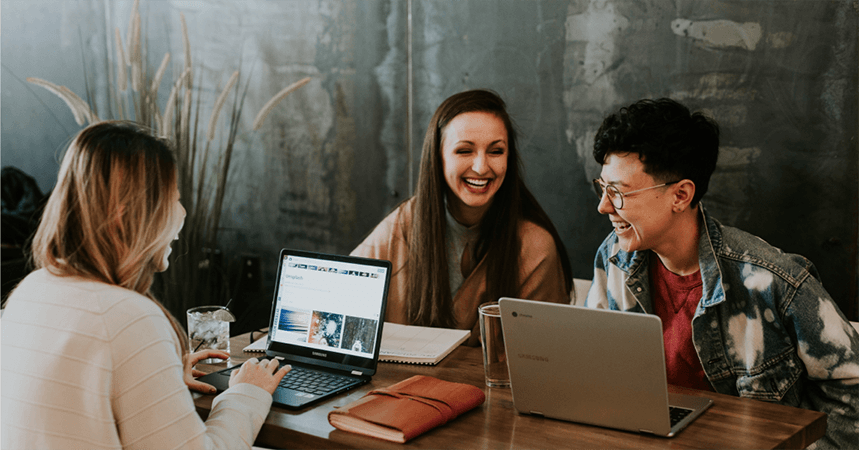 Quick links
Let Us Help You Engage Your Employees!
We'll show you how Workmates can engage eveyone in your organization, transform your culture, and drive productivity to new highs.
Onboard New Hires Safely, Efficiently, and Effectively.
We'd love to chat with you more about how HR Cloud can help you create an Exceptional Onboarding Experience.
Are You Interested in Improving Your HR Organization?
HR Cloud is the hidden hero powering the world's best HR teams - book a call with our team!
It's vital to keep employees happy and engaged. Engaged workers are more creative and have better problem-solving skills than their less engaged counterparts.
Creating an environment where employees feel valued, appreciated, and supported is essential in creating a successful workplace culture. One way to do so is through implementing various types of engaging events or activities in the workplace.
Do you need some new ideas for employee engagement activities? Would you like to have a plan in place for 2021?
In either case, we've compiled 40 fun, easy-to-implement, and inexpensive, or even free, activities that are sure to engage employees. They'll help you stay ahead of the game and keep your team members engaged at work.
If you want to create more engagement at work, read on.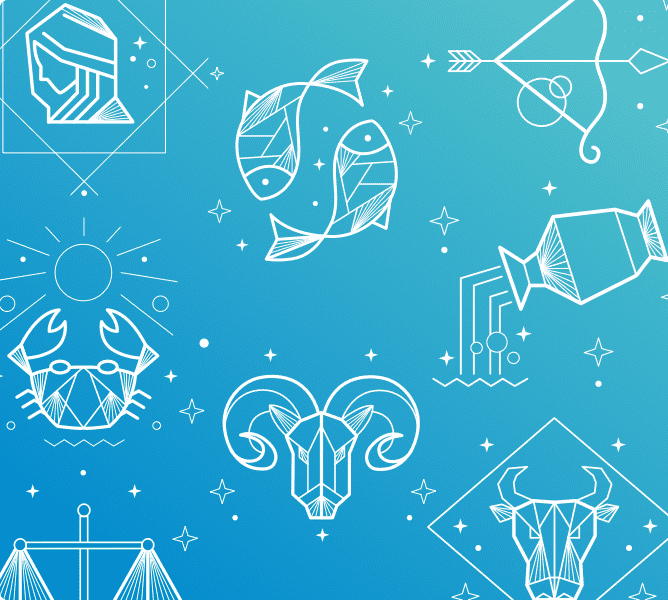 Does Your Work Style Align With Your Zodiac Sign?
Take our workplace Zodiac quiz to find out!
♉♊♌♍♐
1. Maintain A Fair Workplace
Make sure that your company stays up to state workplace standards. Also, compensate your workers fairly and treat them well.
2. Recognize Your Winners
Recognizing your staff members for their hard work can go a long way toward keeping them motivated.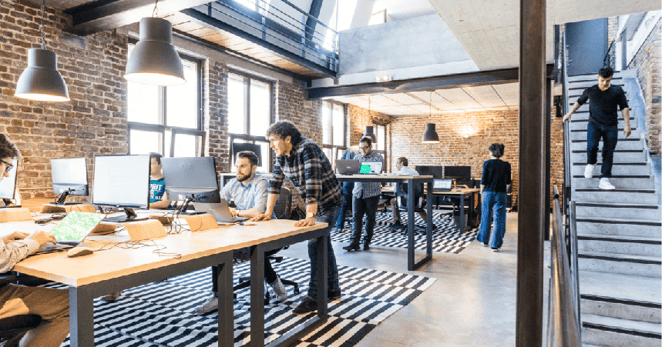 3. Support Volunteer Causes
Find a local charity that both your company and your staff can get behind and offer your support.
4. Pair Up Mentors And New Hires
The buddy system is a great way to help new employees get through the first few months.
5. Get Employees Involved From The Start
Offer opportunities to make new hires feel like part of the team and learn more about their peers.

Do you want to engage and reward your
employees without spending too much money?
Check out how we can help!
Learn More about Workmates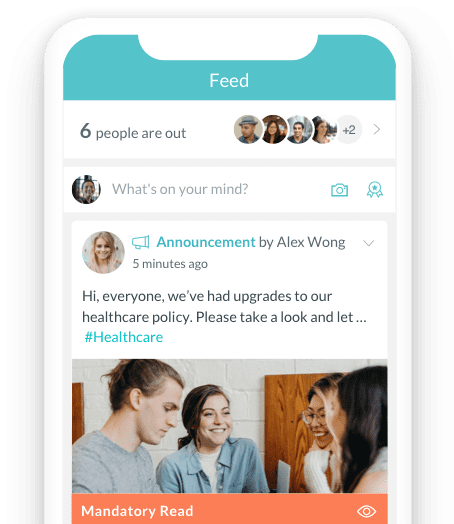 6. Provide Adequate Training
Encourage career growth by providing staff members with the opportunity to learn new skills.
7. Offer Flex Hours
Flexible hours keep employees feeling like they have more control over their schedules.
8. Keep An Open Channel Of Communication
Talk to your employees about their thoughts and suggestions. These conversations will help you stay on top of what's going on in the office.
9. Act on Feedback Right Away
Don't put employee feedback on the back burner. Instead, plan on how you can act on employees' thoughts and ideas right away.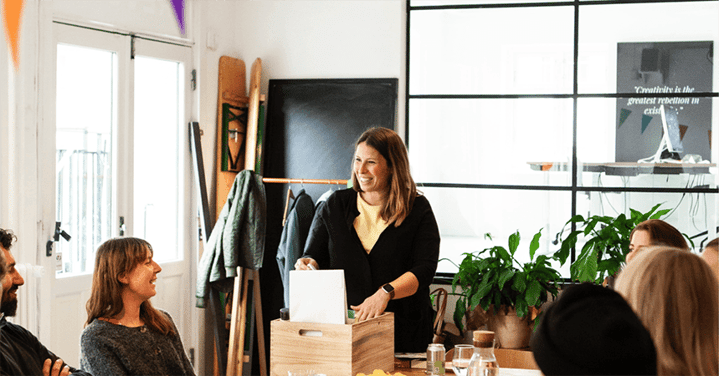 10. Offer Time Perks
You don't want your staff to come in to work sick. Offer sick days and vacation days. This way, they won't worry about using up their PTO.
11. Promote Internal Champions
When you hire from within, it shows your workers that you're willing to invest in their careers.
12. Nurture Wellness In The Workplace
No one's immune to stress. Promote mindfulness by hosting wellness workshops led by experts.
13. Provide Healthy Snacks
Buying office snacks that provide healthy fuel can boost employee performance.
14. Pick Up The Lunch Tab
Treating employees to lunch makes them feel appreciated and gives everyone an opportunity to eat together.
15. Pay Your Staff Fairly
Paying a competitive salary goes a long way toward keeping employees engaged and also helps to attract the best talent.

Do you want to engage and reward your
employees without spending too much money?
Check out how we can help!
Learn More about Workmates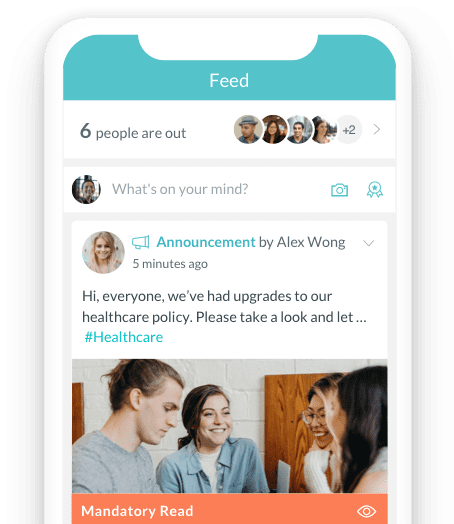 16. Promote Your Company Culture
By highlighting your company culture, you can make sure that everyone's working toward the same goal. It helps to have your team participate in creating your company culture statement so that everyone feels involved.
17. Highlight The Path Up The Corporate Ladder
It's a good idea to show employees that they can grow with your company. If not, they may look elsewhere for growth opportunities.
18. Support Work-Life Balance
Excessive work is a recipe for burnout. Talk to your employees about finding a balance between work and their personal needs.
19. Set Goals Together
When employees share goals with the company, they feel more engaged and more like they're part of the team.
20. Help Employees Set Personal Goals
Help your staff members to find their meaning of success with your company. During the process, you should also highlight their past achievements.
21. Change Up Workspaces
Who says workers can only get things done in a cubicle? Instead, try deploying open workspaces where workers might prove more productive.
22. Offer Healthy Incentives
A gym membership or monetary incentive for healthy activities shows your team that you care about their health.
23. Get To Know Your Staff
Most likely, your team will grow along with your business. Make a commitment to know your staff one-on-one, no matter how large you grow.
24. Have You Heard About Gamification?
Gamification involves the introduction of new office games that drive employee engagement. You can have employees complete challenges or tasks and provide awards for winning people and teams.
25. Get Their Families Involved
Invite your employees to bring their families or significant others to activities for employees, such as company barbecues or game days.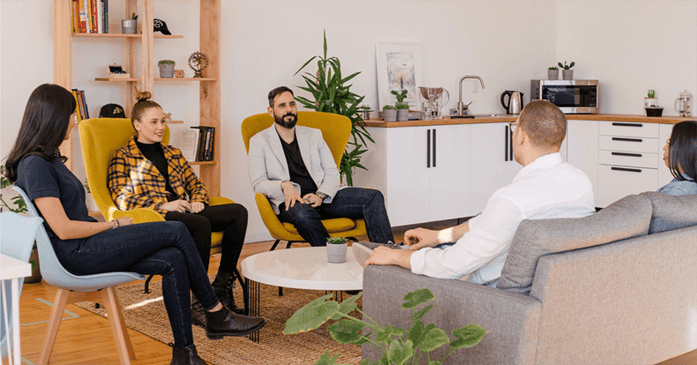 26. What's Your Dream Job?
Have your staff members create their ideal job description so you can find out what they really want. These descriptions will give you insights into what's missing from their careers.
27. Build Your Emotional Intelligence
Learn more about identifying and managing your emotions as well as those of others.
28. Support Employee Growth
Growth is just as important for your staff members as it is for your company. Give employees the support they need to take on new responsibilities.
29. Pay Attention To Company Reviews
Keep an eye on your company's online reviews. This information can provide you with important feedback about your company culture and hiring process.
30. Make Sure Employees Know About Your KPIs
Intangible and idealistic goals might prove inspiring, but employees can only achieve goals that you can measure. Rally your team around SMART goals so that they can share in your success.
31. Handle Failure The Right Way
You must give your staff members room to fail if you want them to take risks. Taking risks is the only way that employees can grow and learn from their mistakes.
32. Make Sure That Your Staff Takes Breaks
Eating lunch in your workspace is not a break. Make sure that staff members take their allocated breaks and clear their minds so that they can tackle the second half of the day.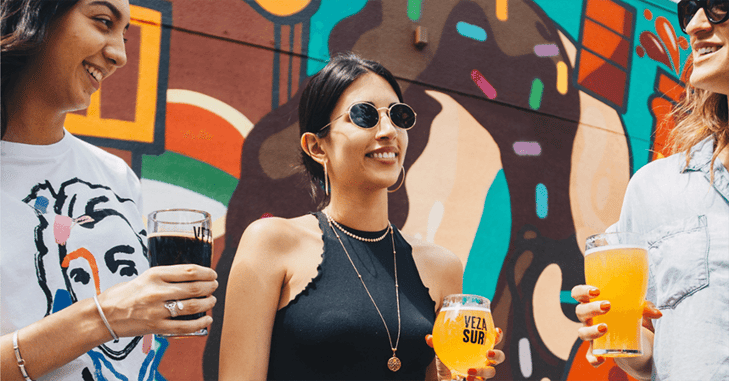 33. Make Sure That Your Staff Takes Vacations
When employees are giving their all, they may find it difficult to step away from the workplace. Make sure that your staff takes the needed time to recharge.
34. Know The Signs Of Burnout
It's important to keep an eye on employees who are getting overwhelmed. If you see someone that's about to crash and burn, you'll need to intervene.
35. Hand Over The Reins Occasionally
Sometimes, employees like the spotlight, especially if they have an eye on upward mobility. Offer opportunities for employees to practice their presentation and leadership skills in front of their peers.
36. Give The Dress Code A Break Sometimes
By allowing employees to dress down occasionally, you can give them the freedom to express their individuality and feel more relaxed in the workplace.
37. It's Your Anniversary!
Make a point to recognize employee anniversaries, both big and small. Whether recognizing a staff member's first month or first year, this kind of acknowledgment goes a long way toward making employees feel valued.

Do you want to engage and reward your
employees without spending too much money?
Check out how we can help!
Learn More about Workmates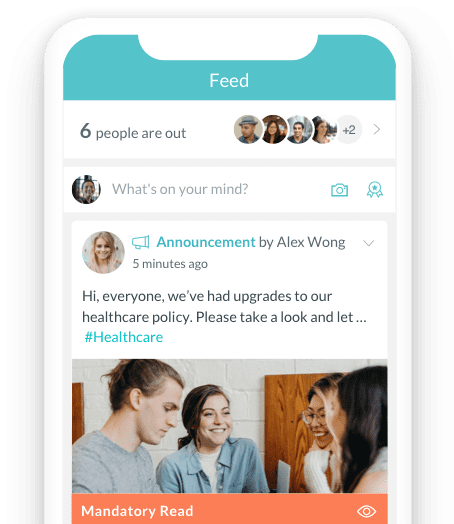 38. Create Company Clubs
You can help your team members connect by giving them an opportunity to relate to each other based on their interests. Activities for employees, such as book clubs or sports teams, give staff members an opportunity to bond.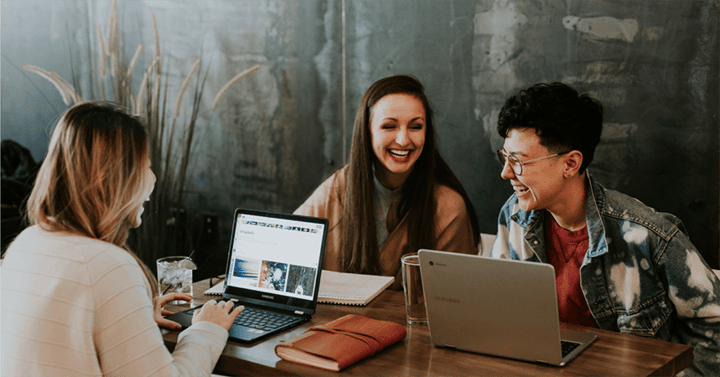 39. Offer Mental Health Resources
Mental health is a challenging topic for anyone. Make mental health resources openly available, so that employees can find help when needed.
40. Promote Diversity and Inclusion
It's important that all staff members feel welcomed at your company. With this in mind, make clear and accountable goals for promoting diversity and inclusion.
41. Use the WebCam
Switch on the webcam for conference calls and one-on-one calls rather than just using voice only; seeing each other can help your staff feel more connected.
42. Start a Newsletter
Keep in touch with employees and share fun facts and information through a regular newsletter. Invite people to contribute and think outside of the box to keep it fresh and interesting.
43. Beat the Monday Morning Blues
Arrange a brief fun activity for the start of each Monday morning, such as a trivia competition or code-breaker, to help employees start the week in a good mood.
44. Allow Lateral Job Moves
Encourage people to build diverse skills and try out different roles with lateral job moves.
45. Develop Training Podcasts
Recognize that people learn in different ways and enhance traditional job specs and training manuals with modern easy-to-absorb podcasts.
46. Hire a Motivational Speaker
Add a fresh perspective and energize your employees with talks from a professional coach or motivational speaker.
47. Stretch it Out
Offer quick yoga or Pilates sessions throughout the week for overall wellness and to break up time spent sitting at a desk. Encourage your staff to stretch regularly and to be aware of maintaining a healthy posture when working.
Find Out How Much You Can Save by Switching to Workmates.
Other HR Teams made the switch from Workplace
and save upwards of 60%
Calculate Now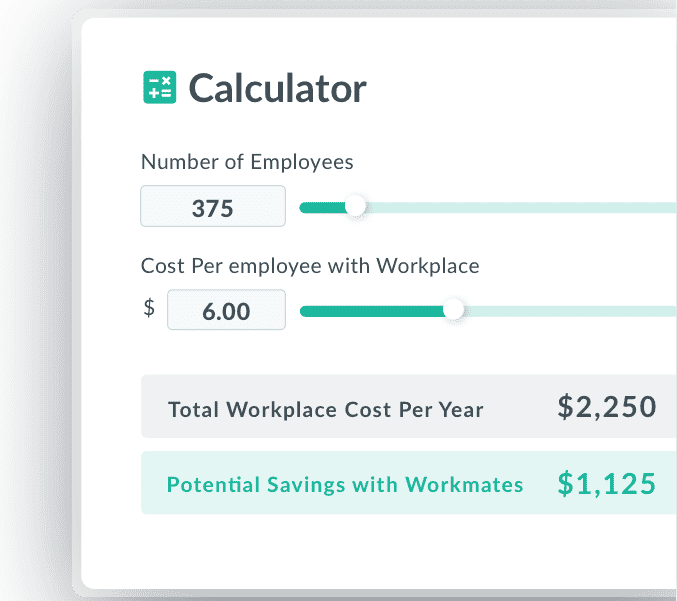 48. Blast Lively Tunes
Inject some end-of-week fun into your workplace by playing music for the last 30 minutes each Friday before people head home for the weekend. Take requests to cater to everyone's musical preferences.
49. Finish Early
From time to time, particularly around holidays or major sporting events, surprise staff members by letting them leave work earlier than usual; many people are grateful for even a 20-minute early finish.
50. Provide a Realistic Vision
Create clear career progression pathways with employees so they have a motivating goal.
51. Ban Emails
Designate one day each month where employees cannot send emails or make internal calls to encourage more face-to-face interactions between staff members.
52. Have a Company Mascot
There's something about a funky mascot that can liven almost any mood and boost morale.
53. Allow Power Naps
Allocate a safe and quiet space where employees can take a brief power nap if needed. Just twenty minutes' rest can boost productivity and enhance their mood for the rest of the afternoon.
54. Plan Team-Building Days
Bring all members of your staff together for an annual team-building event. Plan a mixture of fun activities and ice-breakers along with talks and workshops, and try to host the year in a fresh environment away from work.
55. Make a Video
Especially great for new starters, create a lively video about your company, including short captions from existing employees, that they can watch at leisure to settle any pre-starting nerves.
56. Implement a Job Shadowing Program
Help employees to understand how each role in the company ties together and gain a greater appreciation for colleagues through a job-shadowing scheme.
57. Allow Volunteering
Offer employees the chance to enrich their lives and give back to the community through volunteering. Time commitments can be short, such as a day per month or an hour a week, or a one-off week-long role.

Do you want to engage and reward your
employees without spending too much money?
Check out how we can help!
Learn More about Workmates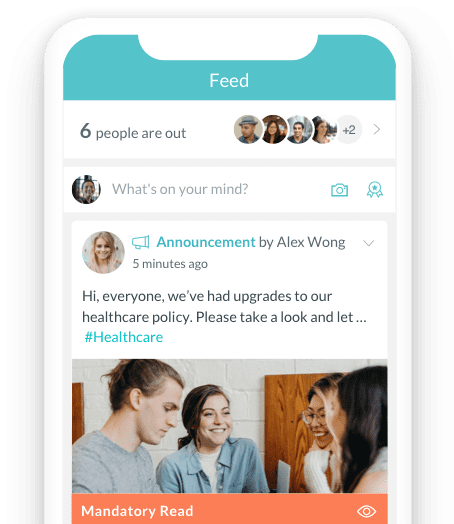 58. Decorate the Office
Give teams the freedom to choose the décor for their areas, whether through painting different areas in different shades or whether through the use of art and accessories.
59. Stock Up on Drinks
Providing a selection of popular beverages, like tea, coffee, and cocoa powder, is an easy way to show your employees that you care and that they matter.
60. Reassign Responsibilities
Find out what parts of their role employees love and which they hate, and consider switching responsibilities around; one person may really enjoy what another loathes.
61. Meditate
Help to beat stress and encourage employees to take ten minutes at the start of the day or after lunch to reset with brief meditation and mindfulness.
62. Photograph Your Staff
Have a designated area, whether online or in a physical area, where you can display fun images of your employees.
63. Don't Forget Remote Workers
When organizing company events and meetings, make sure you include employees that work remotely. How about also paying for remote staff members to occasionally visit the office to stay connected too?
64. Constructively Feedback
Any employee feedback should be constructive, with actionable ways to improve where necessary and a clear understanding of the whys.
65. Start a Bonus Scheme for Optional Training
Implement an incentive or bonus program for employees who undertake work-related open-access courses.
66. Provide Anonymous Feedback Channels
Many people feel uncomfortable providing critical feedback to their employer, so having an anonymous means of receiving feedback shows potential issues to address and areas to improve. Plus, if actioned correctly, it can make your employees feel more valued, trusted and heard.
67. Switch the Environment
If possible, allow employees the option of occasionally working remotely from any location. Some people might work more productively in a library, for example, while others may get a creative boost in a coffee shop.
68. Have Random Fun Acts
Appoint certain people each week to create brief but entertaining acts at random to put a smile on everyone's face.
69. Organize Inter-Team Events
The light-hearted competition that's not related to work, such as sports and fantasy leagues, can help bring employees together.
70. Create a Social Space
A designated place where employees can mingle and chat and take short breaks from their workspace can be motivating and refreshing.
71. Praise Employees
Small individual compliments and recognitions can mean a lot.
72. Run Employee-Led Talks and Workshops
Having regular short sessions where employees take turns giving an overview of their role and information about targets and achievements can foster understanding and respect.
73. Combine Passions
Employees have a wide range of hobbies and interests outside of work, some of which can be usefully incorporated into the workplace.
74. Acknowledge Birthdays
A simple birthday greeting by email adds a personal touch and can make staff members feel valued. Take it up a level with things like a cupcake, a longer lunch break, a half-day finish, or another way to acknowledge a birthday.
75. Ensure Your Staff Stays Hydrated
Drinking plenty of water throughout the day is essential for the body and mind. Make sure there's always fresh drinking water available.
76. Shadow Your Staff
Show your appreciation to staff members of all levels by spending short periods with them while they work. It's a great way to chat informally about work-life and understand the small details that keep things running smoothly.
77. Connect Online
Facilitate a way for employees to communicate online when outside of work through a forum, closed social media group, or similar. Discussion topics need not be about work, but rather anything that people want to share in their free time.
78. Run a Weekly Quiz
Whether based around general knowledge, company knowledge, movies, music, or anything else, engage employees with a fun quiz each week. Small prizes for each week's winning individual or team can increase the enjoyment.
79. Allow Desk Hopping
Give employees time to get to know each other in a work capacity by regularly spending time in other parts of the office through a monthly desk swap.
80. Operate a Youth Mentor Program
Allow employees to take part in an online youth mentoring scheme to help the community, build leadership skills, enhance communication skills and provide an interesting break from work.
81. Turn the Phone Off
Have time slots each week where employees can turn the ringer off on their work phone to give their full focus to certain jobs or get ahead with paperwork and other administrative tasks.
82. Use Emojis
Add emojis to surveys and feedback forms for an understanding of employees' thoughts; they're quick and fun and can offer insights.
83. Offer Health Checks
Employee wellness is crucial for a productive, happy and engaged workforce, and offering annual health checks helps to keep your staff well and feel valued.
84. Be Creative with Incentives
If you're running an incentive or bonus scheme, remember that not everyone is motivated by just money. Consider creative alternatives, such as an extra day off work, free lunch for a week or something else appealing.
85. Give Small Shares in Your Company
Giving an amount of ownership in a business is an almost guaranteed way to make people strive for success; they have a vested interest after all. If your company is big enough, arrange for long-serving team members to receive small shares.
86. Respect Privacy
When giving employee feedback or discussing sensitive matters, always ensure that communications remain confidential.
87. Celebrate Outgoing Staff
Recognize contributions that long-term employees have made to your company and bid them a fond farewell and good luck with future ventures or retirement.
88. Engage in Small Talk
The workday doesn't always have to be dry; don't forget the positive impact of small talk and a smile.
89. Create a Pleasant Work Environment
Whether it's through aromatic essential oils in a diffuser, fresh-cut flowers, imaginative artwork, comfortable seating in the staffroom or making sure the office is always at a comfortable temperature, think of small ways that can make a big difference.
90. Inspire Employees
Once a week, send an inspirational quote, news story, or image to your staff.
With Employee Engagement Activities, Everyone Wins
Across the nation, a lot of employees feel disengaged from their work. Employers recognize this issue and invest a significant amount of money into resolving the issue. However, resolving employee disenchantment isn't necessarily about money.
As an employer or decision-maker, it's your responsibility to ensure employee satisfaction. More often than not, promoting engagement is about taking actions that show employees that you truly care about their welfare.
Investing In Employee Engagement
With the right technology, you can help to keep your employees connected and engaged. HR Cloud can help you manage every aspect of managing employees, from hiring to managing their careers.
Our technology can help you promote the type of engagement that will help your company grow. More importantly, it can help you to do so faster and more effectively than any other solution available on the market.

Do you want to engage and reward your
employees without spending too much money?
Check out how we can help!
Learn More about Workmates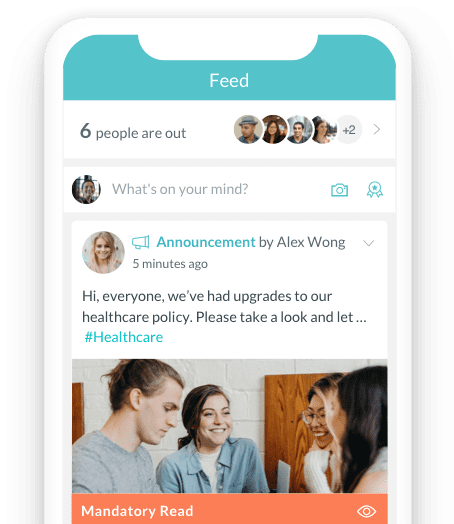 Start Building Employee Engagement Today
Hopefully, our list of employee engagement activities will help you build a more satisfied, engaged workforce. With HR Cloud, you can accomplish this goal—and so much more.
Technology can empower you to maximize employee satisfaction and productivity. However, you don't have to pay an exorbitant fee to access the right human resources management solution.
HR Cloud is a powerful, easy-to-use employee lifecycle management platform that's fairly priced. Our technology enables you to manage all the aspects of running your team—so that you can focus on growing your company.
Don't wait another day. Experience it for yourself. Request your HR Cloud free demo today.
About Author: This article is written by a marketing team member at HR Cloud. HR Cloud is a leading provider of proven HR solutions, including recruiting, onboarding, employee communications & engagement, and rewards & recognition. Our user-friendly software increases employee productivity, delivers time and cost savings, and minimizes compliance risk.
Keep Reading
Making the Right Difference by Recognition and Rewards Policy
Employee recognition and rewards have emerged as crucial components of a successful
5 Signs It's Time to Invest in PTO Software for Your Business
Every manager knows how inconvenient it is when leave requests pop out of nowhere. This
Write for the HR Cloud Blog!
Join so many other talented HR professionals by contributing to the HR Cloud blog. To learn more, view our blog guidelines now.