Six Ways to Achieve Employee Satisfaction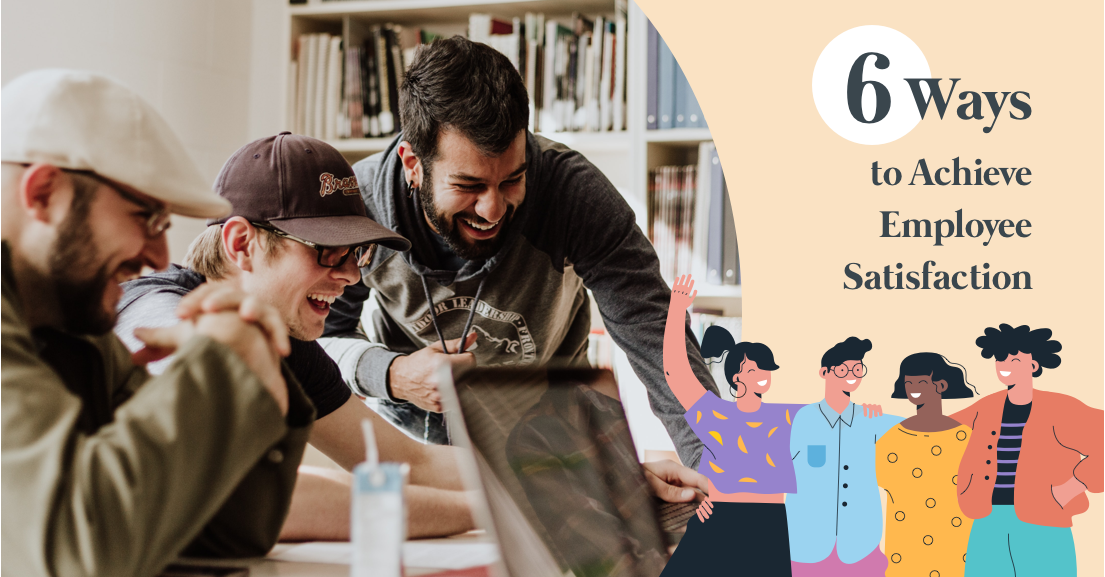 Achieving employee satisfaction is important for every organization for a variety of reasons. And there are as many as six superb ways to achieve employee satisfaction within your organization. In fact, employee satisfaction is useful for all businesses- whether it's a small business, new startup or a multinational corporation.
So how does one go about to ensure employee satisfaction? To do so, we first need to comprehend what this term "employee satisfaction" actually implies.
Defining Employee Satisfaction
In simple terms, employee satisfaction is a yardstick that companies utilize to know whether their staff at all levels are happy doing the job and with workplace conditions.
What most human resources managers aren't aware of is that employee satisfaction has more to do with psychology instead of simply providing good pay and excellent working conditions. In fact, employee satisfaction is all about the state of the mind of an employee at workplace that also extends to their personal lives.
Therefore, it's not easy to measure employee satisfaction levels. There Are several factors that go into determining employee satisfaction.
Overall liking of the job by an employee.

Satisfaction over levels and quality of supervision.

Feeling safe and secure at workplace.

Ability to perform the role well.

Adequate resources necessary for daily working.

Commitment to making a long career with the employer.

Career advancement opportunities.

Prospects for financial growth.
All these factors have a close link with one-another and are some of the common factors that HR managers and employers worldwide use to measure employee satisfaction.
Here it's also important to remember that an organization's goals should correspond with its desire to achieve employee satisfaction. Focusing merely on employee satisfaction without concern about the organization's goals for growth, expansion and greater profitability can prove disastrous.
Reasons to Aim for Employee Satisfaction
At the same time, there're very strong reasons why any business serious about staying in business and growing needs to take steps for ensuring employee satisfaction.
Rising Cost of Hiring
The cost of hiring an employee ranges between $7,000 and $50,000 depending on the role they'll play. This includes the various hiring processes such as advertising online or offline for a vacancy, shortlisting the right candidates, tests, interviews and training before the new hire fits into the role and starts performing well. These expenses don't calculate man-hours an organization spends on such processes and training. Nor does it consider the costs of lower productivity of a new hire. This makes it imperative to retain existing employees, especially top talent within the organization.

Employee-Centric Engagement, Internal
Communications, and Recognition
Start Free Trial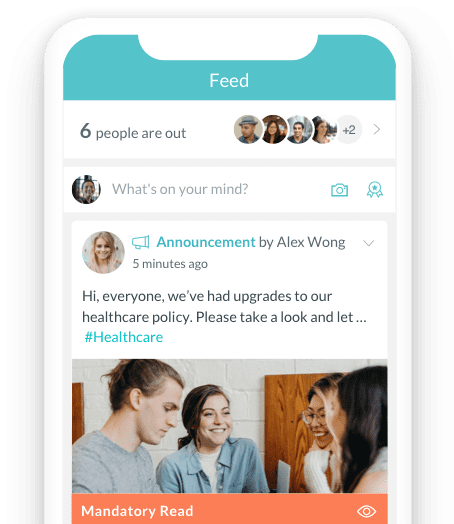 Lowering Attrition Rates
Employees tend to leave an employer if they're unhappy at a workplace for any reason. And this leads to hiring costs, for obvious reasons. However, high employee satisfaction is known to help retain the best talent while developing loyalty to your organization. It's well known that loyal staff exert extra efforts to ensure the organization achieves goal. And in most cases, they'll stand with their employer, if the company runs into doldrums for any reason. Loyal employees won't leave an employer merely for a bit higher salary.
Healthy Reputation for Employers
Employee satisfaction directly translates to a healthy reputation for employers. Because, this satisfaction reflects on their lifestyles. Satisfied employees also spread a good word about the employer through word-of-the-mouth publicity. This makes it easier for organization that've a high level of employee satisfaction to attract the best talent and sometimes, wean away people with vital skills from competitors to their own companies. Workplaces with high employee satisfaction rates also find it easier to get fresh recruits quickly whenever they announce a vacancy through job boards, LinkedIn to explore more and newspaper ads or their own websites.
These three benefits of achieving employee satisfaction are something that every organization would definitely desire. And there're some simple ways to try and achieve employee satisfaction.
Six Ways to Achieve Employee Satisfaction
Before we discuss these six best ways to achieve employee satisfaction, it's important to consider the "new normal" of work the ongoing Covid-19 pandemic dictates. The "new normal" as it's known, is rapidly changing the way we work. This means, ways and means to achieve employee satisfaction also need to adapt to the newer ways of working.
In this article, we will look at six ways to achieve employee satisfaction in 2021 and beyond.
Christopher Baggott
Chief Executive Officerator of Medlinks Cost Containment, Inc. and Medlinks Staffing, LLC.
"Our staff has praised the increased communications level Workmates delivers. We use it to communicate important project matters and give staff specific 'kudos' or even recognize their birthdays. More importantly, we use Workmates to clarify important project details that needed rapid dissemination among the entire team."
Work from Home Facilities
Work from home is the new normal for countless organizations and their employees. That's because of the need for social distancing to prevent getting the Covid-19 infection. In fact, most employers are encouraging work from home while employees are utilizing this facility happily.
However, anyone that works from home would testify that it comes with a bunch of inherent flipsides. An office-going employee could relieve the day's stress at home. Nowadays, with home and office becoming one, there're few ways to alleviate such work related stress.
Any organization that wishes to achieve employee satisfaction will therefore have to see how to make work from home a more pleasurable while ensuring lower stress levels. Providing flexible hours may be one solution but that might not be possible for all employers due to the nature of their business.
However, it's important to ensure that work from home is less stressful and more pleasurable in the present circumstances.
Better Communications at Every Level
Remote working or work from home also makes it necessary for employers to have better communications with employees and among one-another. Such seamless communications through video conferencing helps employers to detail their objectives clearly to employees while leaving nothing to ambiguity.
Elimination of ambiguity combined with excellent communications between a team of remote workers helps achieve employee satisfaction. Every employee is clear about what they need to do and the processes they have to follow. This results in better productivity and could help remove misunderstandings and confusion that can prevail among employees due to poor communications at different levels.
However, better communications can sometimes be misunderstood as micromanagement. And this is something an employer should avoid. The trick here is to set clear objectives and get the work done seamlessly instead of micromanaging a team of remote employees through better communications.
Online Training Programs
Training ranks among the most effective ways to achieve employee satisfaction. And it helps the employer too. We live in an era where technologies are rapidly changing. This also means the way we work has to evolve around newer technologies. The best way to ensure this is by training employees to work with latest, more efficient systems that would see the business record greater profits and customer satisfaction.
The Covid-19 pandemic triggered a surge in demand for online training courses for employees. Therefore, organizations need to look at employee training very seriously if they wish to achieve employee satisfaction. It's a well-known fact that employees will leave an organization if they find their skills going redundant or outdated for the job market. And having employees with older skills can severely retard the growth of a business.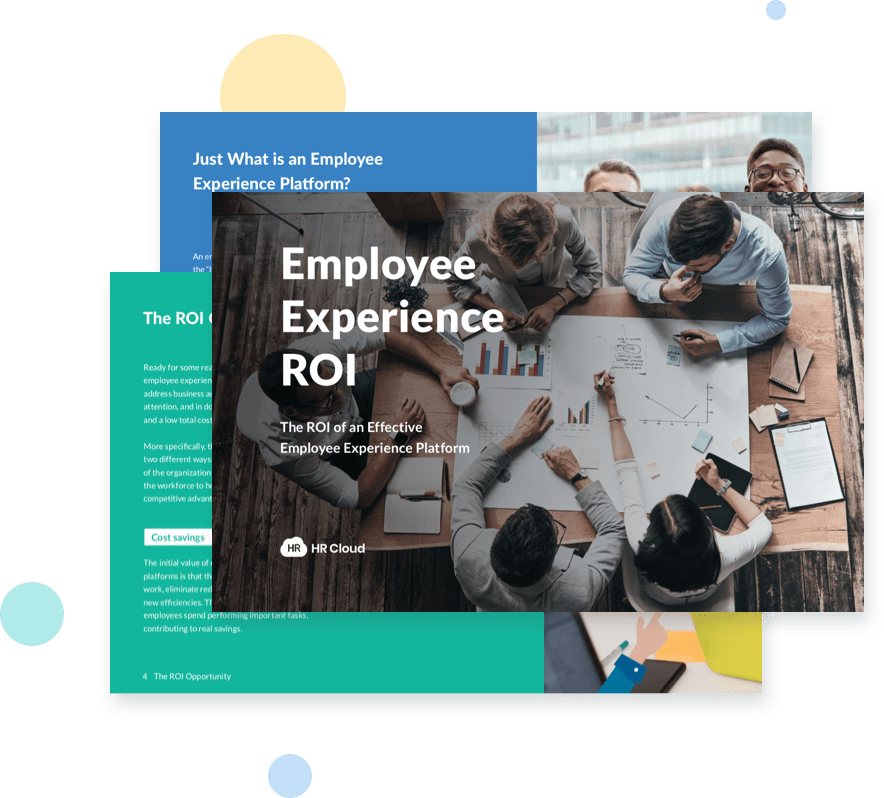 To learn even more about improving the employee experience and increasing your competitive advantage while providing a fast return on investment, download our ebook now.
Download now
Internal Promotions & Career Growth
Every employee takes up a job either as fresher or with some experience, expecting to create a career. They look forward to promotions that helps career growth and salary hikes that come with higher positions. Therefore, creating an HR policy that prioritizes internal promotions and offers ample career growth prospects works well to achieve employee satisfaction. This can be done even when you have a team of employees working online from remote locations.
Internal promotions and career growth prospects foster a healthy competition and higher productivity, leaving little or no space for workplace politics and undesirable attrition. Training all staff and providing them equal opportunities to vie for a higher post works well towards achieving this goal of employee satisfaction. Instead of hiring a person externally for senior positions, an organization could consider promoting someone with the right skillset and attitude, from within.
Preventing Overwork
Work from home can often lead to overwork. And often, it's not because an employee couldn't complete the day's work on schedule. Instead, employers expect a work from home employee to complete some additional work, because they believe it can be done comfortably.
Nowadays, quite a large number of organizations are working with lesser number of staff. That's because they had to trim payrolls to counter losses sustained during peak of the Covid-19 pandemic. A shorter payroll often results in longer working hours for existing staff. This should be avoided at all costs. Overwork is one of the main reasons for staff attrition and inability to achieve staff satisfaction.
Incentives & Appreciation
Providing timely incentives in the form of cash rewards or pay hikes and instant appreciation of high performing employees is a time-tested and proven technique to promote employee satisfaction. Though it might sound outdated, this practice is relevant till date and works well for every organization that implements the system.
Lack of appreciation is a reason for high staff turnovers. And not incentivizing good performance causes disgruntlement among employees at all levels. Combine the two and an organization could actually face mass resignations and very high attrition. The best way to stem these undesirable situations is to incentivize good work and appreciate outstanding performance by employees.
Incentives and appreciation always works well to achieve employee satisfaction. It also benefits the employer since all employees exert extra effort to gain appreciation and avail incentives.
In Conclusion
There're also some other known ways to achieve employee satisfaction. However, with the new normal for work, it's best to adapt or utilize the above six ways to suit specific needs of the organization. After all, employee satisfaction helps businesses grow faster and attract the best talent. Any investments in achieving employee satisfaction are therefore, worthwhile.
About Author: This article is written by a marketing team member at HR Cloud. HR Cloud is a leading provider of proven HR solutions, including recruiting, onboarding, employee communications & engagement, and rewards & recognition. Our user-friendly software increases employee productivity, delivers time and cost savings, and minimizes compliance risk.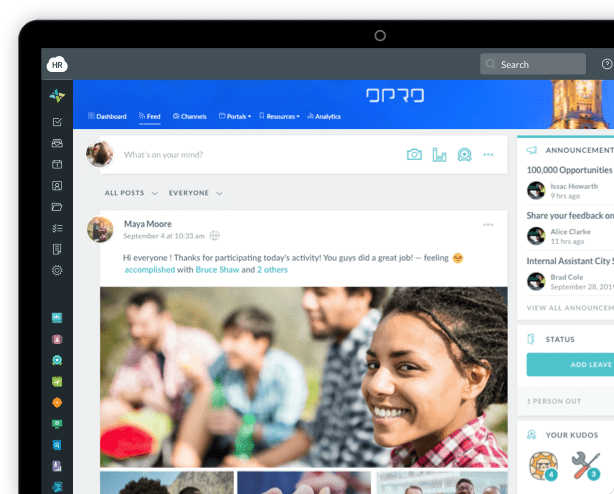 Keep Reading
Why do New Age Working Models demand a Huge Focus on Employee Engagement?
An organization is nothing without its employees. Hence, handling them with care is the
How to Develop and Sustain Employee Engagement
Organizations have discovered that customer satisfaction makes clients stay, but their
Write for the HR Cloud Blog!
Join so many other talented HR professionals by contributing to the HR Cloud blog. To learn more, view our blog guidelines now.
Like What You Hear?
We'd love to chat with you more about how HR Cloud can support your business's HR needs.