HR Cloud has partnered with Greenhouse, an applicant tracking software maker, to offer a seamless experience from recruiting to onboarding. The Greenhouse integration allows HR Cloud admins to link Greenhouse applicant data simply to HR Cloud's flagship product, Onboard. Greenhouse customers can find this integration here: Partners
Onboarding new employees just got easier for companies using Greenhouse software. Once a candidate has been marked as hired on Greenhouse, a new employee profile is automatically generated on the HR Cloud platform. This integration sync's up candidates that become new hires and they will now have a seamless experience with a branded onboarding portal. Companies using the HR Cloud Greenhouse integration will be moving away from multiple logins to software systems, preventing data duplication and eliminating paper processes. Companies will now generate time savings for both the new employee and the HR team.
"One of the goals for HR Cloud is to build bridges to other popular and innovative companies that are providing technology to enterprises and our partnership with Greenhouse is the first ATS that we identified and we are excited about what we can achieve together." said Damir Davidovic, CEO of HR Cloud.
Highlights:
One click solution to sync data from Greenhouse ATS to HR Cloud Onboard.
Same experience for new hires transitioning from candidates
Prevents data duplication
Streamlines new hire processes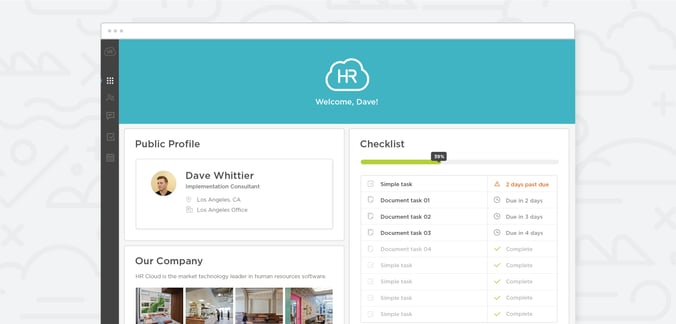 With HR Cloud's Onboard, new hires are immersed into the company's culture and propelled to productivity. HR Admins can easily monitor where new hires are in the onboarding process and keep new hires on track. Since new hires are able to access to Onboard ahead of time, they are prepared prior to their first day so they can be productive on day one.
Once someone is onboarded into the organization they can begin to utilize more of the free apps within HR Cloud. Workmates is a tool designed to increase employee engagement and build company culture with rewards and recognition. The Workmates internal social feed features the ability to post company announcements, inform colleagues of upcoming vacations or when out of the office. You can download the mobile app here: workmatesapp.com
About Greenhouse
Greenhouse Software designs tools that help companies source, interview, hire and onboard the right talent. Headquartered in New York City with an office in San Francisco, Greenhouse was founded by Daniel Chait and Jon Stross. The Greenhouse team currently works with over 1,500 of the world's most innovative people-driven companies, including Airbnb, Slack, Oscar Health and more.
HR Cloud is a leading developer of HR software & HRMS solutions for business with a focus on effective employee engagement. Founded in 2012, our HRIS empowers teams to easily onboard new hires, manage employee data, create a company social network and support employee development.
HR Cloud was created from the leaders at NEOGOV (founded in 1999 by CEO and Founder Damir Davidovic) the market and technology leader in on-demand human resources software for the public sector, with more than 1,500 government agencies and educational institutions using NEOGOV technology.