Trusted by leading companies focused on employee culture and experience






Delivering the Complete Employee Experience.
Say goodbye to Workplace, and say hello to Workmates. With much more functionality—at a fraction of the cost—Workmates delivers all the tools you need to communicate, collaborate, and recognize and reward your modern workforce.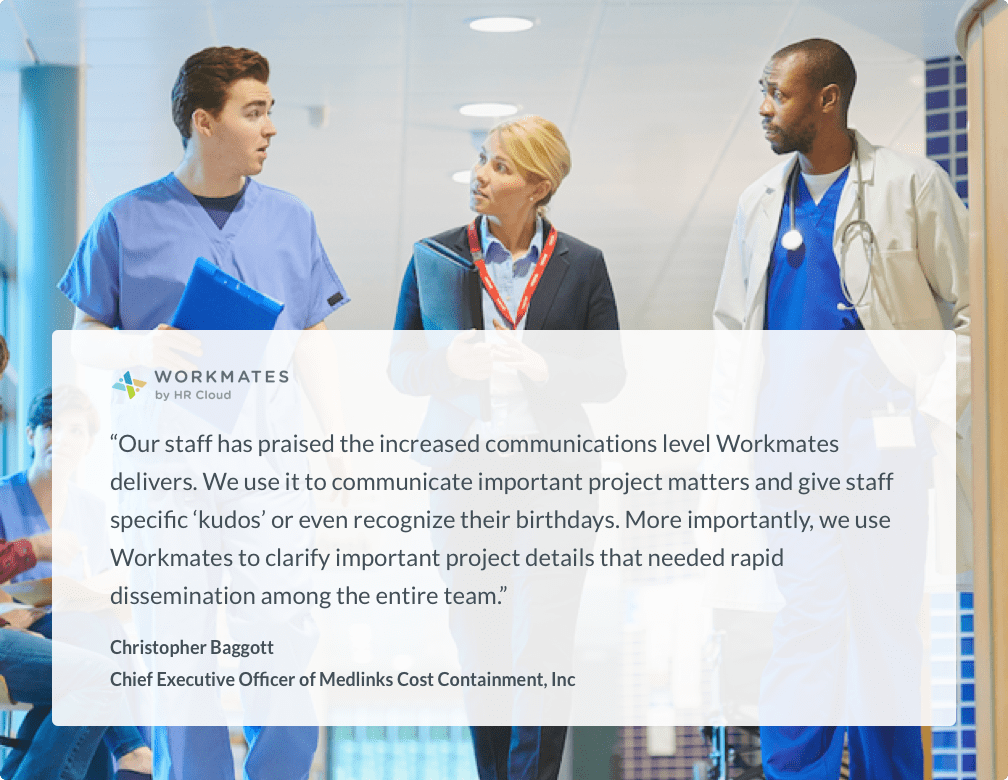 A Complete Employee Experience Platform, at a Fraction of the Cost.
As consumers, many of us are willing to pay a higher price for a product that offers more than the competition. Yet this simply isn't the case with Workplace by Facebook. Its Essential offering is more than twice what you'll pay for Workmates (and nearly three times more for the added frontline employee upcharge), and still doesn't give you the wide range of features and capabilities you'll get with Workmates.
We designed Workmates to give you all the tools you need to manage and improve the entire employee experience, while offering it a price that simply makes sense.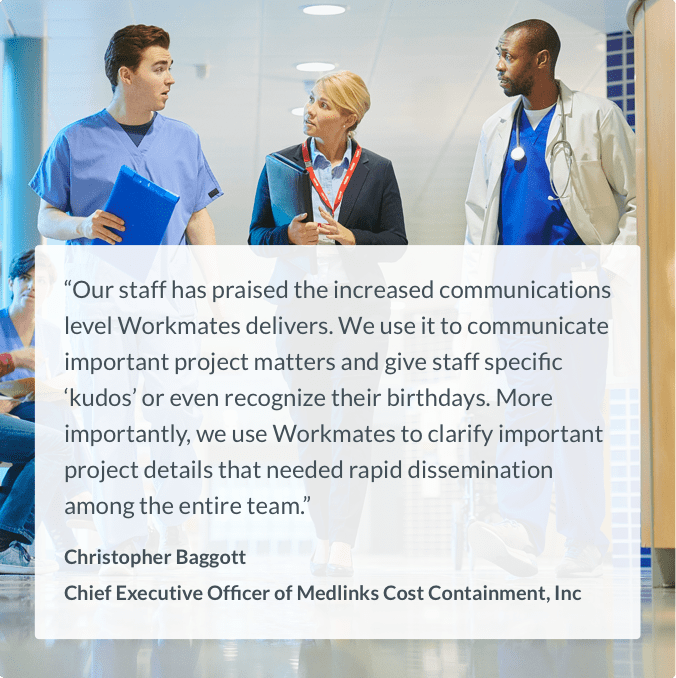 One platform to connect and engage your workforce
Finally, a modern, social intranet that works for those who need it most—your employees.
Employe Communication and Engagement
Workmates gives you all the tools you need to interact and collaborate with employees to share vital information. Workmates even makes communication fun: employees can upload GIFs, pictures, videos, surveys, polls, and more.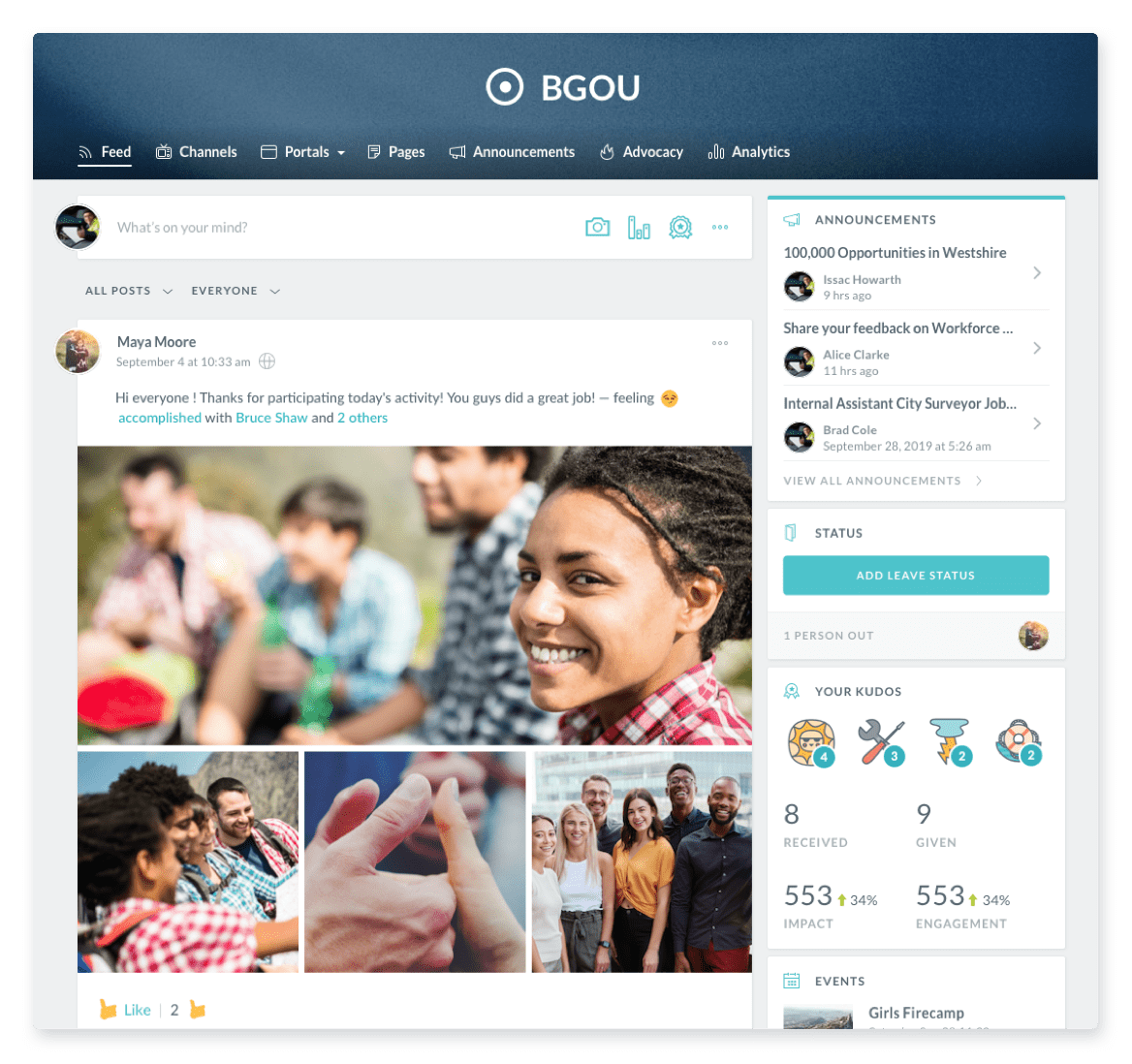 Rewards and Recognition
One of the most effective ways to increase employee engagement and drive motivation is through the use of an employee recognition and rewards solution. Workmates lets employees use the kudos feature to recognize a peer's achievement or hard work they do every day. Employees can even redeem kudos points for gift cards, corporate items, or other "thank-yous."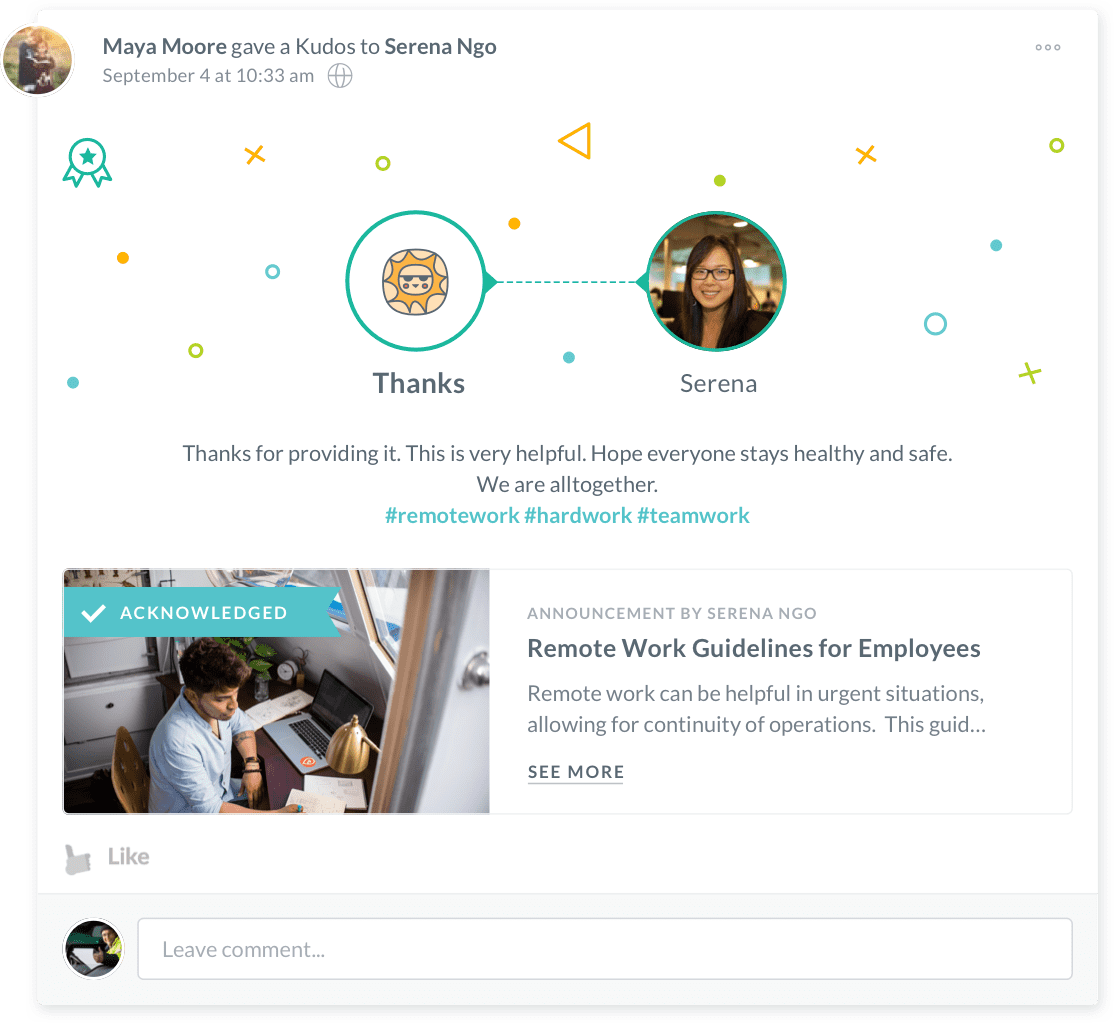 Employee Advocacy
With Workmates, your employees become powerful advocates, willing and able to embody your company's best interests, promote your products and services, and contribute to a much stronger culture.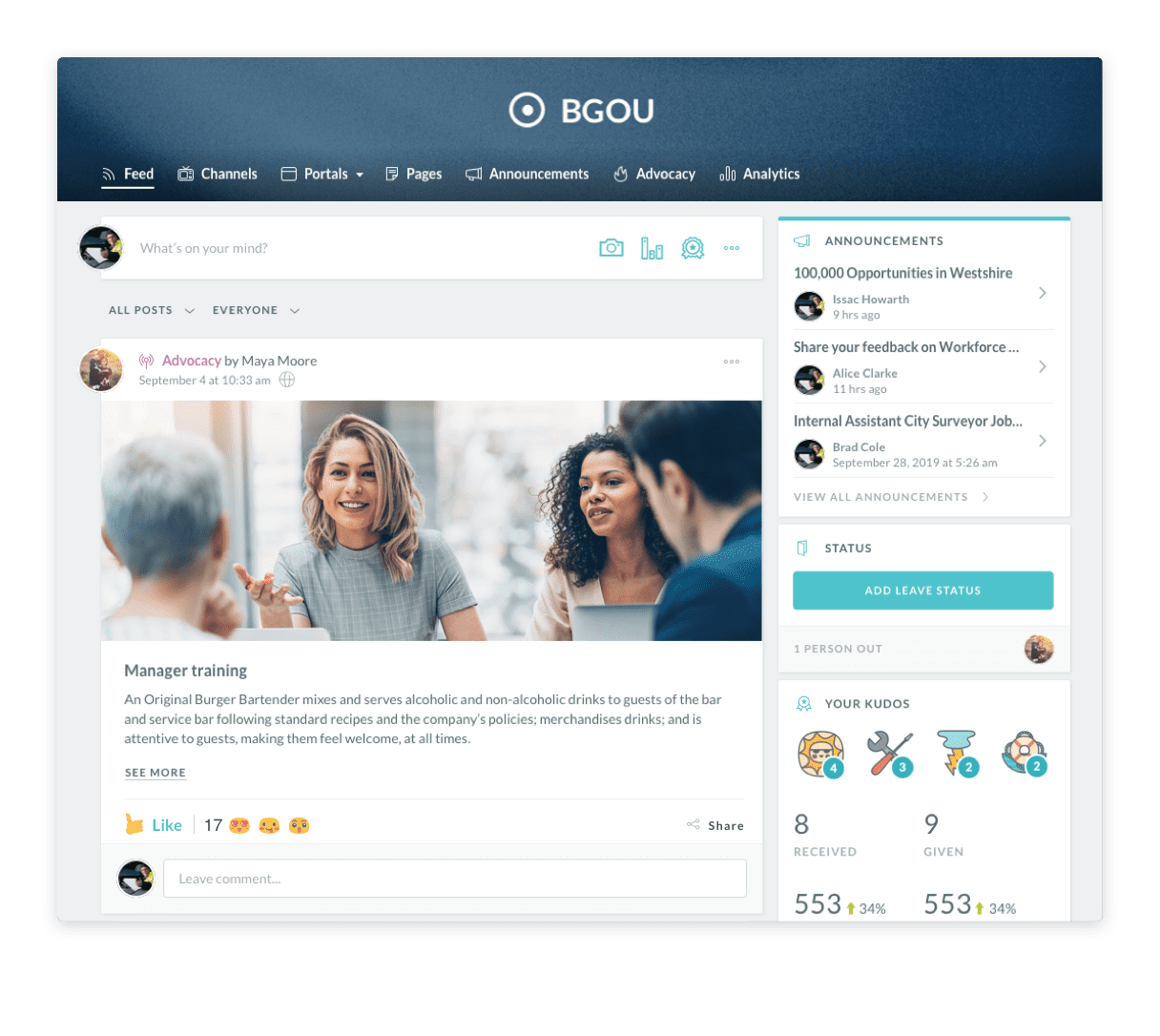 Employee Engagement
With Workmates, employees can easily post comments, start discussions, create an informative survey, share thoughts, and more. Workmates promotes teamwork and dialogue, and makes team communication fun. With Workmates, employee engagement feels like fun, not work.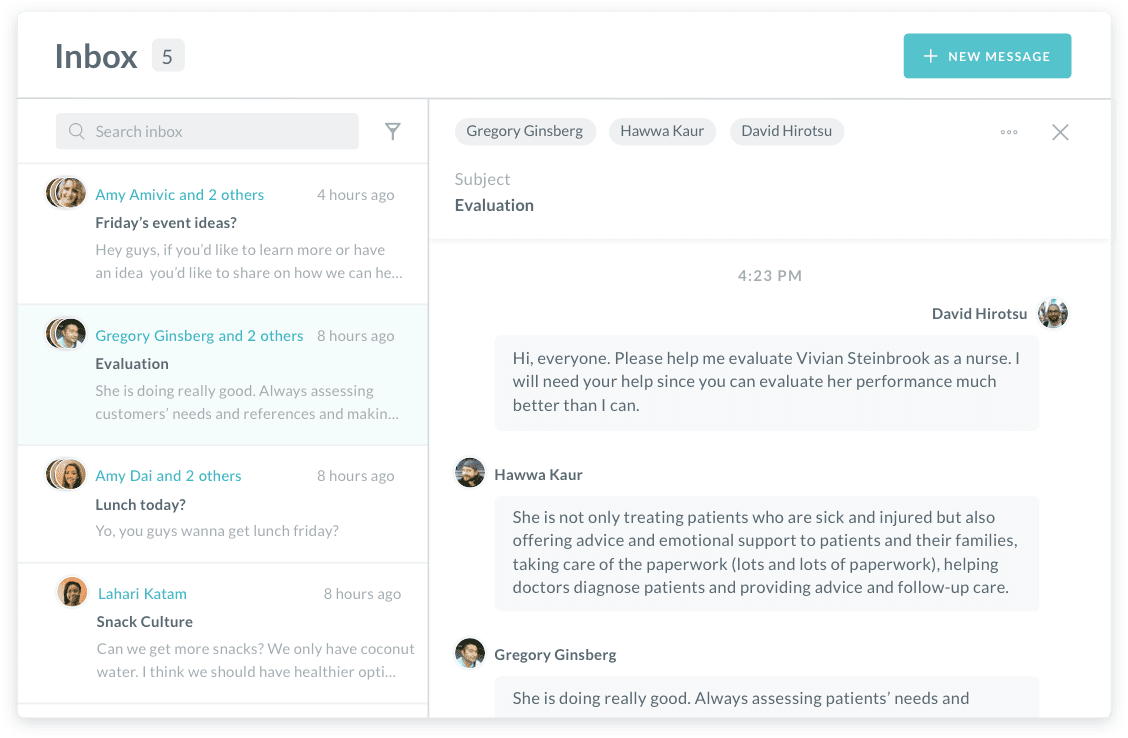 A Modern, Social Intranet
Our corporate intranet solution gives you the tools to share information and increase communication with the entire workforce. Portals, pages, and content are created and presented based on employees' roles, location, department, org chart hierarchy, or any combination of assignment criteria.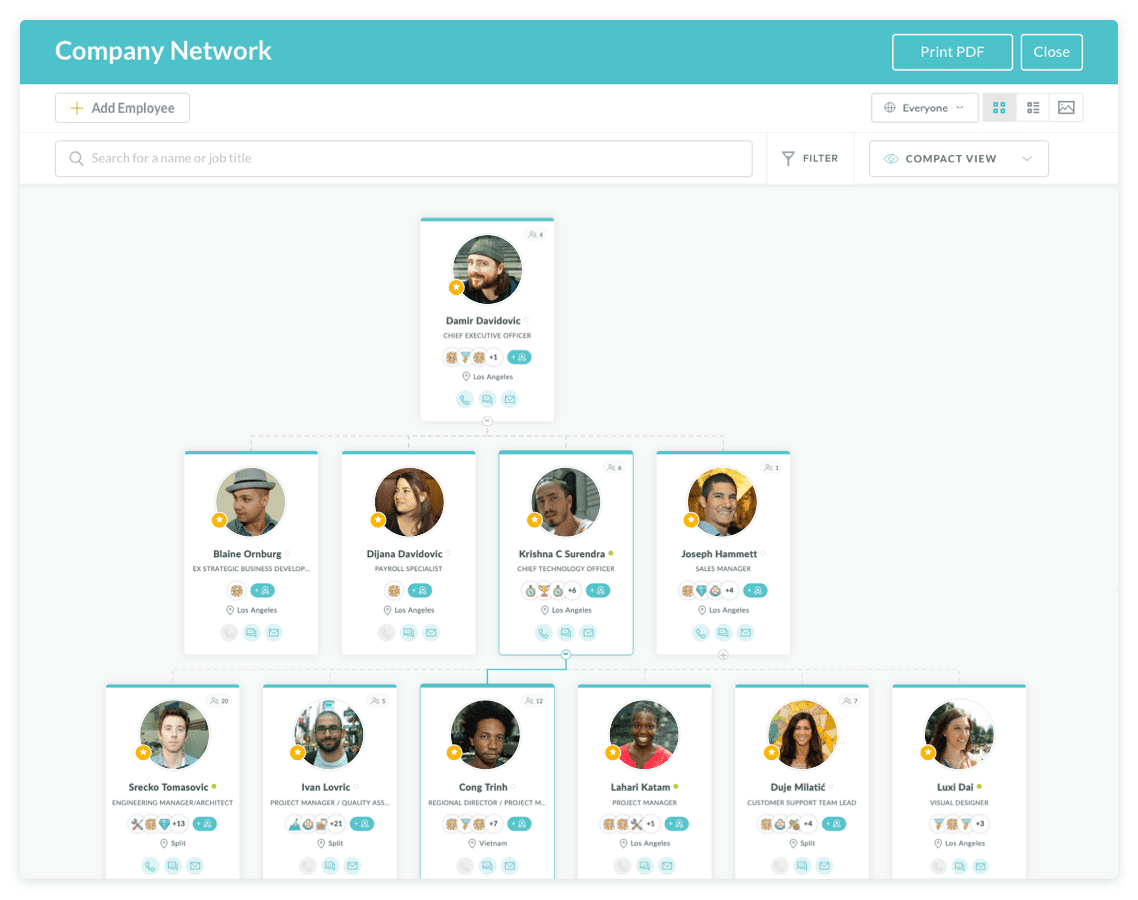 Content Management System (CMS)
With Workmates, customizing and adding branded pages, as well as uploading documents and content is easy and intuitive. Content widgets give options for documents, newsletters, videos, links, pictures, and rich text editing. Workmates even integrates with leading document and content management systems, helping to keep your content up to date.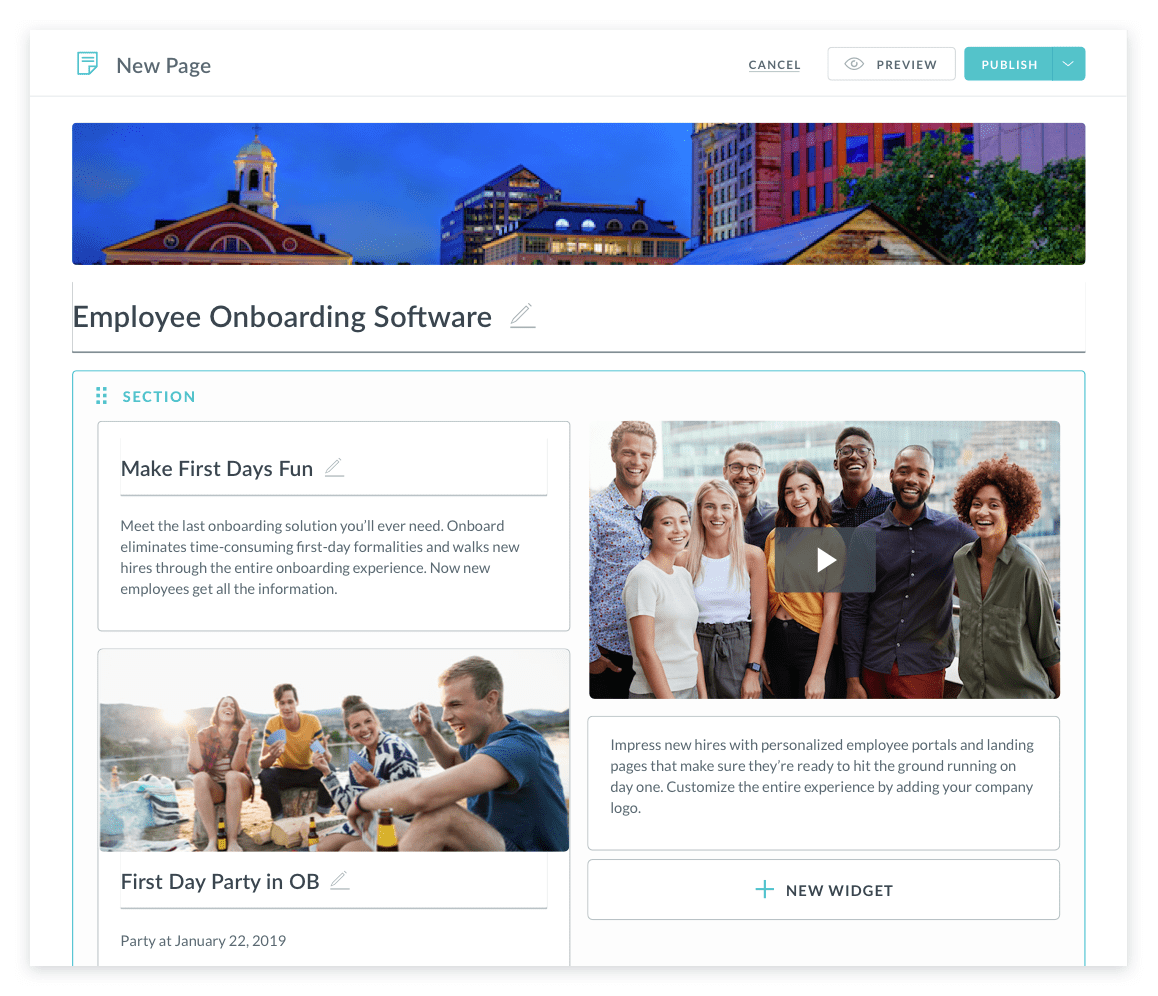 Manage Remote Teams
Workmates provides easy, but effective, communications tools to make sure all of your employees are fully informed, even during these difficult times. With familiar, intuitive tools, such as a personalized newsfeed, chat, and mobile app, your employees will be fully productive, right from the start.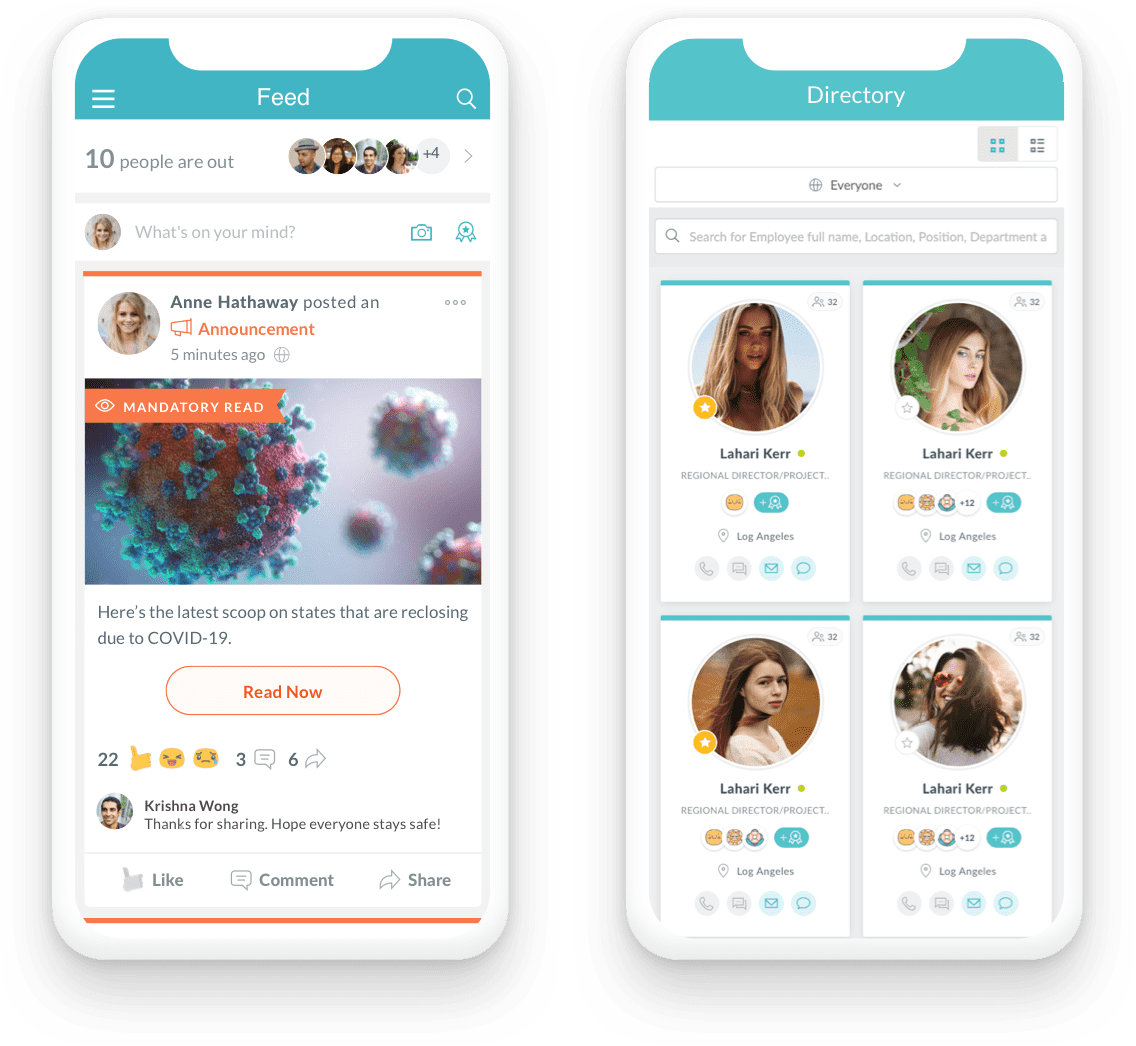 Measure Results and Success
Workmates' powerful reporting and analytics tools give you real-time insight into the metrics that matter most so you can adjust content strategies to produce meaningful results.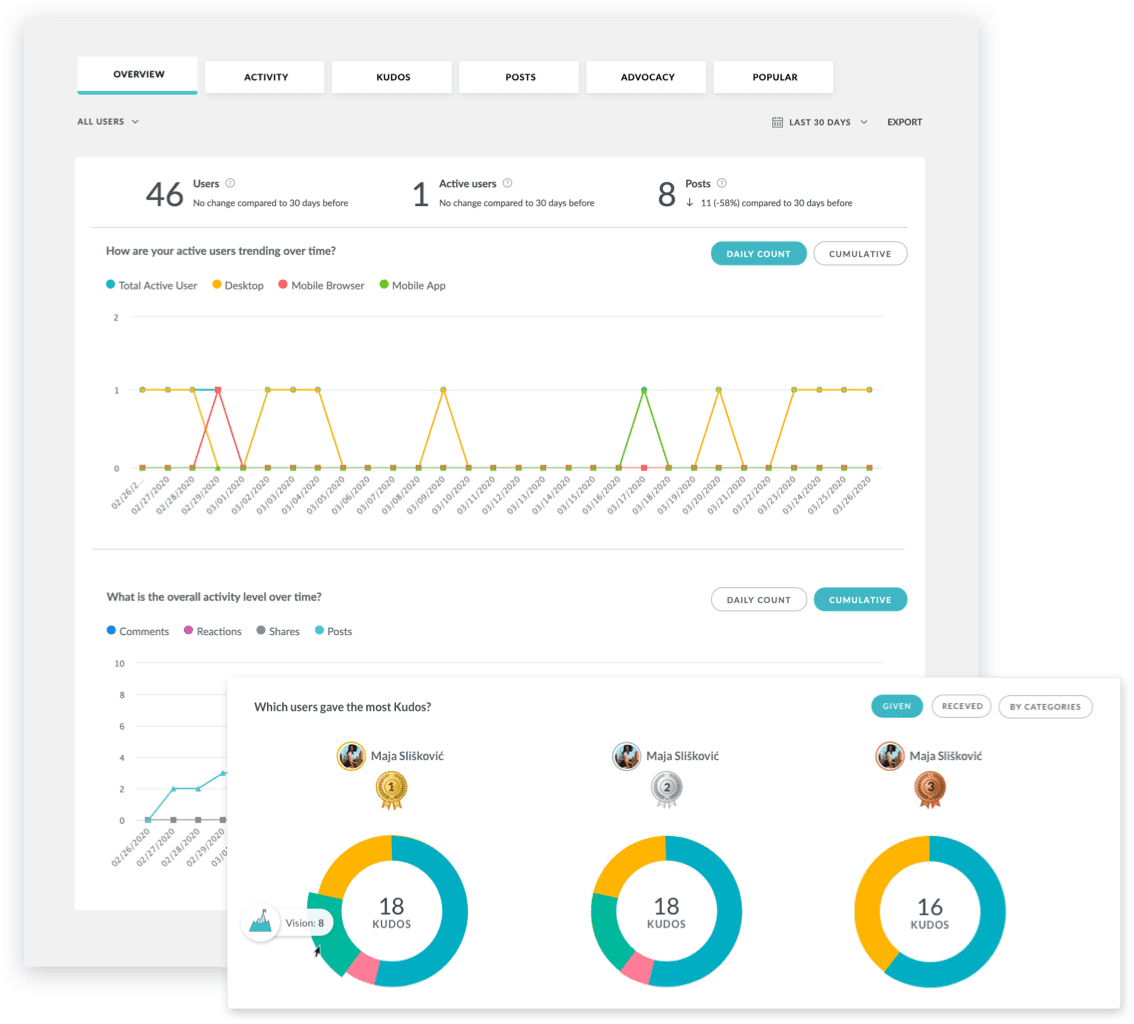 Feed
Kudos
Employee Advocacy
Internal Communication
Social Intranet
CMS
Mobile App
Analytics
Feature Comparison
With more functionality at less cost, HR Cloud's Workmates is a better employee engagement solution than Workplace by Facebook
Workplace by Facebook
Workplace
Workmates from HR Cloud
HR Cloud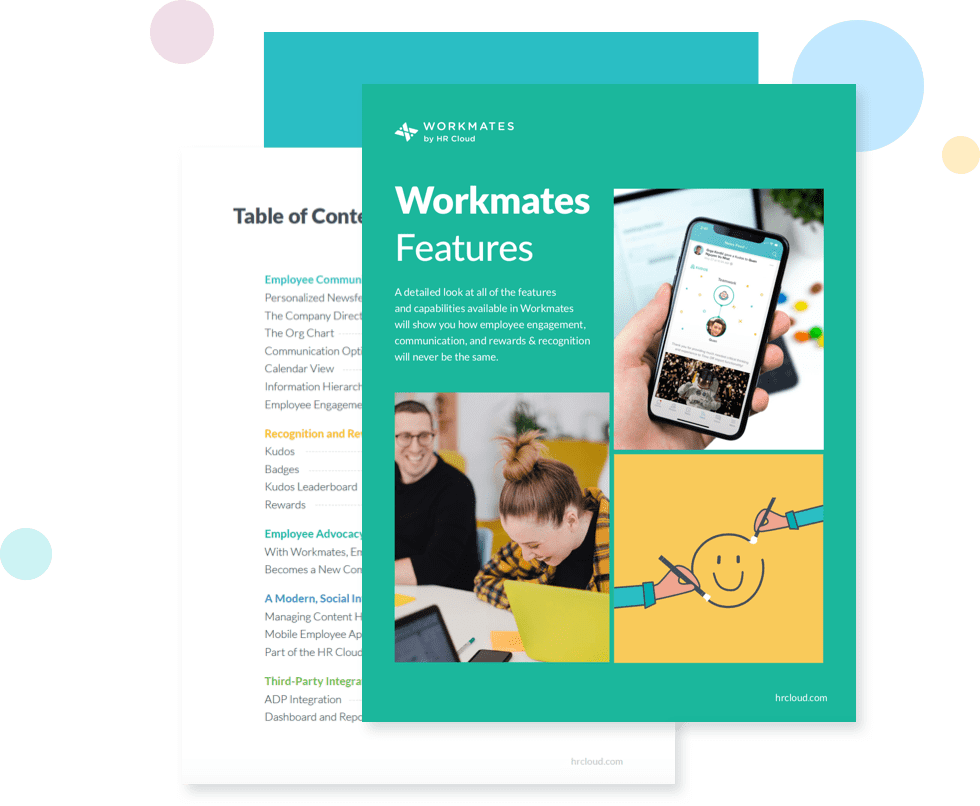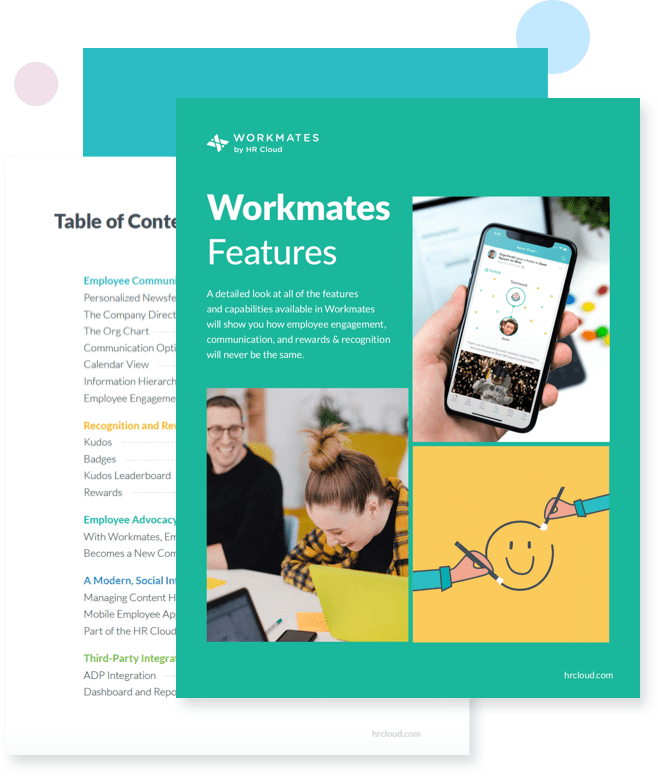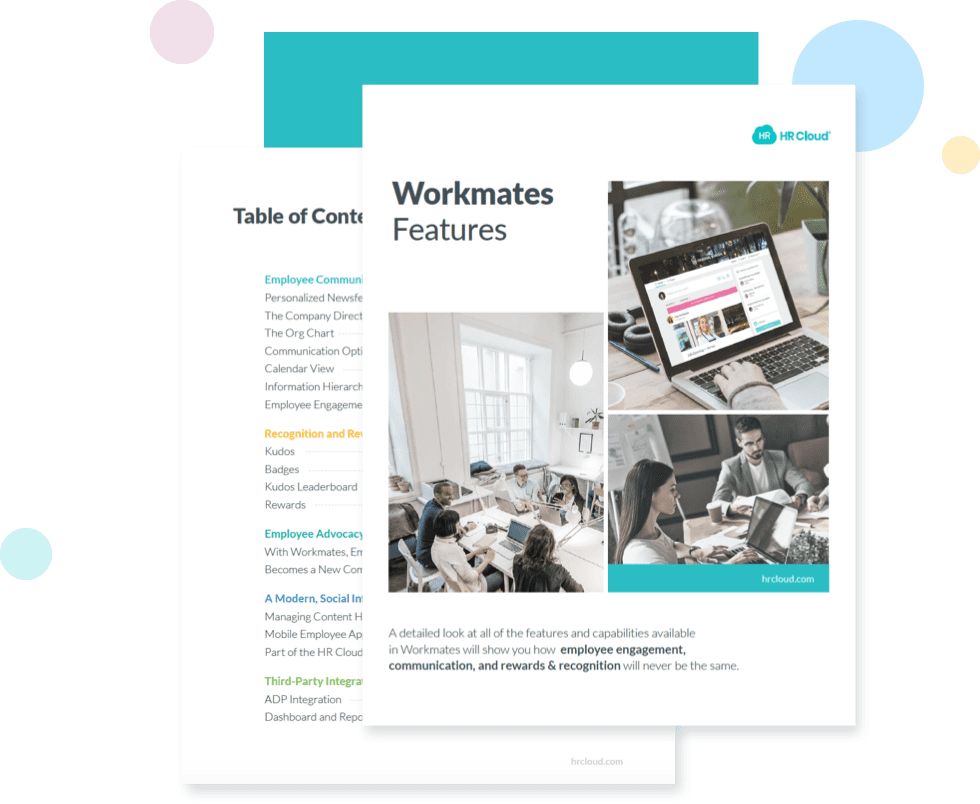 Workmates Features Ebook
A detailed look at all of the features and capabilities available in Workmates will show you how employee engagement, communication, and rewards & recognition will never be the same.
Download Ebook