5 Reasons HR Managers Should Look for Resilience and Adaptability in Candidates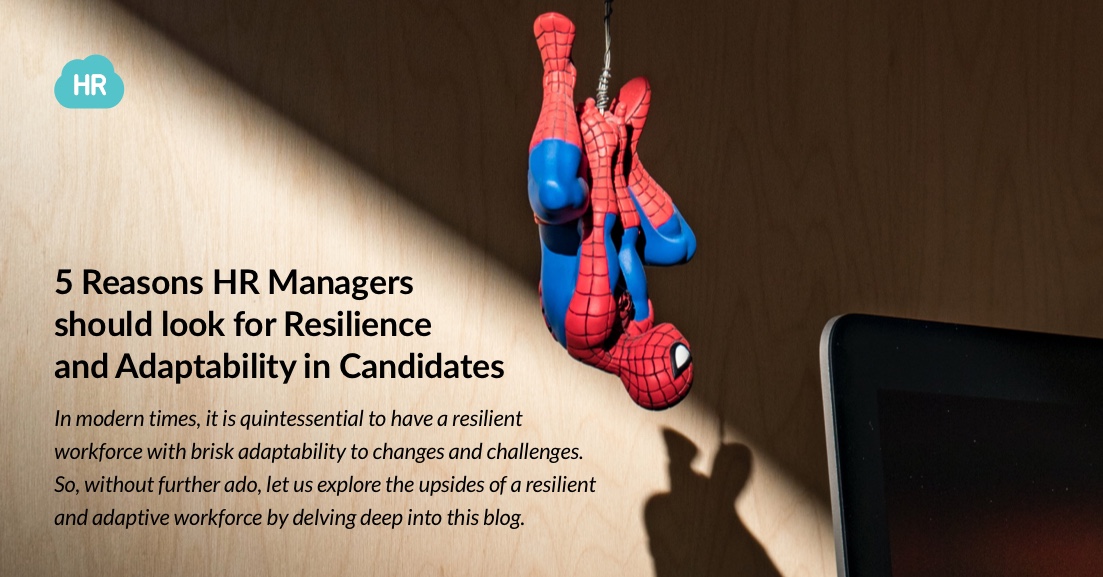 As an HR professional, the onus lies in you to screen candidates you feel can be perfect fits for your organization. Needless to say, you put in great diligence and people management skills in your work. You evaluate candidates on various parameters and assess a wide spectrum of employability skills in them. You do every possible thing that you can do to give your organization a workforce that can drive high employee engagement and business profitability.

So, speaking of candidates' traits and diverse talent, what are the top skills you screen candidates for? Do you ever evaluate candidates for their characteristics of resilience and adaptability? In modern times, it is quintessential to have a resilient workforce with brisk adaptability to changes and challenges. In multifaceted ways, resilience in the workplace puts an organization at a competitive advantage. Do you ever lay emphasis on the upsides of a resilient workforce?

To further elucidate, we look at the various advantages that hiring managers can offer to their organizations by hiring resilient and adaptive team members. So, without further ado, let us explore the upsides of a resilient and adaptive workforce by delving deep into this blog.
Merits of building a resilient and adaptive workforce
1. Enhanced organizational competitiveness
In contemporary times of overwhelming competition in the business world, no organization can afford to be complacent. After enduring the setback brought in by the COVID-19 pandemic, every business will be zealous to bounce back. Having said that, there is a greater need for businesses to build on their competitiveness every day. But what do you think makes an organization competitive?

Being a human resource manager, of course, you know that an organization's character is nothing but a reflection of the characteristics of its people. What makes an organization competitive is the resilience, skills, ethics, and adaptability of its human capital. If you look around, the corporate world is becoming challenging day by day in terms of its work design. In such a scenario, an organization can either embrace these challenges or succumb to them. This to a great extent will depend on how hiring managers place their best bets!
When you have a resilient and adaptive workforce, the overall energy and vibe of the workplace will be positive and appealing. Given their resilience and strong character, employees will have a forward-looking approach to challenges. Rather than giving up when faced with challenges or disengaging, they will rather confront the obstacles with great optimism. The overall impact will be such that an organization will become far more competitive than ever before.

You will have people working for your organization who have a knack for bringing out the best in them amid crisis situations. They will remain motivated in a perennial way from the virtue of their resilience. They will not be hesitant to go the extra mile for the organization or work beyond their usual working hours. Moreover, their courage and resilience will be exemplary and inspiring for others. These people will lay a strong foundation for the organization to scale new heights. Such a workforce can change the fortunes of any business, isn't it?
2. Improved change management
Change management is a key area of functionality for any business. In fact, we have seen some massive and overwhelming changes in the corporate scenario in recent years. These changes are an amalgamation of overhauls driven by the pandemic and the ongoing digital revolution. Needless to say, the dimensions of remote jobs, hybrid work cultures, and automation will get much larger in the future. The bottom line is that industrial and organizational changes will soon become a regular affair.

To cite an example of the colossal upcoming changes, the findings of a Gartner CFO survey reveal that 74 percent of employers plan to offer permanent work from home jobs to their employees. Let us consider another example of the changes we may get to see in the near future. Research by McKinsey Global Institute indicates that in the near future, more than 30 percent of tasks in the workplace will be automated.

Now, to manage all these changes and get the best out of them, an organization needs to be effective at change management. Otherwise, while an organization struggles to adapt to changes, the competitors will take a handsome lead. Having said that, it is important that organizations hire for resilience and adaptability. Resilience in itself is a measure of diverse talent!

Employees that come in with great adaptability skills will facilitate better change management. They will be adaptive enough to align with the changes in an efficient and timely way. Moreover, they will be resilient enough to not be dreaded by the transformations in the work environment. Hence, with a resilient and adaptive workforce, the overall change management of your organization will improve. What more can an HR manager ask for when it comes to change management?

"Our staff has praised the increased communications level Workmates delivers. We use it to communicate important project matters and give staff specific 'kudos' or even recognize their birthdays. More importantly, we use Workmates to clarify important project details that needed rapid dissemination among the entire team."
Christopher Baggott
Chief Executive Officerator of Medlinks Cost Containment, Inc. and Medlinks Staffing, LLC.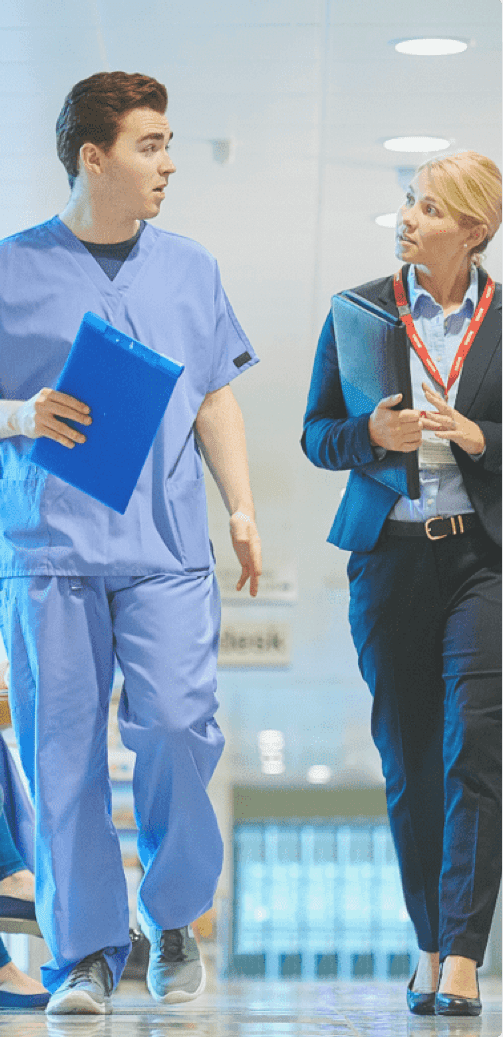 3. Greater innovation in the workplace
What do you think is the most important driving force behind inspirational problem-solving abilities? The obvious answer lies in innovation that encourages an individual to look beyond even the most complex problem and find outside-the-box solutions. You and the top management of the company would certainly want workplace innovation to be high at all times. This is where hiring people for resilience and adaptability will render great results.

Innovation will not come from people who surrender to problems or view their work as an obligation. It will rather come from people who look every problem in the eye. Innovation will come from people who want to make a real difference. In this context, employees with resilience and adaptability will prove to be perfect fits. In the face of each challenge, they will look to find an opportunity to prove their mettle.

What it takes to remain poised, intelligible, and critical even amid a crisis is a resilient character. You need people who can add the dimensions of radiant innovation in the workplace from the virtue of their resilience. On the other hand, those who lack resilience will keep cribbing about the problems rather than looking to find answers. What resilience in the workplace does the best is that it fosters an award winning attitude in the employees.

It is noteworthy that as per Workplace Insight, employees who lack the traits of resilience exhibit 55 percent lower engagement at work. As you can see, you cannot expect your disengaged employees to come up with innovative solutions. Hence, hiring for resilience is both quintessential and smart.
Workmates Self-Guided Tour
We'll show you how Workmates can engage everyone in your organization, transform your culture, and drive productivity to new highs.
Start Now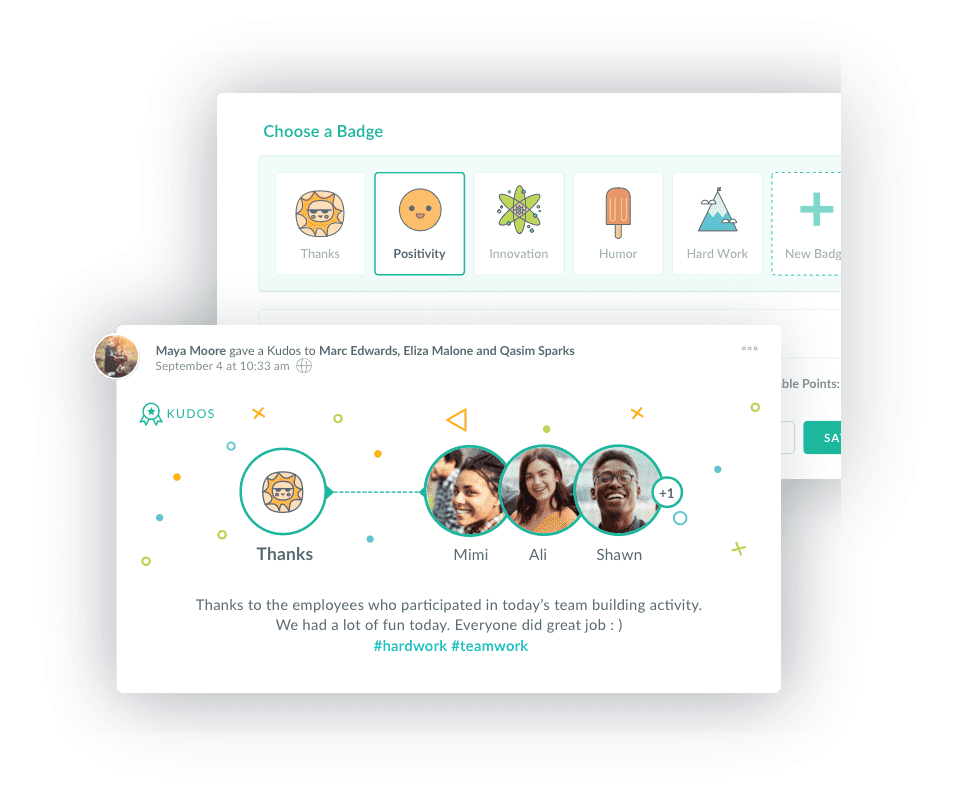 4. Declined absenteeism and burnout rates
Employees who are resilient know how to manage their emotions and stress in an effective way. Of course, organizations and human resource managers should step ahead and offer stress management, telemedicine coverage and wellness support to employees. However, an employee's ability to manage stress and pressure situations is also pivotal and speaks at length for their character.

For sure, you do not need employees who resist additional responsibilities or start to panic when assigned some extraordinary tasks. You rather need resilient and adaptive people who can resent negative perspectives and manage their stress well. Anyone who can do this will have much higher and consistent productivity to offer than others. In fact, resilient employees can also inspire their team members to manage stress better.
Moreover, resilient people with strong cognitive endurance will be less vulnerable to burnout situations and high absenteeism. When employees are unable to manage their stress and negative emotions, they will seek more off days. You already know that high absenteeism comes with massive organizational losses. To validate, as per Investopedia, organizations may lose up to USD 2660 each year per salaried employee because of high absenteeism. This gives you another key reason why you should screen candidates for their resilience and adaptability.

Any organization can have two kinds of employees. The former kind will be of those who embrace new challenges on their career paths and commit themselves to get through them for their organization. The latter kind will be of those who will rather look to dodge responsibilities or lose their efficiency with even the slightest increase in their workload. For obvious reasons, you need to invest in the former category of employees who add great value to the organization.

5. Greater willingness to learn among employees
For a majority of employees, learning and development opportunities in the workplace are salient. They are happy to commit their diligence and allegiance to an organization that facilitates their career development. At the same time, there may be some employees who may not feel the need to learn hence being complacent in their career paths. They would not be much interested in putting in the sincere effort of learning new dimensions of professionalism.
Having said that, when you evaluate candidates for resilience and adaptability, you will get an insight into their openness to learning. Those who endorse the traits of resilience and adaptability will be keen to learn new fundamentals that add to their professional growth and career development. They will be quick to adapt to the dynamic corporate environment that requires them to keep updating their skills and knowledge in a consistent manner. For those who lack resilience, keeping up with the pace of the corporate world will seem insurmountable and grim.
From incorporating various soft skills, hard skills to adjusting to the latest requirements in work design, employees need to be active learners each day. Having said that, resilient minds and characters have the best chance of excelling when it comes to workplace learning. That is how they will be able to create an award winning legacy for their organization.
Are you still wondering if you should be considerate of these qualities in candidates or not? We hope you are now convinced that recruiting for resilience and adaptability needs to be among the top recruiting trends.
To encapsulate, every organization looks for people who can challenge the ordinary and come up with extraordinary perspectives and ideas. In the ultimate sense, it is all about mindsets, isn't it? People who are resilient and adaptive come with strong and flexible mindsets and personalities that can add immense value to any business organization. As you saw above, there are some imperative and unparalleled benefits of building a resilient and adaptive workforce. So, let's see how well you can leverage this realization!
Author Bio: This article is written by our marketing team at HR Cloud. HR Cloud is a leading provider of HR solutions, including recruiting, onboarding, employee engagement, and intranet software. Our aim is to help your company improve employee engagement, employee productivity, and to save you valuable time!
Keep Reading
10 Tips For Effective Employee Absence Management
Employees are the backbone of any company. Their performance is critical to the company's
Importance of Effective Onboarding and Background checks for new Employees
Employers teach new workers for several months during onboarding to acquaint them with
Write for the HR Cloud Blog!
Join so many other talented HR professionals by contributing to the HR Cloud blog. To learn more, view our blog guidelines now.
Like What You Hear?
We'd love to chat with you more about how HR Cloud can support your business's HR needs.