It's no secret that more and more Millennials are hopping from one career to another. In fact, 91% of Millennials expect to stay in a job less than 3 years (Forbes) and the cost of replacing a Millennial employee ranges from $15,000 - $20,000. (Millennial Branding) Needless to say, retaining the right Millennial talent has never been more crucial.
To complicate Millennial retention further, technology (including the newest HR systems) and the Internet have enabled new avenues for entrepreneurship. So not only do companies have to compete against other companies wooing away their young talent, but they now have to also compete with Millennials' passion and entrepreneurial aspirations. Fifty-four percent of Millennials either want to start a business or already have started one (Kauffman). And 72% of Generation Z (the post-Millennial generation) want to start their own business. (Global Messaging)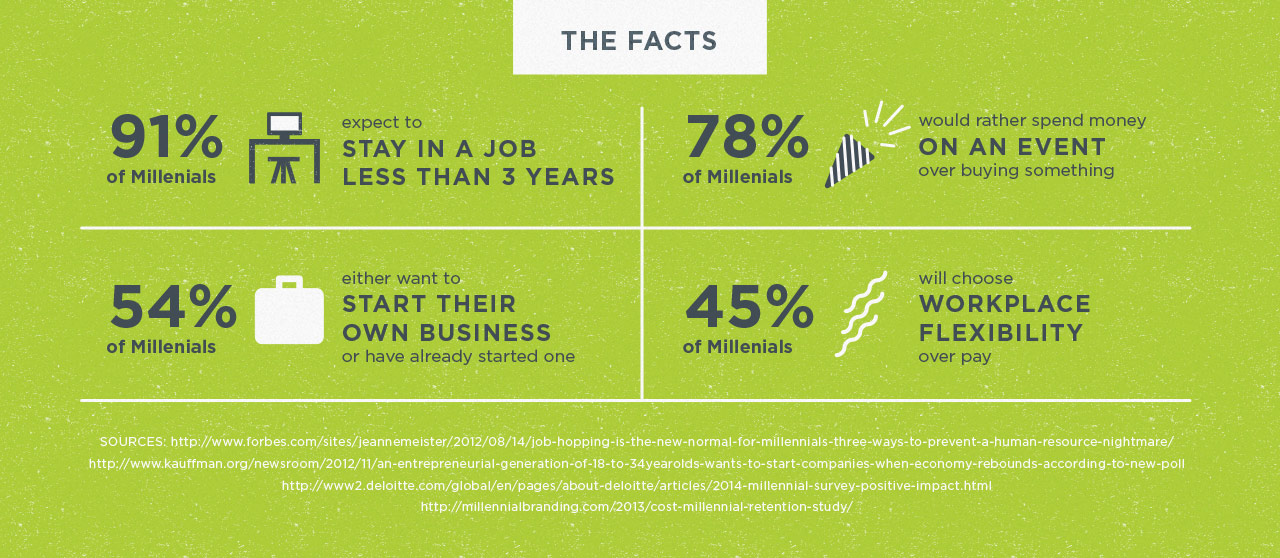 Leveraging Millennials' entrepreneurship desires is one strategy to effectively retain them as employees. This, along with the five other strategies below, will help you hang onto your future leaders.
1) Start a young professional employee group.
One in four Millennials are "asking for a chance" to show their leadership skills. (Deloitte Millennial Survey)
Coca-Cola recently launched Coke Young Professionals or CYP (pronounced "sip," get it?). CYP offers professional development, networking, and social events geared towards the young professional. These groups provide fertile ground for new ideas, and provide Millennials the chance to contribute and lead.
Young professional groups are also great environments to practice "reverse mentoring" where rising Millennial leaders can share their perspective, ideas, and knowledge, both in person and online with employee engagement software, with more seasoned employees.
2) Encourage intrapreneurship and internal innovation.
78% of Millennials are strongly influenced by how innovative a company is when deciding if they want to work there. (Deloitte Millennial Survey)
LinkedIn empowers employees each quarter to come up with a new idea, put a team together, and pitch their idea to the executive team. If the idea is approved, they are able to spend up to three months time dedicated to turning the idea into something that benefits the company. Millennials want to create, contribute, and innovate.
The idea of intrapreneurship, behaving like an entrepreneur while working within a large organization, resonates with Millennials.
3) Communicate and track career progression and development.
The #1 reason Millennials leave organizations is the lack of career opportunities. (Forbes)
Zappos, the Amazon-owned online shoe and clothing shop, provides all the training and mentorship necessary so that any employee has the opportunity to become a senior leader within 5-7 years. They also offer a "skill set" system that allows employees to get certified and receive a pay bump with each new skill set acquired.
Millennials' big career expectations—I'm going be the CEO in one year— are tied to unrealistic timelines because so many leaders and organizations lack the ability to communicate the steps involved to move Millennials from where they are to where they want to be. If you employ tools like performance review software or an employee rewards system, you might be on the right track to attract and retain this generation of employees.
4) Create unexpected, one-of-a-kind experiences.
Seventy-eight percent of Millennials would choose to spend money on a desirable experience or event over buying something desirable. (Eventbrite)
Square, the mobile payment company, hosts an annual competition that runs concurrent across all of their offices worldwide called the Square Games. The games give teammates the opportunity to both physically and mentally challenge each other while building stronger relationships. The event includes a picnic and 15 different games, including an obstacle course, dodgeball, human foosball, a giant game of Scrabble, and Dance Dance Revolution. Millennials value play and fun—the wackier, more off-the-wall, and unique the better.
5) Support work/life balance and flexible schedules.
Forty-five percent of Millennials will choose workplace flexibility over pay. (Millennial Branding)
Rigor, an Atlanta-based start-up, won the 2014 Best Places to Work in Atlanta Award with its "work from anywhere, anytime" and "take vacation whenever you want" policies. Rigor builds trust and solidifies Millennial loyalty with work flexibility. The 9 to 5 model is eroding thanks to the rise of technology and hyper-connectivity. Creative scheduling can unleash Millennial creativity.
6) Integrate family at work.
On average Millennials use three channels to stay in touch with parents, including email, video calls, texting, and social networks. (NYMag)
Throw work parties that include family or consider what both Google and LinkedIn do and host a "Take Your Parents To Work Day." Family is one of the greatest influences for Millennials. Millennial loyalty will reign if you win over mom and dad.

Bonus) Perform exit interviews.
Boomerang Millennials, those that leave a company and then come back, can become a company's strongest ambassador because they know how good they have it. Whenever possible, conduct an exit interview to pinpoint the exact reason for the Millennial's departure so you can adjust your retention efforts accordingly. Having a strong offboarding program in place can assure you learn from these types of employee departures and make the most of them. And be sure to leave on good terms to increase the likelihood of a boomerang Millennial.
It's my hope that organizations begin to focus on the potential of the Millennial generation versus the shortcomings and/or what they still have yet to learn. Make the investment today in order to develop the leaders and workplace that will thrive tomorrow. Your organization's future vitality will thank you.