Imagine if your HR cloud software could automatically generate a useful, printable organizational chart from employee data without the need to compile information, download excel files or import photos! Nothing is left to the imagination any longer with HR Cloud's newest feature: Org Chart.
Available in both Onboard and Workmates app suites, HR Cloud's Org Chart visualizes your company's hierarchy with profile pictures, titles, departments and locations. Navigating employee profiles is fluid and shows precisely where that particular employee sits in your company's organizational chart. A single click yields a more detailed look on a team member by expanding the card into an information-rich, complete profile view for the selected employee.
Your company's employee data drives Org Chart, so changes in an employee's manager, position, location, etc. are reflected in the Org Chart in real-time. This dynamic quality makes Org Chart a powerful visual tool in the event of a promotion, or relocation, for example, that reshapes your company's organization from one day to the next.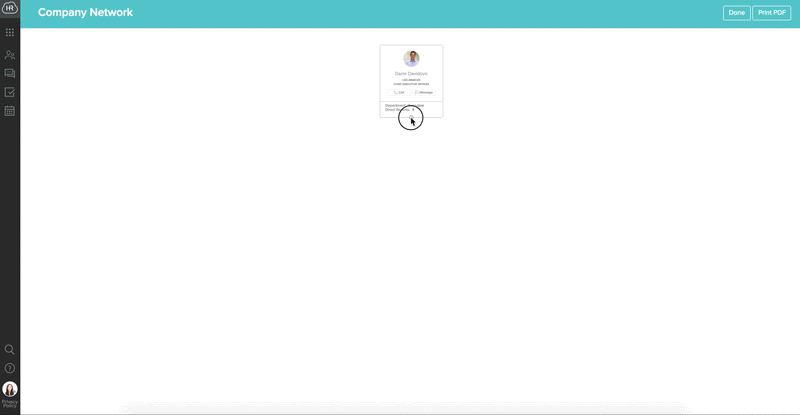 Everyone has access to Org Chart, so you can find any and all information you could need about a coworker. For example, a team from one location can familiarize itself with another team ahead of a business trip with a printed version of the org chart to review in-flight. Additionally, Org Chart makes the initial onboarding process for new employees more pleasant by helping them put a face to a name.
Org Chart fosters better communication across your company and empowers your workforce to become more efficient and productive by being easily accessible from both web and mobile devices. With Org Chart, employees can access critical information about their company's structure wherever they're working at the moment.
With olderm stand alone org chart products, generating the full picture of an organization was a monumental task. Confusing fill-in-the-blank templates, painful drag-and-drop tools, and hiring professional graphic designers to assemble information from multiple sources is now a thing of the past. If your company has an upcoming ReOrg, there is no need to stress: the Org Chart data will automatically be there for you based on the employee manager relationship using HR Cloud's Org Chart.
With HR Cloud's ADP integration, ADP customers can quickly import all of their company's employee data and instantly populate an org chart. As updates are made in HR Cloud, as well as in ADP, data is kept in sync, which means the visual guide to your company's organization is always fresh and up to date.
HR Cloud's Org Chart is prominently featured in the Onboard portal, providing new hires a clear picture of the entire organization during their onboarding process. Org Chart is similarly a strategic tool for senior executives, HR Admins and sales teams who are looking at succession planning or reorganizations and modeling.
Highlights:
Easily visualize company structure

Auto-synced and never out of date

Expandable profile cards from manager

Conveniently access coworkers contact information

Quickly see employee information & photos with profile cards

Clickable phone dialing and messaging

Available without any extra setup

Print either partial or full hierarchy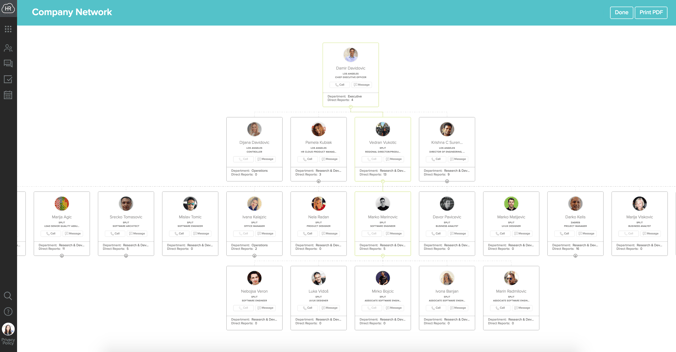 Having a visual guide to your company structure with Org Chart benefits communication and collaboration, and saves time as you no longer need to manually generate a new one every time there is a change in personnel. Company hierarchy will never be the same with easy organizational navigation, clickable data on employee profiles, and the ability to easily see where a particular employee sits in your company's organizational chart.
Org Chart is housed in HR Cloud's industry-leading onboarding application Onboard and is included in Workmates, a free web and mobile app available in both iOS and Android.
Want more? Check out these articles about HR and everything you could need in the world of HR software today.
HR Cloud is a leading developer of HR software & HRMS solutions for business with a focus on effective employee engagement. Founded in 2012, our HRIS empowers teams to easily onboard new hires, manage employee data, create a company social network and support employee development.
HR Cloud was created from the leaders at NEOGOV (founded in 1999 by CEO and Founder Damir Davidovic) the market and technology leader in on-demand human resources software for the public sector, with more than 1,500 government agencies and educational institutions using NEOGOV technology.