8 Benefits of a More Integrated Employee Communication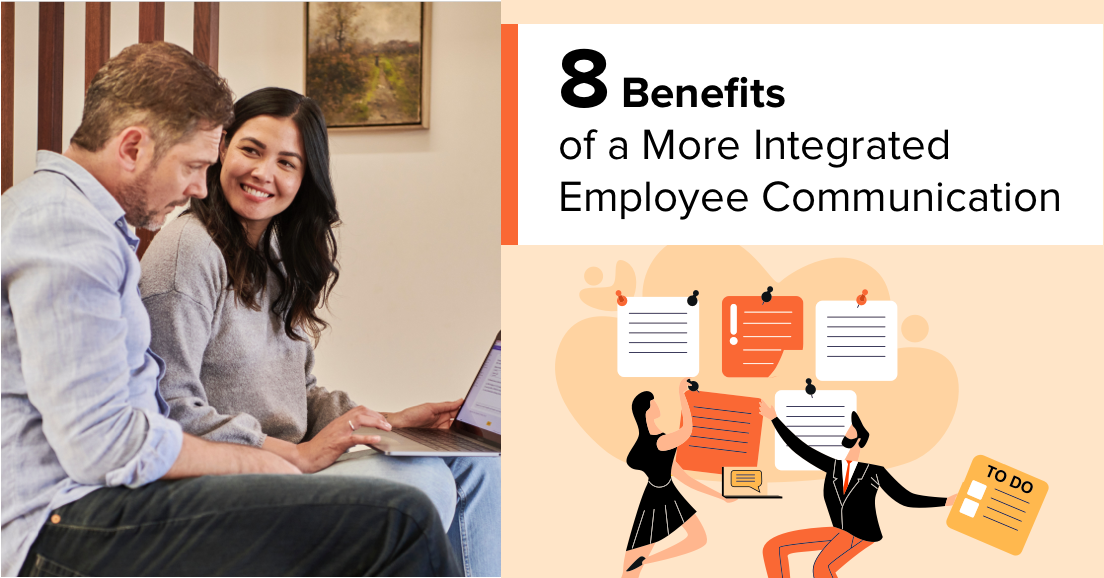 The dynamics of the modern workplace demand more integrated communication. There is a lot of information to pass around in an organization. Managers need to communicate to employees about new policies, instructions, upcoming changes, and much more. On the other hand, employees need to communicate with each other when collaborating in completing tasks.
How well such information passes across significantly affects how successful an organization will be. You see, there can't be any progress if people in an organization don't work on the same page. And, only integrated communication can be able to bring everyone together.
Besides that, here are 8 benefits an organization stands to gain with more coordinated employee communication.
Enhances innovation and knowledge sharing
Employees tend to withhold their ideas in a place where they feel they might be ridiculed or downplayed. On the other hand, an organization that encourages good communication manages to put confidence in the employees. As a result, they share ideas on projects, brainstorm on solutions to come up with killer end products. When employees pull together skills and knowledge, it results in a highly innovative team.
In addition, this sharing of knowledge and expertise results in employees learning new things, which enhances their skills. This can also be beneficial especially when onboarding new employees. The need for training is reduced significantly.
Innovation is critical for the success of your company. When the employees working in the organization are proactive in suggesting newer initiatives it will have a dramatic effect on the outcome of your business endeavors. Not only will the efficiency be improved you will find that the work quality has also taken an upturn. All this also provides a larger customer base. Innovation is critical for every definition of internal communication within an organization.
However, keep in mind that innovation doesn't come from the top down. Many times it is the ground staff working on the shop floor that comes up with some of the more groundbreaking ideas. You just need to provide an opportunity to them to make their voice heard.
By using a good reliable strategy you are going to get the internal communication channels into place. These will in turn allow the employees to contribute their ideas to the long-term benefit of the organization and develop company culture. When quality feedback channels are available to the employees you will discover that the members of staff are more willing to offer their suggestions for improving the work environment. Once these employees begin to drive the change and make it their own, the employer is sure to benefit from an uplift in the engagement level.


Reduces turnover and builds teamwork
Integrated employee communication ensures that the company goals and objectives are communicated clearly. Employees know how their roles align with these goals. This gives them a sense of belonging and pride knowing that their work is important in realizing the bigger picture. Their loyalty and commitment to the organization are heightened, which reduces employee turnover.
In addition, when employees understand each other's roles, it eliminates unnecessary competition. Every employee is focused on optimizing his or her role as well as working together in harmony, which enhances teamwork.
Christopher Baggott
Chief Executive Officerator of Medlinks Cost Containment, Inc. and Medlinks Staffing, LLC.
"Our staff has praised the increased communications level Workmates delivers. We use it to communicate important project matters and give staff specific 'kudos' or even recognize their birthdays. More importantly, we use Workmates to clarify important project details that needed rapid dissemination among the entire team."
Increases productivity
Employee productivity can be directly linked to employee satisfaction. When there is proper communication, employees feel free to express their concerns and ideas. When employers address these concerns, employees feel heard and valued. Consequently, it boosts their motivation and morale and hence productivity.
In such a case, employers don't have to worry about their employees' productivity regardless of where they are working. However, working in workspaces that are designed to enhance productivity would only complement employee satisfaction with the employer. If a business is located in Denver, for instance, employers can look for coworking spaces in Denver, and further enable employees to work in optimal productivity.
Everybody is aware of the fact that the employees have to feel engaged if you are to get the best out of them. But, how can this be achieved? Even though engaging appears to be similar to communicating, actually there is a big difference between the two. Many times there is a one-way info stream happening where the leaders are delivering organizational info using communication tools and there are not communication platforms for the employees. But, what any internal communication design can deliver is a crucial two-way dialogue taking place between the leader and the employees. One of the key elements of better practices in internal communication is this reciprocating flow of information and it should never be ignored.
For driving employee engagement to business success, different leaders have to show that they value employee feedback and the ensuing discussion. Similarly, the employees are going to need evidence about their voices being heard. After ensuring this, you can get a workforce that is highly engaged and is aware that their voice matters. When you are thinking about improving internal communication you will discover that active engagement of the employees will have a tremendous effect on the productivity and attitude of the employees.
Helps in positive adoption to change
They say change is the only constant thing. However, a sudden change in an organization can be disruptive and cause a sink in performance. On the other hand, employees accept change quickly and respond positively when it is communicated in a timely manner. The good thing is that integrated communication fosters open communication between managers and employees. In such an environment, managers choose to involve employees in everything rather than waiting for the last minute to drop the bomb. This especially eliminates rumors that can cause panic and anxiety in the workforce.


Employee-Centric Engagement, Internal
Communications, and Recognition
Start Free Trial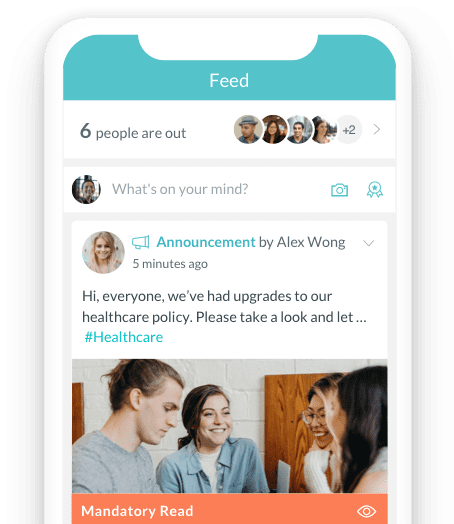 Fastens delivery time
Integrated employee communication fosters a timely and clear communication of instructions and expectations. Ideally, the successful completion of tasks depends on how well instructions are communicated. If employees have to go back and forth seeking clarifications, it eats into precious time that can otherwise be utilized constructively. Additionally, when expectations aren't clearly communicated, employees tend to rely on their knowledge. This can have negative effects on the final product or even cause delays in deliveries. Employees can get better at internal communication by taking the online job training courses that specialize in business and management.
Enhances employer brand image
One would think that employees have nothing more to ask for in a place where they are compensated well. Surprisingly, a big percentage of employees would rather choose a workplace where integrated communication is fostered than a place with competitive perks. The modern worker is fixated on working for an ideal employer. If you are to attract top talents, you must embrace the efforts to improve your employer image which is possible by using social media platforms. Moreover, open employee communication is one way to get there.
Employee retention
One of the more significant benefits of using effective employee communication is that it has a positive effect on employee retention. Employee retention has quickly become a major challenge for employers. The majority of the employers admit that they are finding it hard to retain key members of their staff. Apart from that, you will find that the costs involved in replacing the highly-trained member of the staff are close to 200% of their annual salary. This indicates the economic benefit of retaining the existing employees. For achieving this, effective internal communication is your answer.
Many experts have indicated that what increases employee retention level to as high as 40% is the use of effective communication. In the end, the employees that do not feel engaged or involved in the company proceedings are likely to be disconnected. Different kinds of internal communication have to be prioritized. But, making sure that the employees are well-informed must be on top of your list of priorities. When you have a solid internal communication guide in place, you can move on to ensure that various employees working at different levels of a company feel that they are also in the know. Your aim must be to make your employees feel as if they are insiders who know as much about things as the employer and other top-level decision-makers in the organization.
Builds leadership
Keep in mind that all members of senior management are not natural communicators. They may be good are analyzing a spreadsheet or developing a strategy, but this does not necessarily mean that they can easily disseminate information from the employees in a resonating fashion. A leader that is no good at communication is more likely to cause harm to a project than do any good. It is one of the more common internal communications errors made. For driving engagement, the leaders have to show that they value the team members' feedback and discussion.
Any internal communication strategies can put effective channels into a place that will facilitate the necessary interaction. The employees must see that the members of senior management are involved, active, engaged, and approachable. When you open a two-way dialogue which could be through a meeting, emails, or through a good internal communication app, you are making the leaders more accessible to everybody. This is particularly true while conducting communication during a crisis. A sense of direction and a strong voice coming from the team leader can make a massive difference between swim and sink.
Final words
Gone are the days when communication in the workplace involved employers talking and employees listening. Such a practice today can see employees abandoning their roles or working unmotivated. You can imagine how bad that can be to an organization. That's why there is no other way around it, employers must embrace integrated employee communication if they are to achieve a successful workplace.
About Author: This article is written by a marketing team member at HR Cloud. HR Cloud is a leading provider of proven HR solutions, including recruiting, onboarding, employee communications & engagement, and rewards & recognition. Our user-friendly software increases employee productivity, delivers time and cost savings, and minimizes compliance risk.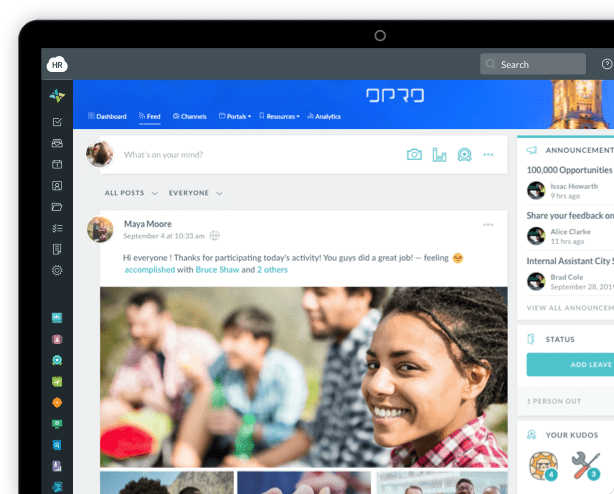 Keep Reading
Why Is It So Important To Focus On Employee Retention In 2021?
After many months of frustrating lockdown restrictions and corporate struggles, the
How to Keep Candidates Engaged Through the Hiring Process?
Keeping candidates engaged throughout the hiring process is much more challenging than
Write for the HR Cloud Blog!
Join so many other talented HR professionals by contributing to the HR Cloud blog. To learn more, view our blog guidelines now.
Like What You Hear?
We'd love to chat with you more about how HR Cloud can support your business's HR needs.