Tips And Strategies For Organizing a Successful Meeting: Your Complete Guide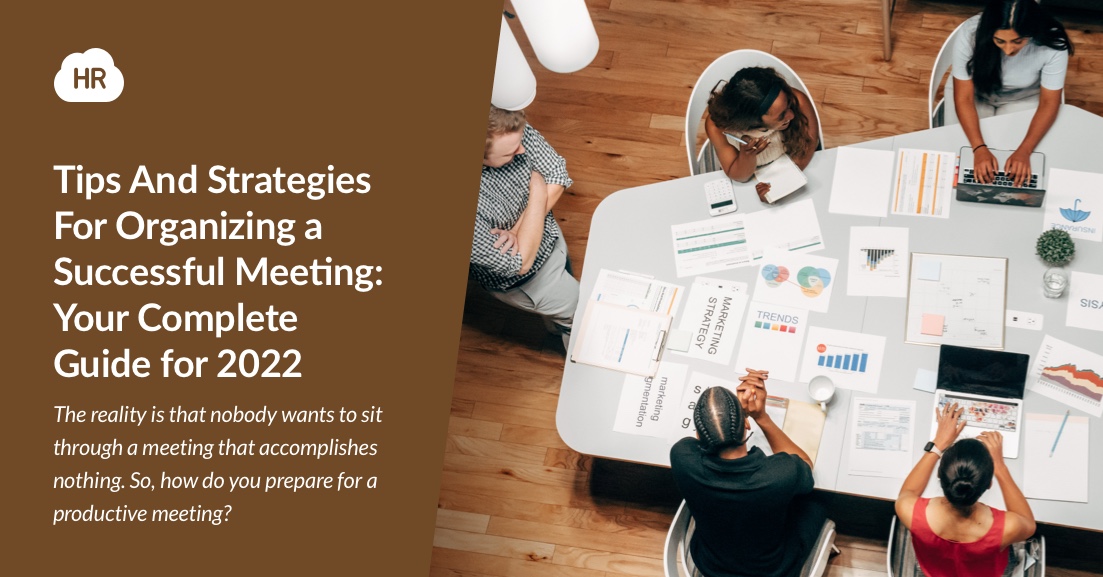 Let Us Help You Engage Your Employees!
We'll show you how Workmates can engage eveyone in your organization, transform your culture, and drive productivity to new highs.
Onboard New Hires Safely, Efficiently, and Effectively.
We'd love to chat with you more about how HR Cloud can help you create an Exceptional Onboarding Experience.
Are You Interested in Improving Your HR Organization?
HR Cloud is the hidden hero powering the world's best HR teams - book a call with our team!
After leaving an hour-long meeting, how often have you heard people say, "That could have been an email," after leaving an hour-long meeting? Employees despite being squandered their time. With limited hours and too much work, ineffective meetings cause employees to become more stressed and irritated.
The reality is that nobody wants to sit through a meeting that accomplishes nothing. Meetings, on the other hand, aren't all unpleasant. Face-to-face interaction boosts creativity, encourages teamwork, and can help teams develop solutions that they would not have come up with on their own. Unfortunately, meeting expenses account for a little over 1% of total revenue for most businesses.
So, how do you prepare for a productive meeting?
Image source: https://www.pexels.com/photo/group-of-people-on-conference-room-1181396/
A primary focus is ensuring that everyone touched by the problem has a voice and is actively engaged in the process. This ensures that everyone has an excellent time at the meeting and has diverse viewpoints in your discussions and conclusions. In addition, everyone should feel heard, understood, and optimistic about the group and any plans or decisions you've made during a meeting.
Get prepared before your meeting
Meetings are commonplace in the workplace. However, unlike a trade fair or a teambuilding activity, a meeting is a generic term that may describe any gathering of individuals.
What distinguishes a meeting from an event? Rectangles and squares are similar to meetings and events. However, not all meetings are events, and not all events are meetings. Meetings are usually held for educational or business purposes, and the magnitude and sense of gatherings might vary.
Meetings are held to communicate information, whether for business or education. For example, a new venture, a project update, or HR training could all be on the cards. The most efficient approach to achieving a common goal is to gather, whether digitally or in person, a meeting is held. Take a look at the video hosting sites and search the information about your meeting's main topic, gathering versatile information as much as possible, which will help you in the planning process.
Whether it's a sales pitch meeting for a series of latest technology trends or an HR meeting for new recruitments, pay close attention to the planning process. Every meeting starts with a vision, but to analyze costs and make efficient planning decisions, you'll need to translate your vision into words and statistics. So start with the fundamentals of planning, such as who, what, when, where, and why.
Image source:

https://www.pexels.com/photo/colleagues-working-together-5676679/




Open a document that is available to the entire team and allows each member to view the others and the broader picture. Next, make a list of the essential tasks first, and then fill them out as much as possible in individual stages. In the planning process, it's critical to specify the timetable and priorities.

The gathering's goal needs to be highly explicit. For example, if it's a business meeting, the items on the agenda that will be discussed must be evident. After everything has been organized, the next step is to choose a location for the meeting. It is not an easy undertaking when planning meetings for a large group of people. If the meeting is held remotely, focus on technical issues that may arise, create solid passwords if there's a need for a signup, and cancel background noise.

If your company holds many meetings requiring selecting locations, scheduling travel, and managing food and beverage across multiple offices, streamlining your meeting process can be a good idea to streamline your meeting process. "Standardizing a meeting program allows you to keep track of meeting activities, automate sourcing and budgeting to save time, and improve compliance and efficiency by using standard methods," says Craig Anderson, Founder of Express Dentist.
Six steps to successfully organize productive meetings
Meetings are essential for several good reasons. First, because there is a set time for communication, meetings help build stronger team relationships. Whether you're selling online courses or launching the latest gadget, you will need to organize a meeting to deal with its proceedings.
Any major company decisions should always be discussed face to face. Then, instead of using a video call, you give the decision and the people involved the time and respect required to resolve it. Successful meeting planning can be complex, but it can make a huge difference once accomplished.
Here are a few steps to successfully organize productive meetings.
1. Set the purpose and goals of your meeting
Setting a meeting goal may appear simple, but there's much more to it than that. Setting meeting objectives in advance to work toward the time given for the meeting is critical to running and participating in an effective meeting.
Meeting objectives direct your discussions to stay on track, on the subject, and as productive as possible. Whether you have a few meeting objectives in mind or a significant decision, it's critical to be organized, prepared, and adhere to your plan using a collaborative agenda template. Consider sharing your meeting goals with attendees in your informational or even welcome emails if they are new. This way, they will feel more engaged in the meeting and show more interest.
Meeting objectives are essentially the outcomes you wish to achieve by the end of the meeting. You can have numerous minor meeting objectives or a primary aim, depending on the nature of the project you and your team are working on.
Joey Sasson, Vice President of Sales & Logistics at Moving APT, says "your meeting objectives should be clearly stated in your schedule so that you may plan all of the procedures necessary to achieve one or more goals by the end of your team meeting."
Unfortunately, if your team isn't dedicated to sticking to a meeting agenda, the meeting will not go well. So make sure you seek your team members' opinions and that their voices are heard before you decide the topics you'll be covering to fulfill your meeting goal(s).
Image source: https://www.pexels.com/photo/marketing-exit-technology-business-7414223/
Setting at least one goal for each meeting is critical because failing to do so may cause you to lose focus. In addition, your team members and you are likely to hold opposing viewpoints on the most vital or pressing issues to solve. This is why planning ahead of time to create a collaborative agenda or soliciting suggestions is critical. For example, if the meeting is about business competitions, you'll have to be ready with all the relevant objectives and feature questions such as "who are they," "what are their strengths and weaknesses," etc.
It's crucial to know what attendees think is significant to bring up and that their opinions are taken into account because there may be concerns or points of interest that you weren't aware of otherwise. Furthermore, having a common goal will draw you and your team closer together as you strive for success.
Here are some common and significant types of meeting goals to be aware of when planning and implementing critical corporate goals:
Problem-solving

Adjustments and retrospection

Planning

Decision-making

Getting work done

Relationship and culture building

Sharing feedback or reviewing work
"Setting defined meeting goals will make your team feel more driven to work together to achieve collective success if your team is goal-oriented," notes Jonathan Ben Zvi, CEO of All Forward. In addition, understanding the various sorts of meeting objectives will enable you to customize how you set meeting goals to the purpose of your discussion.
After the meeting, make sure you go through your results to see what you've accomplished. Then, consider why you haven't been able to fulfill the meeting target you set for yourself. For example, was the meeting's purpose well-defined?
2. Plan an agenda beforehand
Arrive with a positive mindset. Encourage everyone to participate. Start an online timer and watch the time to ensure that the meeting ends on schedule.
While such abilities are helpful once you're in the room, the seeds of highly productive meetings are planted well before the meeting date, even before the invitations are sent out.
It all starts with a well-planned meeting agenda.
Great meetings take place because they are required to achieve an important goal. Before a leader can select who should attend a meeting and how it should be run, specify the meeting's purpose. Meeting agendas serve as a tool for team preparation before the meeting and a guide throughout it.
Meeting goals and conversation topics are clearly stated in a compelling meeting agenda. It is written to assist team members before, during, and after the meeting while delivering all the required information to ensure success.
An agenda is a listing of meeting activities and conversations that will address in your meeting. It is vital to work that out before the meeting begins. They're organized logically, usually as a list or a group of bullet points.
You should thoroughly plan an All-Hands gathering to optimize the team's time together, whereas a brief one-topic huddle may require no plan.
Image source: https://www.pexels.com/photo/crop-woman-writing-in-notebook-at-home-4050300/
On the other hand, meeting notes often start with the schedule and fill in the blanks with further information about what happened during the meeting, such as decisions and future steps.
A plan could include a question to be answered, for example, "Discussion: Should we postpone our team-wide retreat until 2022?"
Creating a meeting agenda
The first step in building an effective meeting plan is deciding on the type of document to utilize. This determines how simple it will be for meeting participants to develop, distribute, and refer to your schedule.
You can format your agenda in a variety of ways, including:
Word document

Google Doc

PDF

Cold emails
Consider whether anyone else will need to add to the agenda or have the opportunity to remark on it. If that's the case, sending the schedule will cause tension; therefore, a more collaborative approach will be beneficial.
Also, if you think of using something fun, such as the "best I can do is meme," then use that skill to create a meme relevant and relatable to the situation and present it as an ice breaker at the beginning.
For instance, you could wish to create a lovely agenda PDF to print before a meeting. However, if you choose this structure, it will be difficult or impossible for others to make agenda changes or fill in their parts with greater detail if they give a presentation at your meeting. As a result, a shared document is frequently preferred.
Early agenda drafting provides several advantages, including reducing meeting goals, which helps determine who needs to be there and predict a reasonable meeting length for the conversation topics included. In addition, when you outline a meeting before sending out invitations, you're more likely to have people arrive prepared because they'll know what's on the agenda. Finally, it's essential to plan everything, whether you need to sign a shareholders' agreement during the business meeting or make small fundraising while meeting attendees.
In most cases, imposing meeting goals and conversation topics on your attendees on the day of the meeting is counterproductive.
For weekly meetings with low-stakes decision-making objectives, this might work. However, a better strategy is to develop the practice of sharing well-thought-out meeting agendas that allow attendees to offer revisions. When schedules are transferred, and participants may add to them, they become more powerful.
Whether a vital piece of information needs to be provided to inform the meeting, additional time must be allotted to a topic that a team member believes is more complex than it appears. Allowing early attendee engagement builds a strong foundation and gives attendees ownership.
Furthermore, planning a schedule gives the meeting host plenty of time to arrange their thoughts and goals and ensure that nothing crucial is left off the agenda on the meeting day.
3. Get attendees prepared for your meeting
Because most individuals are unprepared, most meetings are a disaster. They haven't considered why the meeting is taking place or what they want to achieve. Worse, they are afraid to take charge and stop others from stealing time.
Here are five things to complete to get attendees prepared for your meeting:
Send invitations in advance: Meetings should not be rushed. Nobody enjoys being invited to a meeting on the same day. Therefore,a meeting request email should be sent out at least 2–3 days. You can use social listening tools to analyze how your attendees would like to receive the invitation and what they want to discuss to make your meeting more productive.
Distribute an agenda: A meeting with no plan is nothing more than a free-for-all. Make a schedule and give it to the attendees to be ready to debate the issues.
If any advance materials need to be reviewed, please make sure you deliver them early enough so that attendees have time to study them. If you don't, your meeting will devolve into a "reading session." This is not an excellent way to spend anyone's time. You can also share your agenda online. If you do so, don't forget to include the right call-to-action phrases so that attendees know what they are supposed to accomplish.
Image source: https://www.pexels.com/photo/people-on-a-video-call-4226261/
Reserve meeting space: We've all tried to attend a meeting only to find out at the last minute that the invitation does not include a meeting location. Ensure you have enough meeting space for the number of people attending and the work needed.
Set meeting expectations: Setting the expectation of "What is the meeting's goal?" is maybe the most critical thing you can do before the meeting. People prefer to know why they are attending in advance. It gives the meeting direction. Make your meeting topic as specific as possible. "Catch-up" is not an appropriate topic for a meeting. "Briefing on the progress of Project XYZ" is far more effective and will result in a more productive meeting.
Suppose you don't prepare ahead of time. Then, the majority of meetings are doomed from the start.
Meetings are so inefficient in many companies that they are considered the single biggest time-waster in the office. If you plan ahead of time for your meetings, you'll be able to make better use of everyone's time.
Do some background research about the attendees
There is no justification for not learning about the individuals you are meeting. You should know who is at the table, whether it's a one-on-one meeting or a conference table of ten. Please make a list of attendees and look them up on the internet. Check over their Linkedin profile and even their Facebook group to get a sense of who they are and how they can add to the conversation. The time you put in upfront will save you time on introductions and provide you with valuable information in the event of a problem.
Set clear goals for yourself
The majority of meetings ramble because people wait until the last minute to figure out what they want to get out of their time. Even if you're the only one who knows what needs to be done, you may direct the results to match your demands and declare success once the goals are completed.
Prepare your preferred agenda ahead of time and present it with the group at the beginning of the meeting. People will most likely embrace your proposal or, at the very least, voice any essential changes that can be immediately agreed upon. So, pick your business objectives for the meeting and lead with them.
Take into account any potential roadblocks
Rather than waiting for the bombs to go off, prepare yourself for the drama that may happen. Consider which battles are worth your time and effort and which you are ready to give up. You can keep calm and proceed toward resolution fast if you are mentally prepared for the emotion and dispute.
Get rid of any stumbling barriers
You shouldn't wait until the meeting ends to fix every issue. Instead, you will save time for the attendees to identify potential concerns and resolve them before the meeting. Then, with enough information, you will be able to eliminate the necessity for the meeting.
Image source: https://www.pexels.com/photo/basketball-team-stacking-hands-together-3755440/
Decide the outcomes you want to achieve
Ascertain that everyone understands why the meeting is necessary and the more significant impact on the parties involved. This is different from the tactical meeting objectives in that it is about understanding how this meeting fits into the overall strategy. For instance, if your meeting's general purpose is to discuss the benefits of e-commerce development on your business, then it's obvious that the meeting should be prepared around this topic, with a lot of information and opinions included. If people aren't clear on this, the effort and outcomes will be disjointed at best and ineffective at worst.
Consider what you'll do next
Before entering the meeting, set aside time to take action that will benefit from the discussion. Most people don't think about follow-up and follow-through until after the session has ended. If you budget time that becomes unproductive, you can quickly redistribute it to more critical tasks. This is why it's essential to plan your further actions, from sharing meeting photos and documents to maybe having another meeting. So make sure to schedule Instagram posts at the right time, send meeting documents to all attendees, and plan the next round-up, if needed.
4. Keep track of meeting notes
You have a tight schedule and a million things to remember, and it's not just about work.
For example, you could be discussing how an increasing number of businesses are using Litecoin and other digital assets throughout the world for various investment, operational, and transactional purposes. Of course, there could be risks, as with any frontier, but there are also great incentives. Examine the questions and insights businesses focus on when deciding whether or not to leverage digital assets.
Meeting choices and action items, on the other hand, tend to be significant – to the point where the path your business takes may be dependent on them.
Let's go into the nuts and bolts of taking great meeting notes.
You might even believe you know how to take decent notes and are just seeking a professional-looking notes template in a Google Doc or Word document. However, most individuals write meeting notes the same way they took notes in school: they are incredibly long and detailed.
Image source: https://www.pexels.com/photo/men-women-notes-sitting-6592562/
In a professional situation, such note-taking is tiresome, and it doesn't result in meeting notes that your team members can use.
Note-taking improves recall
Note-taking has been demonstrated to boost knowledge memory in studies. Taking notes allows you to gain a deeper comprehension of the topic matter.
While most of this note-taking study has been conducted in academic contexts, students may reap the same benefits while taking meeting notes professionally. If you take any form of notes during a meeting, you'll be more likely to recall what happened, even if you never look at them again.
Notes make meetings meaningful
Learning how to take the best meeting notes possible allows you to organize, retain, and act on information from your meetings.
You and your team will be more effective and productive during meetings if you keep a record (also known as meeting minutes). Yes, simple meeting minutes can aid in the creation of a cycle of continuous improvement. The notes also hold the group accountable for making good use of meeting time.
As time passes and you need to look everything up, meeting notes become increasingly important. You'll save a lot of time at work if you develop even a simple note-taking practice.
Meeting notes enable professional success
By taking notes in meetings, you may advance your career while also increasing your productivity at work. Well-written meeting notes position you as an organized person and a leader when you share them with coworkers or your supervisor. Your notes demonstrate that you are aware of the situation. They exude professional assurance.
Taking (excellent) meeting notes can feel overwhelming with so much at stake, but it doesn't have to be. For starters, all you need is a laptop or notebook. (A meeting notes template may be helpful, but we've got you covered.)
Here are some pointers on organizing your meeting notes to be concise, clear, and valuable to the reader.
How to take good notes in meetings
Nothing is more upsetting than spending an hour in a meeting and being unable to recall key points because you failed to take notes. Taking meeting notes/minutes that people will utilize, on the other hand, does not have to be complicated. So instead, follow a few simple guidelines.
Whether you hold daily stand-ups or weekly one-on-ones, the following methods for organizing meeting notes can help you take better notes in various situations.
Begin with the agenda for your meeting
Instead of starting from scratch, copy the meeting agenda to give your notes structure.
Image source: https://www.pexels.com/photo/planner-and-pens-on-table-with-laptop-4559555/
Keep a record of all attendees
Make a list of who is attending the meeting before it begins. It's more about transparency than attendance when you list every person in the room. If someone who wasn't able to attend has issues with a meeting decision, having an attendee list on hand will assist you in remembering who was involved in the decision.
You need to keep track of three critical points in your meeting notes.
Decisions

Outcomes

Action items
If someone offers an update or a presentation, resist the urge to take thorough notes unless you know someone absent from the meeting and will want the information. Instead, you might want to take notes on each significant point or what ideas are mentioned during really crucial debates (rather than the entire discussion).
Don't bother about recording everything
If you try to catch everything word-for-word, you're likely to miss something important––like the group moving on without choosing. So instead, follow the Vital Meetings structure when taking meeting notes and concentrate on essential decisions, outcomes, and action items.
For consistency, use meeting note templates
You can use templates to write meeting notes in a specified format. Your meeting agenda is excellent to start when turning random letters into a reusable plan.
Take notes from today's meeting and turn them into a template for your next one.
You don't have to stick to your template for the letter. Instead, your minutes will be helpful to capture judgments made, key ideas, takeaways, and next steps. The template is designed to be used as an outline, organize your thoughts, and provide structure—but not to the point where your task is more difficult.
How to take notes during a customer meeting
Understanding and responding to your customers' changing requirements is essential for long-term customer success. Meetings are still one of the most efficient ways to gather feedback and improve customer engagement.
Use the correct meeting notes template to master the art of customer meetings. Then, act on what you've learned to maintain those connections pleasant and healthy.
5. Conclude your meeting and share your thoughts
It would be best to express your mind to achieve your objectives and advance in your job. Sharing ideas and creating connections with coworkers and your boss is essential for career progression. And we're pleased to guide you in the correct direction with a few pointers on how to speak out and express your ideas so that fear no longer holds you back when it's your turn to shine.
Perhaps you forgot to bring data back to a colleague, you felt like you didn't get your point across, or you sat in silence for long periods.
Here are a few ideas for how you can contribute effectively to every meeting you attend:
Be selective in your choices
Selecting which meetings to attend allows you to concentrate your time and energy on those you have something beneficial to contribute or those you must participate in due to their potential impact on you.
If you've been invited to a meeting but don't believe you have the skills to contribute, politely inquire why you've been asked. You might be able to offer a more suitable replacement.
If you're short on time, see if you can attend only the meeting parts that are relevant to you. If you are unable to participate, ask if you can communicate your comments to the chairperson via email so that you can still participate, although from afar.
Suggest the latest techs and trends in the market. For example, you might want to suggest lead generation tools or software to improve your company's sales make sure you are clear and concise in your delivery.
Make a list of your points
Make sure you own a copy of the agenda before the meeting begins. Then, research your topics, develop a list of the essential questions and points you want to make, and take down any additional information or remarks that may help you make your case more credible.
Find out who else is going and why they're going. Then, consider what information or input they're looking for from you, such as statistics, figures, or more specialized knowledge.
Image source: https://www.pexels.com/photo/notebook-1226398/
Explain why you were invited to the meeting in the first place. For example, are you there to help your coworkers, provide feedback on a proposal, or propose an idea? If you're unclear, ask the chairperson what he wants from you ahead of time.
If you don't appear to have a defined position but are required to go, make one. Inquire with the chairman or other attendees if there is any research or assistance you could provide. This might include anything from double-checking the meeting room's equipment to purchasing cookies to offer.
Use your strengths to your advantage
Playing to your talents can help you add the most value and focus on improving workflow. For example, if you lack self-confidence or are an introvert, speaking in public may be difficult; thus, your strength may lie in delivering more deliberate, studied thoughts.
You could, for example, volunteer to provide a pre-meeting analysis of the meeting's topic or share your comments in writing after the session is over.
If you're more outspoken, your ability to speak up and move conversations forward will likely be respected. But keep in mind that contributing value also entails the capacity to listen and truly "take in" and grasp what others are saying before responding.
Assist Others in Being Heard
It's all about exchanging different points of view in productive meetings. You don't have to be the meeting's chairperson to assist others in making their arguments.
You could redirect attention back to a colleague if they were interrupted or disregarded, "Excuse me, Jamie, what were you going to say?" can be as simple as that.
If you agree with something, someone says, say so. You might wish to improve on their concept by adding your ideas now that you've given them credit for it.
Inviting coworkers to comment might make them feel supported and create a welcoming environment.
Make a positive body language statement
Your body language and gestures will make a huge difference in a meeting. For example, sitting straight, smiling at the speaker, and spreading your arms outwards show that you're open to new minds and willing to listen. This is especially important if you're speaking to business pears as the right gestures help improve your brand voice and connect with your audience more effectively.
It makes the speaker feel supported and encourages other participants to speak. It provides a positive example that others will notice and desire to emulate, creating a pleasant, vibrant, and constructive environment.
Image source: https://www.pexels.com/photo/laughing-businesswoman-working-in-office-with-laptop-3756679/
Sitting slumped in a chair, playing with your tablet or phone, on the other hand, may create the appearance that you'd rather be somewhere else. In addition, it could deplete the room's energy and encourage others to tune out.
When the meeting is over, you still have the potential to add value. Taking thorough notes allows you to keep track of what was said and what you learned from the discussion. To make this process even more fun, you can use items such as company pens, branded tapes, and notebooks with your logo design.
If there was no official note-taker at the meeting, you could offer to share your notes or a summary with other attendees and those unable to attend.
Five tips to boost meeting productivity
Ineffective meetings are more than just a tedious experience for your employees; they can also cost your company money. Unproductive meetings have opportunity costs in the form of pay and office-related costs and indirect costs such as lost employee work time and reduced employee satisfaction, which leads to higher employee onboarding.
Meetings are nearly entirely virtual these days, so many employees and leaders are navigating a new manner of attending and holding meetings, making productivity even more difficult.
1. The Real Problem Isn't Time
Increasing the effectiveness of your meetings is as much about optimizing your energy levels as it is about maximizing the amount of time you spend on them. Unfortunately, many employees are stressed out about not having enough time to perform their allocated responsibilities, and they claim that meetings rob them of this valuable resource.
Consider staff energy levels while choosing the schedule and duration of your meeting to reduce the negative connotation associated with meetings. If you're planning a lengthier team meeting, take breaks to ensure that productivity remains at its peak. While virtual meetings may appear to be less taxing on your employees' energy levels, arranging meetings at the proper time is just as vital as holding them in person. All you have to do is deliver the right message through SaaS webinar email templates if it's à webinar-like meeting, choose the right employees for the meeting, etc. Work patterns and schedules, as well as meeting practices, should be consistent for your personnel.
2. Keep meetings to a minimum and as brief as possible
"Work expands to cover the time available for completion," according to Parkinson's Law. This is also true for your business meetings. For example, if you arrange an hour-long session, your team will fill it up quickly to stay on schedule.
This should caution that you're not getting the most out of your meetings. Instead of filling up a meeting time, try to make your meetings as brief as possible. This keeps your agenda focused and free of distractions and filler. If, for example, your meeting is about whether or not you should integrate a WordPress chatbot on your website, make sure you discuss the pros and cons, how you can acquire one, and what you should focus on. Similarly, you could also discuss how to train ChatGPT on custom data for your business needs.This will save you from wasted time and distractions.
Image source: https://www.pexels.com/photo/clear-glass-with-red-sand-grainer-39396/
Setting a meeting time limit of 10 or 15 minutes can be beneficial. According to studies, our attention span is only 10 to 18 minutes. Some businesses even use time-tracking tools like a timer or an incentive to complete on time. Make it a rule never to schedule a meeting that will last more than 30 minutes. Work in a short pause halfway through the meeting to keep your team members' complete attention throughout. Do not stretch your chatter to fill up space if you run out of time before the clock. Instead, make sure that everyone has gotten all of the information they need and then let them get back to work on their own.
3. Establish a no-smartphone zone
Both meeting leaders and attendees find cell phones or tablets during meetings to be inconvenient. In addition, many people think that it demonstrates a lack of respect for the speaker and their colleagues. Still, it indicates that complete involvement is patchy or missing, which might deter others from being fully present and attentive during meetings.
To improve employee engagement, make your meeting spaces a smartphone-free zone; urging individuals to put their phones outside in a basket or at their desks will help reduce any distractions and ensure that all attendees are fully engaged.
For other employees, remote work can be an even more distracting working style, exacerbated by a lack of control over using their smartphones for non-work-related objectives. In such cases, coworking spaces are the best solution for working effectively with the whole team and making the working process more flexible. Even when employing technology to hold the meeting, keeping meetings to a smartphone-free time for all team members appears to enhance overall efficiency.
4. Limit the number of people who attend
Limiting the number of guests invited is a less typical strategy used by companies to increase meeting productivity. For example, Google, one of the world's most successful firms, is known for allowing no more than ten individuals in a conference at any given time.
You can keep your meeting controlled and targeted toward the exact conclusion you want by limiting attendees and inviting only vital persons. Consider various email marketing tools for startups to make your invitations go straight to the people you need for your meeting. However, when you ask too many individuals, you risk most of your audience not having a clear voice and not focusing on their everyday activities.
Image source:
https://www.pexels.com/photo/crop-colleagues-browsing-laptop-at-table-6457478/
A powerful strategy to maintain your meetings cost-effectively is to limit the number of attendees. Every employee is paid on an hourly basis; adding up the hourly salaries of all attendees yields a general hourly fee for a meeting. Thus, keeping the number of people in a meeting to a minimum reduces the direct costs of holding the meeting. It also ensures you have the people you need for the meeting which, in turn, helps you build an online community based on employees interested in company discussions.
5. Make a list of action items at the end of your meeting
You should always set out a few minutes at the end of any fruitful meeting to summarise what has been covered. Then, ask the following questions:
What is the timeframe?

What are your plans for the future?

Who is responsible for them?
Depending on how big your audience is, adjust the timeframe for this reflection period. As a general rule, allow 30 seconds for every meeting attendee to ensure that everyone has a good understanding of these three questions. Everyone should have a clear awareness of their responsibilities and be accountable to other meeting attendees when a meeting ends.
Send out a summary of the minutes and any particular action items discussed at the end of the meeting. Add the DRI to each of these action points (Directly Responsible Individual). This ensures that the meeting's objectives are met.
Conclusion
It all comes down to preparation, organization, and respect when it comes to planning a great meeting. Take the time to figure out why you want to hold a meeting, rather than just doing it for its sake. Meetings can generate new ideas, uncover solutions to complex problems, address difficulties, and foster camaraderie, among other things.
Management software like Hirebook will guide organizers with the main things teams should know while leading any meeting.
Stay organized when making plans. Provide background information, an agenda, and a timely start to the meeting. In the end, it's all about treating your coworkers with respect. The meeting will impact you if you provide them with the tools to succeed and make the most of their time.
Every day, meetings take place. So why not make the next one even better?
Author Bio: This article is written by our marketing team at HR Cloud. HR Cloud is a leading provider of HR solutions, including recruiting, onboarding, employee engagement, and intranet software. Our aim is to help your company improve employee engagement, employee productivity, and to save you valuable time!
Keep Reading
Making the Right Difference by Recognition and Rewards Policy
Employee recognition and rewards have emerged as crucial components of a successful
5 Signs It's Time to Invest in PTO Software for Your Business
Every manager knows how inconvenient it is when leave requests pop out of nowhere. This
Write for the HR Cloud Blog!
Join so many other talented HR professionals by contributing to the HR Cloud blog. To learn more, view our blog guidelines now.