Workmates: A More Affordable Facebook Workplace Replacement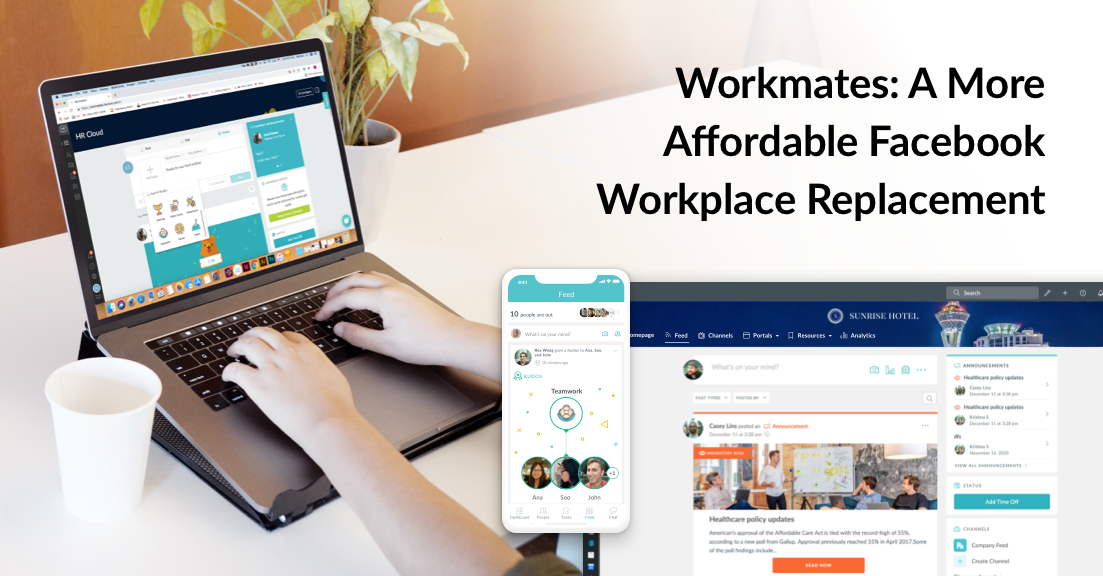 In the digital domain, Facebook is certainly the king of the hill. However, is Facebook really the best solution for your enterprise?
Even in the digital domain, you need the right tool for any job. This point is especially valid when considering business communication tools for your organization. The platform that you choose for communication can send a strong message to your employees.
You may currently use Facebook Workplace to manage corporate communication. However, you might find that Workmates is a better solution after taking a closer look.
Keep reading to learn more about Workmates a more affordable—and effective—Facebook Workplace replacement.
The Rise of Enterprise Social Networking
As the business environment changes, companies adapt and evolve. One way that companies have changed with the times is by using social media for corporate communication.
This practice is called enterprise social networking (ESN). It enables teams to stay competitive and collaborative.
At the same time, ESN enables companies to maintain a relevant communications infrastructure in today's social network-driven environment. In this way, ESN brings the power of social networking to the business world.
However, ESNs aren't for casual socializing. Enterprise social networking platforms increase business value. They enable companies to collaborate and communicate more effectively. With ESN platforms, employers, employees, and partners can stay plugged into conversations.
For example, platform users can receive regular status updates. They can also leave comments. Conversely, platform users can simply follow an activity stream.
In addition, ESN solutions enable real-time collaboration. For example, users can follow up on progress reports. They can also chat and make group contributions to projects.
Furthermore, an enterprise social network enables stakeholders to communicate in a variety of ways. For instance, one employee might start a conversation.
Meanwhile, other employees will add their opinions to the thread. Alternatively, users can visit existing threads and expand on a topic.
With an ESN platform, you can also manage corporate knowledge bases. For example, you can use an ESN platform to maintain a company wiki that will enable you to make the most of staff member expertise.
Drawing the Line: Keeping Your Staff on Task
The use of public-facing social media on the job can reduce productivity considerably. Resultantly, a growing number of companies are banning social media use in the workplace.
However, social media platforms offer powerful, familiar business communication tools. Here is when an offering such as Facebook Workplace provides an advantage.
Today, just about everybody is used to instant communication and messaging. People know and love these features.
Facebook Workplace is basically like Facebook. However, it's intended solely for business use.
With Facebook workspace, your contacts are limited to your coworkers. However, the platform does allow administrators to expand the network slightly. Companies can add external business partners to the system. This feature is helpful for project coordination.
Furthermore, ESN software makes it easy for project stakeholders to view important information in a single feed. Employees can monitor the feed to stay updated on the latest company news.
Still, you might wonder about its security and trusting your proprietary information to a service provider such as Facebook. To date, there hasn't been a breach of the Facebook Workspace network. However, the company doesn't have a stellar reputation when it comes to safeguarding user information.
The Best Facebook Workplace Replacement: Popular Workmates Features
Initially, you may think Workmates is a scaled-down model of Facebook Workplace. However, nothing is further from the truth. Still, there are some similarities between the two offerings.
For instance, both platforms offer instant messaging. Employees can also use them for convenient communication via chat and instant messaging. They both also offer the ability to create groups.
Furthermore, these ESN tools offer a convenient organization chart tool. They also include the ability to create a company directory.
The two platforms also integrate with popular productivity tools such as OneDrive or Google Drive. However, here's where the difference between the two offerings starts to emerge.
Workmates offers a powerful content management system. Furthermore, it features your choice of two employee mobile apps so staff members can stay connected on the go.
Employees can easily download the app on the iOS and Android marketplaces. You can even requisition a white-labeled mobile app branded with your company name and theme.
Our service is a modern social intranet. We also provide a calendar so that stakeholders can stay informed about important dates. Furthermore, you can use Workmates to promote employee and brand advocacy.
There's one more thing that you can do with Workmates that you can't do with Facebook Workplace—improve employee satisfaction. With Workplace, for instance, you can create a culture of kudos.
Managers and coworkers can offer positive feedback using our platform. Our platform also makes it easy to offer recognition and rewards as needed.
An Alternative to Facebook Workplace
If you're looking for an alternative to Facebook Workplace, look no further than Workmates. Workmates offer all the functionality of Facebook Workplace.
The benefits of Workmates begin with comparing communication tool costs. You can access more features at half the price compared to using Facebook Workplace for corporate communication.
You may love the features of Facebook Workplace. However, you may not like the price.
Furthermore, the lack of business-centric features offered by Facebook Workplace may leave you unimpressed. Fortunately, you can get more for half the price by subscribing to Workmates.
It makes good sense to pay more for a service when you get more. However, that's not the case with Facebook Workplace.
Facebook Workplace costs two times more than Workmates. If you consider the additional frontline employee upcharge, it cost three times more.
Still, you won't have access to the range of features offered by Workmates. The Facebook platform also has fewer capabilities.
With Workmates, you'll have access to a complete employee experience platform. You can access those features at a fraction of the cost of Facebook. Furthermore, Workmates integrates with several other powerful HR tools.
Increased Productivity With the Right Tools
One of the long-term benefits of Workmates is that you can use it to transform your company culture. We provide you with all the tools needed to create an exceptional employee experience.
Once you deploy our platform, you'll notice increased employee engagement and morale. More importantly, you'll see an uptick in productivity. In turn, you can enjoy increased profits.
Workmates gives managers and coworkers the ability to share digital kudos. Kudos makes it easy for anyone to give a shout-out for a job well done. You can also use Workmates to issue official company announcements and distribute employee surveys.
With Workmates, you'll have everything you need to connect and engage with your workforce. More importantly, it can help you to reinforce a new commitment to excellence.
Our platform features an award-winning employee directory. What's more, it works for businesses of all kinds and sizes. With Workmates, you can drive employee engagement successfully.
There's a reason behind the success of Workmates. It's engineered from the ground up to serve the needs of business users.
Resultantly, it provides a fast return-on-investment. At the same time, it offers a low cost of ownership.
Enterprise Social Networking With a Bang!
Workmates is your solution for simplifying corporate communication. It offers all the advantages of a modern, social intranet and more.
With our platform, you can create portals, pages, and content as needed. More importantly, you can share information with the right people at the right time.
Workmates is your key to streamlining communication. With it, you can make sure that everyone has access to vital information.
The most prominent feature of Workmates is the centralized news feed. It's the focal point of the employee experience. What's more, employees have the ability to personalize the information in their feed.
The Workmates news feed is an excellent way for employees to stay informed about relevant company news and updates. They'll also receive important announcements immediately.
Already, you can see there's a big difference between Facebook Workforce and Workmates. Yet, there are even more powerful features packed into Workmates.
If your organization is large, for example, it's not easy to keep track of who's available. With Workmates, however, employees can easily set up out-of-office notifications. You can also use Workmates to make sure that everyone knows about important events.
Furthermore, Workmates takes the hard work out of recognizing peers and showcasing the good work of employees. It also makes it easy for stakeholders to receive and share mission-critical information. What's even more remarkable, however, is that these benefits are just the tip of the iceberg.
Our Technology, Your Team: A Winning Combination
Now you know more about Workmates—the more affordable Facebook Workplace replacement. Workmates is an HR Cloud technology solution. We engineer industry-leading HR software.
Workplace integrates with our top-notch tools for recruiting, onboarding, employee engagement, and employee experience management. We also offer other powerful HR solutions.
With HR Cloud, you get access to a range of powerful, cloud-based solutions. You can leverage our technology to provide an engaging, self-service experience for your staff members. In addition, our technology enables you to empower your team with connectivity, ideas, support, and recognition.
Contact us online today to request your free Workmates demo.

About Author: This article is written by a marketing team member at HR Cloud. HR Cloud is a leading provider of proven HR solutions, including recruiting, onboarding, employee communications & engagement, and rewards & recognition. Our user-friendly software increases employee productivity, delivers time and cost savings, and minimizes compliance risk.
Keep Reading
5 Productivity Tools Every Remote Worker Needs
Many people have already been working from home long before COVID-19 came along and
How To Write A Thank-You Letter After An Interview
The interview process can be a stressful one, especially if you are applying to a big
Write for the HR Cloud Blog!
Join so many other talented HR professionals by contributing to the HR Cloud blog. To learn more, view our blog guidelines now.
Like What You Hear?
We'd love to chat with you more about how HR Cloud can support your business's HR needs.