All About the 2021 HR Cloud Award for Employee Excellence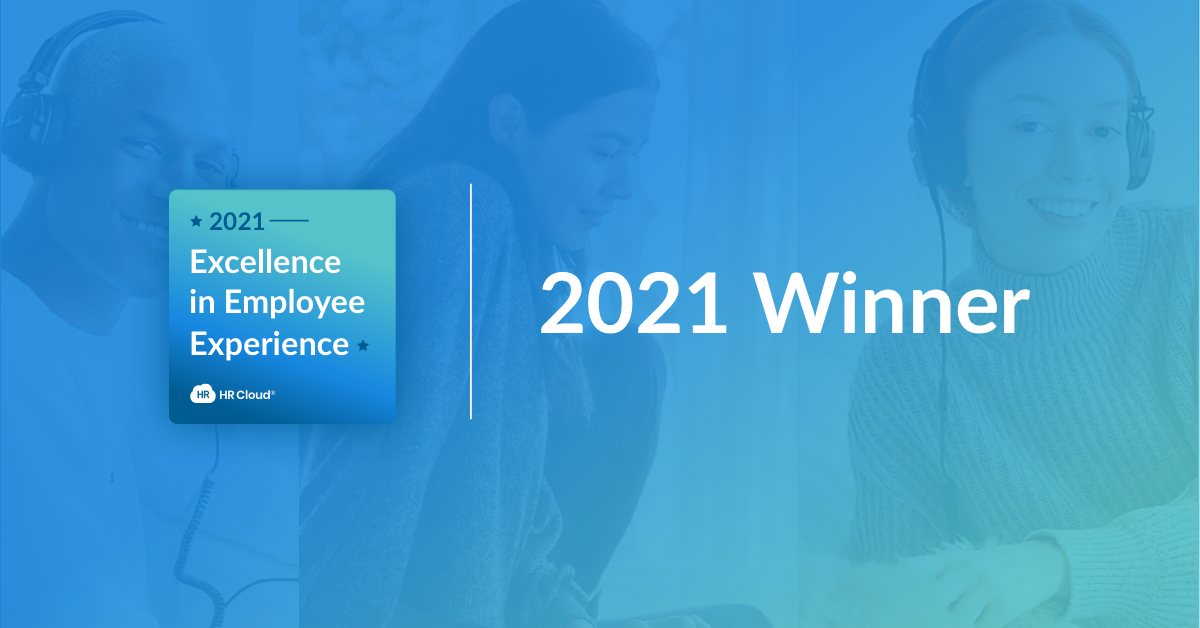 What does it mean to pivot?
During the COVID-19 pandemic, many companies had the opportunity to find out. Did you feel seen and appreciated by your employer during this time, or did things fall apart?
Maintaining employee engagement during a pandemic was no small task. Even so, HR Cloud products and solutions helped eight brilliant companies rise to the occasion. Those companies received the Excellence in Employee Experience award.
HR Cloud would like to take the opportunity to introduce the eight winners. Their dedication to fostering employee connection impressed us the most.
Each of these companies used HR Cloud products and solutions during the pandemic. They continue to take advantage of HR Cloud features and integrations even now. These tools support them as they forge ahead as leaders in digital employee engagement.
You can learn more about the award and these innovators below.
What Is the Excellence in Employee Experience Award?
Employee engagement strategies needn't be static. Nobody knows that better than the winners of the Excellence in Employee Experience Award. In 2021, eight companies seamlessly adapted their employee experience during a major transition. They saw an opportunity to use digital tools to not only maintain but improve professional connections.
HR Cloud honors those companies who saw COVID as an opportunity rather than a roadblock. Each of the winning organizations displayed resilience, innovation, flexibility, and fearlessness last year. They impressed us with the use of our digital solutions during the pandemic and beyond.

LEVER is a Talent Acquisition Suite. Their leadership valued employee-led collaboration even before the pandemic began.
For example, they offer Employee Resource Groups, which allow co-workers to collaborate even beyond their professional responsibilities.
Employees at LEVER are welcome to share their community values and core causes. Leadership goes out of their way to provide opportunities for connection. This has helped create a culture of sharing and acceptance whether employees are near or far.
During the pandemic, the LEVER leadership noticed that employees needed a different kind of support. At the time, these needs were still unprecedented. They quickly adjusted their employee benefits and perks to meet the needs of employees working from home.
Rather than guessing and assuming, Lever set up a listening tour so they could learn from those they hoped to help and support.
Ultimately, this yielded a complete overhaul of their benefit plan. They now offered ergonomic stipends and internet reimbursement plans. They even offer a monthly stipend that helped to cover babysitters, dog walkers, and grocery delivery fees.
LEVER went one step further, increasing access to virtual healthcare and mental health services. This plan includes stress reduction classes so everyone could benefit.
Employees became even closer as they participated in virtual experiences and safe in-person activities. This became even easier with the use of HR Cloud products including People, Onboard, and Time Off.
Let Us Help You with Engaging Your Employees!
Try out this self-guided tour and decide if you like our software yourself. No pressure!
Start Now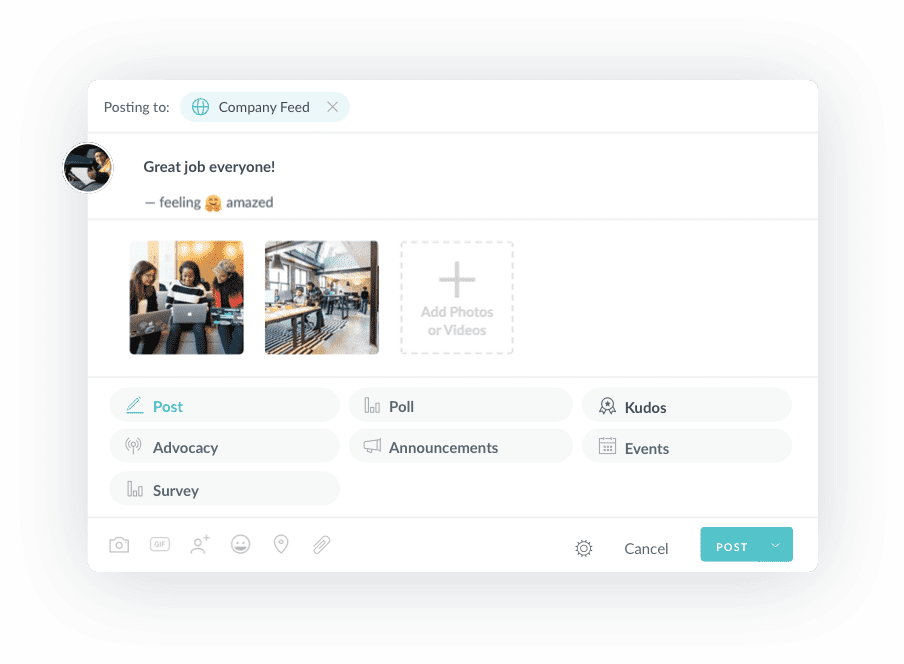 Span is a group of IT solution providers. They believe that professional relationships and health are key to a thriving employee experience. Even so, it took them a little while to get their feet under them when the pandemic first hit.
Did you know the pandemic coincided with an earthquake in Zagreb, the city in Croatia where Span is based? This event created additional challenges that the Span leadership took head-on.
They got to work forming a special crisis team, and immediately put out resources to help employees to cope. When that was successful, they went a step further and began to produce a program called Span TV. This was a weekly program featuring board members and top management, with a focus on mental health.
Span leadership offered free counseling to all employees. They also launched a remote fitness challenge and even offered access to virtual board games.
One very small change made a big difference, too: Span leadership encouraged employees to turn their mics and cameras on. Every single team member understood they had their company's support, and no one felt alone.
They did this all with the support of several HR Cloud products. These included People, Onboard, Offboard, and Time Off.

iFIT is a global fitness and well-being subscription technology company.
iFIT employees are always connected. Sometimes it's through their Slack channels. Sometimes it's while attending their popular annual Lagoon Day. As a larger company, iFit had the challenge of shifting over one thousand employees to remote work.
Leadership did not balk at this challenge. Early on, the Utah Dept of Health and Human Services reached out to offer assistance. Their transition was so seamless that the review yielded zero recommendations!
iFIT's digital transition was so successful that they have pivoted to a flexible culture. Many employees continue to happily work remotely.
HR Cloud products played a role as well. iFIT leadership took advantage of People, Onboard, Offboard, and Recruit to make remote work less isolating. That was just one way they managed to solve problems and go above and beyond in their pandemic response.

Tobii is a technology company that is a leader in intuitive user interfaces involving eye-tracking. Perhaps it is their insight into human behavior that helped them to create such an open work culture for their employees. Their culture is creative and welcoming, and their employees love to come to work.
When coming into the office became impossible, Tobii leadership made use of several of HR Cloud's products. They used People, Onboard, Offboard, Perform, Timeclock, and Workmates. Their masterful integration made their remote workplace as user-friendly as possible.

MorseLife is a leader in creating luxury experiences that allow older adults to lead rewarding lives. It makes sense that the MorseLife leadership would also value empathy. In fact, it's a core component of their company culture.
MorseLife employees feel valued as individuals and believe they are truly able to make a difference every day.
Eldercare was one of the industries hit hardest by the pandemic. Older citizens were at risk and vulnerable, and employees could have taken on that stress. Because of MorseLife's dedication to employee experience, this was never the case.
To support their employees working with older adults, MorseLife made life simple with the use of HR Cloud products. They used People, Onboard, Offboard, and Workmates to connect their staff, even when employees were far apart.

TalusPay offers companies of all sizes customized payment processing solutions.
When the pandemic hit, TalusPay began using HR Cloud's Onboarding and Workmates products. This ensured that employees new and old felt welcome, seen, and heard.
They began to see the effects of cross-organizational interaction immediately. Ultimately, TalusPay employees thrived during remote work.
People, Onboard, Offboard, and Workmates were all key to improving TalusPay's employee experience during the pandemic.

Loudoun School for Advanced Studies is a private school in Ashburn, Virginia. At Loudoun School, students in grades six through twelve practice real-world problem-solving.
The school culture for students encourages citizenship, self-reliance, and curiosity. School leadership emphasizes joyful learning in particular. All students feel a sense of belonging, in part because of engaged and passionate teachers who go above and beyond for their students.
When the pandemic hit, the Loudoun School's administration answered the call. They took the opportunity and went above and beyond for their hard-working and innovative teachers. They saw the value in maintaining a sense of levity, even during challenging times.
Employees describe "a culture of jokes & puns & celebrations & surprises." That sense of play made a difference in employee morale when things seemed dark.
They also led the creation of a new tradition: Wacky Welcome Mondays. By starting each week with a fun, playful, and novel experience, students and faculty come to school excited each Monday morning!
HR Cloud solutions allowed Loudoun School leadership to continue laughing together, even while they were apart.

Toyota Material Handling, U.S.A., Inc. is the U.S. distributor of Toyota lift trucks and tow tractors, and their work is never done. One in five tractors in the United States is a Toyota tractor. When the pandemic hit, the hard-working Toyota employees couldn't afford to slack off.
Toyota Material Handling was already a company that valued employees. On-site perks included free online medical services and even fitness centers. Company events that brought all of their associates together were a popular occurrence.
HR Cloud employee navigator software helped to keep them together digitally. They utilized HR Cloud products Workmates and Kudos. This kept employees connected and motivated to do their best work in isolating times.
Innovation in Employee Engagement Deserves Recognition
Employee engagement is more than naming an employee of the month. All of the winners of the Excellence in Employee Experience Award found a way to serve all of their employees, even when forced apart during the pandemic.
The winning companies offered a little everything, from daily jokes to mental health services. They were able to show their employees that they were worthy of recognition. Thus, it was our honor to recognize them for their contributions.
HR Cloud products can help your company build employee engagement, too. If you want to learn more, visit our website to view the complete list of winners.
Author Bio: This article is written by our marketing team at HR Cloud. HR Cloud is a leading provider of HR solutions, including recruiting, onboarding, employee engagement, and intranet software. Our aim is to help your company improve employee engagement, employee productivity, and to save you valuable time!
Keep Reading
5 Tips For Implementing A Book Club For Your Remote Workforce
The pandemic rapidly accelerated the rate at which companies transitioned to remote
10 Top Practices When Onboarding Employees
The hiring manager is one of the most influential people for the new hires during the
Write for the HR Cloud Blog!
Join so many other talented HR professionals by contributing to the HR Cloud blog. To learn more, view our blog guidelines now.
Like What You Hear?
We'd love to chat with you more about how HR Cloud can support your business's HR needs.