12 Best Intranet Software in 2022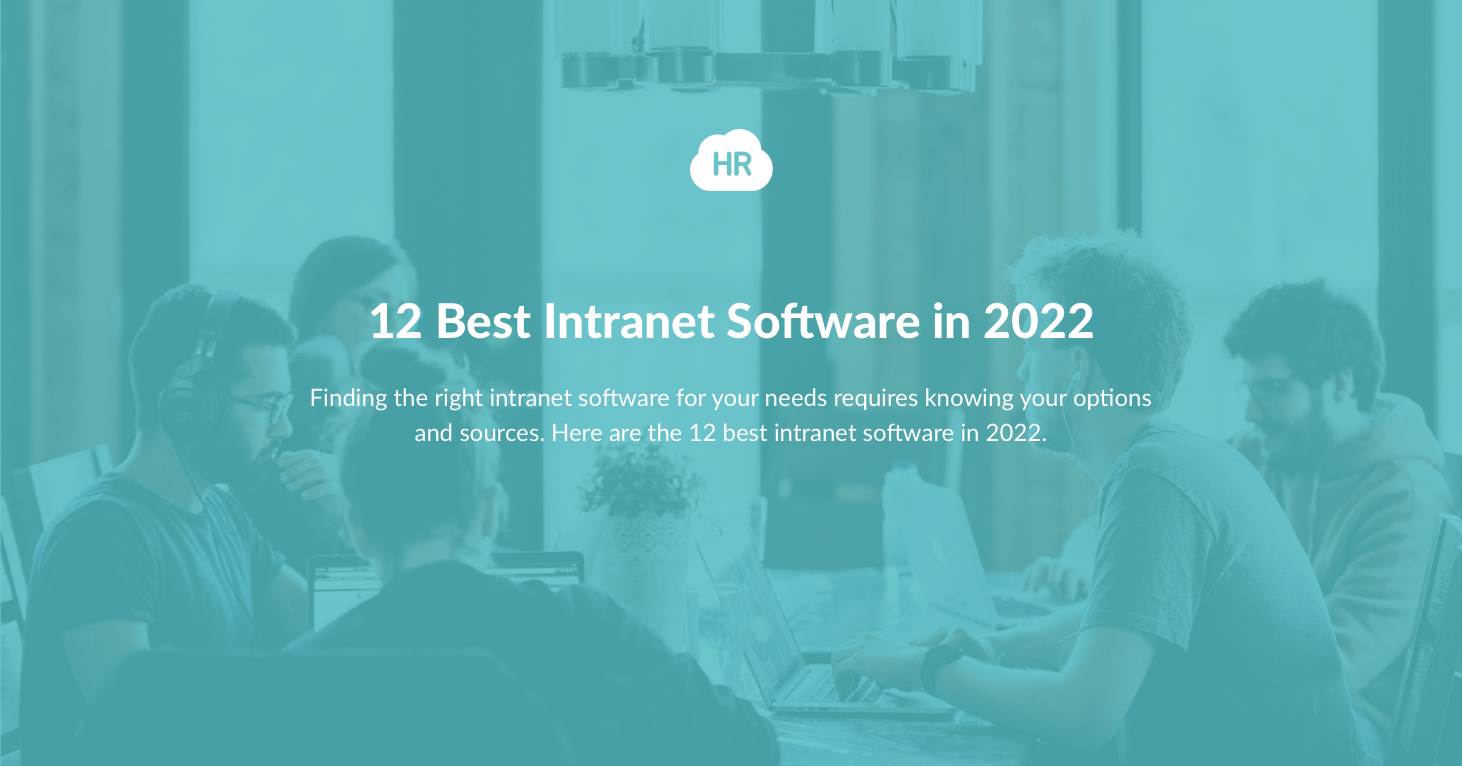 More and more organizations recognize the evolving capacity of technologies. Today, remote work is a more viable option that most organizations consider. For example, 74% of CFOs state that they plan to move 5% of their workforce to permanent remote positions.
With such a trend, it's only natural to research how to implement such change. One crucial aspect to look into is intranet software.
So, here are 12 of the best intranet software to consider in 2022!
1. HR Cloud
HR Cloud's intranet software tops this list, all thanks to its outstanding features that allow a seamless connection. In addition, HR Cloud's advanced user interface makes it suitable for complex businesses. This software has great customizability, widgets, security, and portals.
HR Cloud is highly integrated with the latest cloud technologies and is accessible from any device. Users can see critical files, reply to messages, and check their calendars anywhere.
HR Cloud has a mobile employee app that can connect remote users who don't have access to laptops or PCs. Therefore, you can trust HR Cloud's usability even on the small screens of mobile phones.
You can also use the mobile app to provide a productive onboarding process for new employees. It's also possible to create a personalized portal and send an onboarding checklist.
With HR Cloud, organizations can easily share ideas, news, and thoughts across different devices. You can also make announcements to update workers about the latest news.
Aside from that, this software is also integrated with ADP. This allows for a more efficient and faster HR experience for transferring and protecting data.
Another feature that sets HR Cloud apart from others is Kudos. Kudos is an employer's digital way of appreciating and rewarding employees. The rewards are customizable badges that employees can use to redeem points, which helps improve employee retention.
HR Cloud is a very robust software that can overwhelm first-time users or those who aren't tech-savvy. HR Cloud also has fewer features and customizability compared to Share Point.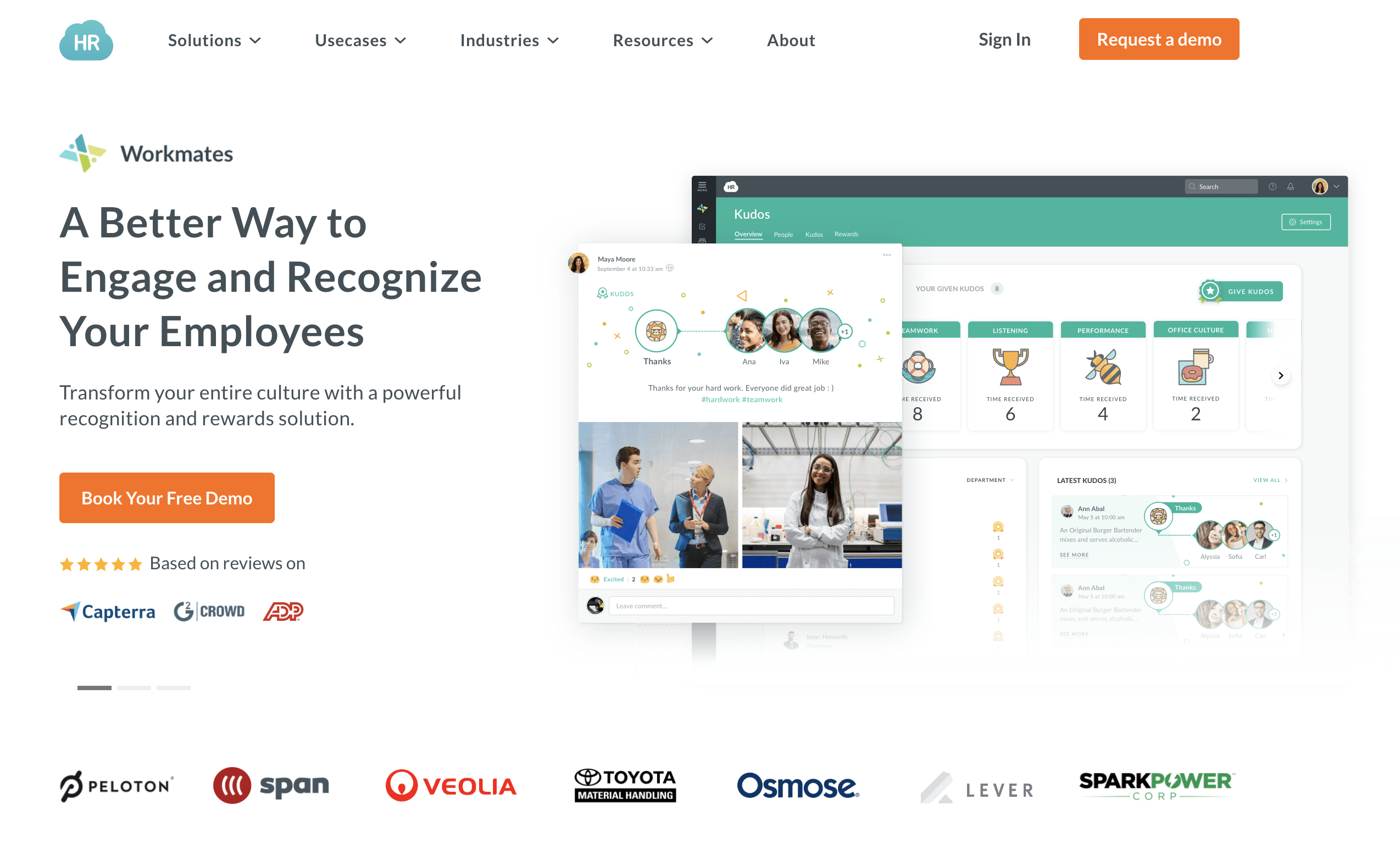 2. SharePoint
SharePoint is an intranet platform that supports seamless collaboration on Microsoft Office. This intranet software is popular due to its user-friendly features. SharePoint also allows organizations to create intranet pages without having to write code.
With SharePoint, team managers can easily manage employees' personal information, training, and performance. It also allows organizations to track employee supply, vacation, and insurance requests. This allows for a more organized and well-informed team.
Workers inside a certain division can also exchange private messages. This helps strengthen remote teams' communication. Even better, users can access data related to the project from PCs, Macs, and mobile devices.
SharePoint also allows you to store files in a central system. This makes sharing and managing content an easier task. Moreover, it can provide users with AI-powered content suggestions.
Security-wise, SharePoint allows organizations to encrypt their data using a unique key. Users can use its advanced access control to help prevent unauthorized data access.
The only downside of using SharePoint is the high implementation cost. Usability on mobile phones is also very poor, and its adoption rates are tanking.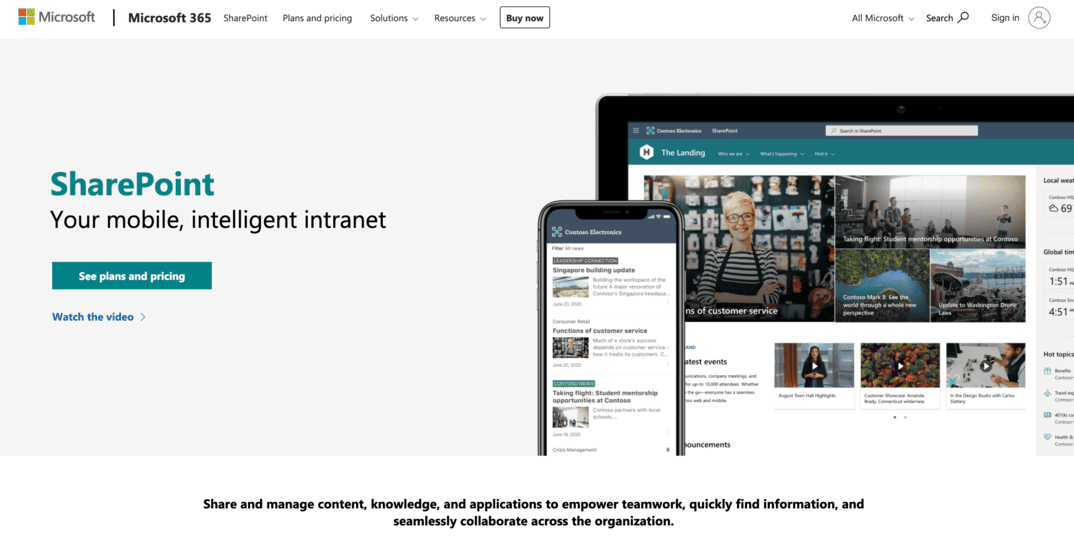 3. Yammer
Yammer is an intranet software that fosters business social networking endeavors. It's mainly designed to facilitate collaboration among business organizations.
Users can create communities where they can stay updated with what's happening and for feedback. This allows a faster decision-making process. Yammer also comes with an instant messaging tool that can improve company engagement.
However, Yammer is a closed intranet platform. Therefore, only organizations subscribed under Microsoft 365 Enterprise plan can access the platform.
Nonetheless, this limitation has its perks with Microsoft's enterprise-level security system. This means organizations can rest assured that the chances of a data breach in Yammer are slim.
4. SAP Jam
SAP Jam is another cloud-based intranet social networking platform popular in 2022. It's popular for bringing together stakeholders under one central collaboration hub.
With it, you can create groups, either private or public, for collaborations. Users can also share documents, discuss ideas, run meetings, and delegate tasks.
SAP Jam also simplifies work by allowing individual-level surfacing of relevant data. This also covers recommendations, content, insights, and actions. Moreover, it provides plenty of guides that can help users navigate enterprise workflows.
Furthermore, users have access to templates that can hasten business processes. SAP Jam also features a channel where top-down communications are securely distributed. It also supports two-way employee communication.
5. Confluence
Confluence can serve as your organization's primary knowledge management software. Its features make it easy to build, organize, and collaborate on a single workspace. Like on other software, Confluence users can share, save, and review the document with others.
Confluence also allows seamless capturing, preservation, organization, and tracking of assets. This includes company intel, project plans, and updates. Hence, Confluence is best suited for organizations that focus on static knowledge sharing.
Furthermore, it also comes with pre-built templates that you can use for marketing, HR, product, and more. Confluence further supports more than 3000 marketplace apps allowing easy 3rd party integration. You can add your Microsoft Office, Google Drive, Slack, Dropbox, and so on.
Similar to the earlier intranet software mentioned above, Confluence also prioritizes data security. Confluence has many privacy controls, preventing unauthorized access. It also has industry-verified data encryption features.
However, Confluence lacks social features that can foster employee engagement. For instance, there are no audio or video call features.
6. Google Sites
Google Sites is a free and simple website-building tool. It fosters collaboration by allowing organizations to create a website where they can work on short-term projects.
What's great about Google Sites is that you don't need in-depth technical knowledge to use it. This is because every function in the software is user-friendly. There's no required coding development.
Creating a workplace website is easy with Google Sites' drag-and-drop feature. You can drag an image, video, link, and more to your website using simple templates. Rearranging or deleting elements is also only a few clicks away.
Google Sites are also integrated with other Google tools like Docs, Sheets, and Slides. So, it's ideal for projects that require the use of tables, charts such as combo charts, and similar organizers.
Google Sites doesn't limit the number of websites that you can create. However, you have to stay within the 15 GB storage limit of your organization's Google account.
Compared to other intranet software, Google Sites lacks social features. Thus, workplace engagement and communication are quite weak.
7. Workplace
Workplace uses communication tools that most internet users are familiar with. This includes Facebook Messenger, Groups, and video conferencing. With this feature, organizations can enjoy using familiar platforms for workplace collaboration.
Workplace is more of a business communication tool than content management software. This software focuses on increasing communication, sharing updates, and conducting meetings with stakeholders.
It offers various ways for users to accomplish communication tasks. This includes group and private messages that support video and audio formats.
Live video and audio or video calls options are also available in Workplace. These features simplify information sharing. They also focus more on employee engagement and culture building.
Workplace increases engagement between employees with features like comments and reactions. You also won't have to worry about language barriers with the auto-translation feature of posts, surveys, and polls.
Another key feature of Workplace is the knowledge library. Organizations can place their data in a centralized library for better alignment. Employees can freely get insights to improve their user experience and relevant information.
The disadvantage of using Workplace is that organizations can't create pages. The platform also has a few issues with private information security.
Workplace is a product of Meta, which has countlessly faced issues on gathering data. CERN is a European Organization for Nuclear Research that found this issue disturbing. As a result, it recently decided to stop its use of Workplace.
8. Happeo
Happeo is a great software for organizations that use Google Workspace. This social intranet platform has collaborative channels that can connect remote employees. Users can link calendars, spreadsheets, and social media feed into its intranet pages.
Happeo also has a sophisticated news-sharing feature that can build a community culture. These features allow the entire organization to stay updated on project progress and track the effectiveness of internal communications.
Moreover, it features a people directory, allowing users to use smart search to look for specific stakeholders based on features. This includes location, specialization, or position. This smart way of locating people hastens the search for talents best suited for a task.
9. Jostle
Jostle caters to organizations that want to streamline internal communication. Like most intranet software, Jostle fosters remote and hybrid collaboration.
What's unique about Jostle is that you can plan, promote, and attend virtual events. It also allows organizations to share brand values and celebrate wins.
Using Jostle, organizations can broadcast content to TV screens. This feature can be helpful during an announcement of events or hybrid meetings. Jostle also comes with group chat features as well as IMs.
Furthermore, it has a centralized search system. Users can find all the information or data they need in the knowledge library. This feature allows for a better collaboration process and lets employees get clarity on their work progress.
However, it's important to remember that some of its features don't accommodate all types of businesses. The customization features of Jostle are somewhat poor and lacking. For instance, users can't disable or relocate unused features.
10. Unily
Unily aims to unite organizations through improved collaboration and engagement. The greatest advantage of Unily's platform is that it can cater to various functions on any device.
Organizations can use it as an intranet, collaboration, or communication platform. It's flexible enough to evolve along with the needs of its users.
Unily also allows its users to personalize the platform to enhance the user experience. It has a "drag and drop" content management system. It also has a 1:1 translation function as well as device and user segmentation.
This is further supported by private channels, reward features, and more.
Furthermore, Unily has a centralized document management system. This makes it easy to control permission settings. The platform also integrates seamlessly with Oracle, Microsoft 365, G Suite, and more.
11. Interact Software
Interact combines collaboration tools with social feed and internal communication software. This intranet software works with leading third-party tools like Zendesk, Workday, and more to foster seamless digital integration.
Apart from the standard features, Interact also offers an extranet that allows you to communicate with external stakeholders. It further allows you to broadcast important messages to a wide range of channels.
Some of Interact's strengths include the availability of pulse survey provision options. This is important in gathering and acting on employees' sentiment and feedback.
It also comes with a built-in analytic tool. This makes it easy to identify search terms and trending content. As a result, organizations will be able to assess how well their intranet is performing.
The only downside with Interact is that it has no integration with Google products. Hence, it's a less favorable option for organizations that aren't well adept at other applications aside from Google.
12. Simpplr
With Simpplr, organizations can create a virtual headquarter and newsroom. One of its best features is the employee blogs, which allow employers to hear the thoughts of employees. This can fasten the decision-making process and boost the organization's productivity.
Simpplr also has an auto-governance engine. This means that an AI manages useless or outdated content and sites. It also gives AI-powered content suggestions for some inspiration.
Factors to Consider When Looking For an Intranet Software
Given the array of intranet software available, it's natural to get confused about which software to subscribe to. Therefore, we recommend evaluating intranet software features.
A good intranet software must be accessible and easy to use. In addition, intranet software needs to have a mobile application to cater to the different technological needs of employees. It should also be flexible enough to accommodate your organization's changing needs.
The intranet software must be able to connect your organization's spread workers seamlessly. More importantly, it should be a practical choice. Hence, we encouraged reading online reviews and comparing software costs.
Get HR Cloud for a Seamless Collaboration
HR Cloud is the intranet software that can help you build an engaging workplace for your organization. You'll love the user-friendly interface and instant communication tool that the software offers.
Have some questions? Contact us today and let us help you drive culture and communication in your organization with the best intranet experience!
Author Bio: This article is written by our marketing team at HR Cloud. HR Cloud is dedicated to providing powerful solutions for your HR teams and creating an exceptional employee experience. Our aim is to help your company improve employee engagement, onboarding, and to save you valuable time!
Keep Reading
4 Reasons to Update Your HR Software
In the contemporary business landscape, it is positively crucial that companies stay
Tips for Working Remotely in 2023
If you're opting to work remotely this year, you'll need a set of best practices in place
Write for the HR Cloud Blog!
Join so many other talented HR professionals by contributing to the HR Cloud blog. To learn more, view our blog guidelines now.
Like What You Hear?
We'd love to chat with you more about how HR Cloud can support your business's HR needs.