16 Important Tips to improve employee loyalty in 2022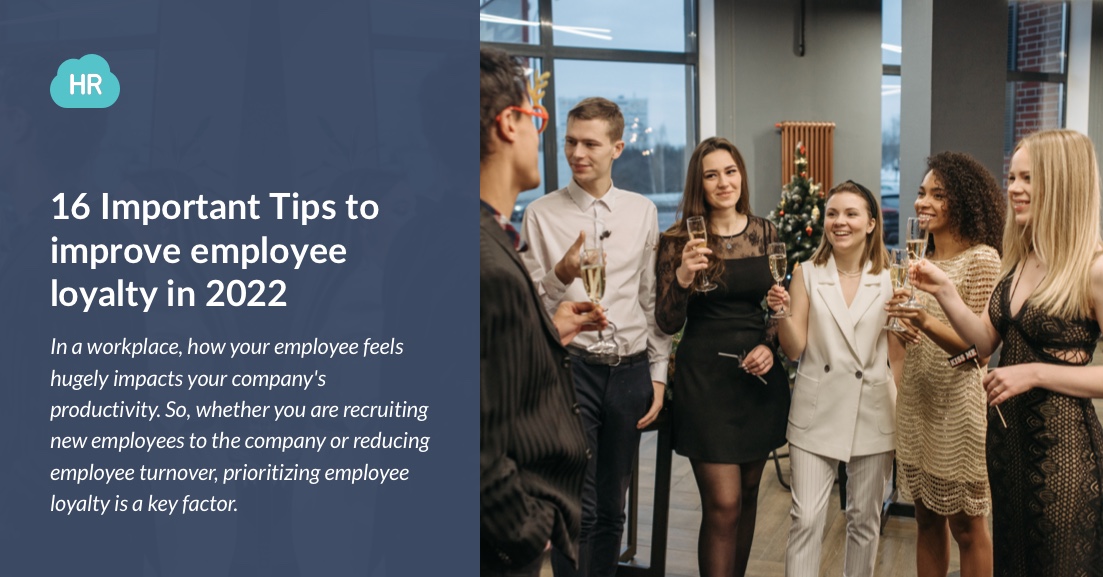 In a workplace, how your employee feels hugely impacts your company's productivity. So, whether you are recruiting new employees to the company or reducing employee turnover, prioritizing employee loyalty is a key factor.
Nevertheless, it is challenging for companies to keep up with the demands and needs of the new generation of employees.
According to the Global Benefits Attitude Survey between December 2021 and January 2022, 53% of employees are actively searching for new employment opportunities or at risk of leaving.
It shows that the struggle is not to hire new employees but instead to retain and engage the employees.
However, there is no need to worry. A loyalty program can make employees more likely to stay with an organization.
So, here is a handy guide that will help you to explore 16 essential tips to improve employee loyalty in 2022.
What is Employee Loyalty?
Employee loyalty refers to the feelings that bind employees to their current employers and prevent them from seeking greener pastures elsewhere.
Loyal employees give their 100% and devote themselves to the success of their company. They put their efforts into meeting the organizational goal. Further, they don't look for alternative employment opportunities as they plan to remain with the organization.
Employees show their loyalty when they are paid well, mentored, empowered, trusted, and challenged. Further, they stay in the company for a long time when they are promoted, involved, appreciated, and valued. Employees should have the feeling that the organization wants the best for them.
Why Is Employee Loyalty Important?
For the development of any organization, employees are a valuable asset. Recruitment, training, employee salary, and benefit costs represent a substantial investment. And loyal employees in the workplace can improve the daily operations of an organization. Your company will see a positive impact from them.
Employee loyalty in the workplace is essential for a number of reasons. There are several benefits of employee loyalty.
Loyal employees are more likely to stick around during difficult times. This can be important for businesses that experience periods of instability or decline. Hence, it is beneficial to implement a robust employee engagement strategy.
Here are several reasons employee loyalty is vital in the workplace:
1. Improved productivity
Employees with positive attitudes and motivation can pass the same energy to other employees. And loyal employees are always dedicated to improvements and the organization's success.
They are less likely to call in sick, take extended breaks, or engage in other behavior that can hurt productivity. So, your productivity levels are most affected by loyal employees.
2. Impact customer experience
Employees who value their company can communicate these values to customers through daily interactions. As a result, your company's reputation will increase among the community, and your customer loyalty will increase.
Further, they will make the people feel and understand your organizational culture.
3. Enhance growth and improvement.
Often, loyal employees adopt and adjust new policies or changes first or act as change agents. By doing so, improvement efforts can be more effective, and organizational growth can be achieved.
4. Increase hiring capabilities.
Besides reducing employee turnover, it can attract new talent. Employees who feel valued in a company will also recommend other job seekers to work for your company.
So you can hire new talents to fill the vacant positions.
5. Healthy work environment
Finally, loyal employees tend to be more positive and supportive of the company. So it can create a better work environment for everyone.
Overall, employee loyalty is important because it can lead to increased stability, productivity, and positivity in the workplace. These benefits can be especially important for small businesses or businesses that are going through tough times.
Why do employees leave?
There was a time when employees wanted the security of their jobs only. But today, they want more than that.
Multiple roadblocks hindering the employee lead to them leaving their jobs. Some of the reasons why employees leave their jobs are listed below.
1. Lack of career development
A report from Statista shows that 41% of employees quit their previous job due to a lack of career advancement.
Career progression shouldn't be stunted for any employee. Employees will likely look elsewhere unless the company communicates and provides clear growth opportunities.
2. Inadequate compensation
Also, according to the same report above, 36% of employees leave the job because of inadequate compensation. So, you need to ensure that your staff is compensated fairly and in line with industry/market standards.
3. Lack of recognition
A lack of recognition or appreciation for employees' hard work eventually leads to unhappiness and low motivation.
4. Ineffective leadership
Leaders can significantly affect employee morale, whether they are CEOs or direct managers. Chaos can quickly occur when work environments lack clear goals and effective leadership.
5. Poor work-life balance
Setting realistic boundaries and expectations with your team is vital to maintaining employee satisfaction and promoting a healthy work-life balance.
How to build employee loyalty & commitment?
You can do a few key things to build employee loyalty and commitment within your organization.
Ensure you know your company's mission and values and that your employees know them.

Provide opportunities for employees to grow and develop within the company.

Give employees a sense of ownership in the company through stock options or profit sharing.

Create a positive and supportive work environment where employees feel valued and appreciated.
Doing these things will create a strong sense of loyalty and commitment among your employees. However, to know the best tips that help you to improve employee loyalty and retention, continue reading the guide.
16 Effective Tips To Improve Employee Loyalty & Retention in 2022
Avoid any communication gaps.
It is important to have an open communication channel to keep the employees loyal to their company. The employees should feel free to discuss the issue and give feedback about the work.
You should engage your employees in the workplace. Engagement can be either physical, cognitive, or emotional. Make sure there are no communication gaps between team leaders and members.
When you have all of your workers on-site, this isn't a big deal. But if you have remote workers, you should make sure they communicate well.
Communication tools at work include video conferencing software, instant messaging, and voice calling.
You can use your regular mobile or landline for an audio call. However, using virtual phone numbers is best for avoiding the communication gap within the company.
Understand what your employees need and try to cater to them
The major concern of almost every employee is that no one listens to them. But employers should listen to their needs.
Employees who feel fulfilled by their job do not search for other opportunities. Provide an efficient way for employees to express concerns or share ideas. It is easy to provide your employees with the type of benefits they prefer once you know what they like.
Take feedback and act on them.
Employees and management should have a continuous feedback channel. Don't assume what your employees need or want. Ask them directly what is working for them and what isn't.
By doing this, you have the chance to collect valuable feedback.
The employee's feedback may not be possible to address directly. But it is still worth exploring whether a mutual course of action can be agreed upon.
But employees may not wish to give their opinions if their feedback is not acted upon.
Acknowledge their good work and appreciate them.
Appreciating employees' hard work is one of the best ways to increase employee loyalty and promote growth.
So, managers or supervisors should appreciate whenever an employee goes beyond what is expected and performs well. You can use either a no-cost or low-cost employee recognition program to implement them.
Further, public recognition is an effective way to motivate your employees. You can use the Wall of fame to recognize their efforts in work socially. Seeing that their efforts are appreciated makes them feel motivated and valued.
You can also use sticky notes to write genuine appreciation and stick them in front of their desk or on the wall of fame.
However, providing your employees with negative feedback is also important, as long as it's constructive.
Help employees with their work-life balance
Your employees may go through so much in their personal and professional life. So, it may be hard for them to manage their personal and professional life.
Whether they need financial help or extra days' leave, consider it. Prioritize your employee's wellness because it will increase employee loyalty.
An American survey found that 82% of workers would quit their job if their manager were a bad manager. A toxic person can make the whole workplace toxic.
An environment that is toxic can affect someone's mental state and reduce their productivity since it is impossible to work in such an environment.
So, make sure to deal with that toxic managers and decrease the turnover rates.
Offer competitive & fair compensation and pay rise.
Provide a competitive salary to a deserving candidate because one reason employees leave the job is less salary.
Paying competitive salaries to high-turnover employees is an excellent way to maintain loyalty within your company. When filling difficult positions, high salaries can help relieve stress.
Offer incentives and perks.
Besides direct compensation, you can offer incentives. When employees have stock options, they are more likely to connect corporate success with personal success. It encourages them to work harder toward company success.
Offer great perks to your employees to build loyalty between employer and employee. Invest in perks like free time, gym memberships, flexible scheduling, employee discounts, health plans, and personal development programs.
Company swag items you can use as incentives include branded drinkware, food trucks, hybrid workplace essentials, tech items, travel essentials, and more.
Give responsibilities and ensure professional growth.
Workers want to develop skills and grow in their careers. So by acknowledging their skills and experience, you should assign responsibilities and ensure their professional growth.
Employers seeking long-term employee loyalty can increase employee loyalty by providing latitude in their roles.
Top-down loyalty strategies are not effective. Managing and leading shouldn't be the only people responsible for creating and implementing it. They should discuss it with other workers too.
If you want a high engagement between employees and managers, it's better to co-create your strategy. It will help you to design a strategy that will help your company and individual.
Ensure a positive and safe work environment.
Employees should not experience a sense of dread when they come to perform duties in the office. No one likes to hear disrespectful comments, be treated badly, or act in a negative manner.
So, create a work positive environment and make your employees happy. Owners must promote an open, respectful, patient, and tolerant company culture. Even when a problem arises, solve them calmly without making the environment chaos.
Offer flexibility in work.
By providing your employees with flexible work hours, you allow them to plan their schedules according to their lifestyles and needs. It will generate more productive employees.
Increasingly, people are working from home with multiple responsibilities daily as remote jobs become more prevalent.
Most people say they don't want to leave the company because they have such flexibility. So, a flexible working schedule is vital.
Invest in education, training, and development
According to the report, 86% of millennials would stay in their current jobs if their employers offered training and development.
Improving the skills of your employees in the workforce by investing in education and training is a win-win strategy.
Not only will it help you increase your company's productivity, but it will also increase employees' loyalty.
However, before organizing any type of training, you must understand the types of education your staff wants. So, you must communicate with employees. Recognize the jobs of employees and provide them with the training needed to them.
The education or training can be related to either manager coaching and mentorship, stretch assignments, or online training sessions and webinars.
Remove unnecessary uncertainty and insecurity.
Doing tasks that are not necessary for now might frustrate your employee and increase your business revenue. So, eliminate such unnecessary tasks.
Further, uncertainty is a common feature of the workplace today. Innovation constantly disrupts previously stable markets during a time of rapid economic change.
Employees can be unhappy living in an environment where their future is unsure. So when they are stressed, it reduces the company's productivity.
Even though you cannot fix the economy, you can help your employees cope with changes by providing notice and briefing them.
Conduct recreational programs and celebrate milestones
Celebrating milestones is another way to show your employees their dedication and loyalty are appreciated.
Thus, if you want your workers to stick around your company, it is essential to appreciate them and celebrate employee milestones.
Whether it's work anniversaries, the biggest achievements, or a birthday, celebrate them, offer a gift card and make your employee feel special.
The employees should not feel alone in doing the work and that the management is not helping them.
Employees get to know each other better when they work together on tasks. Further, they feel more loyal to the company and team when they share a common goal.
Conclusion
To be successful, an organization must have loyal employees. In today's automated, fast-paced, technology-oriented world, time is money and everyone is looking for ways to save time. In such a situation if you'd think keeping employees engaged and happy is easier than ever, then you are wrong.
However, to solve this problem and keep your workforce engaged and motivated, check out these essential tips for improving employee loyalty in 2022.
FAQs
What are the main factors that can increase employee loyalty?
Several factors increase employee loyalty. Some of them are
Salary
Active participation and interaction
Recognition and Rewards
Goal Setting
Leadership
Training and development,
Job security
Flexibility balance between work and life,
Empowerment.
Employee Engagement
How do you keep employees loyal?
I will follow all those main factors that influence the employee's loyalty. The things that you should consider to keep employees loyal are:
Competitive Salary
Motivation and Appreciation
Career development and growth
An open line of communication
Flexibility
Positive work environment
Reward and incentive for High Performance
How do I win over my employees?
To win over your employees, you'll need to show them that you're a competent and trustworthy leader. Here are some ideas for achieving this goal:
Be a personality
Show your ability
Arrive early and stay late
Be collaborative
Tackle issues
Provide occasional treats
Be discreet
Author Bio:
This article is written by a marketing team member at HR Cloud. HR Cloud is a leading provider of proven HR solutions, including recruiting, onboarding, employee communications & engagement, and rewards & recognition. Our user-friendly software increases employee productivity, delivers time and cost savings, and minimizes compliance risk.
Keep Reading
Why is Internal Video content Important for Staff Morale?
For most office-based employees, "work" no longer represents a physical location. In
Best Tools for Engaging Remote or Hybrid Workforce
Covid-19 permanently altered the workplace. As we reach the post-pandemic age, many
Write for the HR Cloud Blog!
Join so many other talented HR professionals by contributing to the HR Cloud blog. To learn more, view our blog guidelines now.
Like What You Hear?
We'd love to chat with you more about how HR Cloud can support your business's HR needs.