7 Best Remote Team Management Software for HR Managers in 2022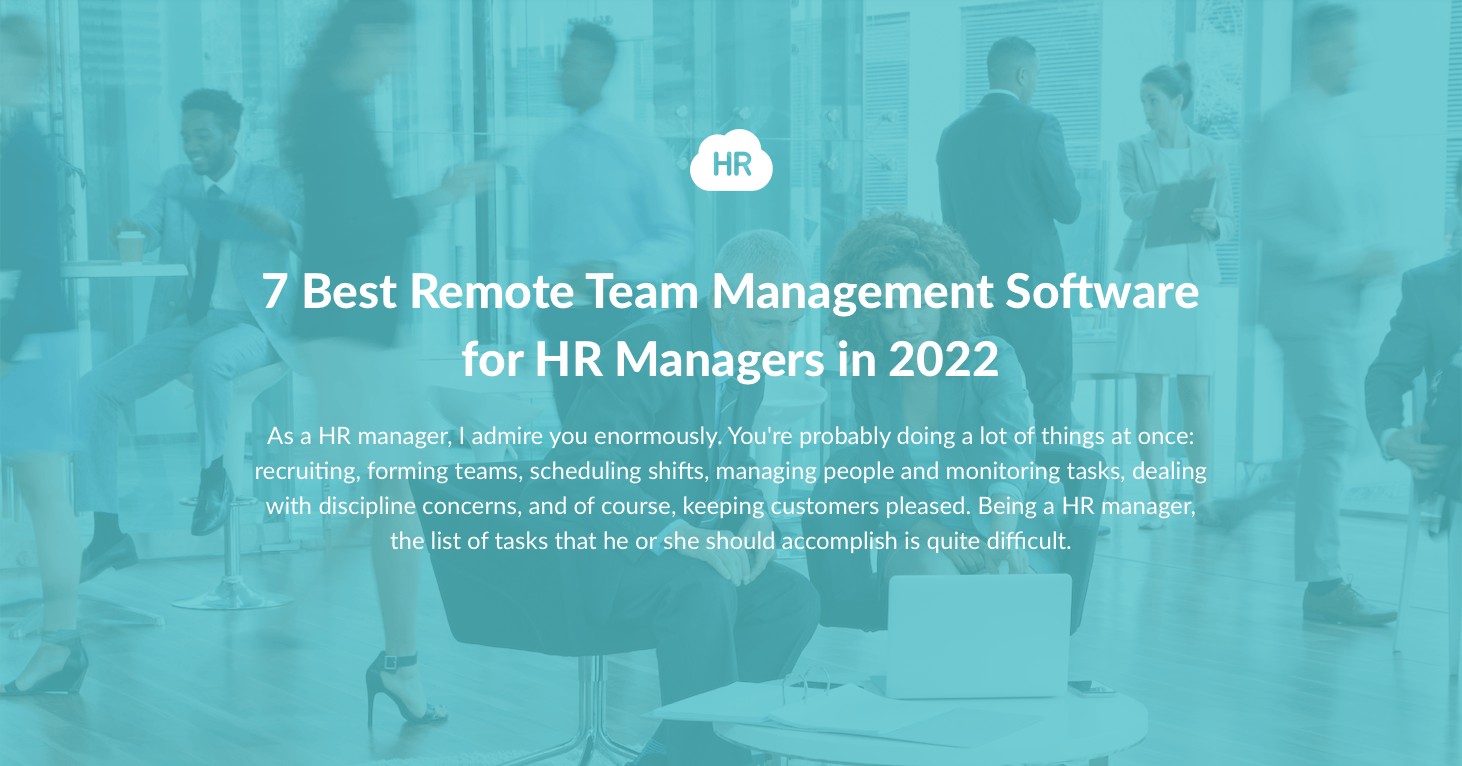 Today, more and more organizations are expanding their remote teams, and whether due to a pandemic or not, remote work is becoming more popular among companies with physical offices.
As a HR manager, I admire you enormously. You're probably doing a lot of things at once: recruiting, forming teams, scheduling shifts, managing people and monitoring tasks, dealing with discipline concerns, and of course, keeping customers pleased. Being a HR manager, the list of tasks that he or she should accomplish is quite difficult.
No worries!! The remote team management software brings you the flexibility of monitoring and tracking your productivity. This has become so simple that the HR manager can just stay at home and carry out his duties.
Here we have found the 7 best Remote Team management software for your company and teams.
HR Cloud

Apploye

Brosix

Zoom

Trello

Calendly

Dropbox
Let us have a descriptive idea about all the 7 best Remote Team Management Software mentioned in the above:
Best Remote Team Management Software for HR Managers
1. HR Cloud
HR Cloud is a cloud-based human resource management (HRM) solution for various industries. HR Cloud's Onboard Software assists users in managing tasks connected to new recruit onboarding procedures. Your Workforce can be connected and engaged With Just One platform, and that is the HR Cloud. It offers plans for different business goals and requirements.
Key Features
With its employee self-service platform, HR Cloud allows quick and easy onboarding.

Users can create communication sequences and detailed email or mobile app notifications for each onboarding stage.

Paperless e-sign processes, customized forms and workflows, I-9 and E-Verify, automatic notifications, and progress reports make onboarding easier.

Workmates is HR Cloud's employee experience platform that promotes employee engagement, internal communications, incentives and recognition, and employee advocacy while also helping to improve organizational culture.

Workmates is HR Cloud's employee experience platform that promotes employee engagement, internal communications, incentives and recognition, and employee advocacy while also helping to improve organizational culture.
Pros
Customer support is very responsive, and they are super responsive.

Excellent ability to create complex or simple hierarchical workflow jobs.

Smooth adaptability and ease of use.

It meets the requirements for basic candidate monitoring and onboarding.
Cons
Their support team is excellent, but it would be nice to have the required FAQ for users.

Needs some refinement as this software is new.
Pricing
They have three different pricing options if you need a quote from their website.
2. Apploye
Apploye is one of the best time tracking softwares on the market, and it's one of a kind in its capacity to have a huge impact on organizations by providing outstanding services. Remote team management is so easy for HR with the help of this software. Apploye has a clean, user-friendly, and attractive interface. It offers time tracking, remote tracking, and field tracking to provide enterprises with comprehensive monitoring capabilities.HR professionals will like the capabilities that Apploye provides because they are available at a lesser cost without sacrificing quality.
Key Features
You can keep track of every second with the help of an online timesheet, a Pomodoro timer, manual time entry, and idle time detection.

The status of your workflow is summarized through versatile and comprehensive reports, as well as an organized dashboard.

Project budgeting, client management, team management and task management not only ease your work but also help you track them very easily.

Report generation, activity tracking, screenshot, URL tracking round of total monitoring activity during working hours.
Pros
Apploye is the best choice for time tracking and employee monitoring specifications with comparatively less price.

Engagement of the employee increase as it ranks your top-rated employees

This software is specially designed for remote teams.

Payroll, invoice and budgeting is way better to track financial activities.
Cons
Apploye offers limited integrations.

The iOS app is currently unavailable. (Coming Soon)
Pricing
Solo: $2/user/month

Standard: $2.5/user/month

Premium: $3/user/month

Elite: $3.5/user/month
3. Brosix
Brosix is a private instant messenger that prioritizes security and effective collaboration. Secure communication is even better with Brosix. Managers have full administrative control over their own private instant messaging network, while employees have their team at their fingertips via the Brosix app. It keeps them focused while still keeping their data safe.
Key Features
Brosix allows you to email files of any size directly, meaning they will not be saved on the cloud. The file or folder is shared between computers, which is the most secure method.

Screen Sharing and Screenshot gives the flexibility to track and monitor the team.

It has a broadcast message to start any meeting.
Pros
Brosix is easy to set up and use.

Ability to interact rapidly with other offices

Because of its simple appearance and flexibility, Brosix is a popular collaboration tool among insurance, financial, healthcare, and IT firms worldwide.
Cons
If the computer crashes, it sometimes gets goofy after updates (either super tiny or super huge font/icons), and it doesn't preserve any part of ongoing chats to the log file.

It's a little antiquated, but the team has kept the complexity to a bare minimum so that communication runs seamlessly, and there's no need for training to get started with the tool.
Pricing
Startup- It's free

Business- $4/user/month

Premium-$6/user/month
4. Zoom
Zoom is a cloud-based video conferencing software for video conferencing, audio conferencing, webinars, meeting recordings, and live chat. It offers you four distinct categories: Zoom Free, Zoom Pro, Zoom Business, and Zoom Enterprise. Additionally, you can add Zoom Room with those categories, but it will cost some extra charge. Moreover, zoom brings teams together in a smooth and secure video environment to get more done.
Key Features
Meetings, video conferencing, and messaging ensure that work is completed quickly and efficiently.

Strong meeting security, screen sharing, HD video and audio, and a streamlined calendaring system are all available.

Call routing, auto attendants, voicemail, and call recording are all available on the Zoom phone.

Video webinars, interfaces with Slack, Google Workspace, and other services are available.
Pros
The freemium has many features used in business, education, administration, and other areas.

It's simple to use.

The interaction with the phone system is quite beneficial.

When inviting guests, you can include a meeting agenda.
Cons
The free version can't be used on a wide scale, and the paid version is a little pricey.
Pricing
Basic: Free

Pro: $14.99/month

Business: $19.99/month

Enterprise: $19.99/month
5. Trello
Trello enables managers to engage with their employees more effectively. It's the command centre for all of your tasks and tools, displaying status updates, due dates, and allowing you to swiftly communicate with collaborators. Trello is a virtual dashboard where teams can design, order, and prioritize tasks, making it ideal for project management.
Key Features
Detailed & Quick Overviews of Front/Back Cards.

Easy, Drag-and-Drop Editing.

In-Line Editing.

Easy Organization with Labeling, Tags, and Comments.

Progress Meter Checklist.

Card Records Archive.

Easy Upload (Local Devices, Dropbox, Google Drive, and Box).
Pros
Task management, scheduling, labelling, and file sharing are all available features that help you perform your task smoothly.

This software is easy to use, especially for new users.

It aids in project management as well as internal and external collaboration.
Cons
The task management system is ineffective, and when the project enters the operational phase, the team's performance suffers.

Poorly suited for non-group task management.
Pricing
Free

Standard: $5/user/month

Premium: $10/user/month

Enterprise: $17.50/user/month
6. Calendly
Calendly is your one-stop shop for professionally and efficiently organizing meetings, freeing you from the burden of back-and-forth emails so you can get back to business. It is an appointment scheduling app that you may use without relying on email notifications. It helps groups and individuals organize meetings and appointments.
It makes life easier for its customers by allowing them to prioritize their desired appointment time and date. You can also set meeting durations such as 15, 30, or 60 minutes. It is one of the most versatile remote team management software for scheduling and calendaring because of the connectors available.
Key Features
Appointment scheduling is both automated and real-time.

Notification and a minimum of schedule notice are required to minimize last-minute snafus.

Day restrictions and buffers allow for the addition of extra events as needed.

Team schedules, email and event management, online payment, and booking are just a few of the features available.
Pros
Easy to set up overall time availability, then synchronization with Office 365 & personal outlook calendar makes getting to an appointment easy & quick.

It's simple to use and share.

Direct booking and personalization help to cut down on time spent waiting.
Cons
Some privacy errors are all too common.

Not at all very useful for large companies.
Pricing
Basic: Free

Premium: $10 per user per month

Pro: $15 per user per month

Enterprise: Contact vendor
7. Dropbox
Dropbox is a cloud-based file storage and collaboration software to reduce busy work in the modern workplace. Dropbox is a cloud storage service that lets you save files online and sync them to your devices. It has traditionally been regarded as a consumer-oriented service. However, it is becoming more widely utilized within the company, illustrating the IT consumerization trend.
Key Features
All files are saved securely, are up to date, and can be accessed from any device.

It can send any file, big/small, to everyone even if they don't have any dropbox account.

Offers security to information

Keep track of file updates, manage projects, and communicate with the team and clients.
Pros
Dropbox includes many useful features, including the ability to share files. In collabs, it's also simple to see updates from team members.

It's one of the best software for syncing, saving, and sharing files.
Cons
Dropbox has been plagued by performance concerns and a proclivity for slowing down the computers on which it is installed.

When synchronizing files, mistakes can occur. It is difficult to post all of the files due to bad internet.

Costing is comparatively high.
Pricing
Personal
Plus: $11/month

Family: $19.99/month
Business
Professional : $19.99/month

Standard : $15/user/month

Advanced : $25/user/month
Conclusion
So far, we have tried to provide you with the best and most useful software for managing remote teams as a HR. At last, we are going to finish with a quote from Sir Richard Branson, who is the founder of the Virgin group.
"Train people well enough so they can leave. Treat them well enough, so they don't want to."
Being a HR manager, you need to take care of your employees' productivity and feelings. However, we tried our best to get you the required remote team management software as a HR manager.
Author Bio: Hasan Abir is working as a Growth Marketer at Apploye. He would love to work out of his comfort zone and his passion is for digital marketing.
Keep Reading
8 Techniques to Keep Remote Employees Engaged
Five years ago, there were a few companies that offered at-home work, but they were rare.
9 Effective Employee Engagement Strategies
An incredibly important approach to boost your business is to focus more on employee
Write for the HR Cloud Blog!
Join so many other talented HR professionals by contributing to the HR Cloud blog. To learn more, view our blog guidelines now.
Like What You Hear?
We'd love to chat with you more about how HR Cloud can support your business's HR needs.