Build Success in the Workplace Using the Employee Engagement Lifecycle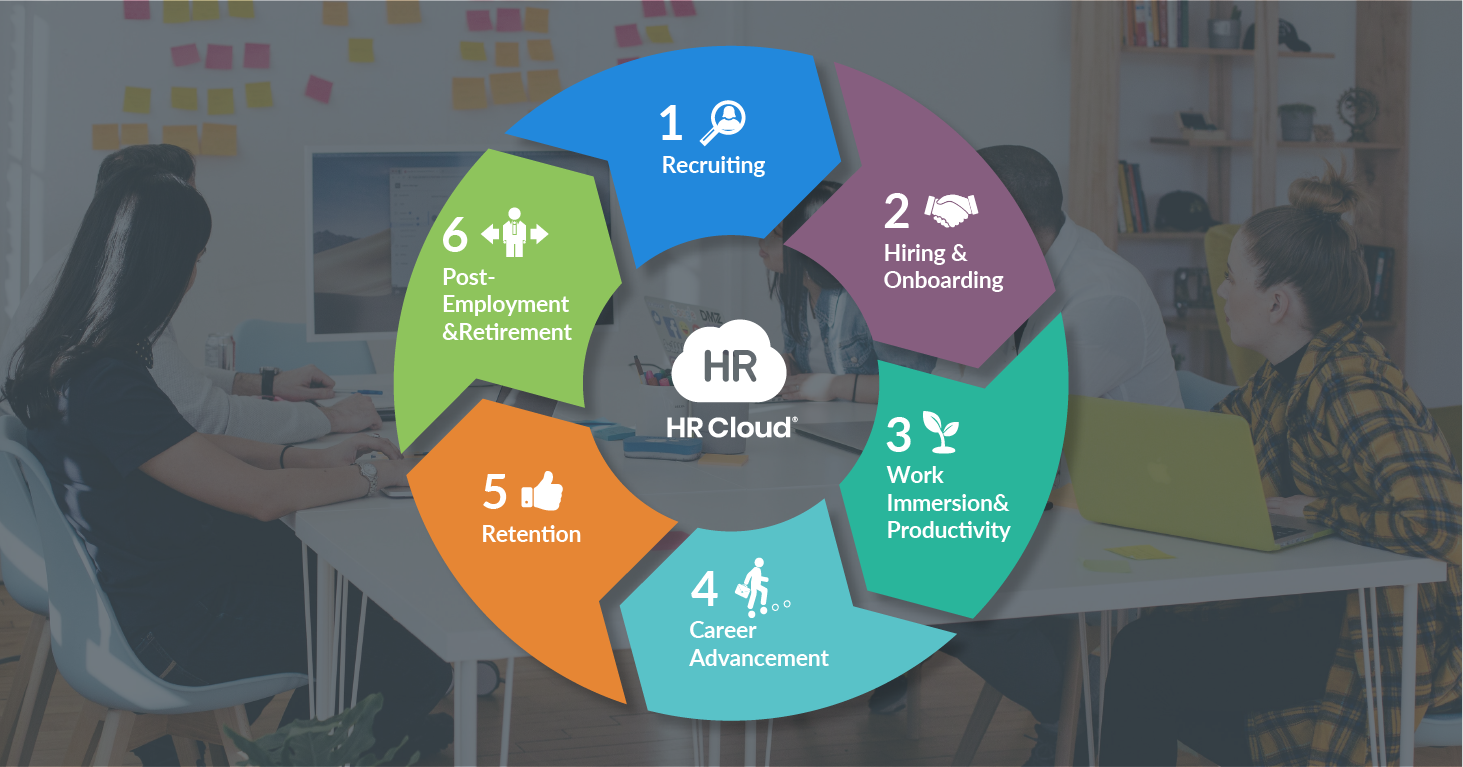 Employees are the pulse of any organization. The more engaged the employees, the more productive they are. In turn, engaged employees drive a strong customer experience.
But, it is also an inevitable facet of organizations that employees will come and go over time. Growth may lead to new hires, or employees may make decisions to change jobs. Companies need to be assessing employees in all stages of their tenure and determining the level of engagement.
By strategizing, you can make the most out of each stage of the employee engagement lifecycle, from those not yet hired to those departing. The commitment of the employees to the company and its goals impact the company's overall success.
What Is the Employee Engagement Lifecycle?
Every employee will have a beginning and an end with your company. The employee engagement lifecycle looks at employment as a cyclical process. Even exiting employees can have an impact on potential future employees.
The employee engagement lifecycle journey covers six stages: attraction, recruitment, onboarding, development, retention, and separation. At no point in the lifecycle can you sit back and stop engaging with your employees. All stages are critical to the overall employee - and thereby, the company - experience.
An excellent recruitment strategy with high turnover, for example, shows weaknesses in retention. The company should focus on bolstering the retention stage.
The employee experience is an overall mindset. It is not a start-and-stop program when issues arise. Many organizations do not have a good pulse on their employee engagement levels and thus are missing out on providing the employees with reasons to stay.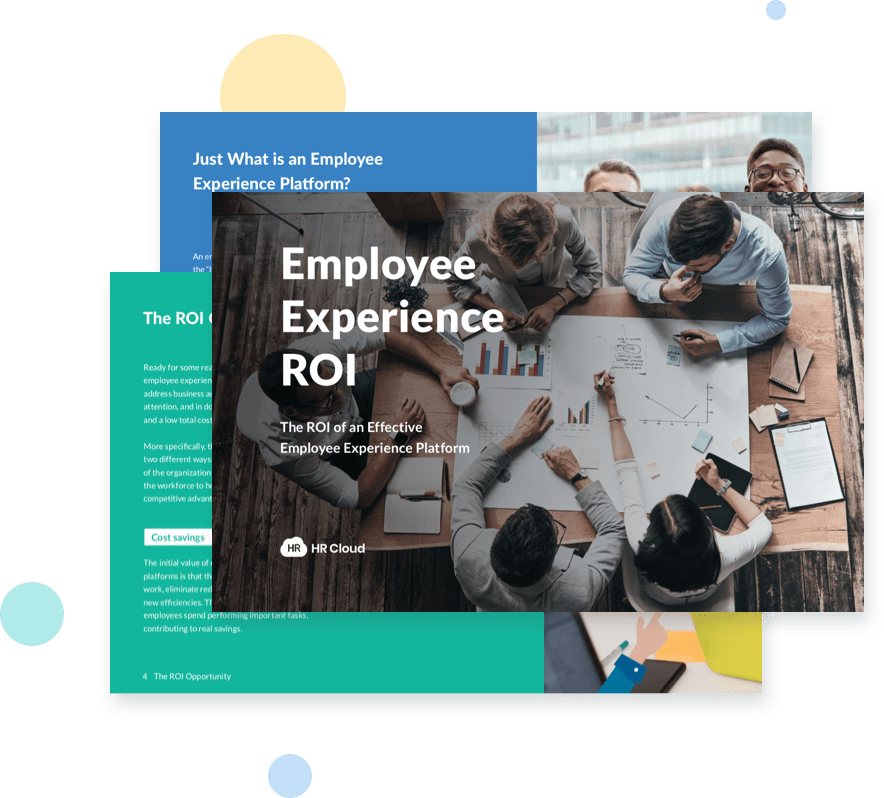 To learn even more about improving the employee experience and increasing your competitive advantage while providing a fast return on investment, download our ebook now.
Download now
Why Does the Employee Engagement Lifecycle Matter?
Engaged employees are critical to remaining competitive in today's market. Not only do you need to attract top talent, but the best employees will drive your company. You will have better products, services, customer interactions, growth, and profitability.
Some employees choose to stay with a company for things like work-life balance, challenging work, company goals, or wellness benefits. But there are other reasons an employee will stay with a company, even when presented with a better offer. The employee must feel:
Engaged and connected with the company

Empowered to succeed

That the company is invested in their well-being

Respected for their contributions

That they receive personal treatment
The advantages of employee engagement are significant. You should have a strategic, comprehensive approach for engagement in each stage in the lifecycle. Think about your overall company culture and what that engagement looks like within your organization.
Christopher Baggott
Chief Executive Officer of Medlinks Cost Containment, Inc. and Medlinks Staffing, LLC.
"Our staff has praised the increased communications level Workmates delivers. We use it to communicate important project matters and give staff specific 'kudos' or even recognize their birthdays. More importantly, we use Workmates to clarify important project details that needed rapid dissemination among the entire team."
Build Success into Each Stage
Your goals should be to turn your employees into advocates. Not only will employee advocacy promote your brand, but this will help attract new employees or lead to employee referrals. Even departing employees can be advocates if they leave on good terms.
Understanding and developing strategies for each stage will strengthen your employee engagement. Over time, you can measure your efforts and adjust accordingly.
You can use your metrics and engagement data as insights into the success of your strategies. This becomes meaningful intelligence at the department and individual manager level. It will help you to recognize the contributions of employees to the business.
Attraction Stage
Often, potential employees begin to review your company before you even know they exist. They may start on sites like LinkedIn and Glassdoor, trying to get a feel for your company. At this point, potential employees are evaluating your reputation and values, trying to determine if they would be a good fit before applying.
Employee referrals are an invaluable source for quality candidates. You will often have reduced hiring time and a better conversion rate. It shows the engagement of your current employees that they want to participate in the company's growth.
Companies that don't attract great people will fail to compete in the marketplace. Attracting the right talent is crucial to growth. You want the first impression to be favorable and honest.
Strategies: Focus on employer branding or addressing the desires of potential candidates. Think about what you are projecting across all platforms. This includes the careers page on your website and social media attraction.
Measuring Success: How many employee referrals do you receive? What are the impressions or other metrics on job postings? How many applicants do you receive, and are they high-quality candidates?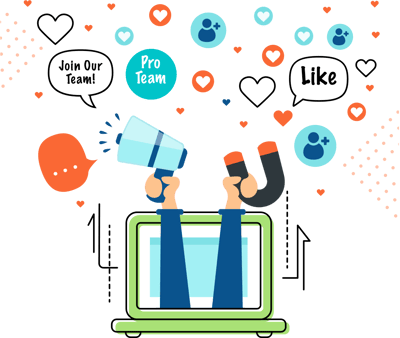 Recruitment Stage
The next step of the candidate experience for that potential employee is to apply. At this point, the candidate wants to connect with you and feel that the connection is authentic.
Successful recruitment is vital to a company's success. You are determining the future needs of the company and finding the right candidate for that role. A quality pool of applicants is critical to finding the right person for the job.
The time spent during the recruitment and interview process should focus on getting to know the candidate. Also, you want to allow the candidate to learn more about the company. Keep the dialogue open during the recruitment process.
Part of recruitment also involves knowing when to walk away. A candidate that started out well may later raise some red flags. You may also determine that the employee will not be a good fit for the company culture or has demands that you cannot meet.
Ultimately, a candidate's decision to accept an offer will be based on the value proposition you provide. This may be different from candidate to candidate, so you will want to learn as much as possible during the interviews. One candidate may be looking for money, while another may focus on company culture.
Strategies: Personalize the process as much as possible. Keep the communication open and communicate with candidates throughout the process. Ensure that hiring staff is trained in identifying what the candidate desires from an entire so that the value proposition is clear.
Measuring Success: What are the results of a new hire survey? How many job offers has the company made versus the number accepted? What is the average length of time to fill roles?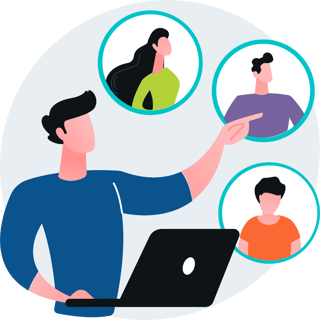 Onboarding Stage
Onboarding is more than checking boxes on new hire checklists and filling out paperwork. You need to connect your new hire to other employees. It is important to begin immersing the employee in company culture.
Onboarding is about creating an engaging first employee experience with the company. This begins with pre-boarding or the tasks that take place before the employee's first day. You also want to create a positive first impression with new hire orientation.
Those first few days do not have to be dry and dull. You can jump right into the new employee's role and meaningful work by having a smooth onboarding process. 69% of employees are more likely to stay with a company for three years if they experienced great onboarding.
To be effective in onboarding, you want the new hire to feel valued as soon as possible. Time should be spent understanding the role, which will result in increased engagement going forward.
Give your new employees plenty of opportunities to connect with their teams. Whether through group gatherings or chat tools, you want to make the new employee feel welcome.
Strategies: Give hires self-service tools, such as documentation, tasks, and workflows. This saves time and increases productivity. Have a plan in place for the first 30, 60, and 90 days with a visual timeline.
Measuring Success: What are the results of onboarding surveys? Are new employees successfully completing onboarding goals? What is the feedback of the employee's manager in the first year?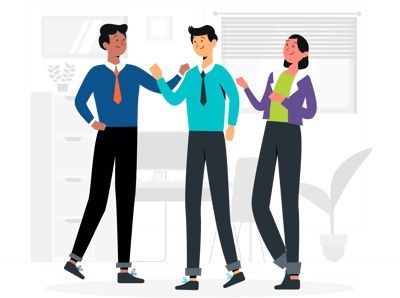 Development Stage
Engaged employees are 44% more productive than workers who merely feel satisfied. Part of that productivity is driven by employees that learn and grow in their roles. Employees want to feel that they are benefitting both personally and professionally, beyond just a salary.
People learn in different ways. You will want to provide various opportunities for learning, including:
Fostering connection to let employees learn from each other
Allowing people to "learn by doing," if they are comfortable with that
Using experienced staff as formal mentors to teach less experienced staff
Offering independent learning and upskilling opportunities
Letting employees learn at their own pace
Learning drives innovation, and you may be surprised at what employees can come up with on their own. You can also encourage employees to create their own career paths.
Managers should get to know employees on a personal level. They should encourage and coach them according to their goals. Conversations should focus on development, performance, and growth.
Strategies: Use gamification, or learning through play, to increase interest in learning. Get feedback from employees on their career goals. Provide regular interactions with managers to encourage ongoing conversations about professional development.
Measuring Success: What is the frequency and quality of one-on-one meetings? What development opportunities are completed by employees? What are the stats of any gamification provided?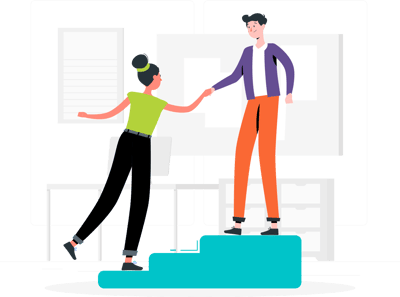 Retention Stage
Beyond the initial stages of an employee's career, retention happens when the employee is committed. Employees do not want to be taken for granted. They want to know that their work is seen and valued.
Through meetings, kudos, or other recognition, the message should be clear and consistent. Thank the employees for their work. Let them know that you appreciate them.
You can increase the visibility of employee contributions. This promotes collaboration and encourages positive feedback. Employees can then steer themselves towards success.
Retention also happens when the employees feel that they have a role in the company's achievements and goals. Provide regular company updates through a newsfeed. An intranet can build that sense of accomplishment.
Employees will also stay with a company when they feel connected to their colleagues. Provide and encourage interaction in productive, fun, and meaningful ways. Chat and collaboration tools can help with this.
Strategies: Use surveys and polls to get a pulse on employees. Have a system of rewards and recognition for a job well done.
Measuring Success: What is the frequency and quality of one-on-one meetings? What are the results of performance reviews and team goals? What is the average employee tenure?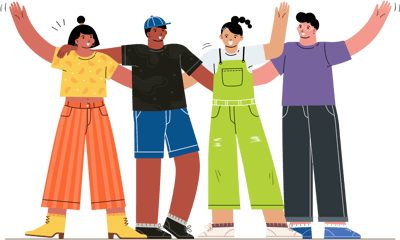 Separation Stage
The separation process is one last opportunity to engage with employees. It doesn't have to be painful. Instead, it can be a streamlined and professional experience.
Happy employees, even happy former employees, are an excellent source for new hire referrals. Maintaining engagement with employees after they leave keeps your company on their minds. This could be as simple as continuing to provide a company newsletter or a quick touch-base on LinkedIn.
An often overlooked step is an exit interview. This is a valuable opportunity to learn more about why the employee chose to make a career change.
Use an exit interview to get appropriate feedback. Give the employee an opportunity to be frank and honest. You can use the insights to improve overall employee retention going forward.
Strategies: Find ways to stay connected with former employees. Give employees a professional farewell experience. Prepare exit interview questions guided by what you hope to learn.
Measuring Success: What are the primary reasons for leaving? What is the employee turnover rate?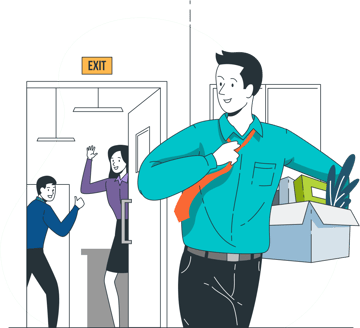 Having the Tools to Support Employee Engagement
Interaction with your employees must remain consistent throughout all stages of the employee engagement lifecycle. Less engagement at any stage can have a cascading effect.
Each stage presents its own opportunities for the company and managers to engage with employees. But how can the company be equipped to handle the relationships when these moments arise?
From recognition to communication to the onboarding experience, you want to have the tools in place to keep your employees engaged and connected.
HRCloud has products for every aspect of the employee engagement lifecycle. Learn more about our end-to-end solutions by scheduling a demo today.
About Author: This article is written by a marketing team member at HR Cloud. HR Cloud is a leading provider of proven HR solutions, including recruiting, onboarding, employee communications & engagement, and rewards & recognition. Our user-friendly software increases employee productivity, delivers time and cost savings, and minimizes compliance risk.

Employee-Centric Engagement, Internal
Communications, and Recognition
Start Free Trial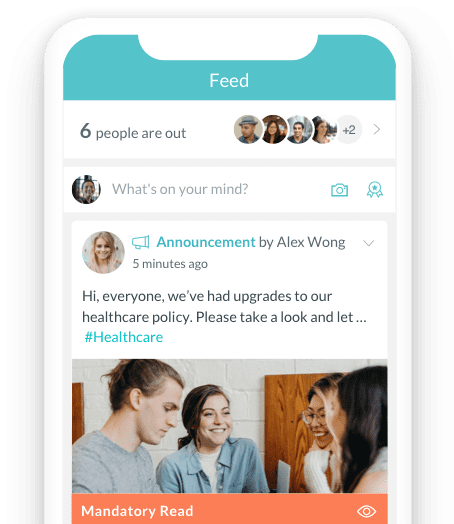 Keep Reading
What Is Pre-Boarding And Why Should You Have It?
4 Reasons to Update Your HR Software
In the contemporary business landscape, it is positively crucial that companies stay
Write for the HR Cloud Blog!
Join so many other talented HR professionals by contributing to the HR Cloud blog. To learn more, view our blog guidelines now.
Like What You Hear?
We'd love to chat with you more about how HR Cloud can support your business's HR needs.