Prepping For A Virtual Interview in 2022: A Step-By-Step Guide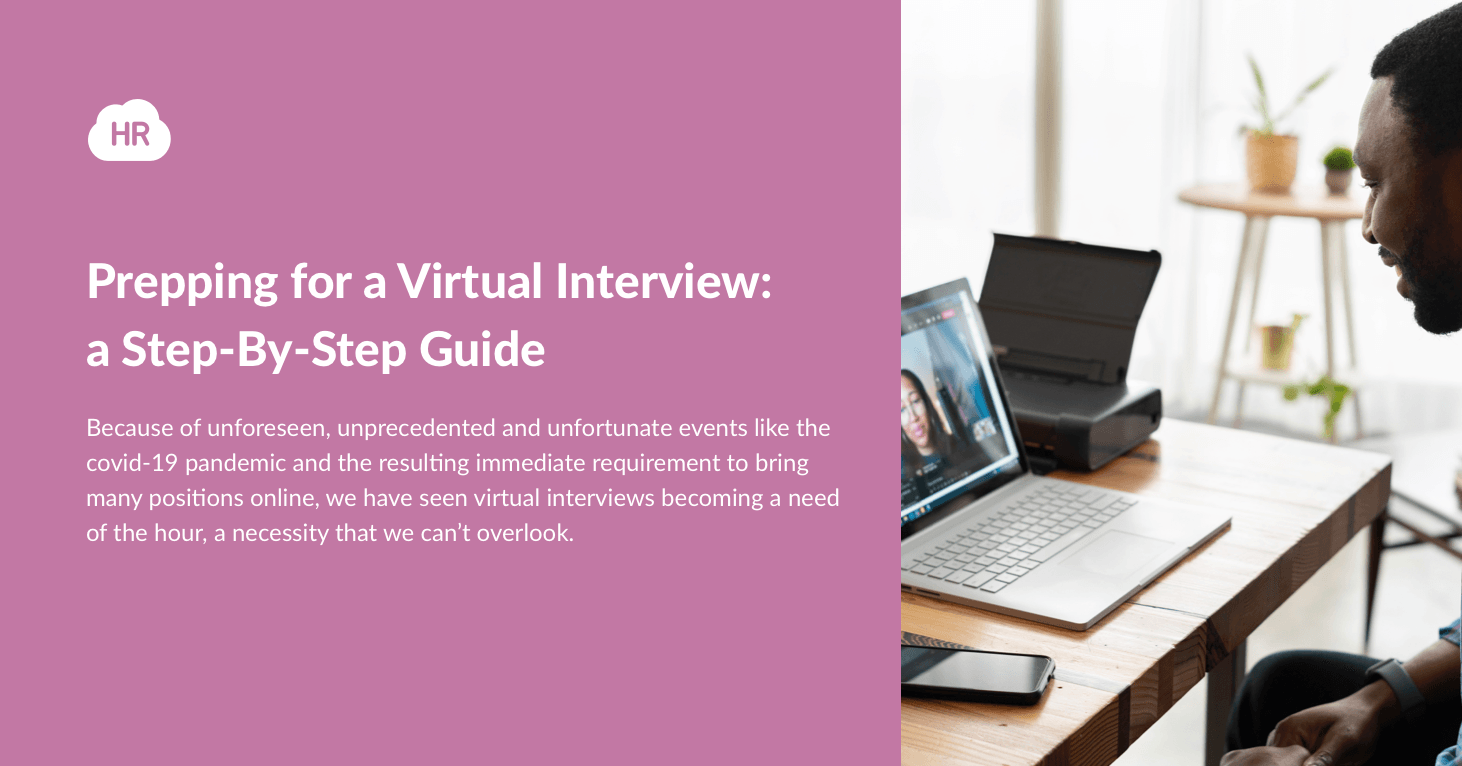 Because of unforeseen, unprecedented, and unfortunate events like the covid-19 pandemic and the resulting immediate requirement to bring many positions online, we have seen virtual interviews becoming a need of the hour, a necessity that we can't overlook.
The reason is that the traditional interviews have become difficult, or in some cases impossible, because of the closing down of offices and restrictions on the movement of people. As a result, professionals now have to work from home. People are even pursuing new positions remotely. Therefore, the hiring process has become increasingly virtual as a result.
With continuous evolution in technology, the workplace has been quick to change and adapt to newer innovations for saving time and increasing overall efficiency. Virtual outreach ideas have made it to the mainstream very quickly. About fifty percent of employers surveyed by the Society for Human Resource Management admitted that they have been using virtual interviews for narrowing down their pool of total applicants.
Video conferencing software, such as Skype, Google Meet, Microsoft Teams, and Zoom have allowed recruiters in reaching out to a more diverse, truly global group of talented potential candidates. They have also offered a cost-effective method for screening prospective hires for their respective organizations.
You need to master the art of acing a virtual interview, first and foremost. It is naturally the first step towards getting an interview follow-up and employment eventually.
Want to learn more about how you can properly prepare for your next virtual interview in this increasingly digitizing world? Keep reading.
In this article, we will go through the true meaning and the importance of a virtual interview, to begin with. We will progress towards differentiating between the types of virtual interviews. Further, we will lay down a step-by-step guide to help you get ready for all types of virtual interviews. If you follow this guide diligently, no one can stop you from becoming an expert at nailing virtual interviews on their heads! So, let's begin.
Defining a virtual interview
Any interview that uses video technology to foster discussion, interaction, question-answers, to's and fro's between the candidates & interviewers in remote locations is known as a video interview or simply as a virtual interview. Instead of meeting face-to-face, the human resources hiring manager will connect with a suitable candidate with the help of an able video software of their choice and suitability.
The tools typically required for a remote and virtual interaction include any device with a good-quality front-facing camera and a big-enough screen, most desirably a desktop computer or a laptop.
With today's advancements in technology, even smartphones can help in the process, and so can tablets, etc., the only caveats are an external or built-in video capturing camera, a decent microphone, a functional, fast, and unfluctuating internet connection, along with headphones if one pleases.
Generally, most video interviews are known to follow a style similar to your traditional, in-person interviews. But that said, you need to consider the type of virtual interview that you might be subjected to, for they can be live or pre-recorded.
Pre-recorded vs Live Interviews
When you appear for interviews that will be live, it will mean that you either join a video conference via a link provided by the prospective employer or any other interviewing party or through a call that you might receive via Zoom, Microsoft Teams, Google Meet, Skype or any one of those video conferencing apps/software. When you are connected, you will have the ability to see the other party and speak with them on the other end in real-time.
It's also a common practice with almost all notable employers to prefer relying on pre-recorded video interviews, at least in the initial stages of the recruitment process. The idea is to weed out applicants who do not match their expectations, standards, and other vital requirements.
The difference between this and a live virtual interview will be: instead of getting connected with a real person, you will instead be required to answer pre-recorded interview questions appearing on your screen in a written or an interactive format. Once you have finished recording your answers to all questions, the employer will review the recording whenever they like.
In the case of pre-recorded virtual interviews, an employer gives you instructions about joining the interview and how to go about it once you do. Often there is a time limit for marking answers to questions, and there can be a fixed number of chances to record each answer.
Naturally, the pre-recorded virtual interview format may appear artificial to some people. In such cases, it's advisable that you start imagining having a live conversation with another real person. Ensure that you have prepared well to answer all questions thrown at you because your preparation will become especially useful in such a setting.
Everything considered, no matter if your virtual interview is pre-recorded or live, make it a point to ensure closing all other active apps, windows or software on your computer — or any other device that you might be using for your interview.
The idea is to prevent any other element from interrupting your conversation or slowing your internet connection down, for that matter. Always keep your phone in silent mode before beginning your virtual interview.
Steps To Follow For A Successful Virtual Interview
Now that we have established a decent understanding of how virtual interviews work
1. Check and review the technological setup
First and foremost, you should test all the technical equipment that will help you go through your interview. Check your webcam and its video quality. Having a clear video quality from your end is a prerequisite for a virtual interview. Ensure that your webcam is functioning properly and not producing grainy or bad-quality visuals.
Secondly, your audio must be crisp and clear for the interviewer. Check your microphone and how well it is functioning. The quality of your voice input and output is equally as important as the video quality of your webcam.
The way to check both of these aspects — audio and visual — is through mock video calls before the interview. With the help of mock video calls, you can gauge any problems in your video-audio input & output and take care of them before the actual interview.
Lastly, you must have a secure, reliable, and fast internet connection. Any other technological aspect — like the audio-visual quality — will not matter in the absence of a secure internet connection.
2. Ensure that your virtual identity is professional
An unprofessional identity harms your image as a serious candidate in the eyes of the interviewer. Your email and username will be your first impression with the interviewer, and you need to ensure that it's favorable for you.
The hiring manager should not get a reason to cast doubts on your professionalism by seeing a childish email or username you adopted during your formative years. The idea is to have a simple username and email address. Avoid using symbols and try out different combinations of your first, middle, and last names.
In case you would be using a personal Outlook, Google, or any other email account, You need to ensure that you have a professional username and make it a point to check your privacy settings without fail. If any concerns are there regarding your username, in that, if it is professional enough, etc., you should ideally set up a brand new account for all your virtual interviews going ahead.
3. Take care of your surroundings, including lighting and the backdrop
In the extension of having a good quality webcam, the video quality at your end will also depend heavily on the lighting conditions near your virtual interview setup. Having natural light is ideal because it creates a balanced and well-lit environment. In the absence of ample natural light, your face should be properly illuminated with the help of good artificial lighting.
The positioning of light is vital to avoid unnecessary shadows and highlight the required aspects. Indirect lighting is considered ideal for video calls, and by extension, virtual interviews.
Apart from the lighting, the backdrop of your virtual interview also matters a lot. The right background can send indirect signals about your personality to the interviewer.
For example, an unkempt or disorganized room in the backdrop may lead to an unwanted impression. Similarly, a well-kept bookshelf or any other simple and clean backdrop like a plain wall, etc., goes a long way in minimizing distractions for the interviewer.
4. Take care of your body language to make a good impression
Maintaining eye contact is extremely crucial during regular in-person interviews, and naturally, you would want to convey the same type of connection during all your virtual interviews as well.

You can ensure that by following these steps:
The instinct to directly look at your interviewer must be avoided at all costs, whenever you are on the screen while you answer a question.

You should direct your gaze at the webcam when you speak.

The bottom line is to align our eyes with the interviewer's eyes — who is at the other end.

You can look back at the screen when you are just listening to the interviewer.

The perfect combination of the right amount of eye-contact and clear & confident verbal communication make for an impression that has a lasting impact. In addition to these, you must ensure that your facial expressions are not too animated. Also, avoid fidgeting or any other such distracting body language, like unnecessary hand gestures — use the appropriate hand gestures only when required.
Your overall posture makes an impact on the interviewer. Therefore, make it a point to sit with a straight back and open shoulders. You may rest your palms on the desk or your lap. Ensure full attention to the interviewer and supplement it with nods and smile whenever appropriate. The idea is to convey confidence and optimism throughout the interview.


5. You must dress appropriately for the interview
Your dress sense will be one of the factors that determine your first impression. Make it a point to dress professionally, just like during a physical interview. A professional attire, like a well-ironed shirt and tie, makes a lasting impression about your seriousness for the job. That said, you should research the culture of the company to gauge what attire would be the most appropriate.
Appearing in a virtual interview also calls for being mindful of the colors that appear the best on camera. Ideally, you should avoid wearing super bright colors and opt for softer, neutral colors. You should prefer solids over patterns — simplicity always works. Wear formal wear on the lower half as well, just in case you might have to stand up for some reason during the interview.
If you wear glasses, ensure that you minimize lens glare by positioning the lights accordingly — allow the interviewer to look at your eyes.
6. Practice for the D-Day with standard Q&A & Trial Video Calls
Your preparation cannot be complete without ample practice in a mock simulation of a virtual interview. You should thoroughly study the job description, requirements, and the company. This information will be crucial at the time of the interview as many questions can be framed based on it.
Prepare a list of common questions asked in interviews — on topics like self-motivation, dedication, leadership, teamwork, etc. You can never exactly know beforehand what questions will be asked, but preparing answers to some standard questions and studying the aforesaid will prepare you to answer any question that might come your way on the D-day.
That said, never try to memorize answers to any question and answer organically during the virtual interview. You may use post-it notes to highlight some high-level ideas that might help you in answering questions.
You should also practice answering interview-like questions on video calls with the members of your family, friends, or someone else. It will give you an even better idea of things and help you get ready for your interview.
7. Get rid of distractions that might disturb during the interview
Sitting in a remote location comes with plenty of distractions that can play spoilsport during your video interview. Although you can't possibly have control over all of them, you should always try to minimize these distractions as much as possible.
You should make it a point to remove all mediums that may distract you during your ongoing virtual interview. Your mobile phone should either be switched off or on silent mode. Your TV should be turned off, and doors and windows closed to avoid potential audio distractions.
The problems that might occur mid-interview and how to troubleshoot them
You cannot control noises like those coming from nearby construction work, honking of vehicles, sirens, etc. In case your interview is interrupted because of such an occurrence, momentarily muting your microphone may solve your issue. You should wait for some time to let it subside, but first, swiftly apologize to the interviewer(s) for the unwanted interruption.
In case you experience audio or video difficulties, either because of the internet connection or any other technical reason, it's best to inform your interviewer about the same. Having the phone number of your interviewer comes in handy in such situations.


When someone unexpectedly enters the interview room
Whenever your pet, a family member, or anyone else unexpectedly enters the interview room while the interview is ongoing, you should first apologize to the interviewer and ask for a few moments. In the meantime, mute your audio and pause your video feed. Take this opportunity to deal with the interruptions, and resume the interview as soon as possible.
Conclusion
In today's digital age and circumstances such as the pandemic-induced lockdowns, virtual interviews have taken over for all recruitment purposes. In such a scenario, you should be amply prepared for virtual interviews. Mastering the art of video interviewing will become a cakewalk for you if you follow the steps mentioned in this guide and implement them in your professional life.
Author Bio: This article is written by our marketing team at HR Cloud. HR Cloud is a leading provider of HR solutions, including recruiting, onboarding, employee engagement, and intranet software. Our aim is to help your company improve employee engagement, employee productivity, and to save you valuable time!
Keep Reading
8 Techniques to Keep Remote Employees Engaged
Five years ago, there were a few companies that offered at-home work, but they were rare.
9 Effective Employee Engagement Strategies
An incredibly important approach to boost your business is to focus more on employee
Write for the HR Cloud Blog!
Join so many other talented HR professionals by contributing to the HR Cloud blog. To learn more, view our blog guidelines now.
Like What You Hear?
We'd love to chat with you more about how HR Cloud can support your business's HR needs.