Top 10 HR Trends in Employee Experience: What to Expect In 2021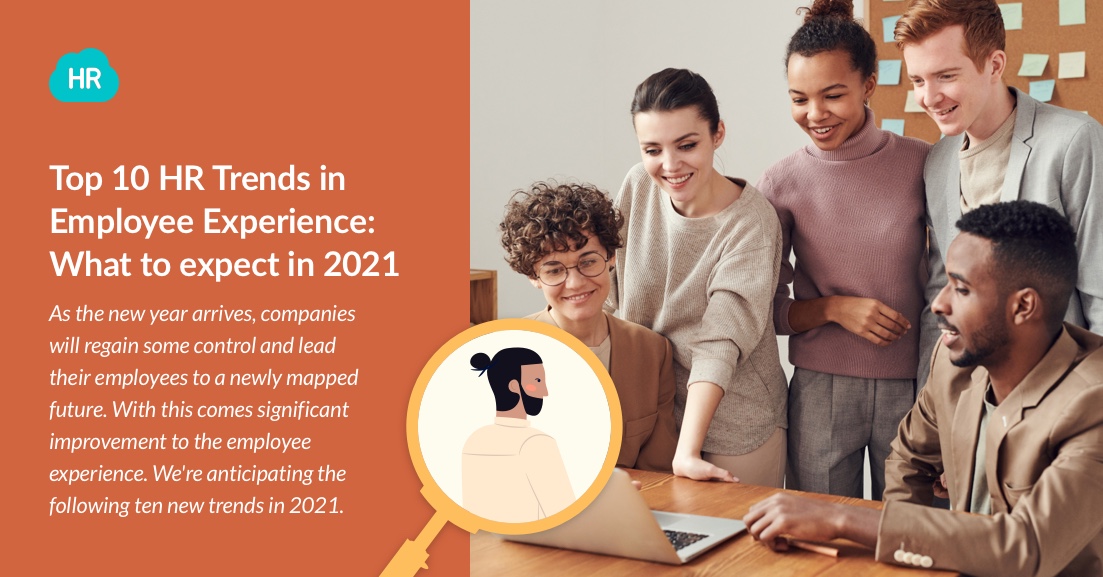 As the new year arrives, companies will regain some control and lead their employees to a newly mapped future. With this comes significant improvement to the employee experience. We're anticipating the following ten new trends in 2021.
Organizations are going on to make preparations for the next twelve months after a historic year of uncertainty and upheaval and planning their company and employees for further changes related to COVID. Although hastily-made modifications to the way we operate were implemented in 2020, 2021 will be the year when these modifications are planned and executed.
Many of these improvements are not ideal like employees were forced to return home to work unexpectedly. Yet they are here to stay for the near future from this point of view. In terms of keeping organizations afloat, several new working ways have so far been successful.
Although some trends have been going on for a while now and have only been magnified by the year's developments, many of these are the inevitable consequence of drastic changes that organizations have to endure and still encounter in some cases.
Employee Experience in 2020
The word "employee experience" was used as a "should do" before COVID. We have been advised that we work on employee experience and see changes in levels of loyalty, retention, happiness, and satisfaction. For many organizations, EX had taken a back seat to more pressing concerns.
But by 2020, those who focused on EX sharply contrasted with those who did not. These groups have been able to successfully shield themselves from the brunt of the pandemic, as they had been supporting their employees with an excellent experience. If you have an organization that listens to its people, regularly evolves its handling of its employees, and takes input and suggestions into account — you have a company that is consistent through trembling or imbalance. Thus, those who practice EX were able to adapt to all aspects of the company when businesses had to make a sudden and immediate transition and were able to experience transformation quickly and efficiently.
However, as EX was not seen by many as a priority, such companies seem to belong to a minority. According to a Forbes report, less than a third of businesses perform quarterly surveys, and just a little more have a forum for workers to have a say. It can seem anachronistic to have a staff that cannot have any observations or perspectives on their personal workplace experience with systems in place. As the pandemic pressured employees at home to meet their homework and childcare obligations, such non-EX companies were practically oblivious to their workforce's needs.
Nevertheless, with efficient communications, two-way conversations and open culture, those highly experienced in EX were able to recognize weak spots, be available to employees' needs and identify possible problems until they become more difficult. When our work's future was imposed on us, the importance of EX was thoroughly and eventually understood.
And what are we expecting from the next 12 months? Do we perform well under these new circumstances? Does it promise more traffic next year? Or are we going to see a way out of the current chaos eventually? Here, we foresee the ten trends that will affect the experience of 2021 employees.
1. Flexible work takes precedence.
The mass migration to work at home caused great concern for the office's future. But home offices helped to maintain business continuity and were successful. We can see that work from home continues in 2021, but with a more outstanding balance with the company. When safe, employers will offer greater flexibility in terms of the workplace.
A Forrester report calls it "the hybrid model anywhere, were working outside the office, including outside of the pandemic limitations, is considered a regular thing. This requires organizations to review their full model – from real estate to management – and determine how they can accomplish long-term objectives outside their traditional offices' real estate borders.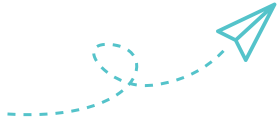 If you enjoyed this post, sign up for a
Free Trial

of our software!
2. System of reimbursement
The laws governing working at home are being investigated. When it becomes an essential part of everyday life, businesses will soon begin formally to change their work policies. In several countries, we have already experienced this. For instance, different nations handle institutional and ongoing job costs at home, such as the US government developing reimbursement arrangements for home internet service and other expenses. Denmark also adds coffee-like food prices to pay packages for its workers.
In order to cover Wi-Fi, utility bills, and even toilet paper used by those living at home, the Dutch Government is encouraged to contribute $2.40 a day to the employee pay packages. France has passed a law defending them against post-hours email; Britain has indicated that the rules on tax deductions on work-related equipment bought during this pandemic may be relaxed. Some improvements could take a few years to enter into law but display a foresight of a more willing government towards working from home.
3. Changes in HR Review Policies
When HR re-examines its policies for employees at home, they will also have to consider how this impacts them. Further lockdown limitations may, for instance, affect schools, nurseries, and childcare, and consequently, it is vital to take account of staff with children.
Any changes that are done must be made clear in advance to employees. Consider the company intranet as a central communication platform. Additionally, update staff manuals with new policies on work from home, evaluation requirements, and other appropriate interventions.
4. Culture has Now Become Reactive.
In the absence of a physical office, the office building can become secondary to the working culture. The digital workplace will grow further and create an omnichannel world where the office's tangible and intangible elements will be brought digitally to the employee. Types of events can be more intuitive and include spaces for workers to enjoy – like huddles, team reunions, all-hands meetings, and satellite workspaces for employees to work in solitude.
While the office culture was more ambient, cultural leaders in a remote work environment might be required. Some workers build programs, launch new camps and initiate conversations. Organizations should concentrate in 2021 on how their working culture is developed in a dispersed workplace.
5. Attention on Mental Health
Has mental health ever been more critical than in 2020? This continues as managers start to consider their employees' emotional and mental well-being and find ways to track it. Most people will establish behavior patterns and reactions and identify people who have negative emotions without meeting their colleagues.
As jobs began to consider the fundamental value of mental health for their employees, the effects of COVID have intensified this awareness, and in 2021 this approach will be further developed.
Let us say "Thanks!" with a gift card for
a coffee.
Your time is valuable. Book (and attend) your demo of HR Cloud.
Request a Demo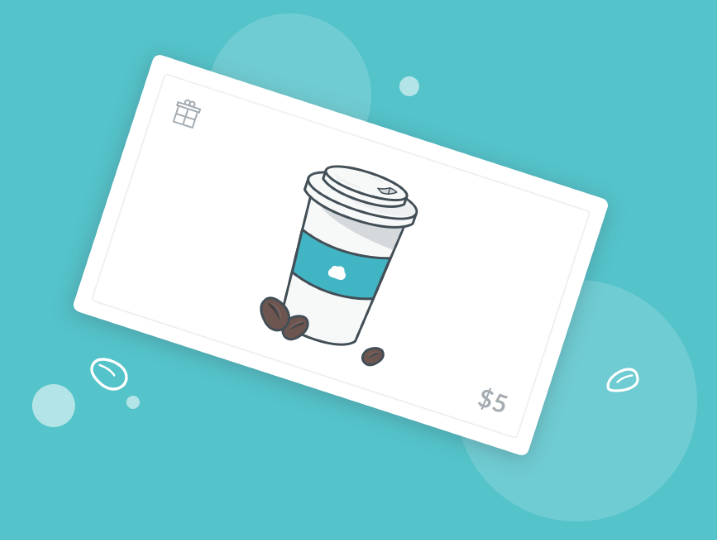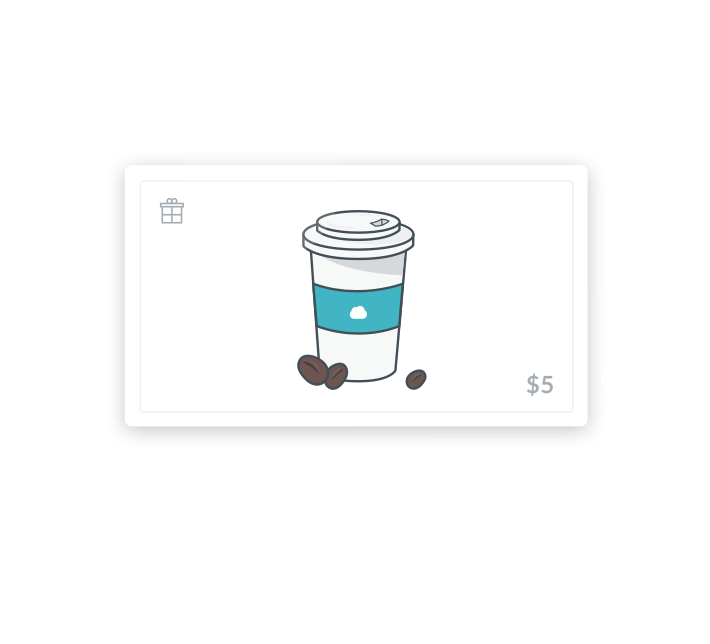 6. A Trust Culture
Though there were several "firsts," 2020 meant that companies had no choice but to trust their staff with the way they handled their home offices for some kind of continuity. The culture of physical presence could well come to an end as the relationship between employer and employee evolves into the relationship of trust and autonomy.
Organizations have moved to various softwares that help track the level of employee productivity. However, 2020 showed that workers apply the same degree of professional discipline at home when appropriately managed and with the right communication channels in place. The major concerns are loneliness and isolation, which need to be tackled on a case-by-case basis by flexible working, commuting, and better comms networks.
7. Global Workforce
The human resources would no longer look for people of a given location. Any potential vacancy should consider extending the talent pool into a global context. This improves chances for high-quality workers irrespective of their location.
This includes a revision of the typical lifecycle of the organization. Every aspect of your business' working life should be re-tuned, from onboarding to training and development, to be easily available online anywhere in the world. This, of course, poses new cultural and logistical challenges, but companies should start getting used to managing a global workforce.
8. The Importance of IT
In 2021 they will have to place much greater pressure on IT in order to concentrate on delivering a better employee experience. Their position in the process is crucial. They are majorly facing two challenges—a drop in expenditures as companies tighten up to reverse the current economic downturn and collaborate with existing software for a better solution.
IT needs to build ways to support and reduce discomfort for employees. The IT will bear all essential responsibilities, such as social coordination, data maintenance and security. This is not the year of short-term adjustments. By 2020, long due reforms have forced companies to work with speed, strategy, and enterprise to better tackle these challenges.

Employee-Centric Engagement, Internal
Communications, and Recognition
Request a Free Demo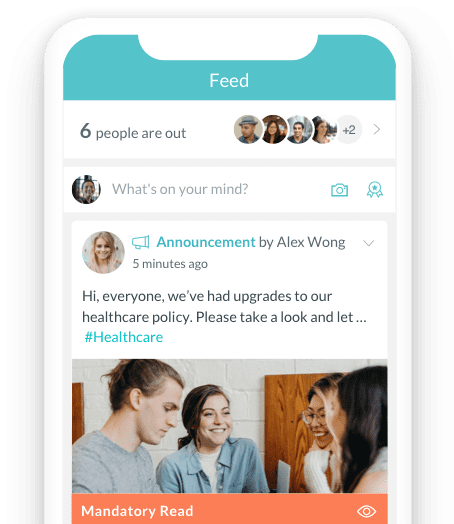 9. Communication becomes Crucial
The CEO's ability to have an insight into the office was enough to please the employees while leadership was present. At the desk, lunch breaks and sometimes talks, walking in the hallway — each little touchpoint meant a sense of communion and community. It's a little bit different at home. Not only must people feel noticed, but they must also be guided, and a home workplace can serve as a dialogue blocker.
Enable business leaders to look at how the whole company can enjoy similar synergies. At the same time, teams interact more closely than ever with daily stand-ups and immediate chat channels like Slack, Microsoft Teams, etc. The importance of pulse surveys, CEO-led zoom meetings and managers holding more one-to-one talks with team members is the only way to know what is happening in each employee's life at a micro-level. Helping ensure that several home offices collaborate as one company and continues to work seamlessly.
10. Higher need for Automation
With remote work becoming more regular, businesses need to implement software and technology that helps workers when they don't have a physical presence. This program is designed to provide a readily available, humanistic service: an employee's ideal experience.
This part of the company would be one of the first to use intelligent devices without, for instance, an HR department for people who talk face to face, plan meetings, and visit. The employee also maintains the same confidential service quality through applications to connect with the worker on annual leave, health, and job-related concerns while receiving consistent and accurate data that they can evaluate and work on.
The 2020 events have led us to behave reactively and, at times, hastily at a breakneck pace. Therefore, employee experience is an evolving process that transforms small doses but has a dramatic impact on the company. These changes are led by senior management in line with employee feedback, and a feedback loop is formed as these changes are centered. Feedback has taken center stage in such times to really understand what is going on in the home workplace.
This enables companies to step away from a more strategic, awake and considered 2021 mentality from the impulsive and abrupt 2020 decision-making.
That is why EX is more critical now than ever for our employees. Only if we take our workforce's experience exceptionally will we be able to keep track of the pace of change in workplaces and allow for accuracy, creativity and new opportunities – something organizations must concentrate on in the next 12 months more than ever before.
About Author: This article is written by our marketing team at HR Cloud. HR Cloud is a leading provider of HR solutions, including recruiting, onboarding, employee engagement, and intranet software. Our aim is to help your company improve employee engagement, employee productivity, and to save you valuable time!
Keep Reading
What are the Levels of Employee Engagement
In today's fiercely competitive market, employee engagement has evolved into a
7 HR Strategies for Improving Employee Onboarding
Write for the HR Cloud Blog!
Join so many other talented HR professionals by contributing to the HR Cloud blog. To learn more, view our blog guidelines now.
Like What You Hear?
We'd love to chat with you more about how HR Cloud can support your business's HR needs.