6 Company Intranet Examples, and How They Work to Improve Company Culture for 2021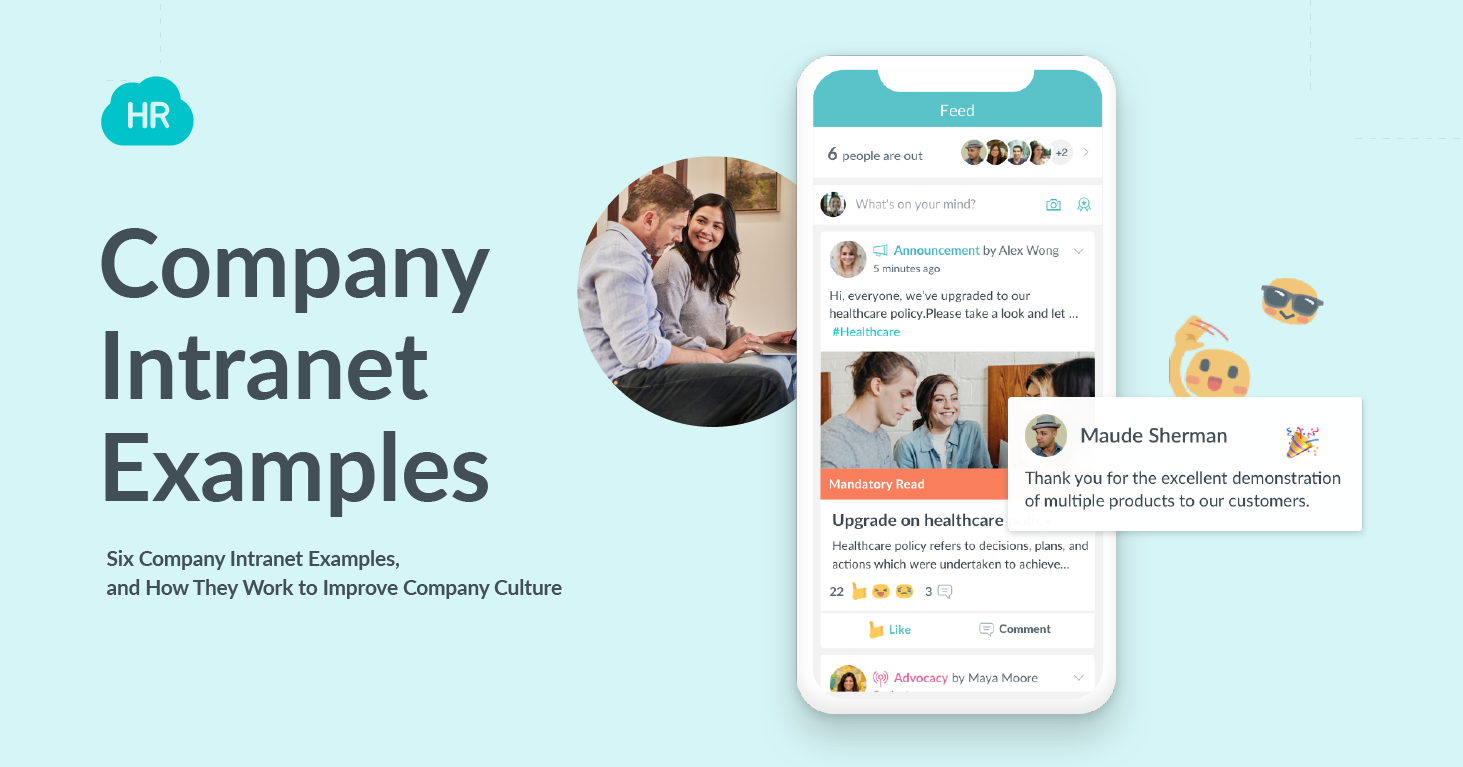 At this point, chances are good that most of us are familiar with the concept of a corporate intranet. Yet a surprisingly high number of people still wonder why they might need one in their company, or why what they have now isn't working.
Many more may be surprised to learn that modern internet solutions have evolved beyond traditional webpage frameworks and offer much more functionality and a wider range of new benefits.
It's an important advantage, especially since the parallels between superior employee experiences and business performance are striking. For example, companies with highly engaged workforces are 21% more profitable than those with poor engagement levels.
In this article, we'll take a closer look at intranets, including what they are, their top features, and specific examples of how a few industry-leading companies are using the best intranet platforms in innovative new ways. We'll also look at why yesterday's intranets simply don't work anymore, and how modern employee communication and engagement platforms can now extend the capabilities and benefits they can deliver.
We also give you a sneak peek at Workmates, HR Cloud's employee experience platform and show you how it is revolutionizing the way companies go beyond traditional intranet solutions and take advantage of all that an employee communication and engagement platform has to offer.
What is an intranet exactly and what are the best intranet platforms today? Intranets are internal hubs used by companies to store important information, communicate with employees, increase employee advocacy, streamline key processes, and encourage team collaboration.
While there are many benefits to an intranet, here are some of the most compelling:
Improve internal communications: The most effective intranet solutions encourage communication by empowering workers to efficiently access and share information. For example, individual departments can upload important documents; leadership can make announcements or provide specific updates; product teams can share launch updates and more.

Serve as a content management system (CMS): Intranets also serve as comprehensive repositories of vital information for the entire company. It encourages a community approach to sharing and managing content and gives employees valuable self-service access to all of the information they need, at any time.

Can be used with mobile devices: The most effective intranet solutions take information that exists on the intranet and push into employees' hands on their mobile devices. This eliminates the need to search for hard-to-find information on a non-intuitive site. Instead, updates and information can be pushed directly to employees' phones or tablets.

Drive collaboration: By providing centralized access to the tools and information workers need to perform their jobs, employees can find what they need and work better as collaborative teams.

Improve efficiency: Intranets virtually eliminates the need for cumbersome email workflows that waste time and lead to version issues and confusion. Say goodbye to emailing someone for the latest form or document; say hello to time savings that free the entire workforce to focus on higher-value initiatives.

Provide better support: Many departments can either post important forms (e.g., HR forms and documents) or let intranets serve as the primary engagement point for support processes, such as IT help desks or HR open enrollment.

Unite geographically dispersed teams: Companies now use intranets to connect remote employees, field-based teams, satellite offices, and any employee who may not be in corporate headquarters. This helps avoid communication issues, critical to increasing morale, engagement, and productivity.

Recognize and reward employees: Modern intranets now include powerful functionality to promote and facilitate employee recognition and even reward them for a job well done. Rewards can range from a peer-to-peer shoutout or digital high five to a gift card or other giveaway.
All of these add up to a better overall experience and one that employees appreciate, if not love. The love goes both ways, too: Providing a better experience helps companies be perceived as a better place to work. This is an important distinction since a recent Glassdoor study found that companies named to its "Best Places to Work" list significantly outperformed the S&P 500.
Six Real

Company Intranet Examples

, and Why They Work
Ready to see real-world examples of corporate intranets? The following six use cases, in a wide range of industries, all started with similar goals and approaches but focused on slightly different executions to provide different—yet valuable—user experiences.
Example #1: Announcements in the technology industry
One leading technology company uses its intranet to improve communications and strengthen its corporate culture using a powerful announcement feature.
In this case, the company developed a prominent company feed that it used to manage important messages and encourage the entire workforce to do the same. This feed publishes various recognition announcements, such as appreciation posts, automated birthday and work anniversary congratulations, and more.
The company also used a kudos feature to offer recognition for employees' hard work or any examples of exemplary behavior. All of this has been extremely helpful in showing the entire workforce that the company appreciates their contributions—no matter how small—and how they support larger accomplishments.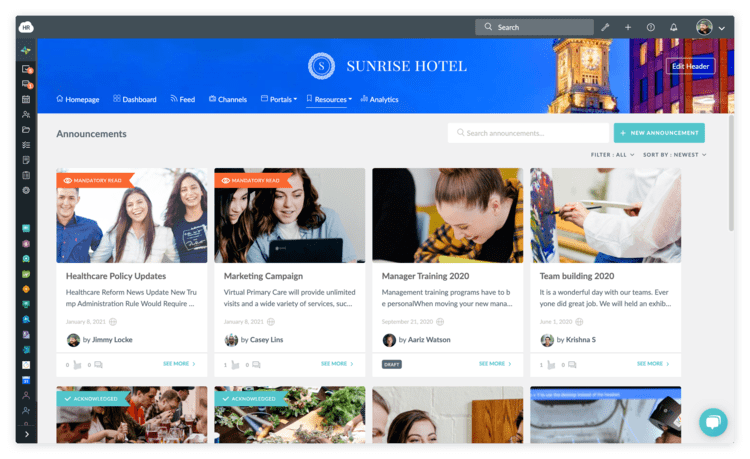 Example #2: Informal recognition with a "kudos" in healthcare
This example is similar to the use case above, but here, this healthcare company used their intranet to really focus on employee recognition and rewards.
The company used HR Cloud's Workmates solution, initially as a complete content management system (CMS) to gain a better way to store and distribute important information. But it also used the kudos feature to encourage an ongoing culture of letting employees recognize and reward their peers.
In this case, any employee can publish a post at any time to officially thank any other employee. The company created a reward program where employees could receive gift cards, branded corporate items, or other thank-you mementos.
Even better: Top kudos recipients are listed on a prominent leaderboard within the corporate intranet. This lets them receive even more attention, but it also fosters an ongoing culture where all employees now strive for excellence and higher levels of job performance.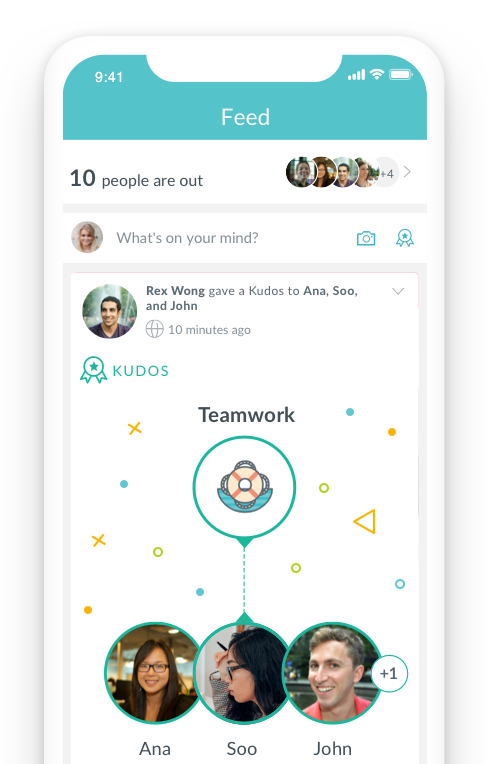 Example #3: Social feeds in real estate
A commercial real estate company created an intranet with social feeds and created a number of different channels to let each specific team send messages and updates to other departments or the entire company.
For example, an employee can post certain announcements to the social feed, including welcoming new hires, sharing employees' personal events (a new baby!), shout-outs to other teams or employees, office culture updates, and more.
It's a new experience and one that makes communication and collaboration fun. Employees can upload pictures from a corporate event and share them with the whole company. They can also create and post surveys and polls—for example, "what type of cake should we get to celebrate Susan's birthday?"
Employees also post memes and hashtags to their social feed, all to increase camaraderie, collaboration, and teamwork. The company can even use a powerful analytics dashboard to track active users and the overall engagement level with the intranet over time.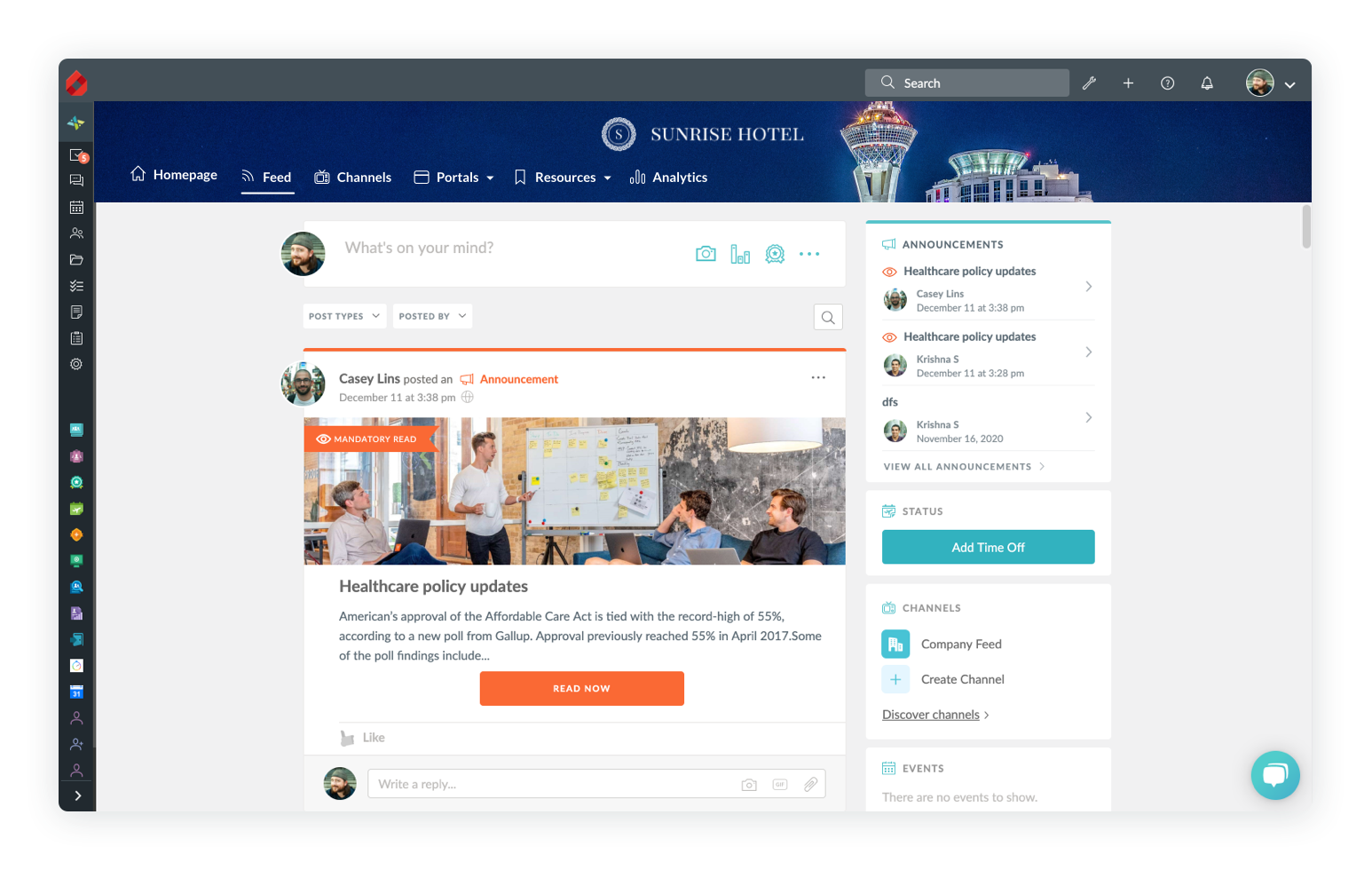 Example #4: Content management system
Another company, one that provides background screening services, chose to use its intranet site as a full-featured content management system (CMS). This company used its corporate intranet as a better way to upload and store documents, which gave employees a much better way to share documents, track activity, and access important information—from any device at any time.
Additionally, this company created a new internal help center for the HR department, which was accessible to all employees. This helped workers know exactly where they should start if they had questions or issues, gave them self-service access to critical forms and documents, and eliminated a lot of confusion.
It also saves a significant amount of time over the company's previous system where employees would call or email requests for help—and get frustrated when they didn't know where they stood.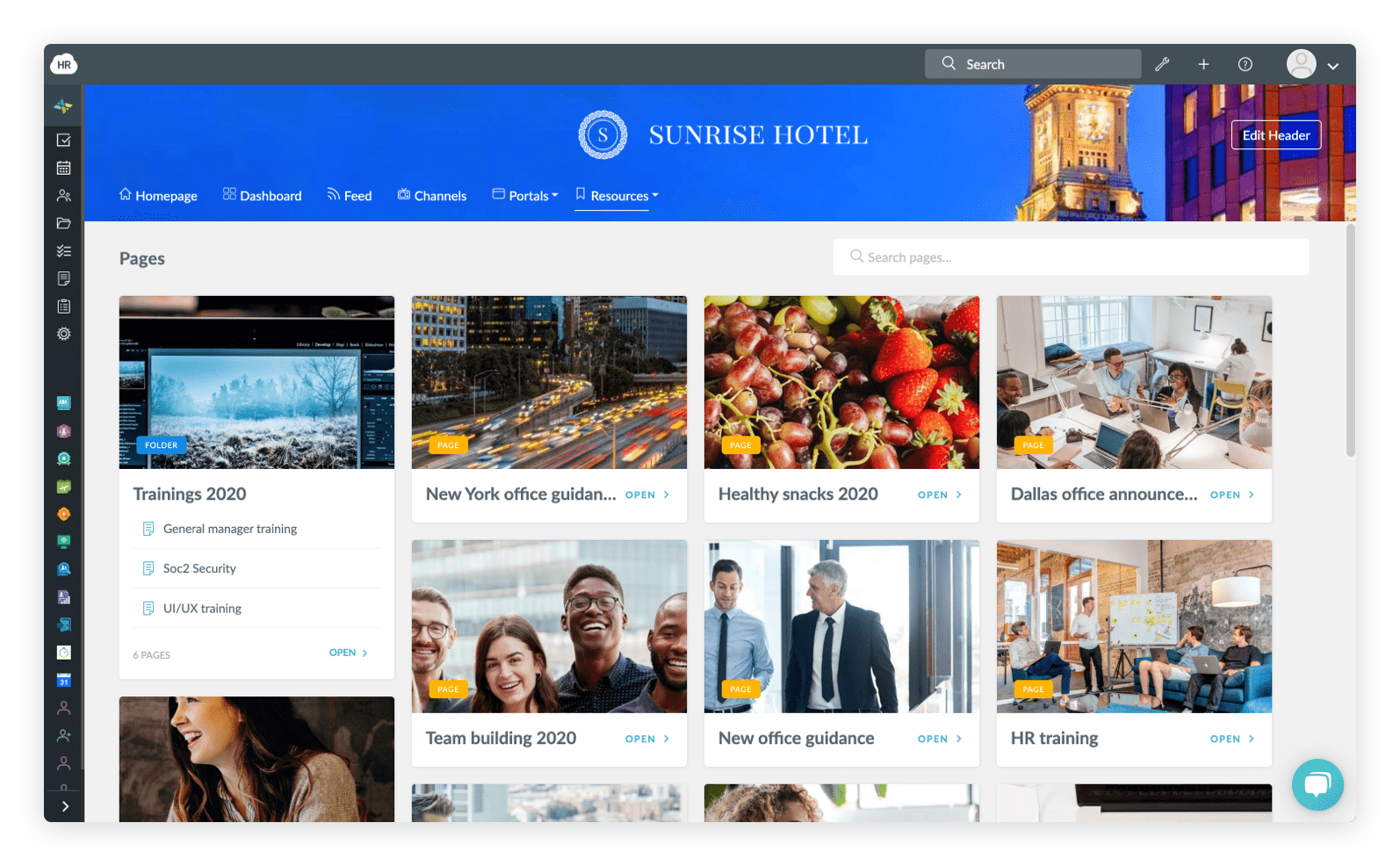 Example #5: Brand advocacy in fast casual dining
As the name implies, fast casual restaurants move quickly. That means there's no time to waste when it comes to scheduling shifts. It also means that employees, like servers and cooks, may feel underappreciated. A successful company intranet can improve communication and even inspire recruiting efforts.
A chain restaurant can use their intranet to share announcements with specific updates. For example, an announcement can let employees know they can pick up shifts at another local location. This saves the restaurant from being short-staffed and helps employees earn more. Announcements can even highlight achievements by individual staff, like employee of the month, to improve engagement.
Restaurants can also make their employees their best advocates. Using a company intranet, restaurant chains can create pre-written, approved posts designed for employees to share on their personal social media accounts, including job openings. About half of businesses say their top-quality hires come from referrals, and a positive post on social media can get those referrals moving.
Example #6: Giving employees valuable new resources in retail
Retailers need to make the customer shopping experience as pleasant as possible. A company intranet site can help make sure that employees have the training and seamless technology to make that happen.
A company can create an extensive training site to make sure every employee has the information they need in one easily accessible place. A comprehensive training site also makes sure that each employee is given standardized training so everyone is prepared for the job. And if they have questions long after onboarding, employees can always refer back to the training site.
The retailer can also develop an interactive shift-swapping app so employees can easily trade shifts — without bothering busy supervisors. Employees with more connections are happier, and so are customers at a fully-staffed store.
Christopher Baggott
Chief Executive Officerator of Medlinks Cost Containment, Inc. and Medlinks Staffing, LLC.
"Our staff has praised the increased communications level Workmates delivers. We use it to communicate important project matters and give staff specific 'kudos' or even recognize their birthdays. More importantly, we use Workmates to clarify important project details that needed rapid dissemination among the entire team."
What Should You Look for to Find the

Best

Intranet Platform

?
Corporate data hub: It's important for the intranet solution to integrate with corporate enterprise systems to enable connected workflows and easy data retrieval. For example, HR Cloud users can connect and use HR data with the point of sale systems using Microsoft's Power BI.

Sharing and collaboration: A good company intranet should include functionality that promotes sharing and collaboration, such as features that enable employees to view, comment, and distribute helpful information.

Social networking and employee advocacy: These are important when you consider that today, employees create awareness about their company and can serve as valuable brand advocates.

Push notifications: Instant alerts help workers see new updates, such as new project assignments or tasks, content updates, or specific conversations.

Org charts and contact databases: These are very helpful, especially as employees may look to find or contact others in the organization.

Analytics: Many corporate intranets today simply can't report on employee activity or other metrics to help determine how effective it is. This means companies are missing the boat when it comes to measuring employee engagement or other important usage trends. Modern intranet solutions now offer powerful analytics to see what's working for employees—across different topics, locations, job roles, and more.
Workmates: A Comprehensive Intranet Software solution
Today, HR Cloud's Workmates solution delivers all of these capabilities and more. To see how Workmates is revolutionizing the way companies think about and deploy intranets—for significant business improvements—please visit our Workmates page or request a free, no-obligation Workmates demo!
About Author: This article is written by a marketing team member at HR Cloud. HR Cloud is a leading provider of proven HR solutions, including recruiting, onboarding, employee communications & engagement, and rewards & recognition. Our user-friendly software increases employee productivity, delivers time and cost savings, and minimizes compliance risk.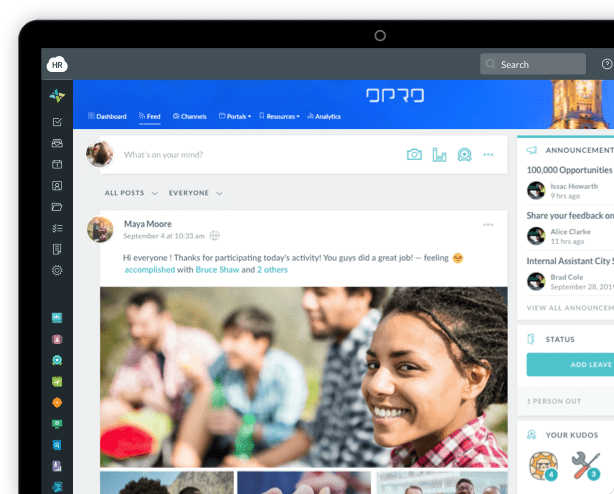 Keep Reading
10 Tips For Effective Employee Absence Management
Employees are the backbone of any company. Their performance is critical to the company's
Importance of Effective Onboarding and Background checks for new Employees
Employers teach new workers for several months during onboarding to acquaint them with
Write for the HR Cloud Blog!
Join so many other talented HR professionals by contributing to the HR Cloud blog. To learn more, view our blog guidelines now.
Like What You Hear?
We'd love to chat with you more about how HR Cloud can support your business's HR needs.