8 Tips on How to Onboard New Hires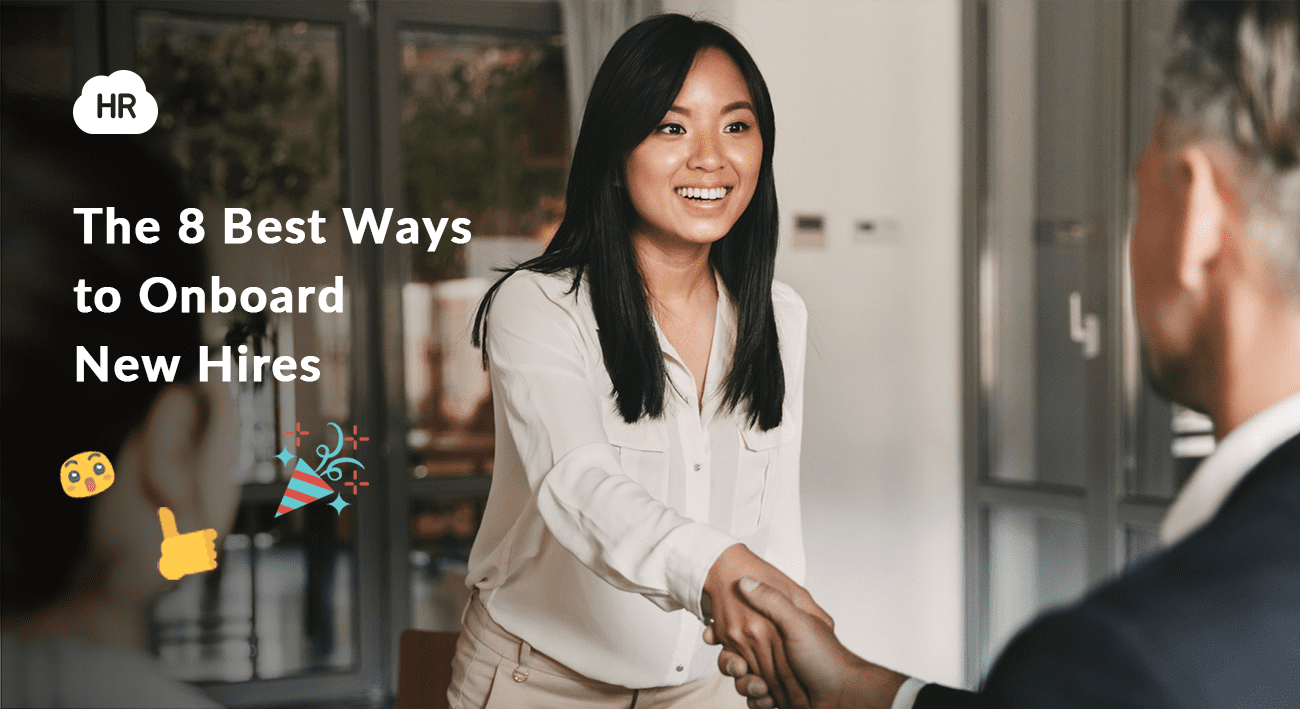 As a business owner, C-suite manager, or Human Resources manager, you know that the recruitment and selection process for new employees can be costly. More costly, however, is a poor onboarding process for new hires, since it has been shown to lower productivity, increases inefficiencies, and lead to higher employee turnover.
Why is employee onboarding important? Aside from boosting general employee morale, increasing employee engagement, and increasing and consolidating the level of trust employees have in the company, you mean? That would be because at the end of the day if the HR employee onboarding process is not up to scratch, your company is less likely to achieve its revenue targets.
The bottom line is that a lackluster HR onboarding process of new employees will have a negative impact on your bottom line.
There is a whole art and science attached to the process of onboarding new employees. At HR Cloud, we've got the science down to a fine art. Before we get into detail about that, let's talk about the eight best ways to onboard those new hires.
Hard Facts
Figures vary, but it is said that more than half of new employees leave their place of employment within the very short space of one year. And about one-quarter of new employees start looking around for another job after six months.
Since only about one-third of all companies have even formulated what is important when onboarding, we're guessing that you could do with some onboarding process tips. The first is to strategize.
Answering the following questions will be helpful in formulating your onboarding strategy:
What is the employees onboarding process and what does it mean to our company?
When does onboarding start?
How long does onboarding last?
What impression do we want a new employee to have of the company at the end of their first day or week?
What do new employees have to know almost immediately about our company culture and work environment?
Have you determined the role that direct supervisors, co-workers, and the Human Resource department will assume in the onboarding process?
Have you set goals for new employees? What kind of goals are these?
What feedback mechanism is in place to gauge the success of the onboarding process?
Defining your strategy broadly so that it encompasses the onboarding of employees at all levels of the company structure.
1. Recruitment and Selection
To get the right people for the right job, you need to have an effective recruitment and selection process. Hiring people is all about acquiring the talent you need to make your company profitable. Answer these questions to find out how much groundwork you need to do before job candidates dust their feet on the company's interview welcome mat:
Do you have a Careers or Vacancies page on your website?
How else (agencies, industry-specific platforms, LinkedIn) do you reach job seekers?
Do you have a proper job description for the position being advertised?
Do you recruit internally before recruiting externally?
What other methods of candidate engagement do you have (college outreach, other publicity)?
What kind of reputation does your company have as an employer?
The size of your company will determine your recruitment strategy and how you present what you can offer any potential employee.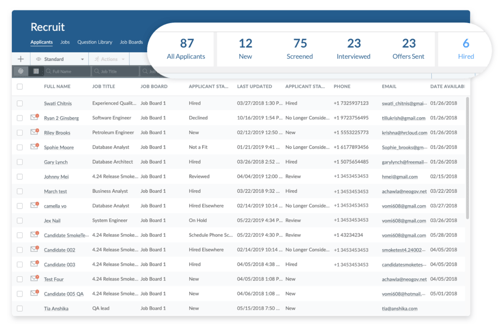 2. Prepare For the Employee's Day One
Did you know that there is onboarding software to make sure you have ticked all the boxes for each new hire? HR Cloud has developed Onboard, employee onboarding software that makes communicating between everyone involved so much easier than it used to be.
The software includes email and mobile app notifications, comprehensive workflows when it comes to communicating before the new hire arrives. It also serves as a central repository for information about the job itself, the new hire, and who reports to whom. In other words, the software connects everyone to everyone else to ensure that everyone is in the loop.
In addition, the software enables the new hire to complete all the E-forms and other details of their profile before their first day of work. The full HR Cloud experience with the Employee Directory, with profile pics, names, and designations of all employees will enable the new hire to become familiar with the people at their new workplace before setting foot inside the building.
The HR Cloud employee onboarding software features a progress report module, aside from the employee self-service, automated E-forms completion, and custom workflow sections. Anyone who has access (such as the Payroll manager) can see at a glance how much of the necessary form filling has already been done by the new employee, and what other tasks still need to be done by established employees.
3. Contact Your New Hire Before the First Day
Often there is quite a time-lag between the offer of employment and acceptance exchange and the first day on the job. Immediately on receiving the acceptance from the job candidate, it is always a good idea to reply, confirming when they start and what the program for the first week will be.
You will need to copy the reply to your colleagues using the Onboard software so that they can set up appropriate reminders and notifications for themselves too. It also gives your colleagues the opportunity to communicate easily with you (as the main contact person) for the new hire.
About one week before Day One, send an e-mail to the new hire to keep up their enthusiasm for the job they are about to start. That way, you minimize any nervousness they might be feeling. The e-mail can be brief and friendly. If necessary, you can detail any documents the prospective employee needs to bring with them on the first day.
You can let the new hire know that they are free to ask any questions before their first day.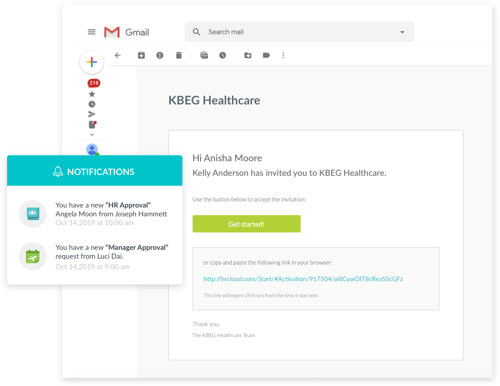 4. Standardize the Welcome Pack
Your company should have a standardized Welcome pack for all new employees. These days, most of the things an employee needs to familiarize themselves with the company's mission, values, and history are best provided in digital format.
The same is true of your Employee Handbook. The ideal place for this is on the HR onboarding portal, where the handbook can be fully indexed and searchable, making it an easy and lasting source of information. Including a section on "What is the HR onboarding process?" will help new entrants to appreciate that HR will play just important a role in their employment as achieving performance standards set by their managers.
Formulating the content of the Employee Handbook is, of course, a separate exercise involving input from all managers, and even all employees. The employee handbook document, of which there are many examples online will detail your company's policies, guidelines, and rules. It should be clear, unbiased, and structured in a way that facilitates updates of single sections should any policies or guidelines change.
Present some part of the welcome pack to the new hire in paper format. Even if it is a card with the e-mail address and password they should use when they first log in.
The HR contact should introduce the new employee to everyone, including the C-suite managers on their first day or two. Introductions may be kept brief, but done on a team by team, or department by department basis. Introductions should start with the people the new hire will be working with most closely and then move on to those further afield.
One important introduction is to the new hire's designated onboarding buddy.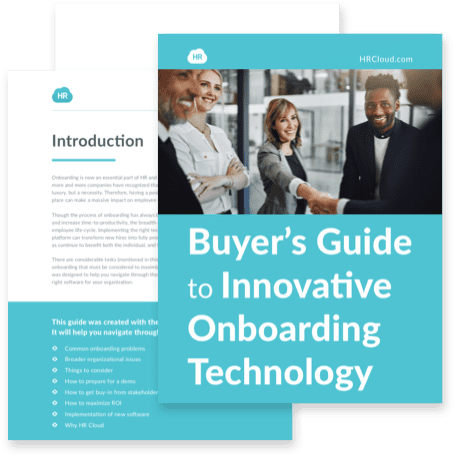 This guide was designed to help you navigate through those difficult tasks and help determine the right software for your organization, download our ebook now.
Download now
5. Appoint an Onboarding Buddy
The onboarding buddy or a go-to person should be a peer or team member who has already worked for the company for quite some time. It should be someone who can do a reasonably good job of answering all the questions the new hire might be a little timid to ask their manager. The idea is to make the new employee feel comfortable on a fairly informal basis within the culture of the company and offer them a grassroots perspective.
By contrast, the new hire's manager will have their own role to play during onboarding that will be directly related to the actual work.

Drive Engagement with great
Onboarding Experiences for New Hires
Start Free Trial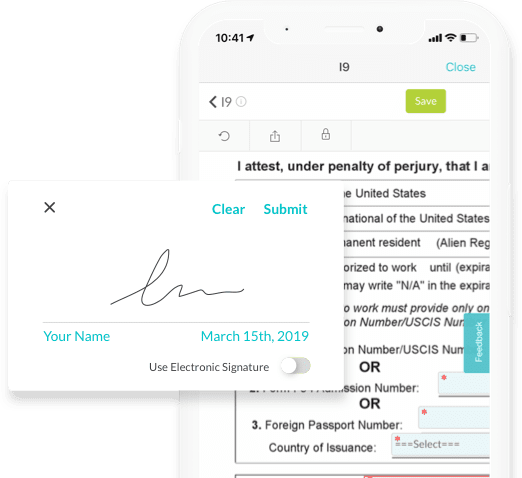 6. Prepare the Workspace as Part of the Onboarding Process for New Hires
What is new employee onboarding, if not making space for the new employee?
Will the new employee need a desk, chair, laptop and mobile and a key to an office door? Make sure that these essentials are ready before the first day. Personal touches, such as a company mug or pen or scratchpad would also be a good idea.
Michael Hawkins
Franchise Owner of Interim HealthCare SLC
"Interim Healthcare SLC needed HR technology, and we're pleased with the results we've gained from HR Cloud's solutions for recruiting, onboarding, and employee engagement. Yet it's an opportunity for all Interim franchises. It would be so great if each franchise owner could implement similar solutions to replace legacy systems that might not work as well as they should."
7. Go Beyond the First Week
Human Resources would have been involved in the recruitment and selection of the new employee. To increase chances of retaining your new employee, you need to keep checking up on them at regular intervals that go way beyond the first week. Most experts recommend a one-on-one once a month for the first year. Such meetings can be scheduled well in advance and focus on the employee's experience of the company and any challenges.
These meetings may or may not be directly linked to performance reviews depending on your corporate culture and possible level of engagement with HR Cloud's Workmates recognition and reward software.
In any case, from the employee's perspective, it is encouraging to see a trajectory of meetings planned ahead that will deal with their experience in the workplace. It gives a sense of purpose and one of belonging, both good indicators of better employee retention.
Kaylee Collins
HR Analyst of Osmose Utilities Services, Inc
"Our hiring managers now have a reliable system that is easy to navigate. Our HR team can actively monitor the process, and assist if needed, but Onboard has helped them save so much valuable time and effort while increasing data accuracy. All of this has helped us improve compliance and gives us a powerful tool to achieve even more results in the future."
8. Defined Training Paths
The new hire's training will be entirely dependent upon the level at which they enter the company structure. Many employees are hired precisely because they already have the skillset and experience the company needs. Others will need immediate training as part of their first few months on the job.
Whatever the case, the likely path or training options available to the new hire should be outlined during the interview and onboarding process. Some companies also impose training obligations on employees, e.g., to attend a fixed number of hours of continuous professional development related to their role and responsibilities within the company each year.
These training aspects go hand in hand with key performance indicators (KPIs). An employee needs a clear understanding of what constitutes success in their job. Well-crafted KPIs with well-structured evaluations at specified intervals is motivational.
Effective KPIs lead to increased productivity and better retention levels too.
Onboarding Process Tips
We hope that these onboarding process tips have given you practical ideas that you can action. At HR Cloud, we know that all the above ways to onboard news hires are easy to achieve by using our Onboard software in combination with other components of our suite of HR management software solutions.
Streamline your onboarding process for new hires and save hours of paperwork and confusion. Feel free to Request a Demo by clicking on the appropriate button on any page on our website, or contact us by sending us a message.
About Author: This article is written by a marketing team member at HR Cloud. HR Cloud is a leading provider of proven HR solutions, including recruiting, onboarding, employee communications & engagement, and rewards & recognition. Our user-friendly software increases employee productivity, delivers time and cost savings, and minimizes compliance risk.
Keep Reading
How And Why To Build A New Employee Onboarding Process
How would you describe your company culture? Is it friendly, fun, or professional? If you
Employee Engagement Surveys - What to Ask & Why
Employee engagement surveys are becoming increasingly popular as a considerable amount of
Write for the HR Cloud Blog!
Join so many other talented HR professionals by contributing to the HR Cloud blog. To learn more, view our blog guidelines now.
Like What You Hear?
We'd love to chat with you more about how HR Cloud can support your business's HR needs.